Selling blenders since 1921, Vitamix has been making history and is nowadays recognized as one of the top blender providers around the globe. The Vitamix 5300 blender represents everything that the company stands for. As expected, this blender is among the highest-rated blenders available on the market today, offering high performance, unmatched quality, and great versatility.
It sports a simple design, yet boasts a great set of properties. The blender comes with a high-performance motor and low-profile container. Many users find it similar to its ancestor – the Vitamix 5200; however, this blender is in fact a fusion of Vitamix 7500 and 5200. But, with a bigger blade and a 2.2 HP motor, the Vitamix 5300 is a true workhorse in the kitchen.
In this Vitamix 5300 review, I'll take an in-depth look at the features this blender has. I will point out the good, the bad, and the in-betweens you need to consider before making a purchase.
---
Vitamix 5300 Review: Overview
As mentioned, the Vitamix 5300 is highly versatile, able to handle a variety of recipes, whether they involve pureeing or chopping. This is mostly due to the blender's design and different speed settings.
A few Vitamix 5300 reviews that I came across online state that the base unit is rather heavy, but I don't think of this as a drawback. Because of its weight and the built-in vibration dampening system, the blender is extremely stable.
Looking at the blender, the first thing I've noticed was the speed dial knob. It's placed at the very center, and to the right and left of the dial knob, there are two additional switches. The right one is the start/stop switch, while the left one is the pulse switch. The pulse switch is an innovative feature present only in selected Vitamix blenders. This switch gives the user all the control needed in terms of how much of a blend you want to achieve.
Read More: Which is the best Vitamix for smoothies?
The variable speed dial allows maximum flexibility. You can adjust the speed before and when using the blender according to the preferred texture. At the right speed, you can easily create purees, soups, smoothies, and baby food. In addition, the blender will chop, mince, and dice with utmost ease, and much to my surprise, it is often used for making flour.
Although the Vitamix 5300 is very alike its close cousins from the C-series of blenders, it utilizes a motor belonging to the G-series. The 2.2 HP motor is constructed with ball bearing technology, enabling low load on the system and therefore promotes higher efficiency and increased durability. Certainly, an attractive feature is the automatic shut-off system that shuts the blender down when it overheats. However, since it also comes with a cooling fan, it's very unlikely for the blender to overheat.
---
Vitamix 5300 Review: Design and Construction
The Vitamix 5300 blender is very durable and has been designed with the toughest materials. Here are some of the highlights of the design and construction.
Structure
Vitamix 5300 blender has a shatterproof plastic body designed and built in a manner that makes it durable and easy to operate. The dimensions of this incredible blender are 17.25*8.75*7.25, and it weighs 11.95 lbs.
Even though they appear to be large, they will occupy a smaller space in your kitchen. It will fit underneath numerous of your kitchen wardrobes. Also, since they are lightweight, they are highly portable, and you can easily carry them.
Container Capacity
This blender will provide you with different sizes of containers to match your requirements. The largest and the perfect size for heavy use is the 64-ounce capacity pitcher with a two-part lid that will help you to produce a considerable amount of commixture for your family at a single go.
The next one comes with a capacity of 48-ounce, that will still manage to blend a good amount of stuff.
The last and smallest one is a 32-ounce container that you can use for single servings at times.
All the containers are low profile, which means they are wide in shape. This wide build of blender creates enough space for meticulous blending. Also, you don't have to worry about overstuffing as it has overload protection. But I would suggest you avoid overloading as it could damage the device's structure and motor in the long run.
Read More: Vitamix Ascent A3500 review
Blades
The Vitamix 5300 blender has fixed four laser-cut stainless-steel hammermill and cutting blades in the container. Each blade is 4-inch in size. They are sharp and strong to ensure a consistent texture. These blades are so firm and knife-edged that they will provide you with the blend's ground fine texture.
Also, I would like to inform you that this machine comes with "Wet Blades." This blade is used to process almost all kinds of ingredients such as soup, puree, batter, frozen mixtures, juice, sauces, and wet chopping.
This could also be used to process grains and knead the dough. But this is more efficient with liquid components. In case you need a blender for processing grains, coffee, cereal, or kneading dough regularly, you can purchase "Dry Blade" with this standard set of Vitamix 5300.
Cord Length
Cord length is the most important factor that you need to consider while purchasing a blender. Most people overlook this detail and regret later. Vitamix 5300 blender is equipped with about six feet long cord securely held underneath the plastic cables.
The cable is flexible, and it can be easily bent. Also, it has a three-pronged plugin that is quite easy to find anywhere in a house.
Color of the Blender
They come in two elegant and beautiful color that is red and black. Both of these colors are classic, and they will go with the interiors of any kitchen.
---
Vitamix 5300 Review: Accessories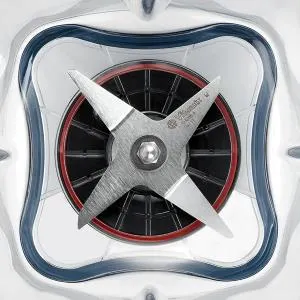 The Vitamix 5300 blender comes with a variety of accessories to make your life easy. You can choose and pay extra costs for these accessories and the device as per your blending needs. I have mentioned all the accessories below so that you could get a glance at them.
Tampers
The tamper is an accessory that could be used while blending to break the air pockets formed inside the container. It is inserted through the top opening of the lid to push the solid particulars near the blades.
This could enable the machine to create smoother and uniform blending. Distinct tampers are designed to be used with different containers. You will be required to test and match the tamper with your pitcher to select the best fit for your blender.
You could select the best tamper by considering two points. The tamper should fit easily through the opening in the lid. It should not touch the blades at the bottom of the container in any way.
Some issues to be kept in mind while using a tamper.
Do not use the tamper for more than 30 seconds continuously.
The container should not be filled more than two-thirds of the depth while using a tamper.
Move the tamper all around the corners of the container
Dry Blades
As discussed earlier, the Vitamix 5300 blender comes with wet blades, but you could purchase the dry blades as an accessory with the whole set. Dry blades are required if you blend hard ingredients such as coffee beans, cereals, grains regularly.
It is also suitable for milling flour and kneading dough. In case you occasionally blend dry ingredients, you could skip this accessory.
Aer Disc Container
This is the most incredible accessory that comes with Vitamix 5300 blender. It increases the functionality and versatility of the machine. If you are looking for something that would efficiently help you to master whipping, muddling, foaming, and emulsifying, then you should purchase this aer disc container with your blender.
It is a circular disc with holes designed to pull liquids downward through them to emulsify and aerate the fluids. This is worth having with your blender.
This will help you pour out your imaginations on food, the cold whipped cream, hollandaise sauce, mayonnaise, foggy coffee, or anything you wish. Just put your aer disc inside your container, and you are ready to rock with your cooking skills.
Personal Cup Adapters
If you are a person who is always in a rush, I would recommend you go with this amazing personal cup adapter. This will help you to save a lot of time. It offers two 20-ounce cups with a cover that are leakage free for sure. The best part is that they are double insulated to keep your drinks cold or hot.
With these personal cup adapters, all you have to do is put the cup upside down on the attachment inside your container and blend. Carefully turn it around and remove the cup from the attachment. Your drink is ready without being late. Also, they are easy and convenient to clean.
Read More: How To Clean Vitamix Blenders: The Ultimate Guide
Various Sized Containers
I have mentioned this earlier as well in the capacity and container sections. The standard size that comes with the Vitamix 5300 blender is a 64-ounce pitcher suitable for any amount of mixture or liquid you want to create. Along with that, keeping in mind the requirements of different people, this device offers two more sizes to purchase, in case you need a container smaller than the standard size.
One is a 48-ounce pitcher, and the next is the smallest that is a 32-ounce pitcher. You could select any one or both of them as per your need. I would advise going with the 32-ounce container as the standard size could fulfill all your need for a 48-ounce pitcher. But for a single serving, you may require the smallest container.
Tamper Holder
If you have a tamper and face issues to find the right place to keep it, then the tamper holder is a must for you. It gives you a proper place for your tamper near the machine. You will not have to fit the tamper here and there in your cabinets. This will make your kitchen look more organized and managed.
Vitamix Blender Smart Scale
This is something worth buying with the blender. You need to download the Vitamix perfect blend app for free on your ios or android device along with this smart scale. The app contains full detailed recipes for anything you wish to have.
You will have to choose a recipe on the app and the Vitamix blender you will use. Next, when you place your container on the top of the smart scale, it will automatically guide you through the app about what ingredients you will have to use and how much.
It will make a sound when the proper proportions of ingredients are added to the container, so you don't have to worry about the measurements. It will guide you step by step, and you will be ready with the tastiest drink you wish to have. The device and the app are wirelessly connected through Bluetooth, making it more convenient to use.
Before purchasing the blender, make a proper list of accessories you will need as per your daily requirements to not miss anything at the shop.
---
Vitamix 5300 Review: Cleaning and Maintenance
The Vitamix 5300 blender is a self-cleaning machine. You don't need to worry about cleaning it. You will have to add some warm water and liquid soap to the container and then blend it for 30-60 seconds.
Based on your requirements, you could increase or decrease the machine's speed to clean it properly. Sometimes, the glass of the container could get cloudy after cleaning. In this case, you need to wipe out the inside of the container carefully with a sponge. That's all for cleaning this excellent blender.
Vitamix 5300 Review: Power and Speed
This device uses a 2.2 horsepower motor that is neither inferior nor too superior for a perfect blender. All the blenders that come with a motor having more than 1 horsepower are capable enough to perform all the tasks neatly and properly.
Also, the machine has a variable speed dial operator that makes it simple to use. The speed dial has different speed settings ranging from 1 to 10. One is for the lowest speed, and ten is for the highest speed. You could manage the speed that you want for your dish, accordingly, as per your need.
---
Vitamix 5300 Review: Other Features
The Vitamix 5300 blender has a number of other useful features, ensuring it stands out amongst lesser blender models.
Cooling Fan
It comes with an inherent cooling fan that prevents the machine from getting warmer. This feature helps to maintain the life of the product. You don't have to worry about doing something extra for cooling down your machine.
Warranty
It comes with a generous 7 years warranty. The coverage is great as, along with the parts and the labor, it covers the shipping cost.
---
Vitamix 5300 Review: Container and Blade
The Vitamix 5300 comes with a low profile and wider bottom container. Although at first glance the container seemed to me like it's made of glass, a round of research proved me wrong.
Like every other blender from the Classic line, the 5300 model container is made of high-quality copolyester, known as Eastman Tritan. This material is famed for its stress and temperature resistance properties. It is also very unlikely to break, even in the most 'sadistic' hands. For increased efficiency, Vitamix made sure to mark measures such as ounces, milliliters, and cups on the container.
At 64 ounces, the container is fairly large, and it is mostly recommended for blending large batches of food. However, you can always opt to buy the additional 48 oz. or 32 oz. wet blade containers for smaller batches of ingredients, and the 32 oz. dry blade container for milling grain.
Related Articles:
Since the container is low profile, the blade is specifically designed at 4 inches. High profile containers, on the other hand, come with a blade of 3 inches. Made of stainless steel, it is dishwasher safe, but I'd recommend you wash it by hand. It is dulled by design, meaning it's safe to clean.
After consulting with customer feedback, I discovered that a lot of users grind and mill ingredients with the blade and it proved to do a fairly good job. Be aware though, this blade is primarily made for dry ingredients!
Since this is quite a powerful blender, you shouldn't be surprised that it's a bit noisy. However, when compared to the classic Vitamix 5200, it seems the 5300 is less noisy. But, if you're used to the G-series of Vitamix blenders, you'll notice that the 5300 is louder.
---
Vitamix 5300 Review: Operating
The Vitamix 5300 is extremely easy to use even on the very first attempt. It requires little to no effort to set it up for running as the blade is built into the container. Basically, all you need to do is fill the container with ingredients and place it on the base unit. What's more, you can add ingredients while blending since it comes with a two-part lid design.
Vitamix 5300 Review: Final Thoughts
In my research, the Vitamix 5300 managed to score high in terms of functionality, efficiency, versatility, and design. I especially appreciate the fact that it can handle a variety of kitchen tasks, even the most boring ones, like chopping.
In a number of Vitamix 5300 reviews, the blender is praised as a mighty ally to have in the kitchen. For increased customer satisfaction, it is recommended to buy the additional containers that further increase the blender's productivity.
As this Vitamix 5300 review is coming to an end, I'd like to say that the blender is surely worth the investment. For the budget aware customers, the brand made sure to include refurbished Vitamix 5300 blenders in their offer as well!
Related Articles: