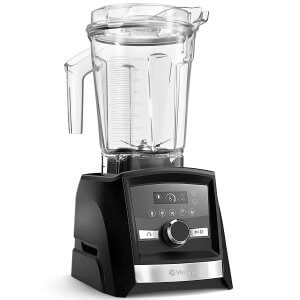 Today, I decided to share with you my experience with the Vitamix A3500 blender and write a review, I have to say that this is a product I really had fun using.
This is a top of the line product of the Ascent series blenders. The Vitamix Ascent A3500 has everything you need in a blender while maintaining a beautiful configuration. In addition to that, the Vitamix A3500 is a self-cleaning, sleek-looking, time-saving super blender.
And, the Vitamix A3500 has five program settings for hot soups, frozen desserts, smoothies, dips, and spreads, and it even has one for self-cleaning. It also has 10 variable speed controls and a touch screen digital timer.
The pulse functionality and motor are both extremely powerful. All the controls are touch screen, except the variable speed control. There is even an option to use built-in wireless connectivity.
The Vitamix A3500 blender will impress you even by its appearance. It has a clear transparent container and lid, and a smart futuristic base. It blends powerfully and consistently, therefore providing the best results.
Let's get to know this blender a bit more.
---
Vitamix A3500 Review: Overview
Honestly, the Vitamix A3500 probably has the most interesting features I have ever experienced with a blender. Let's start by talking about its design and setup.
First up is the base. You can get it either in the classic style or metal. I personally like the metal option better because it has more of a sophisticated look. If you have a lot of stainless steel appliances, the Vitamix A3500 will have you jumping for joy. Matching appliances make a happy kitchen.
Aside from the metal option, you have a fancy touchscreen. In the modern world, it's hard to find someone who doesn't own something with a touchscreen. It's easier to use and just looks nicer in my opinion.
Next up are the blenders programs and settings. I definitely consider myself a program person. If you're usually doing multiple things at once in the kitchen, the preset programs built into the A3500 save up a lot of your time and effort. Two blenders in the Ascent range have the preset programs, and the 3500 has the most, at 5.
Read More: Vitamix A3500 Vs 750: Which is better?
The programs are Smoothies, Hot soups, Dips and Spreads, Frozen Desserts, and Self Cleaning. Yes, that's right, Self Cleaning. I would recommend you buying this product just for that feature alone.
If you think that's all, you're wrong, the technology doesn't stop here.
If you are familiar with the Ascent series blenders, you might have heard of the "self-detect technology" and "Wi-Fi capabilities." Let me say something about those quickly:  The self-detect technology is kind of cool, but for most people, I don't think it makes much of a difference. It basically means the blender knows what type of container you place on it.
Wi-Fi connectivity is something else. Despite the fact that there is currently no real use for the Wi-Fi capability, it's been suggested that this may allow owners of Ascent blenders to obtain new presets and other technology updates in the future.
The details remain to be seen, but this is an exciting prospect nonetheless, especially given that with your 10-year warranty you'll have this machine for a really long time.
---
The Blending Feature
The Vitamix A3500 is an example of the perfect machine for blending.
Perfect Blending feature – You can customize the processes with pulse and speed controls for dips and spreads, hot soups, smoothies, frozen desserts, and more. The blender is also self-cleaning, which is super convenient.
Your morning smoothie or late-night dessert is now guaranteed to be just a click away, and you can surprise your house-party guests by serving them the finest dips and spreads.
The blending is perfect and consistent always. Just pick a recipe from the book and follow the plan. This blender is precise in everything it does.
Related Articles:
Flexible Blending feature – This means that you can use a range of ingredients in your blender such as vegetables, fruits, dough, and processing butter. It has 10 variable speed controls that will always provide you with uniform textures, no matter what the ingredient.
Simply put. the pulse feature is dynamic enough to work both on soft pulp and fruits, vegetables, nuts, and seeds.
Thanks to the built-in wireless connectivity, its motor base can identify the selected container size automatically, and adjust the maximum blending time and program settings accordingly. The A3500 uses near-field communication or NFC to do this. The NFC tag is located at the bottom of your container.
---
The Timer Display
Similar to the Ascent A3300, A2500, and A2300, the A3500 includes a very convenient timer display. The timer display is a touch screen, and you can manually set a specific time for blending. The timer will count up and display the minutes and seconds of your blends.
So, the motor stops automatically after six and a half minutes when you use the big 64 oz container. On the other hand, the soup program on this Vitamix blender runs for five minutes and forty-five seconds.
Digital Knob
This product also has a digital knob. Speed setting resets to 1 after the blending stops, which is good because if you accidentally leave the speed setting on high, there is always a risk of unexpectedly starting it up at the maximum speed.
The knob feels nice, and it clicks gently between speed settings. It's ergonomically designed to ensure comfort while using this blender.
Vitamix A3500 Review: Final Thoughts
The Vitamix Ascent A3500 is a great choice if you are looking for a beautiful and top-quality blender. It is the top-of-the-line model from the Ascent Series. When it comes to features, blending, conveniences, easy cleanup, power, and ease of storage, the A3500 does not disappoint one bit.
If you can afford it, and if you value luxury, convenience, and high technology, you should definitely get this blender.
It's an investment that will make your mornings faster, make preparing good meals easier, and generally add some convenience to your life.
---