Today, I decided to share with you my experience with the Vitamix A3500 blender and write a review, I have to say that this is a product I really had fun using.
This is a top of the line product of the Ascent series blenders. The Vitamix Ascent A3500 has everything you need in a blender while maintaining a beautiful configuration. In addition to that, the Vitamix A3500 is a self-cleaning, sleek-looking, time-saving super blender.
As you will see in the Vitamix A3500 review, the blender has five program settings for hot soups, frozen desserts, smoothies, dips, and spreads, and it even has one for self-cleaning. It also has 10 variable speed controls and a touch screen digital timer.
The pulse functionality and motor are both extremely powerful. All the controls are touch screen, except the variable speed control. There is even an option to use built-in wireless connectivity.
The Vitamix A3500 blender will impress you even by its appearance. It has a clear transparent container and lid, and a smart futuristic base. It blends powerfully and consistently, therefore providing the best results.
Let's get to know this blender a bit more.
---
Vitamix A3500 Review: Overview
Honestly, the Vitamix A3500 probably has the most interesting features I have ever experienced with a blender. Let's start by talking about its design and setup.
First up is the base. You can get it either in the classic style or metal. I personally like the metal option better because it has more of a sophisticated look. If you have a lot of stainless steel appliances, the Vitamix A3500 will have you jumping for joy. Matching appliances make a happy kitchen.
Aside from the metal option, you have a fancy touchscreen. In the modern world, it's hard to find someone who doesn't own something with a touchscreen. It's easier to use and just looks nicer in my opinion.
Next up are the blenders programs and settings. I definitely consider myself a program person. If you're usually doing multiple things at once in the kitchen, the preset programs built into the A3500 save up a lot of your time and effort. Two blenders in the Ascent range have the preset programs, and the 3500 has the most, at 5.
Read More: Vitamix A3500 Vs 750: Which is better?
The programs are Smoothies, Hot soups, Dips and Spreads, Frozen Desserts, and Self Cleaning. Yes, that's right, Self Cleaning. I would recommend you buying this product just for that feature alone.
Self-Detect And WiFi
If you think that's all, you're wrong, the technology in the Vitamix A3500 doesn't stop here.
If you are familiar with the Ascent series blenders, you might have heard of the "self-detect technology" and "Wi-Fi capabilities." Let me say something about those quickly: The self-detect technology is kind of cool, but for most people, I don't think it makes much of a difference. It basically means the blender knows what type of container you place on it.
Wi-Fi connectivity is something else. Despite the fact that there is currently no real use for the Wi-Fi capability, it's been suggested that this may allow owners of Ascent blenders to obtain new presets and other technology updates in the future.
The details remain to be seen, but this is an exciting prospect nonetheless, especially given that with your 10-year warranty you'll have this machine for a really long time.
---
Vitamix A3500 Review: The Blending Feature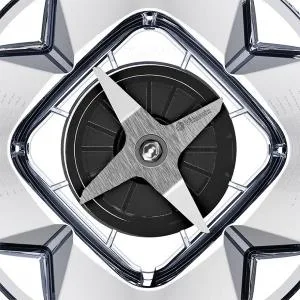 The Vitamix A3500 is an example of the perfect machine for blending.
Perfect Blending feature – You can customize the processes with pulse and speed controls for dips and spreads, hot soups, smoothies, frozen desserts, and more. The blender is also self-cleaning, which is super convenient.
Your morning smoothie or late-night dessert is now guaranteed to be just a click away, and you can surprise your house-party guests by serving them the finest dips and spreads.
The blending is perfect and consistent always. Just pick a recipe from the book and follow the plan. This blender is precise in everything it does.
Related Articles:
Flexible Blending feature – This means that you can use a range of ingredients in your blender such as vegetables, fruits, dough, and processing butter. It has 10 variable speed controls that will always provide you with uniform textures, no matter what the ingredient.
Simply put. the pulse feature is dynamic enough to work both on soft pulp and fruits, vegetables, nuts, and seeds.
Thanks to the built-in wireless connectivity, its motor base can identify the selected container size automatically, and adjust the maximum blending time and program settings accordingly. The A3500 uses near-field communication or NFC to do this. The NFC tag is located at the bottom of your container.
---
Vitamix A3500 Review: Design and Construction
The Vitamix A3500 is crafted with a handsome and slick, but simplistic design. Its base is made of high-quality solid plastic with metal siding, and it is quite heavy. Owing to this, it is a stable blender and seems to have a strong drive-chain.
This mixer comes with metallic gears, a thick power cable, and is also quite sturdy. Its intelligent motor workings are sensitive and stop when needed, instead of powering on and harming the motor. Overall, it has a high-end look that looks brilliant in any kitchen.
This model comes in many variants: classy metal finishes, which include brushed stainless, copper, graphite, and stainless black; standard plastic base units come in the colors red and white. For me, the most eye-catching feature of the Vitamix A3500 was its LED Display. This striking feature displays the status of the blender to the user.
It shows the blade speed, elapsed time, and other automated features of the blender that are currently operating. Also available are five pre-settings: Smoothies, Frozen Desserts, Soups, Dips/Spreads, and Self-Cleaning. It is versatile and can be used to make everything from frozen items to hot ones.
Touch-Screen Controls
The controls are present as touch-sensitive keys in front of the blender. The blades' speed can be controlled with the help of a dial placed at the center of the control panel.
The mixer is equipped with Bluetooth as well as NFC (Near Field Communication). This makes the blender aware of the presence or absence of a container. It avoids potential harm to the machine as well as to the user. It also helps the blender automatically sense the size of the jar and adjust to its settings.
If there is no container, the machine will not react to any commands. With the Bluetooth feature, you can use the mixer using the Vitamix Perfect Blend App, which has a host of recipes as well as control the pre-set modes.
---
Vitamix A3500 Review: Accessories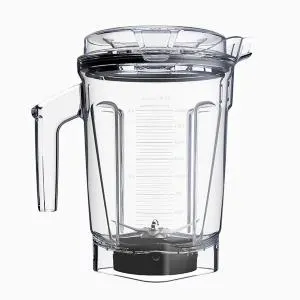 The Vitamix A3500 box came with the motor base, user manual, a cookbook, tamper, blender pitcher, and a lid with a removable center. The wonderful recipe guide is filled with several recipes to test the abilities of the mixer. It also helped me get familiar with the workings.
A wide range of extra accessories are also available to suit your every need: like the variety of useful jars from the stainless-steel variants to the self-detect ones, different blend scales, and food processor attachments. The self-detect containers are especially adaptable and specially made for this model because of the NFC facility.
The basic version of the A3500 comes with a large, well-built main jar placed in any orientation on the base. Although no extra jars are provided with the main package, they are easily available at Vitamix. The lid of the jar is clear and has two clips on each side that effectively clamps down.
The middle part of the lid is removable and can also double as a small measuring cup. You can remove the middle part to use the tamper, check on the ingredients, or add any. The A3500 comes with a thick power cord of 48" inch length and is adaptable to most outlets.
The tamper is also a really useful accessory provided. It is especially helpful with thick and rough mixtures. You can easily insert the tamper through the removable lid to remove air bubbles, mix added ingredients, or move the mixture if it is sticky.
The Perfect Blend Smart Scale and Recipe App is also a powerful tool to cook up a storm with your Vitamix A3500. Get it to access over five hundred wonderful recipes! As mentioned, you can use it to connect via your machine's Bluetooth and send the recipes and pre-sets to it.
---
Vitamix A3500 Review: Power and Speed
The Vitamix Ascent A3500 works with a 120V/12 amps power and 1500W/2.2hp motor. This makes it a robust, powerful machine that drives its blades to blend your food to perfection. It also handles hard blending tasks like nuts, very well.
Speed Control
You can control the blades' speed by turning the designated dial knob to the left or the right. This knob controls the speed from the highest level, which is #10, to the lowest, #1. There are nineteen total speeds and increments in total. It has a soft grip and clicks in between changes, so you will be well aware of them.
The highest setting is pretty high and ends up heating the food a lot. Another advantage is that the knob automatically resets to the slowest setting after the blender is stopped or restarted. This protects the machine and prevents it from increasing unboundedly. The thermal override safety system also ensures that the motor turns off before it gets too hot. An alert is shown on the control panel if the blender overheats, and the thermal override is triggered.
---
Vitamix A3500 Review: Cleaning and Maintenance
Cooking is always fun, but cleaning afterward can be daunting, especially with a high-end product like this. However, do not be intimated to clean the Vitamix A3500 as it comes with an inbuilt cleaning program. You do not even have to take out the blades off for this!
Fill the pitcher of the blender halfway with hot water, a drop of dishwashing soap, and then run it for about a minute to get it clean. After that, rinse out the container under running water. If there are sticky substances involve, you might just have to use a spatula or sponge, but otherwise, it is pretty easy to wash.
Usually, if used for long, there tend to be residues under the blades and at the bottom parts. It is usually removed with the thorough wash prescribed above. However, if you need to take out the blades, worry not because they are detachable and dishwasher friendly. They are also safe to handle because they are dulled. The container, lid, and caps are also dishwasher friendly.
Vitamix provides a ten-year warranty period to the A3500. This warranty covers all parts of the machine, absolutely free of cost. Additionally, they are also known to pay shipping for both ways. You can avail of warranty by noting the serial number present on the machine itself to Customer Service.
This removes the hassle of having to keep the receipts carefully. Vitamix also provides excellent Customer Service, so you always inquire about any queries regarding your product's maintenance. There is also a thirty days risk-free trial period available on every purchase. You can always return it if you do not like the item.
---
Vitamix A3500 Review: Other Features
The Vitamix A3500 is loaded with a multitude of amazing and innovative features in a look that screams premium and high-end. It is truly hard to resist, and its popularity among buyers is understandable. Here are some additional features that I noticed and which can help you decide on this product
Size
This item is 11″X8″ X17″ high. These dimensions make it easy to store under the standard kitchen cabinet. The cord is wrapped around the bottom and can be easily tucked inside any space. As mentioned, the unit is also quite heavy, so it is better to be careful if you carry it around.
The Timer Display
The A3500 comes with a handy in-built timer. You can touch the appropriate signs provided (+ or -) on the control panel to set your time. It is even possible to readjust your blending time as well as the speed, with the timer on. You can also stop the blending process at any time by just pressing the stop control.
Additionally, you can add your programs. However, each container is also equipped with maximum run time, after which it will automatically stop. This is a very useful safety measure so that the container or the machine is not harmed.
Similar to the Ascent A3300, A2500, and A2300, the A3500 includes a very convenient timer display. The timer display is a touch screen, and you can manually set a specific time for blending. The timer will count up and display the minutes and seconds of your blends.
So, the motor stops automatically after six and a half minutes when you use the big 64 oz container. On the other hand, the soup program on this Vitamix blender runs for five minutes and forty-five seconds.
Digital Knob
The Vitamix A3500 also has a digital knob. Speed setting resets to 1 after the blending stops, which is good because if you accidentally leave the speed setting on high, there is always a risk of unexpectedly starting it up at the maximum speed.
The knob feels nice, and it clicks gently between speed settings. It's ergonomically designed to ensure comfort while using this blender.
Noise
Although it is such a strong machine, the Vitamix A3500 makes extremely less noise. It indicates that it might just have noise-canceling materials or designs. In general, ingredients like nuts and ice are loud, but this machine makes pretty less noise even then. You can easily carry out conversations even with it working away in the background.
Refurbished Vitamix Models
This is quite a high-end product. However, you also have the option of purchasing a refurbished machine from Vitamix itself. These are certified and verified by the company itself! These are available with up to $100 off and have a five-year warranty period instead of the usual ten years.
Exploratory Period
This is quite a powerful machine and, as I have mentioned, contains quite a number of different features. This required me to spend quite some time exploring and learning about them.
This is where the recipe book comes in extremely handy. Study closely to learn about the ingredient proportions, ideal quantities, how and what to add, and more. It might be a bit tedious, but it is worth it. If you dedicate a few minutes to go through and understand it, you would probably love the choice you made on Vitamix A3500.
---
Vitamix A3500 Review: Final Thoughts
The Vitamix Ascent A3500 is a great choice if you are looking for a beautiful and top-quality blender. It is the top-of-the-line model from the Ascent Series. When it comes to features, blending, conveniences, easy cleanup, power, and ease of storage, the A3500 does not disappoint one bit.
If you can afford it, and if you value luxury, convenience, and high technology, you should definitely get this blender.
It's an investment that will make your mornings faster, make preparing good meals easier, and generally add some convenience to your life.
---