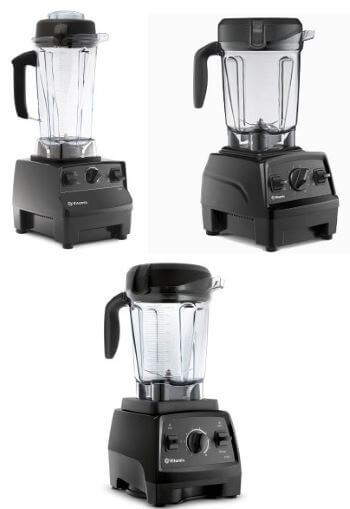 Getting a Vitamix blender is a worthwhile investment for anyone looking to up their game in the kitchen. After all, these machines are known for their powerful performance and longevity.
They are ideal for creating anything from smoothies and soups to baby food. On the other end of the spectrum, you can expect to get professional-grade results when dealing with tougher ingredients such as carrots, celery and nuts, and even pulverizing the tough ends of asparagus into an absolute pulp.
The versatility of these machines almost equates having multiple appliances in one and who doesn't love that idea? It comes down to owning one machine that will do all the work for you which makes it convenient to use and even more convenient to clean up.
But with so many varieties available, choosing the right blender may seem somewhat overwhelming.
So here, I have narrowed down the choice to three top performers by the brand that will give you everything anyone looks for in a Vitamix blender.
Top Rated Vitamix Blenders Of 2020
---
Vitamix 5200 C-Series Blender: Best Overall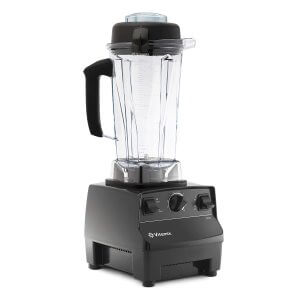 The Vitamix 5200 is perhaps the brand's most well-known and widely used model for home use. It remains a popular option given its durable construction, simple controls, and impressive power.
Motor power
The Vitamix 5200 is a robust blender with a 2.0 HP motor that can spin at 37,000 RPMs. That's enough blending power to pulverize most ingredients to a smooth pulp.
The ball bearing design of the motor reduces friction to enhance its life and make it more efficient. Add this to the fact that all motor parts are made of metal and you get one of the most durable blenders ever.
The blender base and motor also come with a built-in cooling fan, that ensures that the machine doesn't burn out, especially when working with hot foods.
Durable construction
For a blender that packs in so much power, it's equally important to have other parts that can handle that power well. As such, the container uses an impact-resistant polycarbonate type that is BPA and BPS-free.
The container sits on a rubber pad which reduces vibration when the machine runs. This adds to the durability and stability of the Vitamix 5200 when compared to other powerful blenders.
Likewise, the hardened stainless-steel wet blades in the pitcher make these excellent for working with tasks like frozen desserts, kneading and grinding. To add to the sturdiness of the unit, the blades are paired with a double set of stainless-steel bearings to increase life and keep the blender running longer.
---
Vitamix E320 Explorian Blender: Best Budget Pick
The Vitamix E320 is the brand's budget blender that offers to do everything that other Vitamix blenders can, only at a much more affordable price. This unit is easy to use with a minimal interface but will still give you lots of blending options to work with.
Simple interface
The E320 has a simple interface with only three controls. The first is an On/Off switch to power your appliance. The second is a Pulse lever while the third is a Variable 10-speed Dial.
It's worth mentioning here that despite its basic and entry-level design, the Pulse feature is a great addition to the E320 and isn't always seen on other Vitamix models. Even the very popular 5200 is missing this feature.
The Pulse feature is ideal for preparing salsa and sauces where, once toggled, the blades start to perform a chopping maneuver instead of blending or mixing and yield a chunkier consistency instead.
The 10-speed dial works through all sorts of blending and mixing tasks such as smoothies, purees, sauces and dips to frozen desserts, nut butters and kneading doughs.
Ideal for batch preparation
The Vitamix E320 has a 64-oz container that caters well to preparing larger batches of smoothies and other foods. Its low-profile design and wide base allow the container to handle more ingredients easily. In fact, according to manufacturers' instructions, there should be at least two cups of ingredients for the machine to blend properly.
The container is essentially a wet pitcher meaning it's more suitable for blending wet ingredients. As such, the container design also supports a spout to make pouring easier.
---
Vitamix 7500 G-Series Blender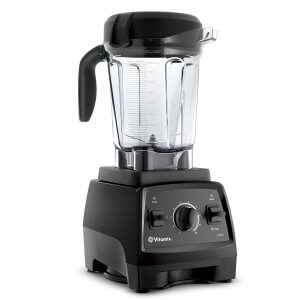 The Vitamix 7500 is a versatile unit that can handle a variety of ingredients with little, if any difficulty. You can pop in wet or dry ingredients, large or small chunks of food, and any soft or hard foods and see them get worked through with minimal effort.
A fine upgrade
The 7500 is essentially the new 5200 with a few upgrades. First off, it is shorter than the 5200 sitting at 17.5 inches and easy to fit under the average kitchen cabinet. But despite the lower profile, it still comes with a 64-oz container for processing larger quantities of ingredients.
Then there is the 2.0 HP of the 5200 that's been upgraded to 2.2 HP for the 7500 and the 7500 comes with a Pulse feature missing in the earlier model. And finally, the 7500 has a noise dampening feature that addresses a common complaint often associated with other Vitamix blenders.
Good for the entire family
Like its other two Vitamix counterparts mentioned today, the Vitamix 7500 also features a massive 64-oz container. This lets you prepare food for the entire family without having to go back to your appliance for a second or third round. Think smoothies for everyone at breakfast at the same time or frozen desserts to enjoy after a hearty meal.
The same goes for hot meals such as soup. Users like that this blender is versatile enough to make soup in the same container it whips up a smoothie in.
Plus, the low-profile design gives the 7500 a slight edge in terms of storage. If you have limited cabinet space, then the 7500 will suit you better.
---
Best Vitamix Blender: A Complete Buying Guide
Vitamix currently boasts a collection of around 30 different blenders on their website with everything from personal blenders to commercial ones and that can be a bit confusing for potential buyers.
However, upon careful inspection, you'll see that there's a fair bit of redundancy between the various models. Many of the machines are essentially identical with some sold with a shorter container than a larger one. Others may vary based on the design and placement of their switches and dials while some others may be upgraded versions of their previous selves.
So, whether you are looking for a personal blender or a commercial one, chances are that Vitamix will likely have something for you.
Powerful performers
Despite their individual specs, the common denominator for all Vitamix blenders is their immensely powered motors. Those that peak at 2.0 or 2.2 HP are suitable for residential use while high performers can run on 3.0 HP and beyond.
Their maximum motor power can go up to an impressive 3.5 HP, which, mind you, can be an overkill if all you're looking for is to make smoothies.
Function-wise, you can get blenders with variable speeds or others with pre-programmed settings and programmable timers.
Related Articles:
Can work with hot and cold foods
When you look into a blender, heating foods doesn't really come to mind. I mean, everyone has a microwave for that, right?
But with the immense power of Vitamix blenders, you can do just that and much more. The friction created by the rotating blades heats up ingredients (think soup and not smoothie ingredients) that allow you to have a warm meal right out of the blender.
You can prepare an intricate family meal such as corn chowder with a single kitchen tool. Not only is this convenient, but it also minimizes clean up at the end of the day.
Easy to clean
Given their simple design, cleaning a Vitamix blender is a non-issue. This also goes for models that don't have dishwasher-safe containers.
All you need to do is put some warm water and liquid soap into the container and turn the blender on to the highest setting. Let run for 30-60 seconds and pour out the cleaning solution. Rinse with regular water and set up your blender for its next use.
Some models come with a self-cleaning feature where you simply press a button and let the machine clean itself.
Best Vitamix Blender: Final Thoughts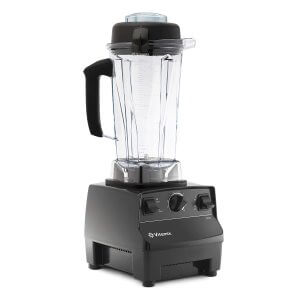 When compared to other blenders in the market, the Vitamix brand definitely goes above and beyond the competition. This, however, does not imply stuffing the appliance with confusing-to-operate features or cumbersome-to-clean mechanisms. Instead, the beauty and appeal of these blenders lie in their simplicity of design and operation.
That's why for overall great performance, the Vitamix 5200 remains a true favorite among users. While not cheap by any standard, the 5200 does cost a fair deal less than other Vitamix models without cutting corners on performance. It performs well across the board with users gushing about its power and dependability.
But if you're strictly on a budget, then I recommend taking a closer look at the Vitamix E320. This basic blender delivers the Vitamix performance but won't break the bank for you.
The Vitamix 7500 is also an excellent candidate for superior blender performance. Slightly upgraded from its original version, this blender boasts the best of aesthetics and power in one machine.
Related Articles: