---
Getting a Vitamix blender is a worthwhile investment for anyone looking to up their game in the kitchen. After all, these machines are known for their powerful performance and longevity.
They are ideal for creating anything from smoothies and soups to baby food. On the other end of the spectrum, you can expect to get professional-grade results when dealing with tougher ingredients such as carrots, celery, and nuts, and even pulverizing the tough ends of asparagus into an absolute pulp.
The versatility of these machines almost equates to having multiple appliances in one and who doesn't love that idea? Having the best Vitamix blender comes down to owning one machine that will do all the work for you which makes it convenient to use and even more convenient to clean up.
But with so many varieties available, choosing the right blender may seem somewhat overwhelming.
So here, I have narrowed down the choice to the top performers by the brand that will give you everything anyone looks for in a Vitamix blender.
Top Rated Vitamix Blenders Of 2021
---
---
---
Best Vitamix Blender: A Complete Buying Guide
Vitamix currently boasts a collection of around 30 different blenders on their website with everything from personal blenders to commercial ones and that can be a bit confusing for potential buyers.
However, upon careful inspection, you'll see that there's a fair bit of redundancy between the various models. Many of the machines are essentially identical with some sold with a shorter container than a larger one. Others may vary based on the design and placement of their switches and dials while some others may be upgraded versions of their previous selves.
So, whether you are looking for a personal blender or a commercial one, chances are that Vitamix will likely have something for you.
Powerful performers
Despite their individual specs, the common denominator for all Vitamix blenders is their immensely powered motors. Those that peak at 2.0 or 2.2 HP are suitable for residential use while high performers can run on 3.0 HP and beyond.
Their maximum motor power can go up to an impressive 3.5 HP, which, mind you, can be an overkill if all you're looking for is to make smoothies.
Function-wise, you can get blenders with variable speeds or others with pre-programmed settings and programmable timers.
Can work with hot and cold foods
When you look into a blender, heating foods doesn't really come to mind. I mean, everyone has a microwave for that, right?
But with the immense power of Vitamix blenders, you can do just that and much more. The friction created by the rotating blades heats up ingredients (think soup and not smoothie ingredients) that allow you to have a warm meal right out of the blender.
You can prepare an intricate family meal such as corn chowder with a single kitchen tool. Not only is this convenient, but it also minimizes clean up at the end of the day.
Easy to clean
Given their simple design, cleaning a Vitamix blender is a non-issue. This also goes for models that don't have dishwasher-safe containers.
All you need to do is put some warm water and liquid soap into the container and turn the blender on to the highest setting. Let run for 30-60 seconds and pour out the cleaning solution. Rinse with regular water and set up your blender for its next use. The best Vitamix blenders come with a self-cleaning feature where you simply press a button and let the machine clean itself.
Best Vitamix Blender: Final Thoughts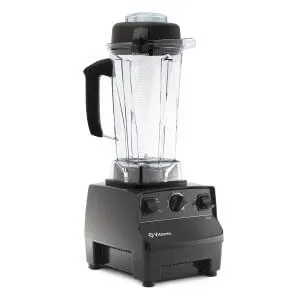 When compared to other blenders in the market, the Vitamix brand definitely goes above and beyond the competition. This, however, does not imply stuffing the appliance with confusing-to-operate features or cumbersome-to-clean mechanisms. Instead, the beauty and appeal of these blenders lie in their simplicity of design and operation.
That's why for overall great performance, the Vitamix 5200 remains a true favorite among users. While not cheap by any standard, the 5200 does cost a fair deal less than other Vitamix models without cutting corners on performance. It performs well across the board with users gushing about its power and dependability.
But if you're strictly on a budget, then I recommend taking a closer look at the Vitamix E320. This basic blender delivers the Vitamix performance but won't break the bank for you.
The Vitamix 7500 is also an excellent candidate for superior blender performance. Slightly upgraded from its original version, this blender boasts the best of aesthetics and power in one machine.
---
Best Vitamix Blender For Home Use
Have you always wanted a Vitamix blender but being intimidated by the price or by the professionalism of such an exciting tool? The truth is Vitamix machines are simple to use and are great for using at home in your kitchen. That is why I have put together a list of the best Vitamix blenders to be used in the home.
These blenders are way more affordable than industrial units, they offer way more power than ordinary blenders, and they have just enough features to be useful but not confusing.
You can use these blenders for all kinds of different recipes, from smoothies to food processing, and much more.
Plus, Vitamix blenders are durable. They last a very long time and often come with long warranties. When you invest in a Vitamix blender for your home, you are investing in the last blender of your life.
---
---
---
Best Vitamix For Home Use: A Complete Buying Guide
There are many different types of Vitamix machines. Did you know that the coffee giant Starbucks actually uses a special Vitamix blender in almost all its global stores? That's how great these products are. But if you don't want to spend $1000 on a Starbucks blender, there are reasonable options for using around the house without sacrificing quality.
All the other Vitamix blenders still work great, they just don't come with sound enclosures or other features that a coffee house needs. But even consumer models of Vitamix blenders have variable speed controls, durable containers, and the best design features to make your time in the kitchen easier.
What Type of Blender?
Not all Vitamix blenders are the same. Many of them look quite similar, but they are actually very different. Some Vitamix blenders come in different colors, some come with extremely large containers over 70 ounces, some come with low-profile containers, and some come included with handy accessories for drinking smoothies on the go.
Then you have personal blenders that are much smaller, budget blenders, and the list goes on. Whatever your needs are, I guarantee Vitamix has a blender for you. If you will be doing a lot of food processing, I recommend a larger blender compatible with the special Vitamix dry grains container.
If you're only into personal smoothies, I recommend a cheaper Vitamix blender that comes included with to-go cups for easy drinking.
Technology in Blenders
One of the biggest complaints when it comes to Vitamix machines is their lack of technology. Almost every Vitamix comes with a standard speed control dial on the center of its face, a single toggle switch for on/off, and nothing else. This is a big consideration when purchasing your blender. Does it need to have a digital clock, do you want special technology? If so, you will end up paying more for an advanced unit.
Compatibility
Your Vitamix blender is going to be the centerpiece of your kitchen. You can actually replace a lot of different appliances with a single Vitamix blender. Because of this, you want to choose a newer model of Vitamix that is compatible with all additional accessories.
For example, if you are interested in food processing and smoothies, you probably want to have the Vitamix blender + the Vitamix to-go cups + the Vitamix dry grains container. Some older models are not compatible, so always double-check before making your final purchase.
What is the Best Vitamix For Home Use: Final Thoughts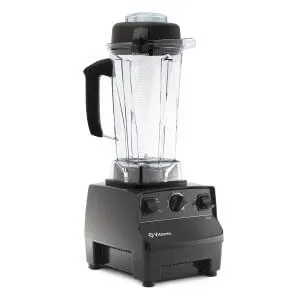 At the end of the day, any Vitamix blender is going to work great in your house. A lot of it depends on your personal needs. The Vitamix E310 Blender is a remarkable unit at an affordable price, whereas the Vitamix A2300 Smart Blender is a fantastic piece of equipment with new technology and innovative features.
The Vitamix 5200 Blender is my number one choice for using in the home. It's small, compact, and it has a very simple control system. You can tweak your speeds, you can quickly make milkshakes and smoothies, and the machine will clean itself effectively to save you the hassle.
If you need a Vitamix blender to complete a wide variety of daily kitchen tasks, the 5200 is an excellent model. Yes, it's a little expensive. But it's also a great investment in the future of your kitchen.
---
Best Vitamix For Green Smoothies
Now we're looking at the best Vitamix to use for green smoothies. As you may already know, Vitamix blenders are the very best in the industry. You can use these awesome machines for making smoothies, sauces, and a whole heap of other great recipes.
But now we're focusing on green smoothies. These blenders are the best at making silky smooth green smoothies, providing you with the perfect texture for your favorite drinks. You can definitely make green smoothies using cheap and ineffective blenders, but if you really want all your leafy greens blended into an irresistible beverage, I highly suggest a Vitamix.
Sure, some Vitamix machines are expensive, but we will go through a full range of Vitamix machines that are more affordable than usual. These will replace tons of your kitchen appliances while withstanding all the brutal blending tasks you throw at it. Most of these blenders come with a full 7-year warranty.
---
---
---
Best Vitamix For Green Smoothies: A Complete Buying Guide
When it comes to green smoothies, we're not dealing with a lot of very complicated ingredients. A typical green smoothie consists of something leafy, something green, a little bit of fruit, a handful of nuts, a splash of milk, and a few drops of something extra. These ingredients don't really require a whole lot of power to be properly blended.
Basically, any blender can make a green smoothie. However, that's the same as saying any car can get you to work. Sure, you'll get there, but it might not be the smoothest ride. By investing in a better car, which in this analogy is the Vitamix blender, you will get to work faster and in style.
Basically, Vitamix blenders make better green smoothies than other blenders. They have more power, there is more detail put into their design, and their blades are more effective.
Price Points
Price points are a big issue when shopping for anything. When it comes to Vitamix blenders, they range anywhere from a few hundred dollars to over a thousand dollars. This leaves a lot of debate on which unit you should buy.
Let me just assure you that when it comes to Vitamix blenders, you're basically getting the same blades in every machine. Some motors are stronger than others, but the general design is pretty similar. Because we're dealing with green smoothies, purchasing a cheaper Vitamix blender will do fine. It is still going to work better than a more expensive lower-tier blender.
Containers
Believe it or not, the size of the container very often has an influence on the price of the actual blender. To try and get around this, I suggest purchasing a blender with a normal-sized container. Unless you're entertaining friends or blending huge batches of smoothies for your family on a regular basis, you can do with a smaller blender.
A smaller container is easy to clean, easier to store, and just simpler to use. I recommend something smaller than 64 ounces, maybe 48 ounces and under. These blenders are great for green smoothies.
Extras
People typically drink green smoothies as a boost to their health. These drinks are great for when exercising, when going for a walk, and when heading to work in the morning to give you a boost of energy. Because of this, you definitely want your blender to be fully compatible with the unique to-go cups from Vitamix, as these will make your life more convenient.
With the to-go cups from Vitamix, you can blend straight into your cup and then take it with you. However, some models are not compatible. Always check the compatibility of your blender before buying.
Best Vitamix For Green Smoothies: Final Thoughts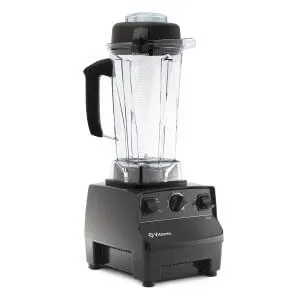 These Vitamix blenders are all great. Each one of them is highly rated, they each offer something a little different, and they're all remarkable tools for making green smoothies. The Vitamix E310 is a great Vitamix for people on a budget who don't want to spend too much cash, while the Vitamix 7500 is a professional blender with a large container that can handle big batches of smoothies.
However, the very best blender on this list has to be the Vitamix 5200 Professional Blender. It has fantastic power, it blends smoothies to utter perfection, and it has a durable 64-oz container. If you're looking for the best blender to make green smoothies with, while still having a blender that can process food, this is the kitchen blender you've been waiting for!
---
Best Compact Vitamix Blender
Now we are going to discover the best compact Vitamix blender. We'll be looking at two examples from the Vitamix S-Series, each of which are pretty similar but also a little different. These blenders are great for people who want to make personal drinks on the go while still having the ability to make a large pitcher full of their favorite beverage.
Because of the compact size of these blenders, you can easily store them on your counter, you can place them in a cupboard out of the way – they leave absolutely no clutter and no mess of cords. These blenders are small, easy to operate, and they make smoothies quick.
But they don't only make smoothies. The compact Vitamix blenders are great for making smoothies, it's true, but when using the larger pitcher you can also make salsas, soups, and you can do lots of food processing.
---
---
---
The Best Compact Vitamix Blender: A Complete Buying Guide
There are quite a few things to consider when looking at a quality compact blender. You want to save as much space as possible, you want to have very little noise, and you want all the best features that come with a full-sized blender.
Easy Blending
The whole point of having a small blender is that it doesn't take up a lot of room and it still works great. You want a machine that is going to allow you to blend all your drinks quickly and effectively. For this reason, you definitely want a small blender with a strong motor. If the motor is not strong enough, you won't be able to mix all your favorite ingredients.
You also want simplistic controls. You need variable speeds so that you can customize the texture of your blends. You won't always be making smoothies, and so you need lots of different speeds for your different recipes. For example, you will need to use lower speeds when processing fruits and vegetables and higher speeds when making smoothies and juices.
Another important thing about a compact blender is cleaning. You don't want to waste your time cleaning an annoying machine. For this reason, you definitely want a Vitamix blender that can clean itself. And the good news is that most of them can!
Warranty
Just like with any appliance or electronic, warranties are important. What if something goes wrong with your compact blender? What if the blades failed? What if the motor is faulty and doesn't work? Always try to find a Vitamix blender that comes with their standard 5-year warranty. For this reason, I never recommend purchasing a used Vitamix machine.
Accessories
Along with having a quality main container, you also should get some fun and free accessories with your Vitamix. These can include a small tumbler with a useful lid, a cookbook for inspiration, or a plastic tamper to help with processing foods and sticky recipes.
The Best Compact Vitamix Blender: Final Thoughts
Both the blenders we discussed are fantastic pieces of equipment. No matter what your blending needs happen to be, either of these premium compact Vitamix blenders can handle it.
The Vitamix S50 Blender is a great unit with lots of usable features, a great design, and an appealing interface, but I would have to say the Vitamix S30 Blender is my ultimate choice. The S30 Blender comes with great accessories, it's extremely lightweight, it has a simplistic dial with lots of speed choices, and it comes with a powerful 790-watt motor.
If you want a compact blender to make your personal drinks, the S30 is right up your alley. The portable container has a flip-top lid that is great for carrying with you on walks or for taking in the car. And the large 40-oz container gives you room for even more options. This is definitely a great blender that offers lots of value.
---
Best Vitamix Blender for Cocktails
Now we're talking about the best cocktail blenders. If you need a great blender for making cocktails, Vitamix has you covered. The blenders we have on this list are extremely high quality, they are very well-rated, and they have all the power you need to make a professional cocktail.
These blenders are crucial if you will be entertaining groups of people and need a solid machine for making cocktails, margaritas, daiquiris, or even alcoholic milkshakes. Each blender has in extremely tough motor, sharp blades designed for blending, and lots of power to crush ice.
Try my Perfect Frozen Margaritas recipe!
Because Vitamix blenders are typically used for a wide variety of kitchen tasks, you can rest assured making a simple cocktail is well within reason for a Vitamix blender. And when you're not making cocktails, you can always use the blender to make healthy smoothies, protein shakes, soups, and lots of other fun recipes.
---
---
---
Best Vitamix Blender for Cocktails: A Complete Buying Guide
There is a lot that goes into the best blender for cocktails. We already know that every Vitamix blender comes designed from professionals to be the best at what it does. But what makes a Vitamix blender great for cocktails? It has a little to do with price, you definitely want a quality container for making huge batches of cocktails, and you need speed and reliability.
Read More: Best Blender for Frozen Drinks – 3 Powerful Models
Powerful Design
You want a Vitamix blender with a powerful design for making your cocktails. You should definitely have a blender large enough to make party batches, and you need lots of power for blending quickly. Cocktails use lots of ice, and so you need a blender with lots of speed and power to crush your ice into dust.
This means you need to have a strong motor. The good news is that every Vitamix blender comes with a strong motor. There really isn't a Vitamix machine available right now that can't crush a full container of ice. Vitamix machines are even designed to run for long periods of time without overheating so that you can use it repeatedly without worrying about a malfunction.
Cleaning is a Breeze
Nobody wants to make cocktails for their friends and then spend the next hour cleaning out their blender. That would be a huge pain in the neck and an enormous waste of time. When you purchase a quality Vitamix blender, you won't have to worry about cleaning up afterward.
This is because every quality Vitamix blender can clean itself. Always make sure your Vitamix blender has a self-cleaning feature to make your life easier. And while we're on the subject of making your life easier, be sure that your Vitamix blender comes with a pulse feature.
Not every Vitamix comes with a pulse. Some have variable speed controls only, but you definitely want to have a pulse mode for making other things besides cocktails. Maybe you want to make a sauce or a soup, and for this you want to have a pulse feature.
Size & Price
It's no secret that Vitamix blenders can be expensive. This is something you are undoubtedly taking into consideration when purchasing your new blender. If you are only using your new Vitamix blender for cocktails, you can probably go with a more affordable option.
Unless you will be using your blender for food processing, for daily smoothies, for juicing, or for other complicated tasks, there is no reason to spend $1,000. You would be perfectly OK getting a cheaper model. Plus, you probably don't need a massive blender. Anything with a 48-oz container or 64-oz container is perfect for cocktails.
Best Vitamix Blender for Cocktails: Final Thoughts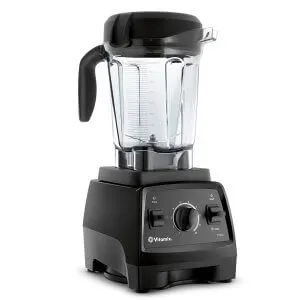 All the blenders we looked at are fantastic. Because they are all Vitamix blenders, you know they have the best performance and the greatest reliability of any blender. The truth is that any one of them would make the ideal kitchen appliance for crafting cocktails.
The Vitamix E310 Blender is a great unit at a low cost, while the Vitamix 5200 Blender has lots of enviable features that make it ideal for family events and personal gatherings. However, the Vitamix 7500 Blender is definitely my favorite. This blender can clean itself, it has a low-profile container for easy storage, and you can make massive batches in the 64-oz pitcher.
Basically, if you are looking for a quality blender to have in your kitchen for the rest of your life, using it for cocktails, smoothies, and all kinds of other drinks – this is the best choice. It has variable speed control, it has a pulse feature, and it uses a radial cooling fan to prevent overheating.
---
Best Vitamix Blender for Juicing
Everyone knows blenders can do much more than just blend. They can mix, chop, liquefy, and they can even make juice. But what is the best Vitamix blender for juicing? Vitamix blenders are the best in the world, they come included with the most reliable features, the strongest motors, and the newest technology.
Now we're going to find out which powerful Vitamix blender is the best for juicing. When you use a Vitamix blender to make yourself juice, it is extremely simple. Many blenders don't have the power or professionalism to properly liquefy ingredients, but the Vitamix absolutely does. This will make your time juicing in the kitchen easier and less stressful.
Any of these blenders are excellent choices for juicing, as they can easily turn carrots, oranges, apples, and lots of other ingredients into healthy juices. Let's take a detailed look at each model.
---
---
---
Best Vitamix Blender for Juicing: A Complete Buying Guide
Juicing and blending are two totally different things, but that doesn't mean you can't use your blender for juicing. If you have a strong Vitamix blender or even just a normal blender with the right powers and features, you can be on your way to juicing in no time.
Let's go through a few key aspects that make a Vitamix blender the best for juicing. You obviously want a lot of power, you want sharp blades, you want high speeds, and you want reliability.
How to Juice
The whole point of juicing is to turn your raw vegetables and fruits into liquid juice. This is not the same as a smoothie. For making juice, you really do want juice – thin, tasty juice the same texture and viscosity as the juice you buy from the store.
To do this, you really need a powerful blender that won't overheat during prolonged use. Turning raw carrots or apples into juice could take several minutes, and your blender's motor better be up to the task. For this reason, Vitamix are the best blenders for juicing, as their motors are powerful enough to run for a full 10 minutes to turn raw ingredients into hot soup. They can definitely turn raw ingredients into liquid juice.
But to tell you the truth, almost every Vitamix can do this. If your Vitamix is able to make hot soup, it can also make juice.
Fancy Features
Fancy features like a digital timer, wireless connectivity, and a range of different available containers for blending are all helpful when making juice, among other things. The more technologically savvy your blender is, the better you can fine-tune it for making yourself juice.
Not only that, but it will become better to use in all other aspects of blending. Whether you are making smoothies, ice cream, desserts, sauces, salsas, or even salads, having technologically advanced features are very important. They will make your life much easier.
Variable Speed Control
When you are making juice, it is imperative that you have full control over your speeds. You may need to start on a low speed and then gradually increase to the highest speed to properly process the vegetables for your juice. To do this, you need maximum speed control.
The good news is that almost every Vitamix machine ever made has a standard variable speed control system. This will allow you to start blending on the lowest variable speed and then gradually crank up the speed while still blending. This is ideal for making juice.
But you always want to make sure the blender comes with a pulse feature, as this is important for making chunkier recipes, like thick tomato soup.
Best Vitamix Blender for Juicing: Final Thoughts
Both these Vitamix blenders work wonderfully. They each have stunning features, amazing raw power, and they can juice your fruits and vegetables. The Vitamix E310 Blender is a fantastic budget unit that you can pick up at an affordable price, while the Vitamix 5200 is a quality machine with lots of useful features.
But when it comes to the best Vitamix blender for juicing, I have to choose the Vitamix A2500 Blender. This blender has amazing variable speed controls, it uses self-detecting technology to recognize which container you are currently using, and it has a high-performance motor. You can also program different settings to make smoothies or to make juices.
If you are looking for a great juicing blender that can do everything from making hot soup to cold smoothies, plus juicing all your raw vegetables, this is the best blender for you!
---
Best Vitamix for Smooth Drinks
If you are looking for a new blender for making smooth drinks like smoothies and milkshakes, you have come to the right place. Now we are looking at the best Vitamix blenders for making smooth drinks.
These Vitamix blenders have lots of power, sharp blades for maximum blending, and all the best speed features.
Life in the kitchen has never been easier than when you use an impressive Vitamix blender. If you are tired of your blender clogging, the blades getting stuck, or your smoothies coming out chunky, it's time to invest in a Vitamix blender. These units can clean themselves, they are all highly rated, and they are relatively affordable.
We are going to look at the best Vitamix blenders on sale right now for making smoothies. The best way to upgrade your kitchen is with a Vitamix.
You can now make smoothies fast, you can blend all your ingredients into a smooth drink, and you can live a healthy lifestyle with minimal effort.
---
---
---
Best Vitamix for Smooth Drinks: A Complete Buying Guide
Not all Vitamix blenders are created equal. Sure, they can all clean themselves using their powerful motors and smartly designed blades, but lots of them have different features. When it comes to the best Vitamix for smooth drinks, here are a few main things you want to look for.
Maximum Speed Controls
You definitely want maximum speed controls. For you to make a smooth drink, that means you need to remove all the hard bits and pieces. No more chunks or bits of leaf! For you to attain an ideal smoothness, you need to have complete control over how fast your blender blends.
This means you need more than the standard variable speeds that come with a normal Vitamix. Sure, having speeds from 1 to 10 will allow you to blend just about anything. But it is helpful to have a few more features, such as pre-programmed speeds so you don't have to do any more guessing!
By having automated blending with your blender, it allows you the convenience of pushing a button and walking away. You will get consistent smoothness with all your frozen desserts, smoothies, and other recipes.
Appearance
Considering all the Vitamix machines are basically identical, other than a few tweaks to the power and different sizes of containers, you may want to consider how your blender is going to look in your kitchen. Don't forget the Vitamix blenders last basically forever. Whichever blender you choose will be sitting in your kitchen for a long time.
Because of this, you may want to get something that looks a little bit classier than a boring black blender. There are many models that you can pick up in modern schemes, like red & black or pearl gray.
You may also want to consider getting a low-profile container. This will give you much more room for storing your blender. With a low-profile container, you can tuck the blender beneath your cupboards and keep it stored neatly.
Power
If your goal is to make the smoothest drinks possible, you are going to need speed. This will require you to have a powerful motor. Anything that offers 2-peak horsepower or more will be sufficient for properly blending your beverages.
If the blender has less than 2-peak horsepower, I recommend taking a look at some other units. If the blender isn't strong enough, it could wear down faster and stop working sooner. It also might not properly blend your beverages.
Best Vitamix for Smooth Drinks: Final Thoughts
The blenders we looked at are all amazing units that will make your life easier in the kitchen. You can use these blenders as food processors, as smoothie makers, and even as dessert machines. And while the Vitamix E310 blender and the Vitamix 5200 blender are both reliable and useful, I would say the Vitamix 750 blender is the best.
The Vitamix 750 blender is an extremely professional machine that comes in either black or pearl gray. It has a large 64-oz container, automated blending options, 5 pre-programmed settings, fully variable speed controls, and hardened steel blades for breaking down tough ingredients.
If you want the best blender for making smooth drinks, nothing makes a smoother drink than the Vitamix 750 Blender. It has incredible power thanks to its robust motor, and all that power works to grind, chop, and blend your ingredients into a perfectly smooth drink for you to enjoy.
---
Best Vitamix Blender for Raw Food
If you are looking for a powerful Vitamix blender able to blend raw food, you have come to the right place. Now we are looking at the best Vitamix blenders that can be used for raw food. These blenders come with huge containers, they use metal drive systems for powerful blending, and they use all the classic Vitamix features.
These are the best blenders to add to your kitchen. Not only can they work well with raw food, but they can also make delicious smoothies, creamy milkshakes, and hot soups. You can make baby food, you can grind coffee beans, you can blend raw food ingredients, and you can do so much more.
These blenders come with variable speed controls, pulse features, hardened steel blades, and all of them can clean themselves. Vitamix is no stranger to advanced features, and all these blenders are medium-grade units or above.
---
---
---
Best Vitamix Blender for Raw Food: A Complete Buying Guide
It can be difficult to distinguish one Vitamix blender from another. They all look strikingly similar, they all have the same speed dial, and they all work pretty much the same way. This is not a bad thing, as all Vitamix blenders are outstandingly powerful, but it can be difficult to tell them apart.
In this case, what do we look for in a great Vitamix blender for raw food? Well, you want a sizable container, reliable blades, the ability to take on accessories, and full dependability.
Attachments
One of the most important things when dealing with raw food is having the right attachments. The ingredients you're processing can change from day to day, and it could require you to change containers and change methods. For this, you need the right attachments.
The good news is that most Vitamix blenders come with the ability to swap containers. Even though one Vitamix may come with a standard 32-oz liquid container, you can then swap it for a 48-oz dry grains container. Having the ability to change between container styles is crucial for working with raw foods.
This also gives you more leeway with your recipes, as you can make a limitless variety of different recipes while always having the proper equipment. This includes specialized scrapers and tampers that you can buy separately to add to your kitchen system.
Dependability
Dependability is huge. The last thing you want is your Vitamix blender failing because it wasn't dependable enough to work with raw food. Luckily, almost every Vitamix container is going to offer immense dependability. This is what Vitamix is known for, and so you don't have to worry too much when selecting a new blender.
Still, it doesn't hurt double checking if the blades are quality, if the motor is fit for action, and if there is a warranty. Every new Vitamix machine should come with a quality warranty, and this is always something you want to double-check before buying a new machine. This is especially true when buying from a third-party seller.
Big Enough
This one may seem obvious, but always make sure your blender is going to be big enough for the work you're doing. A small Vitamix machine with a small container might be OK for making personal smoothies, but if you're stepping it up to raw foods you need more space.
Sometimes it can be exciting when you see a discounted price or a bunch of great reviews, but always make sure the blender is big enough for your needs. The last thing you want is a new and expensive blender that can't fit all your raw foods!
Best Vitamix Blender for Raw Food: Final Thoughts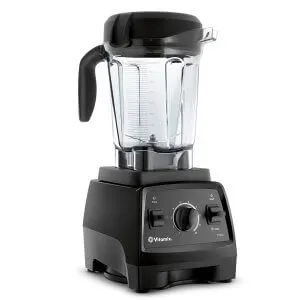 This was not an easy decision to make. All the blenders are extremely high quality. The Vitamix E320 Blender is an ideal machine at a discounted price, while the Vitamix 5200 Blender is a fantastic mid-grade blender that can work with raw foods every day of the week.
However, I choose the Vitamix 7500 Blender as the very best blender for raw food. This baby comes with all the best features. It only costs around $500, it comes included with a durable 64-ounce low-profile container, and it uses a cool-running motor to work at peak efficiency all the time.
If you want a versatile blender to add to your kitchen appliances, getting rid of the need to have a food processor, a mixer, and a handful of other appliances, this is the ideal blender. Stop fussing with so many different machines and relax knowing that you have a Vitamix blender that can take care of all your kitchen tasks.
---
Best Vitamix Blender for One Person
Vitamix blenders come in all shapes and sizes. However, many of the more expensive Vitamix blenders are designed for lots of different applications, including food processing and making smoothies. If you still want the quality of a Vitamix blender without paying a fortune, while only making personal drinks for yourself, you probably want the best Vitamix blender for one person.
Now we will be reviewing the two best personal Vitamix blenders. These blenders are great for solitary people who want to make a single smoothie to enjoy on the go or at home. These blenders are easy to use, they require zero experience with crafting smoothies, and they have all the same features of expensive Vitamix blenders.
You get variable speed control, you get extremely well-designed machinery, such as the laser-cut blades and intense motors for ultimate blending, and you get accessories designed for single-serving smoothies.
---
---
---
Best Vitamix Blender for One Person: A Complete Buying Guide
There is certainly a lot to look for when it comes to purchasing the best Vitamix blender for one person. You want comfort, versatility, and effectiveness. The good news is that every Vitamix blender comes professionally designed and built to the highest quality of standards.
Still, there are several things that make a personal blender ideal. You want easy-to-use controls, quick smoothies, and excellent travel cups. Let's take a deeper look.
Smoothies on the Go
A personal blender must come included with at least one portable container. One of the biggest draws for a personal blender is its ability to make an instantaneous smoothie that you can take out of your house with you, no cleaning needed.
If you are a solo person who wants to live a healthy lifestyle by making smoothies and shakes, it is important that you can do it quickly, that there is no mess to clean up afterward, and that everything works smoothly. Always try to find a personal blender that has a quality travel cup, as this will make your life easier.
It's also important that you can make your smoothing directly in the travel cup. The whole point of convenience is to simply push the button, watch your smoothie blend, then run out of the house with your cup in your hand. Nobody wants to transfer liquid from a pitcher to a cup when they have things to do!
Cleaning & Power
Two important features of any personal blender are cleaning and power. You want the blender to be extremely easy to clean, allowing you to simply rinse the blades or stuff the pieces into the dishwasher. This lets single people continue their busy lives without stressing about cleaning.
And finally, you want power. You need enough power to quickly blend your smoothie in under 60 seconds so that you can get back to what matters most.
Best Vitamix Blender for One Person: Final Thoughts
Both blenders on the list are extremely useful. They can make smoothies for one person, or they can make frozen desserts, hot soups, and nut butter. All these things are great for people who live alone and want to experiment with cooking using their Vitamix blender.
The Vitamix S50 is an awesome machine with a powerful motor and ideal accessories, but I have to recommend the Vitamix S30 as the best blender for one person. It has increased power, a simplistic design that is tailored for personal use, and it comes included with two useful blending containers.
The variable speed control allows you to blend to get your favorite texture, while the pulse feature is ideal for making salsas and soups. This machine has the power and versatility to make your personalized blending experience the best. I can't recommend the Vitamix S 30 blender enough!
---
Best Selling Vitamix Models
Now we are looking at the best-selling Vitamix models. If you are interested in purchasing the best Vitamix blender, you probably want to know what their best-selling units are. As you can imagine, the blenders we will talk about today are extremely high quality, they are all premium units, and they are all affordable.
As a kitchen companion for all your blending, food processing, and smoothie making, these are the top options. They can make smoothies extremely quickly, they all have the best variable speed settings, and each Vitamix blender offers the best in blending power. There is nothing cheap or phony about these machines. They really do work!
These blenders can clean themselves, they have thousands of positive reviews online, and they are designed with the best parts and components. You can make hot soups, you can make massive batches of smoothies using frozen ingredients, and you can even prepare baby food. There is nothing you can't do with one of the best-selling Vitamix machines.
---
---
---
Best Selling Vitamix Models: A Complete Buying Guide
Let's talk a little about what to look for in your new Vitamix blender. Considering we're talking about the three best-selling models, you can be sure they are full of the most advanced features and the best technology. But there are still some serious differences between these three machines, and in fact between all Vitamix machines.
What's Your Batch?
Something every consumer should know before they purchase a new Vitamix blender is what kind of batches they are intending to make. What I'm saying is that you should know how large of a blender you want. There is a huge difference between Vitamix machines, some coming included with small, personal containers, and others coming included with massive containers.
The difference comes in what exactly you will be using your blender for. A good medium is to have a 48-oz container. These are generally large enough to make standard batches of juice, smoothies, sauces, and all kinds of other types of food.
But if you are going to be blending on an industrial scale, chances are you want a larger container, anything up to 72 ounces. Then you need to think about if you want a personal blender just to make you smoothies. If all you want is to make lots of smoothies for yourself, you probably want a smaller Vitamix machine that you can use to blend single-serve drinks using a to-go cup.
Not All Speeds Are the Same
All Vitamix blenders come included with variable speed. Almost every single blender from Vitamix comes with the same variable speed dial on the front. But not all these dials are created equally. Some Vitamix machines don't come with a pulse feature, they don't come with a high & low mode, and they don't have the same types of settings.
Always keep your eyes open for what kind of speeds your Vitamix blender offers. You will see on almost every machine a dial in the center and a switch on the side. Take a close look and see if your blender comes included with more than the standard variable speed settings.
Why is this important? Well, if you will be experimenting quite a bit in the kitchen, you will need a pulse mode to make the best purees and to process food and chop vegetables, and you will need all the settings you can get for grinding, chopping, and even heating different batches of ingredients.
Style
One of the biggest complaints people have about the Vitamix blenders is that they all look the same. And this is painfully true. They all have an extremely similar motor base with nearly identical blending containers. While this may be OK for most people, if you want a little bit of style with your purchase you may want to find a Vitamix blender that offers color and some uniqueness.
Best Selling Vitamix Models: Final Thoughts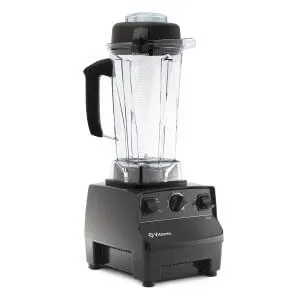 It's tough to choose the best from the best. Rest assured that no matter which Vitamix blender you choose, they are all premium, high-end kitchen appliances. The Vitamix E310 Blender is an ideal choice at a lower price, and the Vitamix 7500 Blender is a great unit for anyone's kitchen with all the best in advanced features.
However, I must recommend the Vitamix 5200 blender as the best Vitamix blender. It comes with a strong 64-ounce container so that you can make large batches, it has the best variable speed settings, including a high mode, and it's built with quality components.
You can make hot soup, the blender can clean itself, and it even comes in three different colors. I highly recommend this blender to anyone who wants to dip their toe into the Vitamix pool. The machine is built to last, it is reliable through and through, and it has the power you need to make all your favorite recipes, from soups to smoothies.