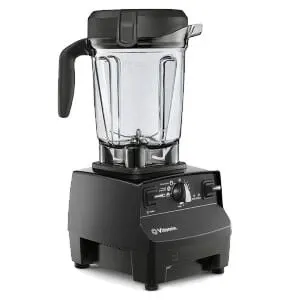 Powerful 2.2HP Motor
Pre-set Controls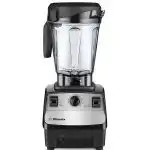 Large Capacity
Simple Operation
---
In the following text, I'll present to you my review of Vitamix 5300 vs 6500 and point out what makes these two unalike products stand out.
First, we have the Vitamix 5300 that is equipped with a 64-ounce container and has 2.2 HP motor. The blender's blades are made of stainless steel that cuts easily through hard fruit and tough vegetables, etc. There's also a 7-year warranty that covers it. It is BPA free as well. The materials used in making the blender are good for processing food.
Then there's the Vitamix 6500 that has a durable and strong motor that is faster than most other blenders. There's a protection of overheating because of the thermal protection system and cooling fan. It comes with a 64-ounce low-profile container that can be fit into kitchen cabinets. Because of its wide bottom, there's also room for larger ingredients. It has variable speed control and pre-programmed settings.
Both of these blenders are a perfect fit. The only thing that's left is to find out which suits you best.
Vitamix 5300 Vs 6500: Comparison
Vitamix 5300
PROS
Powerful motor base
Low-profile container
7-year-full warranty
CONS
It can be noisy sometimes
Older design
---
Vitamix 5300 Review
The Vitamix 5300 is the fusion model of Vitamix 7500 and Vitamix 5200.
It has a Low Profile container with a bigger 4-inch blade.
Whatever is your cup of tea, be it smoothies, soups or nut butter Vitamix 5300 will provide you with satisfactory and tasty results.
Blades
A non-removable blade is built into the container of Vitamix 5300. It is safe to touch while cleaning and it will not dull over time. That is to say, it is of high quality.
This blender is equipped with a wet type blade that grinds ingredients very well. It is also good for milling.
Noise
This powerful blender makes noise, but far less than the other blenders. The good comparison is the noise you hear from the traffic when you sit in your car.
Cleaning
This machine is rather easy to use. You don't need to disassemble anything in order to clean the blender.
Sometimes, all you have to do is rinse the container with a bit of water after you're done using it. Then there's the self-cleaning procedure that also requires minimal effort.
Speed Settings And Programs
The control panel of this blender is equipped with ten variable speed dial knob that's in the center and two switches.
The left one is the pulse switch, and the right one is the switch you press to turn off or start blending.
This feature allows for a lot of variety and an array of recipes.
Vitamix 6500 Review
When it comes to the Vitamix 6500, variable speed control helps you in getting precise results. The pulse functionality helps make your drink of choice finer and smoother.
The BPA free plastic ensures your health is risk-free. Not to forget the 7-year warranty that's your safety net.
There are ten manual speed dials. You can keep the control at your hand with this blender's feature pulse functionality.
It is one of the best blenders out there for smoothies.
There are so many unique features of Vitamix 6500 that make up for the price.
Tamper Stick
Don't have five extra minutes to spare on cutting fruits and vegetables? This Vitamix blender is so powerful, it requires no liquid added.
Vitamix C series 6500 turns fruits into juice apples into applesauce even peanuts into peanut butter all without adding liquid.
Laser-Cut Blade
The blander comes with laser-cut stainless steel cutting blades which will provide you with consistent and fast blending.
It will pulverize all ingredients without exception.
Radial Cooling Fan
This feature is of great use when you need to blend for a long time. The higher you run it, the more cooling is being provided through the bottom.
No need for running this blender at a low speed when you use it for long periods.
Main Differences Between The Products
Both Vitamix 6500 and Vitamix 5300 are powerful blenders, but they have different prices. When it comes to Vitamix 5300, there's less blending at one time because of a Low Profile 64-ounce container.
And Vitamix 6500 can blend more ingredients at one time due to the high profile 64 oz. container.
The thing is, they are quite similar. What makes them different is pre-programmed settings on the Vitamix 6500 and the profile of the 64-ounce container.
The Motor Base
The motor base of both Vitamix 6500 and Vitamix 5300 is extremely similar. The main difference is the Pre-programmed settings on Vitamix 6500.
Smoothies, soup, and frozen desserts are the three Pre-programmed settings that Vitamix 6500 has. Once you select an option, you have a walk-away convenience.
Another thing to mention, Vitamix 6500 is more automatic with these settings compared to Vitamix 5300. At the end of the day, it all comes down to your taste.
Containers
Both are equipped with a 64-ounce container.
The size of this container is fairly adequate, you can make use of this space ranging from blending small batches to medium and larger ones of juices, etc.
The thing that separates the two is the Low Profile container that Vitamix 5300 has. It merely means the container is narrower at the base.
It's a tighter space in comparison to Vitamix 6500. This means that while Vitamix 5300 does not lack in processing food with more energy it can blend fewer ingredients at one time.
If money's not the issue, the best choice is Vitamix 6500. But, if that's not the case Vitamix 5300 is a decent substitute.
Vitamix 5300 Vs 6500: Final Thoughts
Although the Vitamix 5300 is a fairly good option, it is no way comparable to Vitamix 6500. Yes, it is less expensive.
But, even though Vitamix 6500 may be lacking the generosity of lower price it makes up for it by its quality which justifies the price. It is way less noisy than Vitamix 5300, which also lacks presets.
So it goes to show when the quality's concerned Vitamix 6500 does not disappoint. That is not to say that Vitamix 5300 is of poor quality by any means. It is a high functional blender that is powerful.
It has variable speed and is highly sought after. Just because in comparison Vitamix 6500 is an obvious winner, it does not signify that Vitamix 5300 is not a worthy rival.
In either case, you can't go wrong with Vitamix blenders. With that in mind, I hope I've made your choice a bit easier and better fitting to your personal needs.