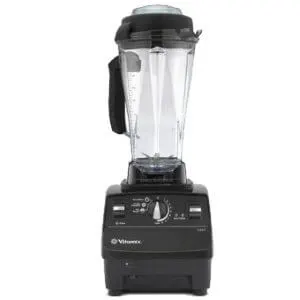 Blenders have become crucial kitchen appliances and luckily, you are spoilt with choice when you decide to buy one. The Vitamix 6300 is among the best sellers in the world of blenders, constantly praised by satisfied customers worldwide.
Featuring three pre-programmed settings, variable speed control, and pulse function, it has everything you might look for in a blender, and then some! It can blend all kinds of ingredients in different types of textures including smoothies, purees, creams, butters, chunky salsas, and everything in between.
Due to its superior motor, you won't need a food processor, juicer, or ice cream maker, as the Vitamix 6300 can handle it all. Of course, if you decide to purchase an additional dry grains container, you'll easily grind grains, spices, coffee beans, etc.
---
Vitamix 6300 Review: Overview
Whether you prefer to do things manually or you want to set the Vitamix 6300 to do its job on its own, the blender won't let you down. Eager to meet the expectations of their customers, Vitamix made sure to include a preset setting due to the few complaints they received about the previous Vitamix 5200 blender which lacks such a feature.
In addition to this, the blender has tons to offer. Backed up by durable design, extreme ease of use, and of course, powerful motor, it's a true workhorse. Without further ado, let's take a detailed look at the 6300 blender by Vitamix.
Read More: Best Vitamix for home use
People often say that not all blenders are the same. Some blend better than the others. This is true in the case of the Vitamix 6300! The brand is well focused on delivering quality products and services to its customers.
The blender is slightly high priced compared to the competitors, but they also offer higher quality services than the competitors. You must be wondering if it is worth spending the money you saved on a blender when there are so many in the market. The below-mentioned points can guide you in your purchasing and know in-detail (to an extent) about the product!
---
Features of the Vitamix 6300 Blender
I was always confused about choosing the right blender. After vigorous online review checks and checking various sites, I ended up in the right place. The Vitamix 6300 blender is the perfect choice for me.
It has a 3 pre-programmed setting. This allows me to make thousands of recipes like hot soups, smoothies, frozen desserts with just a click of a button. I don't have to put in a lot of effort as the blender has already done half of the job for you.
The other feature that I loved in this blender is that it is always in control. The variable speed control feature allows for flexibility. I can try on different types of recipes by adding a creative touch with this feature. I can also create dishes from smooth to granular in texture; hence it's very flexible.
The pulse function will be my most favorite one as it satisfies all my cravings. All you must do is press a 'start' and a 'stop' button! It's as simple as that, and you can create dishes from a wide range of textures and various types by just click a button.
These are the eye-catching features in the blender. You will see a lot more as you read the points mentioned below.
---
Vitamix 6300 Review: Design And Construction
Belonging to the C-series, the Vitamix 6300 sports a recognizable design that we all know and love. One of the most attractive features of these blenders is the extra-long, 6 ft. power cord. You can easily plug the device even if you have limited power outlets in a specific corner of your kitchen. Of course, the length of the power cord which you don't use can neatly be packed underneath the motor base, leaving your countertops tidy!
The motor base utilizes two toggle switches to the left and right and a speed dial knob at the very center. The right switch starts or stops the blender, and the left one activates the unique pulse feature which I'll discuss below. The highlight of this blender is the central speed dial knob that doubles as a presetting control as well.
Pre-Programmed Settings
There are three different preset settings: smoothies, frozen desserts, and hot soups. With these pre-settings, you can easily walk away and do other kitchen tasks while the blender provides you with the needed outcome: smoothie, frozen dessert, or soup. You needn't worry about turning the blender off either; just select your preferred pre-setting and your job is done!
You can always prepare the ingredients manually using the variable 10-speed dial knob. In addition, you can rely on the Pulse switch. Pressing down the Pulse switch will cause the machine to blend at the speed setting that you choose on the variable speed dial. The Pulse switch works only when it's held down.
As it doesn't stay on, it doesn't immediately liquefy the ingredients in the container. Use the Pulse button when you want your ingredients to be chunky rather than liquid, for example when you're making salsa.
Read More: Vitamix A3500 review
Compact Design
The blender is offered at a very convenient size for anyone to store in their kitchens. I prefer not to display my kitchen appliances on the shelves and crowd the place. Thanks to the Vitamix 6300 blender has been consciously designed product to be user-friendly.
The blender has a metal-to-metal design. There is a presence of metal to metal coupling from the container to the base of the blender. This is increasing the longevity and offer the blender a long life.
Adding to this, the blender is safe to drink from! The BPA label's presence indicates the same and allows drinking the freshly prepared drinks directly from it. Not only this, but the blender gives me a true blending capacity.
The blender is designed to create a strong vortex to allow the ingredients to blend completely. The blender has been designed in such a way that you can drop it and still not lose it. It has a shatterproof container and a spill-proof lid, which is very beneficial in kitchen equipment.
These two characteristics present in the blender make it very user-friendly, especially for a person like me who has a habit of dropping things. Another striking feature in the design is that it is substantial. This makes it great for large families.
It is a 64- ounce container; however, it does not add the limitation of making eatables only in large quantities. You can make the desired quantity you want but with the advantage of making it plenty.
---
Vitamix 6300 Review: Container, Blades & Tamper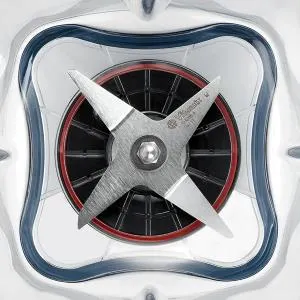 The Vitamix 6300 blender comes with the standard 64-ounce container. Although it fits under most kitchen cabinets, in case your cabinets are lower, you might want to order a smaller container as the 64-ounce is rather tall. It is large enough for medium and large batches, but you can easily prepare smaller batches as well.
Thanks to the design of the lid, you can add ingredients in the blender while it's blending. It comes with a dedicated opening for the tamper as well which can be used while the blender is running. Like every other Vitamix container, it's made of high-quality copolyester known as Eastman Tritan that is stress and temperature resistant. In addition, it is BPA-free and shatterproof, while the lid is spill-proof.
Related Articles:
The laser-cut, stainless steel hammer mill blades measure at 3-inches diameter and are powered by a superb 2HP motor. The blades go as fast as 240 mph and it can cut through any fruit, vegetable, and ice. As a matter of fact, Vitamix 6300 is widely used at coffee and ice cream shops, restaurants and diners due to its ability to turn the ingredients into all kinds of textures within seconds.
The tamper is proprietary to Vitamix and it is an ingenious device that only further increases the efficiency of the blender. Thanks to the tamper, you don't have to cut the ingredients into smaller pieces; just put them in whole, start the blender, and push with the temper. Together with the powerful motor and blade, the tamper will work on turning your fruits into juice, nuts into nuts butter, apples into applesauce, even without adding any liquid!
---
Vitamix 6300 Review: Operating
As you can probably tell by now, the Vitamix 6300 is extremely easy to use. Merely put your preferred ingredients in the container, start the blender at low speed and work your way up. Even better, you can select one of the three pre-settings and let the blender do the job for you.
In case you need a smoother blend than the one you're achieving at the highest speed, don't forget to use the tamper. Be aware that you should always use the tamper with the lid on since it can get damaged if it comes in contact with the blade. When the occasion calls for a chunkier texture, rely on the Pulse switch. The Pulse switch works only when it's held down.
---
Vitamix 6300 Review: Accessories
Serving the basic purpose of blending stuff for you in the best possible way, the Vitamix 6300 blender comes with a lot more. Many of us feel the need for it but do not exactly know what you can do with it. The accessories provided with the blender help solving that problem.
With my blender, I got a DVD which was featuring Chef Steve Schimoler. It was essentially providing me with knowledge and creative recipes that can be made at home instantly. If you don't, you have a DVD player, also no issues. Vitamix solves the problem by providing a recipe book with hundreds of recipes.
The other accessories provided apart from this was a user guide that directs you towards the right path of using the blender and making effective use out of it. The blender also comes with a seven-year warranty if you receive a defective piece or end up breaking it in your journey of making delicious smoothies and desserts!
I'm excited about my new blender, and I know it sounds astounding to you as well to receive a blender with all these accessories.
---
Vitamix 6300 Review: Power and Speed
As already mentioned above, the Vitamix 6300 blender has the presence of variable speed control. You can make food and drinks depending on the texture, which pleases you the most. You can go from grainy to completely smooth and everything in between.
The product also features a powerful 2HP motor. This enables the blades to work at a speed of 240mph. This is a striking feature for health freaks as the blender can cut down any fruit (even tougher) with its sharp blades and hence emulsifying the food to a great extent, which your teeth aren't capable of. The powerful motor is constructed in a way that you could use it daily, and the blender never gets tired!
The blender has a power and indicator light, which automatically switches when your program is coming towards an end. This entire feature makes work easy for you.
This point should be of considerable importance from your side as the blender is an electronic item. Electronic items should have great power and, in such products, a great speed.
---
Vitamix 6300 Review: Cleaning and Maintenance
Like any normal individual, even I want equipment in my kitchen, which can be cleaned easily. For hygienic and personal reasons, this is a very important point. The Vitamix 6300 blender solves that issue as it is very easy to clean.
You can just wipe or dust it off from the outside. Pour some warm water and one drop of liquid dish soap and run the blender for about a minute. You now have a sparkling clean blender. This solves most of the problems for the cleanoholics! Everyone and anyone who loves a clean kitchen with clean equipment.
Another important consideration is maintaining the blender, which is easy, too, as there are no specific maintaining criteria for the blender. I use it every day and still have no problems dealing with it. Just keep the basic points in mind, (A) Clean it right after you use it. (B) Do not ever keep the blender under running water as, like any electronic item, it would cause damages in the interior, affecting the effective working of it.
This is all it takes to have a clean blender with hardly any maintenance.
---
Vitamix 6300 Review: Other Features
With the features mentioned above, the Vitamix 6300 blender's various other features are that it has a 10-setting feature. I could make nut butter, salsas, and various other dips with maximum ease.
The outstanding fact about my new blender is not just this but that you do not have to use other attachments while making these. You just need to put your ingredients in the blender and mix, and you have it ready. No extra equipment and attachments to get the eatables.
Apart from this, the blender would look great on my kitchen countertop. It looks classy and offers various types of colors. I could easily select one that matched my kitchen color, completing the look.
Great For Small And Large Quantities
Another great feature is that you can make the desired food in both small and large quantities. By looking at the size, people often assume that the blender is to be used only for large quantities, but that is not the case. I could use it to make food and drinks just for myself too! Lastly, it does not make a lot of noise like normal blenders too. Hence it is very convenient.
I have discussed the product in detail, and a few questions must be coming to your mind. Is it a worthy investment? Yes, if you know you are going to make good use out of it, it is a great choice.
It is one of the best the company has given. The only drawback of the blender is overheating. The blender heats up too fast, and hence you would have to stop your blending process occasionally.
Apart from its high price and heating issues, the blender seems like a great choice. The other great features make up for these problems. It is very convenient to have a Vitamix6300 at home as your process of making soups, smoothies, and frozen desserts happen quicker.
On the other hand, the warranty adds to it as you would not need a replacement soon. Vitamix6300 will help you stay healthy with no difficulty and make your everyday work easier.
---
Vitamix 6300 Review: Final Thoughts
If you are in the market for a good blender, first you have to decide what makes a blender good for you. The Vitamix 6300 can make all kinds of foods, can be used regularly, and it will work like a charm even after a decade.
A few Vitamix reviews by customers that I came across stated that the blender is a bit heavy, but I don't think of this as a drawback as you won't be taking your Vitamix camping. It can also get a bit noisy when crushing hard ingredients but it's really not a matter of concern. Given its powerful motor, the job will be done within seconds.
Overall, the blender is made to meet everyone's expectations, but it certainly comes at a price. However, given the quality, power, and versatility of this device, I don't think you're overpaying for anything.
Related Articles: