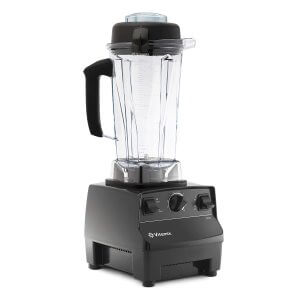 The extremely popular Vitamix 5200 remains a top-seller in the Vitamix Legacy Series. Despite being an older design by the manufacturer, the 5200 model has won numerous accolades for its performance and longevity. Its 2HP motor, 10 variable speed options, 64-oz container, and thermal protection system make it an excellent choice for cooks looking for a highly reliable blender.
Because it gives you exactly what it promises, you get highly consistent results with every use. Its versatile functions do not limit this blender to home use only but also make it an equally popular buy among commercial cooks as well.
Vitamix 5200 Review: Overview
A true workhorse by any measure, the Vitamix 5200 makes an ideal fit for functionality and durability in any busy kitchen. If anything, this powerful machine has become a kitchen staple in homes and commercial settings that require frequent blending, kneading, grinding and even milling.
This blender works very well for multiple functions including preparing smoothies, soups, dips, sauces, and frozen desserts. On another level, you can also use the Vitamix 5200 for making nut butter, frosted icing, whole grain flours and crushed ice.
Read More: Best Vitamix blender
Motor and Functionality
The Vitamix 5200 pairs functionality and versatility exceptionally well with one single appliance. Designed for industrial use, this blender uses 2.0 peak horsepower supported by 1380 watts that allow its blades to spin at an incredible 37,000 RPM. The motor features a ball bearing design that reduces friction of the construction parts but doesn't take anything away from the efficiency of the functions.
To maximize performance, this blender has an advanced cooling system that cools it during operation. Should the motor get overheated, the system automatically shuts off to prevent it from burning up.
For its smoothie function, the 5200 can easily pulverize any hard-to-blend ingredients including leafy greens without any hassle. If frozen desserts are your forte, you can hope to achieve impressive results while shaving ice or crushing frozen ingredients.
Read More: Vitamix E310 Vs 5200: Which is better?
Plus, in true blender tradition, the Vitamix 5200 will yield perfectly blended purees, spreads and dips. For your baking needs, you can rely on the Vitamix technology to knead the smoothest of doughs at low speed.
One area where the 5200 truly shines is using its blade friction heating. This function allows the blades to reach speeds fast enough to create friction heat. This will give you hot steaming soup in as little as 6 minutes as the blade friction brings soup to serving temperature right in the container.
Although it will juice ingredients, they won't be your textbook juices as it doesn't include any juice squeezing attachments. But given its powerful performance, it is able to easily blend ingredients into a smooth consistency.
---
Operation and Cleaning
The manufacturers have kept operating the 5200 simple with an easy-to-use control panel featuring only a speed dial and two toggle switches. The dial gives you complete control over your appliance letting you choose the right speed for your blending/mixing needs.
One High/Variable switch lets you decide the mode for your blending function with the High mode suited for handling heavy-duty jobs such as crushing ice, working with frozen ingredients or handling nut milk and soups. The Variable setting works for the other 10 speeds available. The second switch simply works to power your appliance On and Off.
Although the Vitamix 5200 does not have any pre-set settings or a pulse mode, these functions are quite operable with the On/Off switch or setting the speed to a higher number.
Just as operating the Vitamix 5200 is as straightforward as it gets, so is cleaning your appliance a cinch. All you need is a little help from some tepid/hot water and a few drops of liquid soap. Blend on turbo speed for 10-30 seconds to get the fastest cleanup for your blender. The vortex created by the rotating blades cleans the blades and sides keeping the container free of any unwanted residue.
Related Articles:
Container and Blades
This Vitamix model comes with a 64-oz high profile container. The high-profile makes it better process larger batches of food than its low-profile counterparts. The same goes for medium to small batches of food as well when you want to prepare something just for yourself or for a friend.
On the flip side, when stationed on its base, the unit sits 20" tall which may not be able to fit under the average kitchen cabinet.
Read More: Vitamix 5200 vs Kitchenaid Diamond Blender
As is with all Vitamix models, the container is made of copolyester that is BPA and BPS-free. The lid on the container is a spill-proof, vented design to prevent any accidental blender fountains. The container sits on a rubber pad which helps reduce vibration when the motor is in operation. This added support makes the blender a stable addition on any work surface.
The 4-pronged hardened stainless-steel wet blades give the blender a lot of cutting and blending power. When compared to their dry blade counterparts, wet blades are better suited for handling frozen desserts, soups, grinding, kneading and milling.
---
The Vitamix Series
If you feel that this blender does not give you everything that you're looking for, then there are easy upgrades available to look into.
For instance, the Standard package as reviewed here works well for kitchens in need of a durable blender. The Super package includes a grain blender that will let you process whole grain flours and cereals. And the Deluxe package comes with all the features of the Standard package plus some more. It also includes a classic 32-oz dry grain container with regular and mini-sized tampers with the additional bonuses of 4 flexible cutting board s and a 3-piece spatula set.
Read More: Best spatula for Vitamix
If the high-profile of the Vitamix 5200 is an issue and hard to accommodate in a smaller kitchen, then you have the option of looking into the Compact package. This option reduces the container size to a 48-ounce container for medium batch processing.
Vitamix 5200 Review: Final Thoughts
To wrap things up, the Vitamix 5200 remains one of the best blenders for home and commercial cooks. Being a robust machine, it is built to tackle daily use without any issues. This makes the Vitamix 5200 stay abreast of the competition beating newer and more advanced models.
This appliance is equipped with an excellent range of speeds that lets you handle everything from basic smoothies and frozen desserts to crushing ice and preparing piping hot soups. It serves everyone looking for a hardy appliance well.
Although the price may be a concern for some, it helps to know that high-performance blenders do not come cheap and are built to last for a long time. With the Vitamix 5200, you pay for quality, versatility and a solid 7-year warranty.
Related Articles: