Best Overall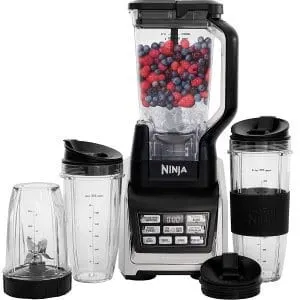 Powerful 1200W Motor
Large Capacity
Best Price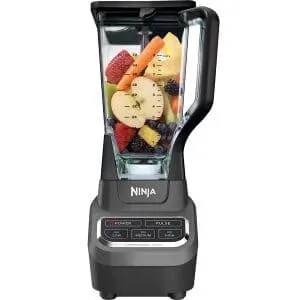 Powerful 1000W Motor
Large Capacity
---
Ninja is a brand known for manufacturing high-quality, durable blenders that are easy to use and easy to maintain.
The best Ninja blenders are engineered to do so much more than blending smoothies and can undertake tougher kitchen tasks from chopping and grinding to whisking and crushing.
These models pack in plenty of power and features adding to their outstanding performance and usability. With the wide variety of Ninja blenders available in the market, there are models that cater to general and specific blending techniques.
Here is a look at three of the best Ninja blenders available in the market for a variety of kitchen tasks.
Top Rated Ninja Blenders Of 2021
---
Ninja Blender Duo BL642 With Auto-iQ: Best Overall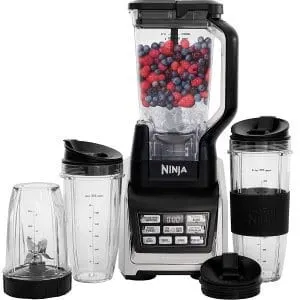 The Ninja BL642 is a popular model from the brand. This is a powerful blender with 1,500 watts and a 2HP motor to back up its performance. The pitcher is a massive 72-oz container that lets you make large batches of smoothies simultaneously.
To complement the large pitcher nicely, the BL642 also includes a variety of cup sizes. Depending on the model you get, you will have an assortment of cup sizes ranging from a small 18-oz cup to a medium 24-oz cup and a larger 32-oz cup.
All cups come with "Sip and Seal" lids to make traveling with your cup easier.
Two Sets of Blades
Given the immense power of the BL642, it makes sense that the manufacturers decided to equip this blender with 2 sets of blades.
These blades work together to get your ingredients to the desired consistency. The first set is the "Total Crushing" blades that turn ice cubes into snow in a matter of seconds. The second is a set of "Pro Extractor" blades that work on whole fruits, vegetables, and seeds to completely pulverize them and extract all nutritional value from them.
Read More: Full Ninja BL642 review
Auto-IQ Technology
The BL642 features Auto-IQ technology which comes with 5 pre-set Auto-IQ programs and 3 manual settings. This technology offers a one-touch system that automates what you need to do.
As such, the program combines an automated pattern of pulses, blending, and pauses that cater to your mixing needs. This means you don't have to stop the blender to shake or stir the ingredients.
This smart blender also recognizes the size of the container you will be using while the automatic mode counts down the time remaining for the pre-set program. All of the features above ensure that I have no problem in crowning the Ninja BL642 the best Ninja blender on the market.
---
Ninja Professional Blender 1000 BL610: Budget Pick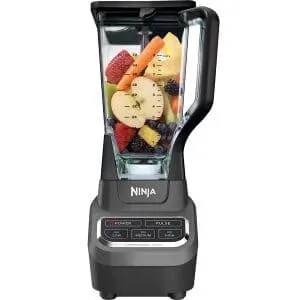 The Ninja BL610 is a robust blender that pulverizes everything you throw into it with a force powered by a 1000-watt motor.
Build and Design
The Ninja BL610 is a well-built blender that showcases its sleek aesthetics well on any countertop.
The pitcher and motor base both use sturdy plastic and the pitcher can easily be transported straight from the base to a counter or tabletop without much hassle.
The motor base features a few different easy-to-read buttons. The Power and Pulse buttons are spread across the top while the three-speed buttons occupy the space along the bottom.
The BL610 unit is easy to clean as the buttons are flush with the base. This makes it super-easy to wipe and clean the surface. This design element does not leave the chance of any dirt or grime getting caught in any nook or corner.
As a safety feature, both the pitcher and lid must be locked in place before the blender turns on.
Read More: Full Ninja BL610 review
Setup and Use
Setup for this unit is simple with the blade assembly set into the bottom. Just add your ingredients into the pitcher and lock the lid in place.
Operating the blender stays true to being simple as the minimal buttons make it easy to understand. However, the simple mechanism doesn't limit your blending/mixing options.
The Low setting can be used to mix thin batters, marinades and gravies, and chop ingredients for salsa and dips.
The Medium setting is useful for grating cheese, whipping cream soups, grinding nuts and blending sauces and spreads.
The High setting is ideal for liquefying thick mixtures and blending whole fruits and vegetables.
The Pulse feature is what you would use to control your chopping and processing tasks.
---
Ninja Mega Kitchen System BL770
The Ninja BL770 features all the functional components of a high-end blender without costing you a fortune. This is the perfect appliance for anyone looking for a blender and a food processor but doesn't want to get two separate machines.
Speed and Programs
Part of the Ninja Kitchen System series, the BL770 features a 1,500-watt motor. It has six buttons with Power, Pulse, Single Serve, Dough, Blend and Crush settings.
The large 72-oz pitcher operates with three speeds and the Pulse function. You can activate and deactivate the blender with the Power button and use the Pulse function to chop ingredients to the desired texture.
The Single Serve attachment works at one speed with the user holding the button down as the blender runs and stops it by releasing.
You can use the three speeds of Dough, Blend, and Crush with the food processor bowl. Both the chopping blade and dough blade attachments work with the food processor bowl.
Read More: Full Ninja Mega Kitchen System 1500 review
Container Capacity
For a kitchen system as expansive as the BL770, the container capacity becomes extremely relevant. This is because the capacity of the blending/processing containers can determine the functions and processing times of the appliance.
The BL770 does not disappoint here as it comes with four containers that offer a variety of functions.
The extra-large 72-oz pitcher is capable of holding any kind of food. Likewise, the 64-0z food processing bowl will accommodate the best of your cookie and pizza doughs.
If you're looking for preparing a smaller batch, then the BL770 also includes two 16-0z cups. These cups can be placed directly on the base and used to make single-serve smoothies. This is definitely one of the best Ninja blenders you can get.
---
Ninja BL482 Blender
The Ninja BL482 blender was designed for people who are constantly on the move and who want no fuss and no hassle when making smoothies. It's made for busy professionals and students who want to get things done quickly and correctly, and who would rather not waste precious time trying to get it right.
With a price as low as the Ninja BL482 people often get suspicious if it is as good as some of the more costly models like Vitamix or Blendtec.
The truth is, it may not be as good as these more expensive models but that doesn't mean you shouldn't consider buying because depending on what you need it for, it can do the job perfectly well and it has some really amazing features we will now discuss and review.
Ninja BL482 Review: Overview
Honestly, one of the main reasons we recommend you buy the Ninja BL482 is the Auto IQ feature. In a nutshell, this feature takes the guesswork out of blending.
With that being said, if you want to do things manually, you also can do that. You have the Start/Stop button to run it continuously, and you just press it again to stop. Meanwhile, the timer counts the seconds you use it so you can calculate when to stop.
The motor of this product comes with an auto-shutoff feature that stops the motor when it becomes too hot. In this situation, just unplug the Ninja iQ and wait 15 minutes. After that, you can just plug it in and use it again.
The product also has some other attractive features. Your purchase will include a wide variety of different sized containers, such as the Jumbo Multi-Serve 32-ounce Nutri Ninja cup, the regular 24-ounce Nutri Ninja cup, and the small 18-ounce Nutri Ninja cup for personal use.
The cups are made from a BPA-free plastic called Eastman Tritan, and it is extremely durable. These cups are also transportable and will easily fit in a standard car cup holder. The Sip and Seal lids make sure that you don't spill your beverages and make a mess.
You will also get the specially designed Pro Extractor Blades that are made from high-quality stainless steel. It is rust-proof and the blades are powered by a strong 1,000-watt motor that can crush just about anything you put inside the container.
So what exactly can you do with the Ninja iQ Blender? You can chop leafy herbs to make your salsa. You can mix batters and dips. You can create a variety of sauces, including simple sauces, salad dressings, and vinaigrettes. You can blend to create frozen goods such as ice cream. You can also make smoothies from fruits, vegetables, and various leafy greens. With the Ninja Auto IQ, healthier drinks are easier to prepare compared to using a traditional juice extractor.
The Auto IQ Feature
Out of all the great features this product has AutoiQ is probably the most practical one.
Auto IQ is a feature that will provide you with a set of automated blending programs so you can get the best results. These programs have automatically configured this blender to mix continuously, pulse, and pause according to a set pattern, and it will automatically stop when the timer runs out.
There are two choices you can pick: Blend and Ultra Blend. All you need to do is push a button and it will do the rest. Instead of figuring out a complicated pattern of actions and pauses by yourself, it's already been figured. Just use the Blend button for softer ingredients and the Ultra Blend for harder and frozen ingredients. It's really that simple.
The Smooth Boost Function
Ninja's Smooth Boost Technology is a trademarked technique that allows you to further customize your blending. With the touch of a button, this technology detects the degree to which the ingredients are blended so that you get the perfect drink every time. Another great addition is the technology also allows you to not only blend but make super creamy frozen drinks, like smoothies.
This will give you a fizzy blend for a nice cool treat at any time of the year. And with this technology, the Ninja will do all the work for you, so that you do not have to worry about any complicated settings or operations you have to operate on your own.
The Nutri Ninja Auto IQ Complete Extraction System
Similar to the "Smooth Boost" function, the Auto IQ makes it unbelievably easy to use the blender. With the help of this technology, not only does it detect levels of consistency, but the Nutri Ninja will proceed through a series of blends, pulses, and pauses to perfectly mix your drink. This is just like having your own assistant to stir, shake, and mix up your drinks for you. This technology is all pre-programmed so you only have to hit a button and the blender takes care of the rest.
Ninja BL482 Review: Final Thoughts
Overall, If you're looking for a personal blender that doesn't require you to figure out the correct settings every time you want to make a drink then the Ninja BL482 may be what you need. With this blender, you just press a button and you will get a delicious and healthy smoothie that you can bring with you to work.
It's very simple and great for multitasking because you can do other things in the kitchen while you wait for it to be ready. There's no need to press a button or to figure out the perfect pattern of pulses, pauses, and continuous blending. That's all been done for you with this blender.
What's more, the Nutri Ninja Blender with Auto IQ is great for people who are constantly on the move. Once you're done, you can use the blender container as your portable cup. Just seal it with the lid and you're all set.
We hope this review helped you understand the differences between this blender and some other types, what are the benefits of the Ninja BL482, and why you should consider buying it.
---
Best Ninja Blender: A Complete Buying Guide
Blender technology has evolved a lot with the times with newer, more advanced models taking the place of traditional products. With so many models available, you can find Ninja blenders ranging from portable options to more robust kitchen companions.
You can find budget-friendly Ninja blenders if you're looking for an entry-level model equipped to blend you some smoothies and not much else. And then you can also look for multi-functional blenders that will do everything from pureeing and blending to preparing hot meals in a matter of minutes.
But regardless of which model you get, you can be sure to enjoy the following features with every Ninja blender.
When it comes to blenders, safety should be primary. Always go for products that have professionally equipped models, which are also worth the cost and reliable enough to be used safely in your kitchen. Here are a few pointers that will help you to choose the perfect Ninja blender.
Features To Look Out For
Identify your needs first. Check if you need for everyday use, for liquids, solids, or occasionally. Your need will determine the price of the product.
Check for all the features that make it a wonderful product, safe enough to be handled by people of all ages and demonstration in the form of the product setup.
While you are reviewing products, learn the cleaning techniques. The easiest cleaning option will help you maintain it at the lowest possible effort.
Light, easy and movable items should be prioritized. If you can carry it to the table from the kitchen per need, and back and forth, it does not require much energy – grab the first item that matches these criteria.
Do not get swayed by the inexpensive, low-end models. There are inexpensive high-end models serving better in the market.
For the jars, check if there is a possibility of a leak. Make sure your product is leak-proof in the long run, else, extra cleaning efforts might come your way in due course.
Next, check if the blades sit well in the jar. Often users report damaged jars. That can be dangerous and unworthy, given the time and money you invest.
When investing, try buying a versatile product. There are Ninja blenders available with a combination of a food processor and a spiralizer.
Check for heatproof products. Some ninja blenders require items to cool prior to blending. That may take time if you're in a hurry and need food urgently. Heat absorbent blenders are easy and come with heatproof techniques.
Read More: Ninja Blender Not Working – Troubleshooting Problems & Fixes
Why Choose A Ninja Blender
These are some of the many reasons to choose a Ninja blender, and I will go through some of the features that make the best Ninja blender.
Tremendous Convenience
Well, these blenders are not the ones you use to make smoothies. Ninja blenders come with more than one purpose. As such, the type of customers attracted to Ninja blenders is more than one.
They have one smart little device, and the same device can be applied to multiple cooking activities, be it blending, whisking, or even clarifying solid food. Ninja blenders have excelled in terms of productivity over any other type of ordinary blender.
Reasonable Price
Ninja blenders are usually made with better quality materials than the over-the-counter blenders. Their counterparts provide options owing to the amazing ease with which Ninja blenders perform.
For those who depend on tight incomes, it's best to use one Ninja blender for all your kitchen activities than buying ordinary blenders, which come with three to four jars and blades.
Durability
Users looking for durability in a blender have little reason to turn to any brand other than Ninja. The brand is a force to reckon with when it comes to offering durability in their products.
Ninja blenders are renowned for their sturdy construction and once you get your preferred model, you can be sure that it will stay with you for a long time.
The blenders are manufactured using commercial-grade materials. All components feature top-quality materials from thick stainless-steel blades to very durable jugs using BPA-free materials.
The motors on these models come power-packed with many blenders starting at 1,000 watts.
The easy maintenance supported by Ninja blenders makes them durable. This blender requires as low as no maintenance, and regular cleaning with a dry cloth makes them effectively operational for a lifetime.
In a way, it's a one-time purchase if you can maintain as directed in the user manual. Don't worry, they don't come with high maintenance tips, and only simple washing and drying is enough to procure them. The best Ninja blenders will have a self-cleaning feature and be very easy to clean.
Read More: Can Ninja blenders go in the dishwasher?
Versatility
Along with durability comes versatility. Ninja blenders usually come with a host of features and settings designed to tackle various cooking and prep tasks.
You will also find many pre-program settings on most models to help you blend the perfect mix for your recipe.
The brand offers three main categories including:
The Nutri Ninja Blender series comes with strong, sharp blades to pulverize fruits and vegetables completely including seeds for optimal nutrient value.
The Ninja Smart Kitchen systems are multi-functional powerful machines that can act also act as spiralizers and food processors.
The Ninja Chef Range is what you're looking for when you want something with added power and speed.
FreshVac Technology
The Ninja brand uses what is known as FreshVac technology that lets you unlock the full potential of your fruits and veggies.
While the primary reason for drinking smoothies is for health benefits, many home-made smoothies may be compromising their nutrient content.
The main reason for this is oxygen exposure. Once exposed to oxygen, fruits and vegetables quickly turn brown and may lose their flavor, texture, color, and even nutritional content.
FreshVac works by minimizing oxidation by extracting oxygen from ingredients and retaining its vitamin content. This mechanism also helps preserve flavor and color by removing oxygen prior to blending.
The end result is vitamin-rich beverages that you can enjoy with maximum nutritional value. The technology helps extract fresh juices and smoothies yielding the perfect texture and consistency.
Well Balanced Life
With today's high maintenance life options, something that does not require regular monetary inputs should be worth your time.
Don't you want to live longer with as low as no maintenance and become healthy day by day? If this is something that you wish, choosing the best Ninja Blender is a non-negotiable option. A worthy investment for experimenting with more food for your daily meals.
Related Articles:
Features To Look For In A Ninja Blender
Often while purchasing a blender, it becomes difficult to look for the actual features that can help you keep it for a lifetime. In fact, instead, we go by color, the outlook, and all such factors which are also available in all ordinary products.
A Ninja Blender comes with versatility. From preparing smoothies, whisking egg whites, and preparing ground powder of solidified food.
Look for the blender in terms of all of its aspects – height, size, style, and functionality of the motor blade, in addition to all other features, a product usually comes.
Container Material and Size
A Ninja blender usually comes in the form of plastic and glass jars. The plastic jars are less expensive than the glass ones. The plastic ones were usually lightweight and chip-proof.
On the other hand, glass jars are durable and absorb odor from vegetables and other items, which leave an unacceptable smell while grinding. The glass does not discolor over time, whereas the plastic jar can. Some lines of blenders are also available in the stainless-steel models. They are the most expensive ones and also the most durable.
You can blend any item in a stainless-steel jar and store the item within the jar in the freezer. The Stainless-Steel material helps keep the food longer and colder. On the other hand, they come with one proper disadvantage – you won't be able to see the mixture grinding from outside.
You may have to pause, open the lid, look for the material, and put it on twice or thrice until it is finally done. Whereas in the case of plastic or a glass jar, the mixture is viewed from outside. The container size ranges from eight ounces to 64 ounces. Some high performing blenders come with 80 ounces as well.
The size that fits appropriately for your kitchen requirements depends upon your choice. Make sure you don't forget these criteria as they are very important when shopping for the best Ninja blender.
Motor Size Socket and Blades
From grinding fibrous vegetables, Walnuts, and pasting poppy seeds, they come with an average power of 400 to 600 watts. The high performing, easy mixing ones are available for a whopping 1300-watt power.
It's best to opt for stainless steel socket blades. The plastic materials wear out quickly. However, they are not for lifetime options and can go as long as 8 to 10 years. Since the socket and blade may wear off over time, it is best to go for an inexpensive option so that even when there is a need to change, it doesn't cost you much.
Types Of Ninja Blenders
If you are looking for Ninja blenders, it's time to adapt to complete versatility. There is more than one type of Ninja Blender in the market. However, the most common one being the traditional countertop blender, usually found with multiple options. The countertop blenders were previously used by our grandmothers and still is a familiar choice for millions.
Let's have a look at the type of ninja blenders available.
Countertop Blenders
This one has been the permanent choice for most households. They come with better prices, high performing blades, and sockets. However, less powerful than the other options available today. Space is quite a consideration if using to fill your kitchen with a product like a Ninja blender.
People prefer keeping blenders on the kitchen countertop, so it's best to go for an option that does not require much of your kitchen space. Countertop blenders come with multiple speed settings, usually with slow, medium, fast, and super-fast speed. An average of 3 – 4 speeds does the task. The best Ninja blenders are generally countertop blenders.
Personal Blenders
These blenders can be used for multiple purposes but are most commonly referred for single servings. You can use them, particularly for milkshakes and smoothies in the morning. They give the creamiest texture with no Residue floating. The cups provided along with these blenders are for blending and drinking.
You can directly use the blending jar to sip as they come along a handle. These do not have multiple speed options, and the speed can range from 1 – 2 to speed maximum. They come around the same price as the countertop blenders and can be a good substitution for the countertop blender options.
Immersion Blenders
These are the handheld blending options. Today they have become inexpensive, and as such most people prefer buying this over the countertop blenders. You have to insert these blenders into the food and make sure that your food is placed in a durable glass bowl.
They can also be used with raised pots and pans and works best for pureeing vegetable items to be added to soups and smoothies. However, they come with less powerful motors compared to the above products, but the cordless and rechargeable features make them a convenient option for many.
High-performance Blenders
These are similar to the countertop blenders, but they are on steroids. They can process soft as well as hard ingredients and can even grind wheat into flour. They come with the most powerful motors, and with the most powerful option comes a high price. Their base is larger than the countertop blenders, and most people see this product as a versatile option than the rest.
Ninja blenders usually come with a lifetime warranty for all your food processing needs. Some are built using extremely sharp blades, and therefore, ice cubes and frozen fruits can be crushed in seconds. Make sure you look for safety options and wear appropriate equipment before using them.
Read More: How To Use A Ninja Blender: Ultimate Assembly & Tips Guide
Best Ninja Blender: Final Thoughts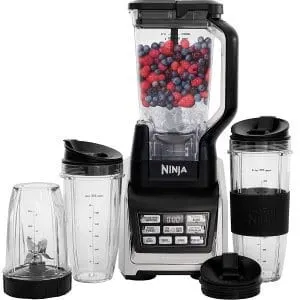 Ninja blenders are highly versatile and suitable for a range of applications with models ranging in size from super-compact personal blenders to large family size blenders.
The Ninja BL642 is ranked the best overall as it is a powerful blending machine capable of performing a number of different tasks. It does the job of multiple appliances and gives you personalized results according to the recipe.
Given its power capacity and price point, the Ninja BL610 is one of the most operationally efficient blenders in this price range.
The Ninja BL770, on the other hand, is the ideal 2-in1 appliance that moonlights conveniently as a blender and food processor. Its accompanying assortment of attachments makes this model one of the most comprehensive kitchens systems available, and one of the best Ninja blenders on the market.
Related Articles: