Today, I will be reviewing the Ninja BL770 Mega Kitchen System. Stay with me and learn if the blender is good for you or not.
It is smart to research before deciding to spend money on any product. With the increase of manufacturers of blenders, the chance of being ripped off has increased immensely. You may buy a product only to be disappointed with it after two to three weeks.
Luckily, you don't have to research all by yourself because I have made work easier for you. In this Ninja Mega Kitchen System 1500 review, you will find out why this is one of the most popular Ninja blenders.
The Ninja BL770 is a top blender from one of the best manufacturers out there. Let's get into it.
---
Ninja BL770 Review: Overview
The Ninja BL770 MKS is a versatile blender that is going to serve well for quite some time. Its blending technology is quite good, and it is quite powerful to crush almost everything you throw in its way.
Read More: Best Ninja blender
It is perfect when it comes to making smoothies, purees, and mixing. You can also use it for kneading the dough, and most people agree that it is capable of producing consistent dough within a matter of minutes. It helps make your work more straightforward, and it doesn't cost you a leg. Allow me to discuss its features so that you can know what you are getting into once you buy it.
---
Ninja Mega Kitchen System 1500 Review: Key Features and Specifications
The powerful motor of 1500 watts. Such power is more than enough to perform every basic blending function.
It comes with a big enough pitcher of 72 oz capacity. Such a container holds enough ingredients to serve your whole family
Three speeds, low, high, and individual cup plus Pulse
Comes with a food processor bowl (64 oz)
Dishwasher safe
BPA-free plastic
One year warranty
Two Nutri Ninja cups plus their lids. This means you can make a smoothie or juice and carry a cup of it with you to work
The Ninja BL770 is a stylish blender that will add a beautiful touch to your cabinet. It looks classy and expensive, although it is quite affordable. It is quite tall but slender with touchpad keys at the base. It is made of BPA-free plastic, which makes it easy to clean and healthy to use.
It is quite powerful with a two-peak horsepower 1500 watts, so you can expect it crush almost anything you throw into it. A lot of people love the multiple blade options. It comes with 4-blade categories, each specialized for different food categories. The blades help you perform various kitchen duties hassle-free, which is quite impressive for an affordable blender like it.
---
Ninja BL770 Review: What to Expect
The blades on the Ninja Mega Kitchen System are designed to perform functions such as kneading the dough for bread and cookies, chopping veggies, crushing ice, and dessert making, among others. They are easily removable, and you can place them back yourself hassle-free.
That's not all; it comes with multiple container options. The two Nutri cups make it possible for you to make takeaway smoothies or juice and carry them to work or out hiking. Both cups have To-Go lids, which means they can't leak any drink while you are on the go.
It comes with a 72 oz pitcher that is enough to make blends for the whole family. The bowl-shaped processor is big enough to accommodate all your ingredients, which allows you to make delicious recipes.
Related Articles:
The Ninja BL770 has rolled three appliances into one. This saves you space, and it is also a huge money saver. With this blender, you don't need to go for a special food processor or a dough making machine.
It is quite a versatile blender that you are definitely going to love it. You can use it to make fantastic smoothies, and it is also perfect at kneading dough for cakes and bread. It also makes fine purees and cuts your time for preparation by half, giving you more time to enjoy the meal.
Almost every Ninja blender is great at crushing ice and making frozen desserts, and you shouldn't expect anything less from this one. It is a blender that will, without a doubt, make you happy.
---
Ninja BL770 Review: Design and Construction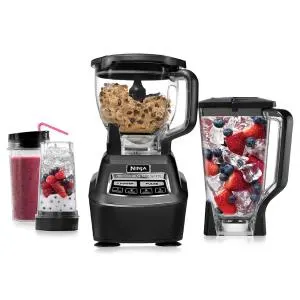 The Ninja Mega Kitchen System 1500 accompanies a clear, reasonable, tall pitcher placed on a huge, dark base that holds the engine and contact cushions. To a great extent, the blender included uncompromising plastic which makes it appear sufficient to resist rough usage.
The blender comes with a simple control panel with clearly indicated touch buttons. Until the user licks the lids and jar in the right place, the lock safety mechanism prevents the blender from working
Dimensions
The height of the blender is 17.9″(45.5 cm). The width is 8.3″ (21.0 cm), the depth is 9.4″ (24.0 cm). It weighs 9.1 lbs. (4.1 kg). The blender is quite bulky. Its tall and larger, so you can either store it in your kitchen cabinet or place it on the kitchen counter.
Main Jar or Main Beaker
It is made with BPA- Free plastic. The capacity of the jar is 72 oz. It weighs 2.5lbs. It is dishwasher safe, which makes it easy for you to clean. Since the main container's capacity is very large and contains a spout, it becomes easier to serve directly from the jar.
The maximum liquid capacity is 64 oz. While using the jar, you have to make sure that the jat is paced in a particular orientation to sit on the base.
Read More: Can Ninja Blenders Go in the Dishwasher – Best Cleaning Practices
Additional Jar
It is made with BPA- free plastic as well. It has a capacity of 16 oz. (473) the weight of the jar is .6 lbs. It is dishwasher safe.
(BPA stands for bisphenol A. it is an industrial chemical used to make plastic.it reassures you that the plastic is safe to drink out of.)
Blades
The blade is very sharp, has six counts, it is removable and dishwater safe. Making it handy. The blender comes with few extra blades for the jars and food processor attachment. The blade has to be removed while serving or pouring the juice out of the picture or bowl when the lid is removed. This is done because the blade does not fall in place.
Lid
The lid on the Ninja Mega Kitchen System has a lock mechanism. It is not a two-part Lid. The main jar gets locked into place when the marking on the lid is aligned with the corresponding marking on the jar. When you want to add few extra ingredients into the jar, in the middle of blending, you can lift the serving beaks and add small items or ingredients, even if it's a liquid to dilute your milk or smoothie.
Power Cord
The power cord is attached to the blender. The cord length is 2.9 ft. (0.9 m). The cord is quite long and can reach the outlet near you. It is attached to the blender, so you cannot conceal it when you're not using the blender. But you don't have to worry; your kitchen will still look classy.
---
Ninja Mega Kitchen System 1500 Review: Accessories
In the Ninja BL770 Blender, you get a 72 oz. blender pitcher with a lid. A stacked blade assembly. A motor bases. 2x personal 16 oz. jars and kids. Single-serve blade assembly. 64 oz food processor bowl and lid.
The dough blade that has to go be used in the processor bowl. Chopping blade for processor bowl. And a user manual to understand how every accessory works. I think you'll agree with me when I say that this set is complete.
Power and Speed
The minimum speed of this Ninja blender is 3200 RPM. When you make mayonnaise, this helps when the emulsification won't take place at a very high speed.
The maximum speed that it can go to is 4500 RPM. It has no speed dial, but it does have a Pulse or Turbo Mode. The noise that it generates at the maximum speed is 95 dB. And it has an on and off Toggle. Place a folded cloth or dish towel or a rubber mat under the jar. This will reduce the vibrations, and it will absorb a little bit of the sound or noise made by the blender.
Though the blender has no fine- turning speed dial, it has four preset speeds. The blender comes with different speeds, ranging from medium, low, high, and single-serve. This allows various blending along with food processing functions.
The low speed is a button for kneading dough for pies, bread, cookies, pizzas. It's best to use the food processing bowl and dough blade for this.
The medium speed is active while processing or emulsifying dips, sauces, spreads, and baby foods.
The high-speed setting is used when you want to chop, grate, crush ice, and make a puree. This feature is best while making smoothies and milkshakes. You can use the container, based on the dish you're preparing.
Singe serve speed function is ideal for a person who is preparing food for one person. It's used while pureeing, mincing, or chopping ingredients.
The pulse function is used to mix the ingredients. It also controls food processing consistency and blending.
---
Ninja Mega Kitchen System 1500 Review: Cleaning and Maintenance
It is very easy to clean the Ninja Mega Kitchen System blender. The blades can easily be removed, and the blade assembly can be put in a dishwasher on the lower rack. All the jars, their lids are placed on the top or bottom part of the dishwasher, and its dishwasher safe, so you don't have to worry about that.
You can also wash them yourselves; you don't have to worry about using a harsh scrub on the blades. A softer scrub can be used to clean the jars. It can also be cleaned with soapy water.
You have to clean the jars and blades to make sure there are no sediments or food particles stuck to the jar and blade. This can prolong the utility of the blender.
You should make sure that water does not get into its motor base, as the water will interfere with the ninja blender's electric components. When you remove the blade to clean it, you should hold on to the ends, to prevent injuries.
---
Other Features Of The Ninja Mega Kitchen System 1500
You can make easy spreads and smoothies using the Ninja BL770 blender.
Almond Butter– The blender is great at preparing almond butter. It takes only 4 minutes to make; you get a silky-smooth texture that has no chunks.
Making a Smoothie using the Additional jar– The additional jar results is a lot better at making smoothies than the main jar. A lot of air is captured in the mix, and the beverage is smooth, fresh, and easy to process. It takes only a minute, and you can relish your drink.
Another great use of this blender is that you can prepare crushed ice. Suppose take 0.5 minutes, and you get a snow-like texture. Who doesn't like a snowy texture to their ice?
The blender has no hot blending. It does not have a juicer Attachment. But it does have a food processing Attachment. There is no heating element in the blender. It has no now dome, Tamper, or Vacuum Pump. It comes along with a speed Adjustment based on the jar size.
Warranty
Unlike other blenders available in the market, you need not replace the accessories every now and then. I have already mentioned them above. With the assured warranty of one-year, Ninja BI700 can be your best choice.
Technology
The Ninja Mega Kitchen System blender has an Auto-IQ technology that facilitates aided blending and food processing.
This blender's feet feature rubber fittings come in handy in stabilizing the unit during the blending process. Its large pitcher capacity helps you make blends for large families.
The blender has an Auto-IQ function that allows the blender to work with all the speed and pulse settings. This auto- IQ feature activates the pulses in a specific pattern, which makes it blend and pause intermittently till the ingredients have blended and are smooth.
The blender uses a total crushing technology. It has a recipe book, which has many variations of smoothies and delicious recipes.
It is perfect for large families and people who want both blender and food processor together. Young mothers can make baby food. If you're on the run and always busy, this blender will help you make fast and easy drinks that you can carry with you. Making healthy smoothies will help you kick start the day and keep you fresh throughout.
This blender can be used in small scale restaurants as wee, to make different kinds of dough. Pizza dough, pie dough, dough to make your bread, and be made using the Ninja BL770 blender.
Having this blender with you gives you quality products and dishes. This will make your work in the kitchen a lot easier and more exciting. It allows you to experiment with spreads, smoothies and milkshakes, and many other drinks and dishes. It has an excellent performance rate and is a necessity in every house.
---
What People Like About The Ninja BL770
As you can see, there is a lot to love about the Ninja BL770 blender. During my research, these are some of the things that most people loved about it:
Space saver. Instead of having different food processors, this blender saves you the cost and space as it is like three machines in one. It way less cumbersome than having three machines
High power of 1500 watts capable of crushing almost anything thrown on its way
Easy to assemble and clean. Also, the plastic it is made of doesn't scratch easily which makes your blender seem new every day
Most people love the fact several containers it comes with and how it offers a variety of options to them. From personal cups to big enough pitchers for the whole family
BPA-free
Even though there is much to love about the blender, it also has some limitations. One thing that a lot of people complained about is the fact that the blender comes with a limited warranty of one year. It is also quite noisy, but this can be expected from a blender this powerful.
Also, a few users complained that the blender does not perform very well with fibrous foods such as greens, coconut flesh, and some whole foods.
---
Ninja Mega Kitchen System 1500 Review: Final Thoughts
The Ninja BL770 is a powerful blender that you should consider owning. It is versatile, and you can use it to perform different kitchen duties such as kneading, blending, mixing, chopping, and many others. It makes some fantastic smoothies, and it is quite impressive at crushing ice and making frozen desserts.
Its capacity is big enough to serve drinks for the whole family, and it also comes with two cups that you can use on the go. While doing this Ninja Mega Kitchen System 1500 review, I found that it is quite easy to use and clean. It has some preset settings, which makes your blending work quite easy. The only complaints are noise and warranty period but all in all, most agree that it is a fantastic machine worth every dollar.
Related Articles: