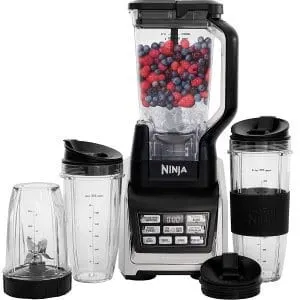 Are you looking for an affordable, easy to clean, and versatile blender? Well, if you are, Nutri Ninja Blender with 1200-watt Auto-iQ base is the answer. This review will help you appreciate this fantastic product from Ninja even more.
If you are a blender lover, there is no way you cannot appreciate the excellent work Ninja does. They provide us with affordable versions of high-quality blenders like the ones manufactured by Blendtec and Vitamix. Yes, they cannot match the performance and durability of such mixers, but they at least give you that feeling.
Today, I will review the Ninja BL642, and by the time you are done going through it, you will be sure if it is a perfect fit for you or not. So, without further ado, let us get into it.
---
Ninja Blender 1200 Review: Overview
The Ninja BL642 is a great product and a great addition to your kitchen. Yes, it is a bit noisy, but it gets the job done. It is especially exceptional when it comes to crushing ice and making smoothies. And that's not all; it comes with a cookbook that helps you make some fantastic drinks. Also, it is easy to clean.
With 1200 watts, it is a powerful blender that crushes pretty everything into liquid. It is also quite a versatile machine, and I can guarantee you that you will love it.
Read More: Ninja blender reviews
What makes most people decide to buy a blender is the things it can do for them and, of course, the price. The Ninja BL 642 gives you the value of your money, and it is pretty versatile.
It comes with a 72 oz pitcher that helps make some amazing smoothies. It will pulverize almost every fruit and vegetable on its way. You can also use it for greens, although it's not the best here. The pro extractor blade makes it able to make excellent smoothies without any residues left.
---
Ninja BL642 Review: Versatility and Functionality
The blender is also fantastic when it comes to making whole juice. The auto-iQ feature makes it easy for you to make perfect juice. It is also quite good with frozen desserts and crushing ice. In fact, it is one of the best blenders when it comes to ice crushing, as it has a preset feature for the same.
The machine is also quite good at pureeing whether you are using cooked or raw food. Don't count on the blender to make hot soup, though. Even if you follow the recipe provided to the letter, you will still not be able to make hot enough soup. It is like it was not designed for the same because if it were, it would at least have come with a preset button for hot soup.
Read More: how to turn on a Ninja blender
You can use your blender to chop veggies for salsa, or dressings. Also, you can use it to make nut butter.
The Ninja BL642 comes nine buttons and three speeds. The speeds are high, low, and medium. It also comes with two presets for XL pitcher and pulse function. The other two presets are for single-serve attachment, i.e., blend and ultra-blend.
---
Ninja Blender 1200: What People Like
Before I discuss what most people love about this blender, allow me to address some complaints.
A lot of people don't like the fact that the warranty for the blender is only one year. However, Ninja blenders always come with a one year warranty. Maybe they should do better than that, though. It is also a bit noisy, but that can be expected from a blender of its power. On the things that most people like, they include:
A powerful Ninja machine that works perfectly, especially for ice crushing, smoothies, and chopping veggies
It comes at a very reasonable price despite its high quality. Most people compare it with the likes of Vitamix and Blendtec performance-wise
A versatile blender that you can use to complete several kitchen duties
Easy to assemble and even easier to use. It comes with a user guide and a cookbook to help you out
Sharp blades that can crush almost everything. However, you should be careful when cleaning them not to cut yourself
Dishwasher safe. You can easily remove parts of the blender and wash them before putting them back
---
Ninja BL642 Review: Features
The Ninja BL642 blender comes with some amazing features. It is no wonder it has gotten a lot of love from its users. For example, on Amazon, it has received an average rating of 4.6 stars out five with over 75% rating it five-star. That just shows how amazing it is. Here are some of its features:
Auto IQ technology that features blending programs that work perfectly. No guesswork is required
Nutri Ninja Pro extractor blades perfect for breaking vegetables, whole fruits, seeds, and ice without affecting the nutrients of your ingredients
A powerful blender with 1200 watts/ 2 hp power
It comes with three multi-serve Nutri Ninja cups with sip and seal lids. The cups come in small, jumbo, and regular sizes. You can be sure to use them while you are on the go.
Five manual programs that help you control your blending speeds
Total crushing technology
Auto-IQ one-touch drink creation with three presets
Dishwasher safe
XL 72 oz total crushing pitcher
Related Articles:
Ninja Blender 1200 Review: Final Thoughts
If you have been looking for a blender powerful enough to pulverize almost anything for a friendly price, the Ninja BL642 is the blender for you. It comes with a 1200 watt/ 2 hp motor, which is more than enough power to pulverize almost anything.
The blender is quite good at crushing ice, making smoothies, and chopping veggies. Its sharp blades are very good at chopping veggies. That's not all; it is quite easy to clean despite a few complaints from a few people about how hard it is to clean the bottom.
Its ease of usage is what makes most people love it even more. Once you buy it, assembling it is quite easy, and then the preset programs make it easy for you to use it. This is a blender I highly recommend!
Related Articles: