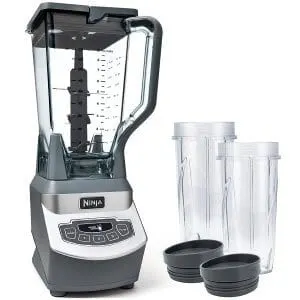 Powerful 1100W Motor
Large Capacity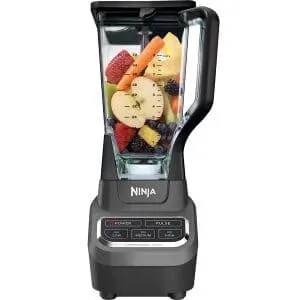 Powerful 1000W Motor
Large Capacity
---
Ninja aficionados know the power and performance that comes with a Ninja blender, but there are many models to choose from. Two of the brands' top-selling picks are the Ninja BL610 vs BL660 which are designed quite similar but do come with some noticeable differences.
Devised for innovative pulverization of the toughest ingredients with Ninja's Total Crushing technology, both blenders can prepare you a wide range of drinks, mixes, sauces, and purees. But the design of the Total Crushing blades goes way beyond handling soft ingredients and cold beverages alone and makes it suitable for making nut butter and grinding flours along with anything else you need from a blender.
Price-wise, both the Ninja BL610 and the Ninja BL660 are considered mid-range, yet offer the convenience and performance of higher-end blenders. So, if you're in the market for aesthetics, affordability, and performance compiled in one package, then these Ninja blenders will not disappoint.
Ninja BL610 Vs BL660: Comparison
Ninja BL610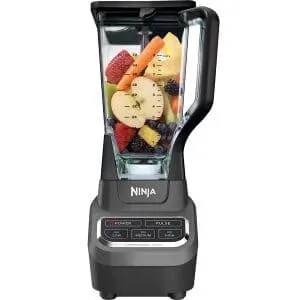 PROS
High-quality construction
Comes with safety features
Offers cord storage
CONS
No go-to cups included
Noisy performance
---
Ninja BL610 Review
The Ninja BL610 is an excellent choice for homes that have a variety of blending needs and require a basic countertop machine to do their bidding.
Power and Controls
The BL610 is a robust machine that delivers on all fronts. Its 1000-watt motor is paired with Ninja's Total Crushing blades and pulverizing technology to give you evenly smooth blends every time.
The control panel on the BL610 is as basic as they come. There are five buttons in all with a Power and Pulse button on top and three Low, Medium, and High speed buttons below. The controls are devilishly simple to use and will give you complete command over anything you need to blend.
Read More: Ninja 1000 Watt Blender Vs Vitamix 5200: Which is better?
Capacity
The Ninja BL610 features the well-recognized, large 72-oz Ninja container that also comes with many other Ninja models. This is paired with the equally well-known and resilient Ninja blades that are attached to a central pylon for robust blending results.
Compared to other similar models, this blender may be somewhat bulky so it's best to give it a designated spot on the counter. Overall, with this purchase, you get total value in terms of motor power and performance and very little to complain about.
---
Ninja BL660 Review
The Ninja BL660 may be considered a slight upgrade to the BL610 in terms of power, functions, and the number of blending cups it carries.
Double Duty Blender
The Ninja BL660 doubles up as a personal blender along with being a countertop version. There is the massive 72-oz blending pitcher paired with two 16-oz to-go cups that instantly add to the versatility of this unit.
The 72-oz pitcher is ideal for prepping family-sized servings while the accompanying Nutri cups cater to on-the-go needs. The Single Serve function found on this model also works with the Nutri cups to make individualized drinks.
The blending jar has a lock-on lid and pour spout that allows for a mess-free transfer of ingredients from the jar to other containers. For added convenience, you get cord storage once the blending has been done.
Read More: What is the best Ninja blender?
Powerful Blending Performance
This multipurpose unit is powered by an impressive 1100-watt motor that works with Ninja's Total crushing blades featured on a central rotating shaft in the large blending jar.
The six-blade assembly works with three blender speeds and a pulse setting for improved control over the blending process. And the single-serve setting gives this blender a huge edge over models that don't offer this feature.
---
Ninja BL610 vs BL660: Main Differences
These two Ninja models share many common features including their large capacity blending jars, rotating shaft blades, and the convenience of cord storage, yet there are some differences as well.
Power
Both blenders pack impressive power within their motors but the Ninja BL660 beats the Ninja BL610 by an extra 100 watts. How much difference does that make in terms of performance? Probably not a whole lot, but with 1100 watts at work, the BL660 (as compared to the 1000 watts of the BL610), comes out as the stronger blender which may give you some advantage in how well it handles tougher ingredients such as ice or green smoothies. You may also notice that the BL660 yields smoother blends or takes less time to do so than the BL610.
Functions
Function wise, the BL660 has the advantage of offering the Single Serve option which lets you customize individual drinks as per your preference. This means you don't have to blend an entire pitcher if all you are looking for is a drink for yourself. You can do the same with BL610 but will have to do it in a larger pitcher and then clean up afterward. The Ninja BL660 saves you the hassle of working with a large pitcher.
Number of Cups
The Single Serve function of the BL660 works with the two 16-oz Nutri cups you get with your purchase. These are convenient to-go cups that you can carry with you after you've prepared your drink. Simply blend and drink in the same cup or blend and carry. The BL610 only comes with the large blending pitcher.
Ninja BL610 vs BL660: Final Thoughts
Although very similar in terms of power and performance, the Ninja BL660 is the preferred recommendation as it showcases a few perks missing in the other model. The Single Serve function on this unit outshines the performance parameters of the Ninja BL610 by yielding individual servings instead of only large batches. The go-to cups of the BL660 are also a convenience factor that should not be overlooked.
The BL610, on the other hand, delivers the power-packed performance it promises. It is a fuss-free appliance that is powerful yet smooth in delivering results and will take your blending jobs to the next level when you compare it to other blenders in this price range. With this purchase, you get the power, capacity, and ease-of-use of more expensive blenders and customer testimonials will attest to that.