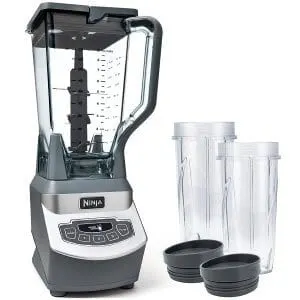 Over the past decade or so, there has been a real awakening of people in terms of what it means to eat healthily. No longer are people simply stuffing themselves with whatever convenience food they can grab. People are now recognizing the truth in the old saying, "you are what you eat". Contrary to what many people believe eating healthy doesn't have to be boring or hard work, especially when you have appliances such as the Ninja BL660 to help.
This professional countertop blender is so good at what it does that it will have you wanting to eat healthily. It's capable of breaking down a whole range of foods such as fruits, vegetables, nuts, and seeds. And it also crushes the ice for your smoothies.
So, if you're searching for a kitchen appliance that looks classy, works like a dream, and will have you eating healthier than ever before, then this could well be the blender for you.
---
Ninja BL660 Review: Overview
Not all kitchen appliances look good. Some are simply there for purpose reasons. They're taken out of the cupboard, used, and hidden away again. But with the Ninja BL660, it's a different story. It's elegant and classy exterior makes it a great addition to any kitchen. And at 2 in x 3 in x 9 in, it's not too big either, so won't take up too much counter space. Another good thing about the design is that it's got suction-cup feet meaning it won't move around while in use.
Read More: What is the best Ninja blender?
Another very cool design feature is its unique blade system. There are 6 blades in total, split into 3 sets on the stacked blade assembly. This enables your food to get pulverized and ice to get crushed all the way down and not just at the bottom like most regular blenders. And with the stacked blade assembly being completely removable there are no concerns about food or sauces getting stuck as you can simply lift it out and pour.
Powerful 1100-Watt Motor – Vroom, Vroom!
While there are a lot of blenders out there that perform well, not many are able to brag about an 1100-watt motor as the Ninja BL660 can. And even though it's so powerful, it's actually pretty quiet in comparison to some other blenders I've seen. Because of its innovative blade system, it doesn't need to work as hard in one area. This means that the load is spread out more evenly producing less vibration. That being said, if you are crushing ice, then obviously it is going to be a little on the loud side.
Read More: Why won't my Ninja blender work?
With such a high-powered motor, this blender is so efficient in comparison to your average blender seen in most people's kitchen, enabling you to make smoothies and other frozen drinks, literally, in seconds. Just think how much time you will save over the year just by no chopping/mixing. Carrots, apples, ice. None of these things are too tough for this blender. Just throw it all in and what it gets pulverized right in front of your very eyes.
---
User-Friendly – Easy on the Eye, Easy to Use Too!
Although it's advertised as a professional blender, you don't have to be an expert to enjoy the benefits the Ninja BL660 has to offer as it's actually really easy to operate. On the appliance you'll find a power button; 3-speed settings ranging from mixing to ice crushing; a pulse button; and a 'Single Serve' button for using alongside the smoothie cups. To operate the blender, you must first ensure the handle is in place and locked and that the two arrows are pointing towards each other. If these things aren't done, the blender won't work.
Related Articles:
If you are unsure then before you start, have a read through the manual. In terms of readability and how easy it is to understand it's probably one of the better ones out there. And if you get really stuck – you can be sure there's always a YouTube video to help you out.
Added Extras – Everyone loves a freebie!
Of course, the blender itself is the star of the show, but you do get quite a few other things included in the package. Inside the box, you'll find 1 x 1100-watt base; 2 x 16 oz Nutri Ninja Cups with 2 x To-Go Lids (perfect for those of you who like to drink on the move); and a 72 oz pitcher with lid and locking handle (just bear in mind the actual liquid capacity is 64 oz). And, everything is BPA-free and dishwasher safe.
Read More: Can Ninja Blenders Go in the Dishwasher – Best Cleaning Practices
To be fair, other than the actual food/drink content, you get everything you need to get started eating/drinking healthier with the Ninja BL660. With this blender the options are endless. You can make things like smoothies, ice drinks, sauces, dips and soups, and even nut butter! While there's no recipe book included in the package, Ninja does offer a range of recipe ideas on their website.
Included in the purchase price of the blender comes a 12-month warranty covering any manufacturing defects but excluding wear and tear. While the standard warranty period isn't as long as some of its competitors are offering, there is the option to extend the warranty if you so wish.
---
Ninja BL660 Review: Final Thoughts
All-in-all, in my opinion, the Ninja BL660 is, by far, one of the best blenders out there in its price range. It looks great with the perfect blend of gray and stainless steel. Thanks to its innovative blade system and mighty motor it performs brilliantly, crushing and blending your ingredients to a pulp perfectly. It's also very easy to use and comes with all the utensils you need to start making your own delicious and nutritious recipes.
So, whether you're a nutritional expert and are looking for a replacement blender or you're new to this world of healthy eating and are looking for an appliance to get to moving in the right direction, the Ninja BL660 is a definitely worth considering.
Related Articles: