Making great tasting smoothies have become an easy and hassle-free morning routine. If you find yourself rushing to get ready for work or school but find just enough time to whip up a healthy and nutritious smoothie, you know exactly what I'm talking about. Throw in your favorite ingredients, push and twist, and in less than a minute you have a cup of morning goodness. That's the power of bullet blenders. The best part is – you can blend and drink from the same container. Simply take the jar off the power base, put a lid on it, and you're out the door!
The NutriBullet 600, Magic Bullet, and Ninja Pro (BL456) are the most popular brands of bullet blenders. Though small in size, they are powerful and efficient like their larger contenders. As versatile kitchen tools, they can blend, grind, and chop ingredients.
In the search for the perfect bullet blender, how do you separate these three great options?
Nutribullet Vs Magic Bullet Vs Ninja: Comparison
NutriBullet 600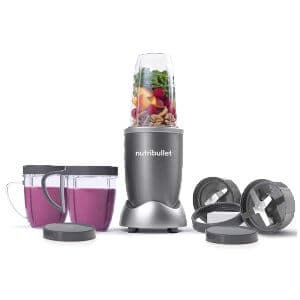 PROS
More powerful motor
Bigger cup
Parts dishwasher-safe
CONS
More expensive
No pulse feature
Magic Bullet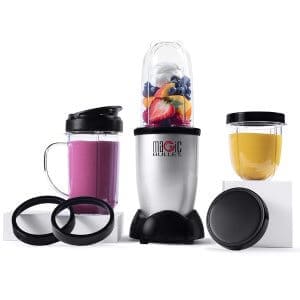 PROS
More affordable
Great for soft ingredients
Comes with accessories
CONS
Weak motor
Can't crush ice
---
Magic Bullet Review
"The original" Magic Bullet Blender creates tasty meals and snacks powered by a 200-watt motor. It's the perfect personal blender for your blending needs. It's small, light, and easy to store at just 4.7 pounds.
Design and Quality
This handy appliance has a unique design made from BPA free plastic. The 13-piece blender comes with a high-torque power base, a single blade, additional blending cups, several lids, and more.
Performance
With a relatively low wattage of 200, the Magic Bullet is best suited for soft ingredients such as banana, avocado, mango, and apples. It's the cheapest of the three blenders and for its price, I think it does well what is designed to do – smoothies and shakes. It is also excellent at pureeing baby food and making dips. However, don't expect it to take on crushing ice or other tough ingredients.
---
NutriBullet 600 Review
The NutriBullet NBR-1201 is an updated version of the magic bullet. It's an effective blending machine powered by a 600-watt motor. Dubbed as the "world's first nutrient extractor", this appliance breaks down fruits and vegetables into a smooth consistency, while keeping their nutrients contained.
Design and Quality
Made from BPA free plastic, NutriBullet is a fairly long-lasting and durable blender. It's a 12 piece set which includes a high-torque power base, 1 extractor blades, 1 milling blade, 1 handled cup, 1 24 oz cup, 1 18 oz cup, 1 cup ring, 1 cup ring with handle, and 2 resealable lids, a user manual and cookbook, and a pocket nutritionist.  It comes with a 1-year warranty and parts are dishwasher safe.
Performance
The 600 watts of cyclonic power and patented extractor blades combine to extract the nutrients from your favorite fruits and vegetables to make a delicious and tasty beverage. The aim is to pulverize the ingredients into a smooth and creamy texture, but at the same time ensure that every nutrient is contained after the process of blending.
---
Ninja Pro BL456 Review
Nutri Ninja Pro (BL456) is a powerful blender that takes solid fruits and vegetables and breaks them down into nutrient-rich juices. Its 900-watt power ensures ingredients are pulverized into an even, smooth, and rich consistency.  This is a versatile blender that can tackle the toughest of ingredients. Be warned however that of the three, it tends to be on the louder side.
Design and Quality
As you would expect from a powerful 900-watt motor base, this blender is solid. The signature extractor blades are made from stainless steel and it comes with 2 cups of 18 oz and 24 oz capacity. All parts are dishwasher safe and BPA free.
Performance
The high-powered motor along with the tough blades on this appliance can crush seeds, ice, and nuts.  You won't see any lumps or chunks in your smoothies using this powerful machine. The blades are designed to get maximum nutrient and vitamin extraction from whole fruits and vegetables.
---
NutriBullet Vs Magic Bullet Vs Ninja: Main Differences
Serving Size
The Magic Bullet is more of a one serving smoothie blender, while the NutriBullet 600 and the Ninja BL456 offer larger batches of smoothies in their 24 oz cups. The magic bullet would not be ideal for larger families as it would mean blending multiple times to make enough for everyone.
Motor Power
The most glaring distinction among the Magic Bullet, NutriBullet, and Ninja Pro is the horsepower. Nutri ninja gets the upper hand as the most powerful of the three with a 900-watt motor. It excels at breaking down nuts and grains so if you're someone who blends grains regularly then this machine will be quite useful for you. Meanwhile, the 600-watt NutriBullet is 3 times stronger than the magic bullet and is a better option for blending frozen fruits, especially berries.
Price
The Magic Bullet is the low-budget, cost-saving blender. If you're not looking to spend too much money on this kitchen appliance, then the Magic Bullet is the best selection. The Ninja Pro is on the other end of the spectrum as the priciest of the three, while NutriBullet stays in the middle.
Magic Bullet vs NutriBullet Vs Ninja Pro: Final Thoughts
All three blenders are excellent choices but as you can see, they all come with unique differences that make them more suited for specific purposes and budgets. My personal favorite is the NutriBullet 600 which is positioned right in the middle in terms of price and performance. It blends ingredients really well while extracting all their nutrients, has a large serving cup at 24 oz, and the price is more reasonable compared to the Ninja BL456.
If you're on a tight budget and looking to find a power blender to serve you and your family, I suggest you go with the NutriBullet. You are getting great value for your money. The strong motor allows you to be more creative with your ingredients compared to the Magic Bullet. And yes, the Ninja Pro has a stronger motor, but I think the NutriBullet is quite adequate for all your blending needs.