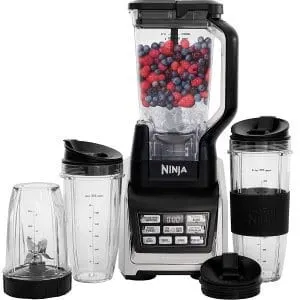 Powerful 1200W Motor
Large Capacity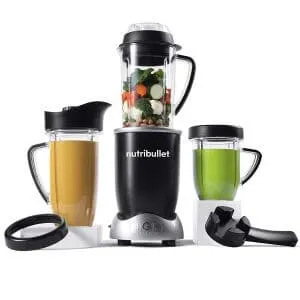 Powerful 1700W Motor
Ability to Heat Soups & Sauces
---
Today I am going to be breaking down NutriBullet blenders, Magic Bullet blenders, and Ninja blenders. These are the three most popular blenders in the world. There are at least 100,000 positive reviews spread between these products, there are countless units sold, and there is something here for everyone.
As you might already know, the Magic Bullet is made by the same company that builds the NutriBullets, but they are a little different. We will get more into that later. And while this is a comparison article, it's also important to know that neither blender is really better than the other. Ninja blenders and NutriBullet blenders are just a little different.
NutriBullet and Magic Bullet blenders are great for personal use. If you want to make a quick smoothie in the morning, if you don't like a lot of cleanups, and if you want hands-free technology in your blending, NutriBullet blenders are fantastic. However, there are some more expensive models that allow you to do family blending as well.
With Ninja blenders, you can do everything. These are typically more expensive than the competition, but they are professional countertop blenders with more features and more capabilities. If you're looking for something a little more stable with variable speeds, LCD displays, and maximum versatility, you might want to go with a Ninja blender.
But no matter what your choice, keep in mind that each blender is built with quality parts, excellent features, and durable components.
Overview of NutriBullet Blenders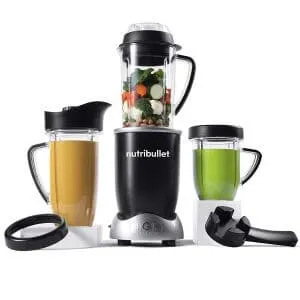 NutriBullet is an extremely popular brand. They make some of the best blenders in the world. In fact, the NutriBullet system is the fastest and simplest solution for making smoothies that are packed with nutrients. You can use any kind of ingredient to make a quick smoothie at any time of the day.
Nuts, berries, spinach, banana, cucumber, and every other type of food can be blended in a handful of seconds to deliver you a perfect smoothie. Make no mistake, these machines are specifically designed for quick beverages. Specifically, these machines are made to help you live a healthier lifestyle by delivering your smoothies packed full of nutrients.
But that doesn't mean you can't make other things in a NutriBullet. You can make milkshakes, baby food, smoothies, soup, and so much more. And the greatest thing about this system is that it works by simply pushing and twisting the container into the motor base. You can drink your smoothie directly from the cup!
Read More: NutriBullet reviews
Different Models Of NutriBullet
There are a lot of different models to choose from in the NutriBullet lineup. Each one offers a little more at a slightly higher price. Which one is best for you really depends on what you're looking for in a blender.
The NutriBullet: Final Thoughts
The NutriBullet System is super popular for a reason. These blenders are simple to use, they don't require any knowledge, and you can use them to make a wide variety of healthy beverages. For singles or couples who just want an easy blender for making their protein shakes and smoothies, this is the ideal system.
And still, it has great options for families who want a little bit more out of their blender.
---
Overview of the Magic Bullet Blender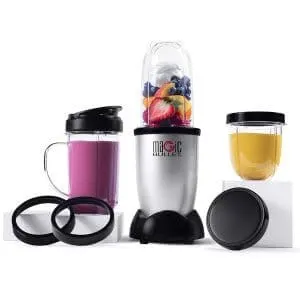 The Magic Bullet is unique in a very special way. Yes, it's actually owned by the same company that makes NutriBullet blenders, but it is kind of its own entity. It certainly has its own brand image. And part of this might be because it is the original personal blender. This amazing system came out way back in 2012, and it is still relevant today. In fact, to date, there are over 40 million Magic Bullets sold worldwide.
So how does the Magic Bullet differ from the NutriBullet? Well, there are no alternative blenders for starters. The Magic Bullet is the Magic Bullet and that's that. But what people really love about this particular system is how small and convenient it is. The Magic Bullet comes as a full 13-piece set, included with all the accessories you need for personal blending.
The big draw with the Magic Bullet is that anyone who wants to try living a healthy lifestyle can do it really easily. It costs less than $40, it works amazing if you want to grind and blend organic ingredients, and it doesn't take any special maintenance to operate, which can sometimes scare people away from a product. Basically, the Magic Bullet is the perfect doorway to a healthier lifestyle.
Read More: Full review of the Magic Bullet
What Makes the Magic Bullet so Magical?
There is no doubt about it, the Magic Bullet really is magical. But what makes it this way? What makes it stand out among all the other personal blenders?
Let's take a look at the design. It's small, it's sleek, and it stores easily in your cupboard. There is nothing off-putting at all about this system. After use, you can wrap the cord around it and stuff it out of the way. And people really appreciate things that don't become eyesores.
Magic Bullet Wattage
It also has just the right amount of power. The Magic Bullet offers 250 watts of pure power, which gives enough torque for the blades to quickly blend any mixture in under 60 seconds. It's fantastic for smoothies, you can use it to make a cocktail, a milkshake, or even to puree applesauce.
According to the team over at Blenders Pro, this is also one of the best systems for making baby food. There are billions of mothers in the world and they all want an easier way to make baby food. With the Magic Bullet, anyone can quickly put together a full week of baby food for convenience. And that's really what this machine comes down to. It's easy and it's convenient.
People love the hassle-free cleanup. As someone who has used this machine (and the NutriBullet), I can say firsthand that there is nothing simpler than cleaning the containers. Simply pour your smoothie into your favorite cup and then quickly rinse the container. That's literally all there is to clean up.
Read More: Is the NutriBullet dishwasher safe?
The Magic Bullet: Final Thoughts
As a full blending system, nothing is simpler than the original Magic Bullet. And as time goes on, this simplistic method of blending is going to continue to be popular. It's like the baby NutriBullet, and it's created its own brand of convenience and healthy living.
---
Overview of Ninja Blenders
Ninja is a slightly different brand from NutriBullet. The biggest difference is that they are not strictly makers of blenders. The Ninja brand spans dozens of different kitchen appliances, all the way from huge blending systems to extremely complex coffee makers. But that doesn't mean they aren't making quality products.
Ninja really puts all their best technology into creating unique blending systems not found anywhere else in the marketplace. And unlike the NutriBullet system, Ninja blenders vary dramatically. There are personal blenders, standard countertop blenders, and super expensive full kitchen systems.
Different Ninja Blender Models
There are honestly too many different ninja blenders to choose from. What I will do instead is narrow down the list to a few of their most popular and most useful machines. This will give you a solid idea of what the company is about and what kind of products they offer.
Ninja BL642 Personal Countertop Blender: This standard Ninja blender is a simplistic system with a unique blade design that allows you to crush ice and blend frozen ingredients in an instant. It is powered by 1200 watts, it works with three different speeds, it has a pulse feature, and it comes included with a 72-oz pitcher and a pair of 16-oz to-go cups.
Ninja Intellisense Kitchen System: This is the ultimate kitchen system. It's super affordable, it looks great, and it comes included with all the attachments you could ever need for blending. It's also jammed full of technology. There are smart programs, you have a touch screen display, Anna comes with a 72-oz blender pitcher, a 64-oz food processing bowl + processing blade, a 24-oz single-serve cup, an 8-cup precision bowl, an auto-spiralizer, and a huge recipe book.
Ninja BL456 Nutri Edge Blender: This super simple blender is basically Ninja's answer to the NutriBullet. It's dirt cheap, it has a powerful 900-watt motor, and it works amazingly to blend you a delicious smoothie. It lacks all the usual features but makes up for them in sheer convenience. This is the best Ninja blender for singles who just want to make quick smoothies.
Read More: Which Ninja blender is the best?
The Ninja Advantage
Through and through, these products are durable. All of them are convenient, and all of them have their own specific uses. There is also a huge range in price, making their blenders available for everyone. And unlike Vitamix blenders or Blendtec blenders, most of the products from Ninja are actually super affordable. There is no ridiculous pricing even with their most complex systems.
Perhaps the biggest bonus for going with a Ninja blender is that they all come very versatile. They don't just do one thing. You can't just make smoothies or milkshakes. With almost any Ninja countertop blender, you get more out of your machine.
What I mean is that you can use it for all kinds of different recipes. Yes, it works amazing for smoothies and milkshakes, but it also works great for light food processing, for making enormous batches of nut butter, almond milk, cashew milk, and even dough for cookies or batter for pancakes.
---
Main Differences: Ninja vs Magic Bullet vs NutriBullet
There are quite a few main differences between these three brands. For the sake of simplicity, I'm going to lump Magic Bullet in with the NutriBullet. They're the same company and basically the same product, and so we can talk about the specific differences between the Magic Bullet and NutriBullet in the next segment.
Dedicated Operations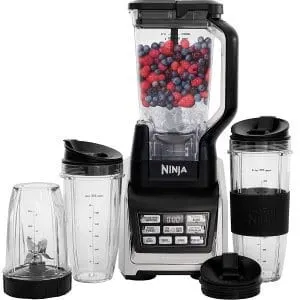 The main difference here is in dedicated operations. The NutriBullet System is entirely dedicated to making delicious smoothies and quick milkshakes. Everything about the Magic Bullet and the NutriBullet screams convenience. It's all about speed, no mess, and easy living.
The Ninja is more of an entire kitchen system. Yes, you can get a single Ninja blender, but most of the products are geared for complex blending. Yes, they usually come included with portable to-go cups for quick blending, but they also usually come with huge 72-oz containers for blending much more than just a simple green smoothie.
You can also get lots of Ninja products with food processing bowls. Ninja is trying to make it so that you can do everything in the kitchen by only using one of their blenders. Pick a random recipe out of your book – the Ninja blending system can do it.
To sum it up, the NutriBullet is for quick smoothies and quick drinks while the Ninja is for a wider range of cooking tasks, including beverage preparation, food processing, and quick smoothies.
Read More: Ninja blender won't turn on – what to do
Price & Design
NutriBullet blenders are cheap. The Magic Bullet itself is less than $40, and as you move up through the ranks of the NutriBullet blenders, the price only rises slightly. But while the Ninja blenders are more expensive, it's only normal considering the design differences.
NutriBullet machines are super small and portable. The Ninja blenders are not very portable at all. These are huge appliances that take up quite a bit of room on your countertop. While you might be able to tuck a Ninja blender out of the way, they are way bigger than a NutriBullet.
Ninja blenders are also more complicated. You get special pre-programmed blending cycles, variable speeds, electronic displays, and a variety of other impressive features that you simply will never have with a NutriBullet.
A Spot of Redundancy
As much as I hate to admit it, a Ninja blender makes a NutriBullet blender completely redundant. Even if you get a cheaper version of the Ninja Countertop Blender, it still comes with a pair of durable to-go cups that you can use for blending quick smoothies in the exact same way you would do it with a NutriBullet.
Ninja blenders are bigger, they are generally stronger, they can get much more done, and they can do the exact same thing that a standard NutriBullet blender can do thanks to their included drinking cups.
But that doesn't make NutriBullet blenders useless. It simply means that NutriBullet blenders are mainly used for people who only want to make a quick smoothie. Because they're so much cheaper, NutriBullet blenders are more convenient for people who have an active life who don't want a cluttered counter space. But if you see yourself needing a full-sized blender in the future, having both machines is super redundant.
Read More: Which bullet blender is the best?
Magic Bullet Vs Nutribullet: Which Bullet Blender Is The Best?
No one owns the personal blender market more than the NutriBullet line of products. As such, today's comparison takes into consideration two basic models from the NutriBullet line; the Magic Bullet vs NutriBullet 600W, aka the Original NutriBullet.
These blenders are entry-level models in terms of performance as they don't have the most powerful motors. There is just enough power for some quick blending jobs and these small blenders may struggle somewhat with tougher jobs or harder ingredients.
While their features may be limited considerably to basic functions, both blenders enjoy wide repute given their compact sizes and the ability to get small jobs done as fast as possible.
So which personal blender would serve you better? Find out by reading this head-to-head comparison between Magic Bullet vs NutriBullet.
Magic Bullet vs NutriBullet 600: Comparison
When trying to compare the Magic Bullet Blender to the NutriBullet 600 Blender, it's not much of a contest. The NutriBullet is stronger, faster, and it blends better. For anyone who wants to make serious smoothies without any difficulties, I would always recommend the NutriBullet over the Magic Bullet.
That said, there is a lot going for the Magic Bullet. It's smaller, it's more portable, and it can still make a great smoothie. However, it lacks the power needed to do other types of tasks, such as grinding grains, breaking down coffee beans, and making larger servings.
When it comes to price, the Magic Bullet is way cheaper. When it comes to serving sizes, the NutriBullet has the edge. However, each one offers a quick blend that will save you time and make your life more convenient when trying to practice a healthy lifestyle.
Power & Ability
Like I already said, the NutriBullet definitely wins in terms of power. The NutriBullet works using 600 watts, while the Magic Bullet only offers 250. As you can imagine, this gives the NutriBullet a significant edge in what it can blend. If you want to add lots of ice to your recipe, lots of frozen vegetables, and even things like pumpkin seeds or almonds, it's easier in the NutriBullet.
When blending with the Magic Bullet, you generally need to add a lot of liquid and use softer ingredients. There just isn't enough power to consistently break apart harder things. You can certainly do it, but it's simply not as effective. Still, the Magic Bullet is great for making softer recipes, such as salsas, sauces, green smoothies, and milkshakes.
But you get more room with the NutriBullet, and you also get more accessories. You can upgrade the Magic Bullet container to hold 22 ounces, but the NutriBullet is still bigger. The blades are also much stronger on the NutriBullet. Though the Magic Bullet does come available with flat milling blades for whole grains.
Read More: The best NutriBullet alternatives
Durability & Professionalism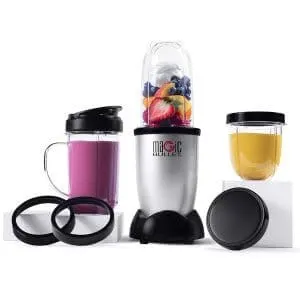 Yes, both machines are relatively durable. But because of the more robust motor on the NutriBullet, it's going to last you longer. There is very little chance of your NutriBullet breaking down, even after years of use. It's simply built much stronger to stand up against time.
The Magic Bullet is also designed to be strong, but it just doesn't quite stand up to the professional construction of the NutriBullet. The NutriBullet is the same as the Magic Bullet, but designed to be bigger, better, stronger, and more like a professional blender. It comes included with larger cups, it has more powerful nutrition extraction blades, and it employs a more advanced form of cyclonic action to break down your toughest ingredients.
As an introduction to healthy living, the Magic Bullet is a great option. For under $40, anyone interested in starting a health journey by making daily smoothies can definitely benefit from the Magic Bullet. It's cheaper, it's not such a waste if you don't end up using it consistently, and you can always upgrade to the NutriBullet down the road if you want an improved blender.
Magic Bullet vs NutriBullet: Main Differences
Bullet blenders, such as the two under review today, can make life in the kitchen much easier. Whether you're after smoothies or shakes, sauces or purees, or even baby food, the bullet blender can do it all for you.
Even though today's blenders both come from the same company, they do have some noticeable differences.
Style and Size
Both bullet blenders boast a thin, slim style that makes them easy to carry when needed. However, the standout feature of the Magic Bullet is that it only sells one style and size.
This means that there remains no worry to buy updated versions of the Magic Bullet and all its accessories will still be compatible with a newer bullet should you need to replace your old machine with a new one.
The one-style feature comes as an 11-piece set that can be upgraded to a 13 piece or even a 17-piece set if you feel you need more accessories with it. Or, you could just purchase the accessories separately without buying a new bullet blender.
On the other hand, the NutriBullet 600W is sold as a 12-piece set with multiple cups and accessories. Unlike the Magic Bullet, this is not a one-style blender as it also boasts an upgrade in the form of the NutriBullet Pro 900, amping up the power from the Original's 600 to 900 watts.
Accessories remain interchangeable between the 600 and its upgraded version but not necessarily across other NutriBullet models.
Read More: Which single-serve blender is the best for making smoothies?
Power Profile
The other significant difference between the two models is the power output. The Magic Bullet works with 250 watts of power which makes it a fairly weak contender in the bullet blender market.
The NutriBullet works with 600 watts of power which is a significant improvement on the 200 figure but still pales in comparison to many other personal blenders in the market. That said, it will give you good smoothies and shakes but will have limited performance when dealing with tougher ingredients.
Magic Bullet vs NutriBullet: Final Thoughts
Both contenders for the Magic Bullet vs NutriBullet showdown are fairly elementary models with no bells and whistles attached as with other more advanced blenders.
However, the NutriBullet 600 comes out the clear winner as it remains one of the most popular portable blenders on the market for making quick and easy blending recipes. It mainly gets this edge over the Magic Bullet because of its higher power profile making it better adept at handling more versatile blending functions.
The Magic Bullet has its own fan following of users who want a reliable personal blender to yield them their favorite smoothie every day without fail.
---
Nutribullet Vs Ninja: Which Personal Blender Is Better?
If you're looking for a personal blender that can deliver the goods but doesn't cost a fortune, your choices will likely narrow down to either NutriBullet vs Ninja. Both are notable brands for quality and efficiency in the bullet blender market and are often placed side by side to get a better idea of what bullet blenders can actually do.
But why take these two brands for a face-off when there are so many others available? Well, the reason I will be pitting these two against one another is that they share similar specs, features, and some degree of working mechanism.
The two models for today's challenge are the NutriBullet RX and the Ninja BL642, also commonly known as the Nutri Ninja Blender Duo with Auto IQ. Both are tech-savvy machines that are considered economical versions of their bulkier, commercial-grade blenders.
NutriBullet Rx vs Ninja BL642: Comparison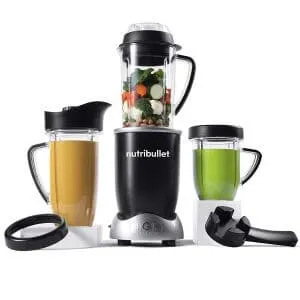 The NutriBullet Rx Blender and the Ninja BL642 Personal Countertop Blender are like two peas in a pod. They are similar in price, they both make fantastic smoothies, and each machine is super popular. The blenders even have similar motors for maximum power output.
That said, these blenders are also lightyears apart. The NutriBullet is simplistic in its design, it only has a maximum blending capacity of 45 ounces, and it uses handsfree smart technology to complete all your favorite smoothie and shake recipes.
The Ninja BL642 employs a more complicated design with variable speeds, different settings, and a much larger container. The main container on the BL642 is 72 ounces, which is enough to make smoothies to satisfy your entire party. The BL642 also has a slighter weaker motor and a slightly larger price tag.
So, which is better?
Two Different Machines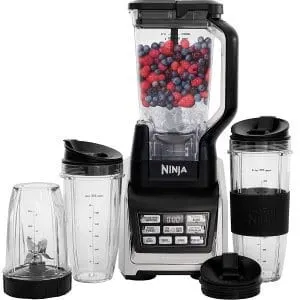 Even with all their similarities, these are two very different machines. For example, the Ninja has a 1200-watt motor while the NutriBullet has a 1700-watt motor. It's not a huge difference, but it's big enough to mention. Those extra 500 watts can seriously help when blending a variety of tough ingredients.
And let's talk about the general design of the machines. The NutriBullet is a classic personal blender. It uses handsfree technology to blend your mixtures directly in the drinking cups. It works the same as other NutriBullet blenders and the Magic Bullet. But when dealing with the Ninja BL642, we are talking about a fully professional countertop blender.
Yes, the Ninja can be used as a personal blender since it comes with so many great attachments, which you can fix directly to the blender blades to make your drink in a to-go cup. However, it is much larger than the NutriBullet, much heavier, and takes up way more space on your countertop.
Fully Featured vs Simple
The Ninja is also equipped with way more features. The control panel has nine buttons on it. It has three different speeds, a usable pulse function, two presets that are designed for the extra-large pitcher when making huge batches of smoothies, and two other presets that are designed for use with the single-serve drinking cups. The NutriBullet has none of these features.
NutriBullet Vs Ninja: Main Differences
As you can see, both blenders have an impressive profile. There is lots of power and a multitude of functions to keep users happy. Yet, the two are also very different in specific ways.
Soup Feature
Only the NutriBullet RX can boast of this special feature. As mentioned above, this unit is able to heat up soup because of the heat and friction created by the 37,000 RMP blades.
The Ninja BL642 has no such feature and the best it can do is puree your soup ingredients which will then need to be transferred to the stovetop and heated manually.
User-Friendliness
Even though the Ninja BL642 has more preset options, it comes out as the more difficult model to figure out.
For instance, some of the pre-programmed settings only work when the pitcher and lid are securely locked in place. If you don't already know that, you'll have to refer back and forth to their guide to figure this out.
The Nutribullet Rx, in contrast, works smoothly with its two preset options and lets the smart technology do the rest.
Cups and Containers
Another area where the two models differ slightly is the assortment of containers and cups they come with. Here, the NutriBullet showcases two smoothie cups of different sizes and one SouperBlast pitcher for preparing soup, or a larger batch of smoothies if you like.
The BL642 is accompanied by 3 smaller cups of various sizes that work bullet blender style, but the large 72-oz pitcher makes the unit into a countertop blender.
The Total Crushing blade for this pitcher is also different from those for the single-serve cups and is designed as a pylon with blades stacked around it. The design calls for careful handling of the blades when putting and removing ingredients in the pitcher. Users also report the blade to not work as well for smoothies as the extractor blades.
Nutribullet vs Ninja: Final Thoughts
Both blenders discussed today offer great value, power, and convenience for a good price. Yet, one comes out on top.
When you pair the immense blending potential of the Nutribullet RX with a handful of smart features and the ability to handle both hot and cold ingredients, it becomes easy to understand why this blender enjoys the vast popularity that it has. This makes it the best overall blender from this class of blenders.
The Ninja BL642 does not shy away from being a smart blender but does lack the ability to handle hot ingredients. That said, it is still a blender that many give preference to over more expensive and high-end brands.
---
Magic Bullet Vs Ninja: Which Affordable Blender Is Better?
Bullet blenders are efficient, space-saving appliances that can quickly whip you up a smoothie or shake and let you travel with it in a to-go cup. When you take established brands like Magic Bullet vs Ninja, you know that you will get a blender that will do something just a tad bit more than simply blend a nutritious drink.
Although compact units, don't let the small size and capacity of these bullet blenders fool you. In fact, what these machines lose in size and small footprint, they make up for in speed, time-efficiency, and a fair degree of versatility.
From the most basic of models such as the Magic Bullet to their more advanced versions such as the Ninja BL456, bullet blenders have evolved significantly over time. While staying true to the single-serve philosophy of bullet blenders, newer models also showcase different types of blending containers, improved blade design, and automated settings and programs.
Magic Bullet vs Ninja BL456 Personal Blender: Comparison
The first thing you might notice when comparing the Magic Bullet Blender and the Ninja BL456 Nutri Pro Blender is the price. The Magic Bullet is significantly cheaper, about half the price of the Ninja. But the differences don't end there. There's a huge discrepancy in power, the size is different, and the settings are different.
While these machines may look relatively similar, and I'll admit they are very close in what they can accomplish, there is a pretty vast space between them. I love the Magic Bullet as a product, it works amazingly to blend smoothies. But the Ninja BL456 is simply more advanced. In fact, I would say the Ninja BL456 is closer to the upgraded NutriBullet Pro.
Huge Discrepancies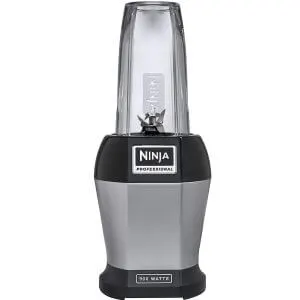 There are some huge discrepancies between these two items. Let's start with the power. The Magic Bullet uses a motor that can only offer 250 watts. In comparison, the Ninja BL456 is almost 4x as strong. It uses 900 watts of power to professionally break down your fruits and vegetables to create nutritious and delicious smoothies and juices.
The Ninja blender can simply do more than the Magic Bullet can. Yes, both blenders advertise nutrient extraction technology, and so it's a little difficult to say which really does extract nutrients better. I don't have the kind of scientific equipment to figure that out. However, I can say that the Ninja breaks apart ice and frozen ingredients quicker and more efficiently.
Plus, you can manually pulse your recipe with the Ninja blender. It has a single manual program that allows you to control the speed of your blend. With the Magic Bullet, you don't have any control. You push and twist and the blender activates, and that's the only speed you're going to get.
Big & Small
Even though these are both personal blenders, you'll get more from the ninja. It comes complete with an 18-oz to-go cup and a 24-oz to-go cup. The drinking cups that come with the Magic Bullet are only 12 ounces, though there is a unique 22-oz mug with a flip-top lid that can be purchased as well if it doesn't come with the package.
The Ninja is also slightly larger and slightly heavier than the Magic Bullet. This is mostly due to its heavier motor. But the Ninja is also more durable. It has tough blades, strong cups, and a solid base that will last for years to come. The Magic Bullet is also reliable with high-impact plastic cups – but it's not the same. You can really feel the difference in quality when you hold the blenders in your hands.
Still, the Magic Bullet is a fantastic product. It's just a slightly bit lesser than the Ninja, and this discrepancy in quality and features is reflected in the price.
Magic Bullet vs Ninja: Main Differences
The Magic Bullet is an elementary model while the Ninja BL456 boasts more bells and whistles. The two have some very obvious differences in what they offer with the Ninja boasting higher specs and more advanced features. But the Magic Bullet comes in handy as a personal blender that is more affordable.
Motor Power
The biggest difference between today's two blenders is the motor power. The Magic Bullet works with a mere 250 watts of power making it best suited for blending soft ingredient drinks. If you put anything too harsh in the blender, it will likely struggle through the task.
The Ninja, on the other hand, is designed to deal with tougher ingredients with its much stronger 900-watt motor putting it in league with larger and more professional blenders.
Accessories
The Ninja brings with it one regular 24 oz and one small 18-oz Nutri Ninja cup with sip and seal lid. On the downside, none of the cups have a handle for easier holding.
The Magic Bullet, despite being the more basic model has a larger variety of accessories with 3 drinking cups, one of which is a party mug. The accompanying resealable lids, lip rings, and the flip-top lid are interchangeable on all the cups which adds a nice convenience factor.
The Magic Bullet occupies next to no space on your countertop while the Ninja BL456, also small but taller, is able to fit easily under kitchen cabinets.
Magic Bullet vs Ninja: Final Thoughts
For a busy kitchen, the Ninja BL456 is the clear winner. While it may be the more expensive of the two blenders, but the power and flexibility it delivers are sufficient to justify its cost.
It makes for a decent heavy-duty machine that won't wear out too easily and will pulverize anything. The power is the obvious selling point with this model along with its compact size. In this regard, the Magic Bullet's 250-watt motor doesn't wield enough power to keep up with its more powerful competitor.
That said, the Magic Bullet remains an excellent choice for anyone who wants an inexpensive machine that saves on space as well. It remains one of the best options for individual-sized servings and for kitchens with basic blending requirements.
---
NutriBullet Vs Magic Bullet Vs Ninja: Final Thoughts
At the end of the day, all three of these blenders are amazing products. There is something here for everyone, even if you're on a tight budget. As we've learned, the Magic Bullet is essentially the smallest version of the NutriBullet, and the NutriBullet has many different variations ranging in price, size, and application.
And as for the different Ninja blender systems, there is even more variety. You can get personal blenders, you can get standard countertop blenders that come complete with portable to-go cups, and you can get entire kitchen systems that allow you to blend, process food, and make awesome recipes.
It really comes down to what you're after. If you want a reasonably priced personal blender for making smoothies, I highly recommend the NutriBullet Pro 900. It's the sweet spot out of all these personal blenders. It has loads of power, it has all the accessories you need, and it's super affordable.
If you're looking for a complete blending system that can make smoothies, mix dough, and grind dry grains, you are looking for the Ninja BL642 Countertop Blender. Again, it's affordable, you can use it for any kind of blending with any kind of ingredients, and it's the best middle ground between something crazy expensive like a Vitamix and something a little too small and fragile like the Magic Bullet.
However, if you don't want to spend any money at all but still want a cool blender that can make baby food, sauces, personal smoothies, and iced desserts, you definitely want the Magic Bullet. As you can tell, it's all going to boil down to your personal needs. All three brands are fantastic and worth the price!