If smoothies and juices are your thing, chances are that you love to watch your favorite fruit and veg combo spiral and blend into a delicious and fine smoothie. To do so, a top-notch blender is key.
The Ninja blender is one such kitchen tool that has been the talk of the town for some time now. It is a suitable alternative to the pricey Blendtec or Vitamix blenders and can blend practically anything with its sharp blades, thanks to its total crushing technology.
Using a Ninja blender in the right way didn't only introduce me to its multi-specialty features such as mixing, grating, chopping, food processing, and others but also helped me ensure complete safety. So let's learn how to use a Ninja Blender to its best and safest.
Read More: What is the best Ninja blender?
How to use a Ninja blender: putting it together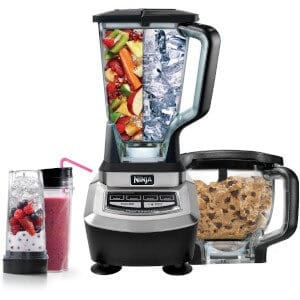 The Ninja blender comes in various types, and which one you pick can depend on volume, features, wattage, price, accessories, etc. It can range from the compact personal blender to the slightly heavy-duty mega kitchen system. But before putting any of these to use, I must tell you how to install them.
Instruction Manual
While no one likes to delve into the fine print on an instruction manual, in this case, it can be of enormous help as it will ensure that you assemble it in the right order. You can read multiple articles online or watch YouTube videos to put together your new blender but for original instructions, I prefer to understand the instruction manual.
Assembly
Assembly of the blender is easy if all steps are followed. The number of accessories may be close to or more than 8 for the advanced versions.
While this can be intimidating, in most cases for household kitchen use, I found myself mostly using the pitcher, the single-serve cups, and the chopping blade. Needless to say, in all cases, it is crucial to assemble the powerbase and the blade correctly.
Read More: What to do if Your Ninja Blender Pitcher Cracked – Can it be Fixed?
Step 1 – Blade on the pitcher

You should begin by attaching the stacked blade to the pitcher and then placing the pitcher on the bulky motor base.
Step 2 – Locking the pitcher

It is then highly important that you rotate the pitcher in a clockwise motion to hear a click. This is a sign that you have assembled it right.
Read More: Can a Ninja blender be used as a food processor?
How to use a Ninja blender: blending your favorite ingredients
Now comes the fun part as you may be tempted to begin stuffing your pitcher with the raw ingredients for your smoothie, sauce, puree, spread, etc.
At this point make sure that you are not stuffing beyond the maximum line. If you look closely, it will be visible on the pitcher. This is crucial to avoid splashes, inconsistent blending, and or slowing down the crushing process.
Once you have loaded the pitcher with your ingredients of choice and locked it securely with the lid, you can plug in the power cord and press the speed or setting you like. Then, just watch the magic unravel in front of your eyes.
Unlocking the Ninja Blender

Watching a perfectly blended ice-cold smoothie in a blending jar, it might be very difficult to stop yourself from pouring it right away and quenching your thirst.
But before you do that, you must ensure that the blades have completely stopped spinning. While I am guilty of sometimes detaching my pitcher before the blades come to a complete halt, I know it isn't the right way to do it.
Once the blades stop moving, you can unlock the pitcher by rotating it anti-clockwise before removing it from the base.
Read More: Why is my Ninja Blender Leaking? 5 Causes and Fixes
Pouring your smoothie
In case your smoothie is beyond the filling line or if you used a stand-up pitcher, it might be a good idea to use the pouring spout. This will not only prevent you from making a mess but also against blade cuts or injuries, some of which can be severe.
If you're pouring from the main mouth, it is important to remove the lid and the stacked blade first, once again to prevent yourself from any sudden cuts or blade-related mishaps.
With a Ninja blender, I must emphasize that its super-sharp blades are wonderful for the blending or crushing or pulverizing process but if not handled with care, they can cause you to regret your purchase.
Clean, clean, clean

Once again, your first instinct might be to enjoy your drink and leave the clutter for later. But a small step to ensure the right and timely cleaning of your blender can not only free you of the hassle to do it later and save you from stubborn stains but also increase the longevity of the product.
Like in the case of any blades, the washing of the stacked blade must be done with extreme caution and using a specialized tool. It should never be left in the sink or under a pile of dishes as it can injure anyone cleaning the dishes or using the sink.
The best way is to clean with the right brush and leave it to dry on a cloth away from your family members' immediate reach. The pitcher should also be cleaned with soap and a brush and placed inverted on a dry cloth to fasten the drying of the Ninja blender.
As for the motor base, it's best to store it in a kitchen cupboard instead of leaving it on the countertop.
Read More: What to do if your Ninja blender isn't working
How to use a Ninja blender: final thoughts
A Ninja Blender is undoubtedly a wonderful kitchen tool. It can save you hours spent on chopping, grinding, or mixing by hand. It can also serve as a handy tool for to-go smoothies or blends when you're in a rush to get to work or the gym.
While other brands like NutriBullet and Oster are also kitchen favorites, the Ninja Blender is beating them with its decent pricing and advanced features.
Within the various Ninja blender types and accessories, the assembly, pouring, or cleaning process may differ a bit but the basic installation is more or the less the same for all types.
No matter which type you use, you need to be extra cautious while installing, using, and cleaning the blender and its parts if you truly want to enjoy a flavorful and hassle-free safe experience.