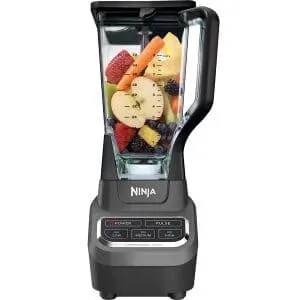 A kitchen is not complete without a powerful blender, so if you are considering buying one, the Ninja Professional BL610 is worth considering. However, this blender is just one of the many choices that Ninja has given us.
The company has provided us with some fantastic blenders that are powerful enough to serve all your kitchen needs. Most of their blenders come with a food processor bowl, and they are quite easy to use. Find out if this blender is suitable for you with this Ninja BL610 review.
Thousands of people have good things to say about their blenders. For example, if you were to look at Amazon or any other online store selling blenders, you will find that most of their blenders have over an average of 4. out five-star. A blender can't get such a rating if it is not good enough.
The Ninja Professional Blender is one of the highest-rated. I did some research about it, and today, I present you with my findings.
---
Ninja BL610 Review: Overview
The Ninja BL610 is a great priced blender that is quite easy to use. It comes with a user manual plus a cookbook that you can use to make some fantastic drinks. What's more, it is quite powerful and versatile.
A lot of people have great things to say about it, and you will too once you get yourself one. It is lightweight, which means moving it from one place to another is quite easy, and its total crushing technology is applauded by many.
Read More: What is the best Ninja blender?
One of the most impressive functionalities about this blender is chopping. It does it so well, and a lot of people are happy with the function. In most reviews, users claimed that they did not see any need to buy a food processor as the one that comes with the blender is good enough.
The 1000 watt motor is powerful enough to crush ice to precision within a few minutes. Some people who owned Vitamix before claimed that the Ninja Professional Blender is better than a Vitamix blender!
---
Ninja BL610 Review: Functionalities and Performance
The blades on the Ninja Professional BL610 are quite sharp, just like with other Ninja blenders, and they are removable. These blades crush even the hardest elements you throw into your blender, from vegetables to ice within a matter of minutes.
The 72 oz pitcher it comes with is large enough to serve your whole family at once. A single serving can have six to nine cups depending on the size of your cup. The blender is dishwasher safe, and the plastic components are BPA-free.
The blades are quite sharp, be sure to be careful when you are using them. The blender has a sleek design, and it is a beautiful addition to your kitchen. It comes with three speeds. The pitcher is transparent with clear markings that make it easy to read.
Related Articles:
Considering its price range it comes at, a 1000 watt motor is like a gift to its users. The blender just keeps on going on without tiring, and its total crushing technology ensures that it makes some fantastic smoothies. For smoothies, most people give it a 9.5 out of ten stars, which is quite impressive.
I found that a lot of people found this blender less noisy than most blenders that come with such a powerful motor. Your neighbors will not accuse you of making a lot of noise to them in the morning. It occupies some space due to its design, but not many people complained about it either.
---
Design and Construction
The sleek design of the Ninja BL610 is a perfect fit for any countertop. Quite tall in size, I could easily place my new Ninja BL610 anywhere in the pantry or kitchen cupboard. The pitcher, as well as the motor base of the blender, is made from high-quality plastic. This makes the blender quite sturdy.
The Ninja BL610 blender is also very lightweight, which helps me to carry it anywhere inside the home. Equipped with a locking lid, the blender is spill-proof, and I can use it during parties, barbeques, and others without any problem. The blender is 6 inches wide, 17.25 inches tall, and 8 inches deep. This blender weighs just 7 pounds, which makes it quite lightweight.
Most of the time, I end up hurting myself while using blenders. Luckily, the blades of the Ninja BL610 blender is quite securely assembled. Even when I use it in high power, the blades will not cause hurt in any means. Also, it's comfortable for first-time users.
Read More: Oster Vs Ninja, which is better?
Large Capacity and Safety Features
The Ninja BL610 has four parts, and each of these parts can be replaced, except for the base. However, the prices of the parts are quite high, which can be an issue for some. It would be a more cost-effective solution to invest in a new blender than replace the parts.
The pitcher's holding capacity is quite large, but make sure that you do not go over the maximum fill. If this occurs, then you might have to clean a huge mess. You can mix anything from soup to milkshakes using this blender.
I found the use of buttons on the motor base very handy while operating in a hurry. There is also a safety feature that will alert if the lid and pitcher are not correctly positioned. You will find that the power button blinks if these parts are not placed in the right position and locked.
---
Ninja Professional Blender 1000 Review: Accessories
In addition to the accessories that are already part of the Ninja BL610 blender, there were a few others. I got a motor base of 1000 watts. This motor base is perfect for handling any heavy-duty blending jobs. Starting from ice to think liquids, you can blend everything.
You will not have to invest in any other blender as this is multi-purpose. This blender can give you your desired results in a few seconds. You can also chop up fruits and vegetables with the help of a powerful motor base.
The next accessory I got was the 72 oz. container with the lid. The jug is of good capacity, which means that I can blend a large quantity of liquid in it. One thing to remember is that the maximum blending capacity is 64 oz.
If the blended liquid crosses this mark, then it can lead to spillage. While blending fruits or vegetables, make sure that it does not cross the mark of 21 oz. This will help to keep a mess-free environment when you are using the blender.
3 Different Blades For The Ninja BL610
The box also comes with three sets of blades. These blades are of different heights that are used to blend different kinds of ingredients. Each of these blades will provide you a different kind of texture.
All the blades are not suitable for all kinds of ingredients. For example, while crushing ice or blending thick liquids, it is better to use the highest blade first. If you want the texture to be fine, then you can change the blade if needed. However, it is better not to change blades in the middle of a process to avoid spills or mess around the counter.
I also got a user manual in the box, which was helpful to assemble, maintain, or use the blender effectively.
---
Ninja BL610 Review: Power and Speed
The Ninja BL610 has three-speed controls for mixing different kinds of liquids. The low setting is for blending marinades, batters, gravies, and other such thin liquids. The medium speed can be used for beating dips, blending sauces, grating cheese, chopping, or grinding nuts.
Finally, the high speed can blend fruits or whole vegetables, mix smoothies, or liquefy thick mixtures. There is also an additional pulse control, which is used for chopping as well as processing.
Under this control, the blades will spin continuously till the time the button is pressed. When using the blender, this feature is quite popular and often used. When it comes to power, the Ninja BL610 is said to be quite a powerful model.
1000 Watts of Power
With its 1000 watts power performance, the blender can be used to crush hard substances. The Total Crushing Technology of the blender also comes in handy during these times. The combination of high power and variable speeds makes the blender a popular option for most households.
The blender's professional performance can help in crushing even the hardest of substances in a few minutes. This makes the model a versatile one and quite favored despite being in the high price range.
---
Ninja Professional Blender 1000 Review: Cleaning and Maintenance
The one major thing I loved about the Ninja BL610 blender is its cleaning and maintenance part. It is much easier than the most traditional blender. This is one of the top-most easy to clean blenders, and I highly recommend people who face difficulties while cleaning.
If you are a person who needs to use and clean your blender in a hurry, then the Ninja BL610 is perfect. When cleaning other blenders, you have to remove the cup blades or unscrew the parts and then clean properly. In the Ninja BL610, I need not do anything of this sort.
This blender's blade can be lifted off easily from the pitcher, making the cleaning process less messy. Try to clean the blender immediately after using them to not let the liquids stick to the sides.
Before you start the cleaning process, ensure that the motor base is not attached to the power source. Once this is done, you can remove the blades from the pitcher. Forgetting to unplug the motor base can lead to serious accidents.
Cleaning is Easy
The motor base should never be submerged in water or any kind of liquid. That could damage the blender completely. You will just have to remove the blades and the pitcher since these are the parts that need cleaning.
Use soap and a smooth sponge to clean the container, lid, and blades. Do not use any abrasive material to clean the parts, which may cause scratches. Use warm water with liquid soap for best results.
Be safe while cleaning the blades as they are sharp and can injure you. If you are using a dishwasher, then do it using warm water as well. Keep the parts in the designated racks of the dishwasher. Once it is cleaned, whether by hand or dishwasher. Let them out to dry completely before you assemble them again.
Make sure that there is not a single drop of water before you start using the blender again. It is better to dry the part with a cloth so that the water is soaked in. You can also clean the motor base with the help of a damp cloth.
If you have blended any thick liquid, then you can keep the container filled with warm water and liquid soap for a few hours. This helps clean the pitcher better without aggressively using the sponge to get rid of any stains from the container.
---
Ninja Bl610: Other Features
The Ninja BL160 comes with a BPA free jar, which means there is nothing to worry about the health risks. BPA is short for Bisphenol-A, an industrial chemical used in the making of resins and plastic. It is a harmful substance that can be very dangerous if ingested in any way.
The best thing about the plastic used in the container is that it looks like glass. At first glance, I couldn't differentiate between glass and plastic. This makes the look and feel of the blender quite classy.
One of the features which are unique in this blender is the Total Crushing Technology. I have not seen this technology in many of the high-priced blenders as well. Using this feature, I could crush ice or even frozen fruits just in a few seconds.
Good Safety Features
The brand Ninja is very cautious about the safety of their consumers. This is why the blender is equipped with different safety features. One of the unique safety features is that the blade does not start spinning until the lid is latched properly.
When you latch the lid to the pitcher properly, you will hear a click sound. When you hear the click sound, you can start the blender and use it. This safety feature decreases the risk of any unwanted accidents that can happen.
The lock of the blender is also very easy to latch. There is also a pour spout using which you can pour ingredients into the blender even while it is running. This reduces spillage as you do not have to open the lid again and again to add ingredients.
The blender also has a storage facility if it's own. This way, you will not have to worry about the cord lying around or getting damaged in the process.
Read More: Ninja 1000 Watt Blender Vs Vitamix 5200 comparison
---
What People Like about Ninja BL610
The Ninja BL610 blender has received lots of love from its users. Here are some of those things that have impressed people.
A powerful blender with some fine blades: According to most reviews, the blades powered by the motor shreds anything you throw into the blender into finer particles within a matter of minutes. That's why it is that good at making smoothies and salsa.
A lot less noisy than most blenders. Even though the blender comes with quite a powerful motor, it is way less noisy than most blenders, and most people are impressed by its quietness. It is a blender you can use in public offices, laboratories, and even libraries.
It comes with quite effective controls. The settings are three, the low, high, and Pulse settings, respectively. The high setting is for maximum blending speeds, and low for low speeds. For the best texture of your smoothies, be sure to use low speeds. Yes, they are times consuming, but they are worth it. The pulse feature helps you blend several ingredients and make one monolithic outcome.
The large capacity of this blender is also applauded by many. A 72 oz pitcher is enough to serve your whole family to satisfaction. You don't have to do it twice to serve your family, which means you get to save both energy and time!
The fact that its plastic components are BPA-free is also appreciated by many.
Being easy to clean and dishwasher safe is another point that I saw many people raising
Even though it has all those pros, it also has its flaws. One of the major complaints is the short warranty of one year. However, Ninja blenders come with a warranty of one year, so people should be used to this already. Some people also complained of high consumption of power, but that can be expected with such a powerful blender.
---
Ninja BL610 Review: Final Thoughts
As you can see, the Ninja BL610 is a great product that will serve you perfectly in the kitchen. It is quite impressive with smoothies and other juices. Its powerful motor is enough to crush ice within a matter of minutes.
What makes it even more desirable is the fact that it is quite affordable despite its great functionality and performance. It outshines all the blenders within its price range, and I am convinced it will impress you. It has impressed the majority of its users, and this is evident in online stores such as Amazon and eBay.
For example, on Amazon, the blender has received an average rating of 4.5 ratings. It is a blender that will serve you well and after reading this Ninja BL610 review, you can see that it is highly recommended.
Related Articles: