If you're someone who would be lost without a blender in your kitchen, then you've come to the right place. For today's showdown, I'll be comparing a NutriBullet vs Vitamix to see which of these blending giants could become the perfect fit for your kitchen.
But is this a fair comparison, you may ask. The NutriBullet, as everyone knows, is shaped like a bullet blender that is best known for making smoothies and comes with no available controls. Vitamix, on the other hand, boasts the design of a traditional blender and comes with way more settings and controls.
Now, this is general, and to be more specific the blenders that I have selected from each brand do a little more than what they are credited for. The NutriBullet Rx, for instance, does so much more than a bullet blender that it can easily compare with traditional blenders.
And what better model to compare it with than the Vitamix's most popular blender, the Vitamix 5200?
NutriBullet Vs Vitamix: Comparison
Vitamix 5200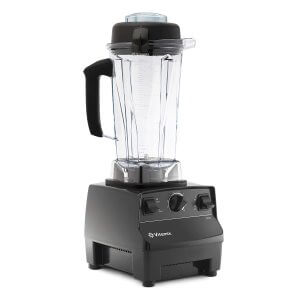 PROS
Made to last
10 variable speeds
Self-cleaning feature
CONS
No Pulse feature
Too tall for under-cabinet storage
---
NutriBullet Rx Overview
Considered a high-performance blender, the NutriBullet Rx is able to power through tough ingredients including ice.
Offers Versatile Blending
Although it still maintains a bullet blender design, the NutriBullet Rx does so much more than mere blending. In fact, its functions are so versatile that it starts to resemble many of those of a countertop blender.
First off is its immense motor capacity with 1700 watts of power. This is unheard of in bullet style blenders and is even much higher than what a lot of countertop blenders offer.
Then there is the colossal RPM that the blender's blades rotate at. Spinning at an astounding 25,000-30,000 RPMs, the Rx potentially puts many countertop blenders to shame. And finally, this crème de la crème of bullet blenders can also whip up a mean soup.
Includes Smart Technology
The Rx's soup-making potential comes from its smart technology. The blender has a preset soup mode that runs for a 7-minute cycle. This is enough time to turn fresh ingredients into hot, piping soup.
The powerful, stainless-steel blades of the Rx also have a part to play in yielding perfectly blended soup. Spinning at an amazing RPM, the blades generate enough heat to transfer to the ingredients and once the cycle is over, your soup is ready.
---
Vitamix 5200 Overview
One of the most durable blenders by the brand, the Vitamix 5200 is hard to beat in this category. It has been designed for withstanding daily and repeated use for all types of blending needs.
A Robust Machine
Powered by a 2 HP motor and an RPM of 37,000, there is very little that the Vitamix 5200 will shy away from.
To keep things cool and running at its optimal blending speed, the 5200 comes with a built-in cooling fan to ensure that the machine won't burn out. In addition, there is also an auto-shut system to stop the blender if things get too hot.
The Vitamix shares the same technology as the Rx to heat ingredients and that is by the wild speed of its rotating blades.
Versatile Functionality
The 5200 comes with a tall container that has often been on the receiving end of criticism as it isn't the most storage-friendly model. But the tall design does come with its own upsides.
For instance, the 64-oz capacity of the 5200's container is ample to create both large and small batches of food. Large, because there is sufficient capacity, and small because its slim design prevents the ingredients from spreading out too thin even if there are only a few of them.
---
NutriBullet Vs Vitamix: Main Differences
Almost everything is different between these two models from their design to their operation. Where one is a bullet blender, the other is a countertop version. So, to narrow down the dissimilarities, I will look at what affects each blender's functionality and flexibility the most.
Power
One of the main differences between the two blenders is the power output. While the NutriBullet Rx works with 1700 watts and a 2.3 HP motor, the Vitamix 5200 does the same with 1380 watts and a 2 HP motor.
Controls
If you're looking for greater accuracy and more control, Vitamix can give you that. The blender comes with 10 variable speeds for higher precision but with no preset functions.
The NutriBullet Rx has its own strategy for precise blending by throwing in hands-free smart technology which takes the guesswork out of blending.
Portability
The Vitamix 5200 is a bulky machine making it difficult to move around on your countertop. The size of the jar can also be an issue due to its tall design. As is, users have voiced concerns over the towering jar unable to fit under standard kitchen cabinets.
The Rx, on the other hand, is easy to move and store. It is easy to fit under kitchen cabinets if you want to keep it rooted in one spot and is equally portable should you decide to move it around.
NutriBullet vs Vitamix: Final Thoughts
Watt for watt, the NutriBullet Rx dwarfs the Vitamix 5200 by a landslide. But is that enough to take the top spot? Let's find out.
The Vitamix 5200 is a classic that has endured newer models and managed to stay on top. It scores points for its lasting durability, versatile performance, and extreme ease of use. There are lots of speeds to experiment with and users love the control this blender puts in their hands.
And while it's hard to beat the mighty Vitamix 5200, the NutriBullet Rx comes real close do doing so. It proves itself a worthy opponent with its fierce speed and flexible functions yet maintaining its on-the-go blending prowess.
If you want a blender at a more affordable price, then you could go the NutriBullet way. But if your budget allows it, then there's no real reason to shy away from a Vitamix.