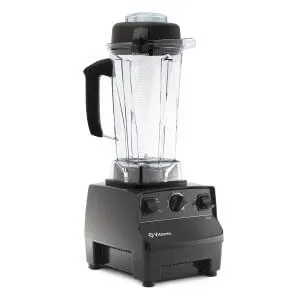 Most Popular Model
Simple Operation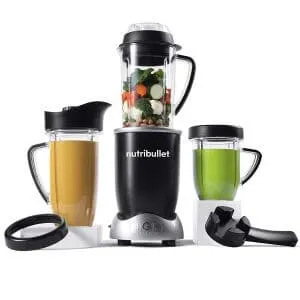 Powerful 1700W Motor
Convenient & Portable
---
The two most popular blenders in the entire world are definitely the NutriBullet and the Vitamix. And while both are extremely popular, they are vastly different from each other. There are some serious differences, and also a few similarities.
Today we are going to do an in-depth review of each brand, talking about which is better for your needs and which one deserves a spot on your kitchen counter.
The NutriBullet blenders are great personal units that you can use to make an instant shake or smoothie using your own ingredients. You can do the same thing with the Vitamix, but they are significantly larger, way more expensive, and a lot more advanced.
Basically, Vitamix machines are better for people who have a lot of tasks to complete, who like to make huge batches of smoothies, and who like to use their blender for food processing. On the other side of it, the NutriBullet blender is ideal for those who don't care about food processing, don't need to make huge batches, and only want to make instant smoothies to satisfy themselves.
There are lots of benefits to using both types of blenders. Keep in mind that even though the NutriBullet is small and compact, it's still a very strong blender that can take care of dry grains, frozen ingredients, and much more. The biggest difference here is size and convenience. The NutriBullet is handy and quick, while the Vitamix is heavy-duty.
NutriBullet Overview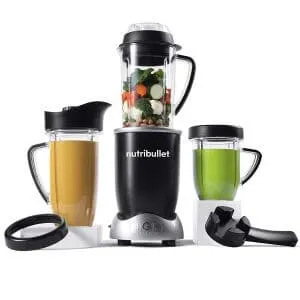 NutriBullet blenders are fantastic. These are arguably the most popular blenders in the entire world, and it's not a coincidence. They offer hands-free technology, there is a large lineup of different blenders for everyone's specific needs, and they make the ideal health companions, providing you with instant smoothies and health shakes to help see you through the day.
NutriBullet blenders are perhaps the best way to live a healthy lifestyle without having to invest in a bunch of clunky machinery. People love the NutriBullet because of its simplicity. Simply pour your favorite ingredients into the blending container, screw on the blending blades, then twist the cup into the blending unit. There are no settings, there are no pre-programmed blending cycles – you just twist for a few seconds until your drink is ready!
Read More: Comparison of the NutriBullet Rx and the NutriBullet Pro 900
Different NutriBullet Models
There is a NutriBullet blender for everyone. While these originally started as small personal blenders, they have since evolved. You can now purchase a NutriBullet that works as a completely professional blender and as a personal blender. And you can get any one of these awesome blenders at a super low price, too. These are all incredibly affordable, which is another reason they are so crazy popular.
Magic Bullet: The Magic Bullet is a brand of its own, but it's still built by the people who make the NutriBullet. It's the same company! These are the smallest and weakest of all the blenders in the lineup. They only operate on 250 watts, and they have a maximum capacity of only 22 ounces. However, the Magic Bullet is great for sauces, baby food, green smoothies, and salsas.
NutriBullet Pro: The NutriBullet Pro is an enhanced version of the standard NutriBullet. It offers an incredible 900 watts of power and is ideal for people who live active lifestyles. It's super easy to clean, and the powerful motor means you can make your favorite smoothie in about 20 seconds. It has a full capacity of up to 32 ounces.
NutriBullet Rx: The NutriBullet Rx is arguably the best offering from NutriBullet. This is a blender that has no limitations. If you're a serious health enthusiast, the natural next step from any personal blender is to purchase the NutriBullet Rx. You have an increased capacity of up to 45 ounces and an incredibly strong 1700-watt motor, which is more powerful than most professional countertop blenders that cost 3x as much money.
Read More: NutriBullet Vs Magic Bullet – Which is better?
NutriBullet: Final Thoughts
While the NutriBullet started as a small personal machine designed only to make quick smoothies, it has evolved into an amazing powerhouse of a kitchen appliance. The best NutriBullet blenders cost much less than other blenders, they have more power, and they are easier to use.
Even though many blenders advertise their multiple speeds and pre-programmed blending cycles as being the most important features in the world – it's simply not true. There actually isn't much use for all those variable speeds, especially in the world of smoothies. This is why the NutriBullet is so wildly popular. People appreciate the simplicity!
---
Vitamix Overview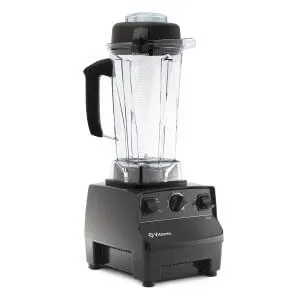 Vitamix is the number one name in blenders. NutriBullet blenders might be the most popular by sheer volume of sales, but the Vitamix blenders are the best in terms of overall quality. Nobody else builds blenders quite like Vitamix, and this is reflected in the price of the machines, which can sometimes be shocking and a little off-putting. Not many people want to spend $500 on a blender when they can spend $40 or $50.
But the price of the Vitamix blenders makes a lot of sense if you know more about these machines. First of all, they use only the best parts. Unlike most cheap blenders, Vitamix really builds theirs using components that will keep them working at peak performance for longer. For example, they use a special cool-running motor with a thermal protection system to keep the machine from overheating.
Vitamix blenders also use laser-cut blades, metal drive systems, super durable containers, radial cooling fans, and variable speed controls. All these advanced mechanics is the reason for their expensive price tags. Plus, most Vitamix blenders come new with a 7-year warranty, meaning you don't have to worry about purchasing another blender for at least a decade.
Read More: What are the best alternatives to a Vitamix blender?
Different Vitamix Models
There are far more Vitamix blenders than NutriBullet blenders. They have been in the game for a long time, producing dozens and dozens of different models, series, and types of blenders. The one thing all their units have in common is a serious dedicated to quality control. Each Vitamix blender, no matter the price, is built with the best parts to give you superior performance in the kitchen.
Vitamix 5200: The Vitamix 5200 is arguably the most popular Vitamix model. It's a fair price, it's completely standard with variable speed controls and a strong motor, and it works extremely well for all kinds of blending, grinding, pureeing, and mixing. This is a typical, high-quality Vitamix blender with a minimalist design and just a few features.
Vitamix E310: The Vitamix E310 is more of a budget Vitamix. It has the same speed controls, it's available in a variety of colors, and it can blend just as good as any machine – but it's a little smaller with only a 48-oz container. But the E310 is still built with the same quality components as every other Vitamix.
Vitamix Quiet One: The Quiet One is one of the most expensive Vitamix blenders. It's also the blender used all over the world by Starbucks in their coffee shops. It comes complete with pre-programmed options, dozens and dozens of different settings and speeds, and a unique sound enclosure for silent blending. This is the best of the best.
Vitamix: Final Thoughts
As you can see, each Vitamix blender shares similar qualities. They all have premium components and great builds, but the price varies drastically depending on the size of the container and the number of high-tech features, such as a sound enclosure, a digital display, and pre-programmed blending cycles.
---
Vitamix Vs NutriBullet: Main Brand Differences
There are almost too many differences to discuss here. Vitamix and NutriBullet are two dramatically different brands of machines. The NutriBullet is a small and personal blender without any major features, and it can be used to make speedy drinks out of any ingredient. If you want soup, a smoothie, or a milkshake, the NutriBullet can do it in seconds.
And while the Vitamix can also blend smoothies in seconds, it takes a lot more work. The Vitamix is definitely less convenient, but it's also more powerful, more robust, and more useful if you have a variety of different kitchen tasks that need to be completed. The Vitamix can replace your food processor, mixer, grinder, and older blender as your main kitchen device.
Read More: These blenders are great alternatives to NutriBullet
Convenience vs Versatility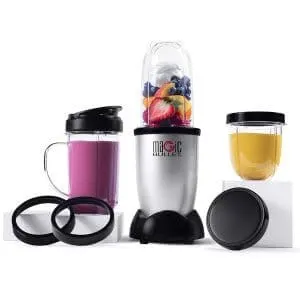 The number one difference here is convenience. Take a look at the features of the NutriBullet:
Small & Compact
Easy to Clean
Handsfree Blending Technology
Durable Cups & Super Portable
Ideal for Healthy Living
All the features of the NutriBullet make it the ideal companion for a healthy lifestyle. The cleaning is minimal, as you only need to rinse the blades and container when you're finished. The clutter is non-existent, as the NutriBullet takes up almost no room on your countertop and stores easily. And the cups are made to be taken with you, meaning you drink right out of the container you blend in.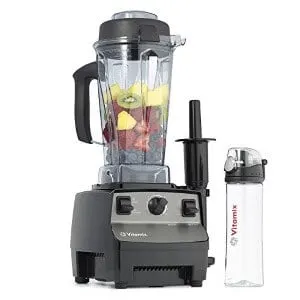 Now take a look at the Vitamix features:
Large Containers for Big Batches
Extremely Powerful & Durable
Variable Speed Controls
Ideal for Food Processing
Great Accessories
The Vitamix blenders are best used for making massive batches of smoothies, iced desserts, cold drinks, hot soups, milkshakes, almond milk, nut butters, etc. They are heavy-duty machines with infinite uses. You can blend anything in a Vitamix! And yes, it's easy to clean, but it's simply not as convenient as a NutriBullet – though it is definitely more versatile.
Read More: NutriBullet lid stuck – here's what you should do
Size & Price
As much as I hate to say it, Vitamix machines are expensive. Even if you're purchasing a lower-end blender, it's still a few hundred dollars more than a NutriBullet. And unless you need to process food, make huge jars of almond milk, entertain your guests with cocktails and iced drinks, or make ice cream for the whole family, there isn't much sense in a Vitamix.
When it comes to normal blending, anything under 45 ounces – like a smoothie for you and a friend – you can do it quicker and easier in a NutriBullet. Just because the NutriBullet is small and compact doesn't mean it's weak. These machines actually come with super strong motors. Even the standard NutriBullet uses a 600-watt motor, while the more advanced NutriBullet Rx uses a 1700-watt motor! And it only costs around $100, compared to a Vitamix 5200, which costs around $500.
Lastly is the size. If you already have a cluttered counter, a Vitamix blender is only going to add to the mess. While not extremely massive, Vitamix blenders are pretty big. They come with a large motor base and huge blending jars. On the other hand, a NutriBullet can easily be stored in a cupboard after use.
Vitamix Vs NutriBullet: Which is Better for Your Needs?
Now it's time to talk about which blender is better for your needs. Just like any other machine, your blender should be suited to your particular needs. There is no sense in spending loads of money on a machine that is overkill. So, let's talk about which blender is best, and for whom.
Breakdown of the Features
Check out how these machines are best used.
Best Uses for Vitamix:
Almond Milk & Other Nut Milks
Processing Dough & Batter
Soups (Hot or Cold)
Juicing
Nut Butter
Frozen Desserts
Ice Cream
Best Uses for NutriBullet:
Personal Smoothies
Milkshakes
Grinding Coffee Beans
Protein Shakes
Baby Food
Salsas
Sauces
A lot of it comes down to the size of serving you're looking for. For example, a Vitamix is ideal for making frozen dessert and ice cream. It's not like you're going to make a single serving of ice cream in your NutriBullet – it just wouldn't make sense.
However, the Vitamix is also great at making smoothies. It's one of the best blenders in the world for quickly blending all your veggies, fruits, and juices into a delicious smoothie. But because of the huge size of the Vitamix, it doesn't make sense to make a single personal drink inside the blender. It's much easier and faster to use a NutriBullet. And so, it all comes down to serving size.
Personal Use vs For Family
One of the biggest things to consider before purchasing one of these blenders is what your living situation looks like. Are you a single person living in an apartment by yourself? If so, you probably don't have much need for a Vitamix.
If you live alone or with a partner, you can easily make one or two servings in a NutriBullet blender much faster than you could in a Vitamix. It's also easier to clean, it takes up less space if your kitchen is small, and there is literally no maintenance that needs to be done. You don't even really need to use the dishwasher, as you can just rinse your cups when you're finished.
However, if you are part of a family unit you might want to consider the Vitamix machine. If you have to fight with three or four other people in the morning to make a smoothie, it could get annoying. With the Vitamix, you can make at least six servings of everyone's favorite smoothie at one time to avoid a mess.
With the Vitamix, you can also make massive batches of frozen desserts, like sorbets and lemonade, to satisfy everyone in the family. You can mix pancake batter for a surprise breakfast, heat up a nice evening soup, or make almond milk to store in the fridge.
NutriBullet Rx vs Vitamix 5200 Blender
The NutriBullet Rx and the Vitamix 5200 are two of the most popular models from their respective companies. There are thousands and thousands of positive reviews between them, with each machine selling an outstanding number of units. And although both are the best that each company has to offer, it's worth taking a deeper look at their individual features to see which one is better for you.
First of all, you have to understand that the NutriBullet Rx is a personal blending machine. Yes, it has the ability to make smoothies, juices, sauces, and soups – but so does the Vitamix. The biggest difference here is how each blender goes about blending your ingredients, exactly how many ingredients you can blend in a single cycle, and the overall durability of the hardware.
The NutriBullet Rx
In my opinion, the NutriBullet Rx is the best NutriBullet blender to date. In terms of features, you can expect handsfree smart blending, an extremely strong 1700-watt motor, an automatic start and stop function, and two blending cups that are very high quality. You also get two different sizes, a 1-liter pitcher and a 30-ounce to-go cup.
The NutriBullet Rx is best used for making smoothies, shakes, and other iced beverages. It has a smart design that is used to extract nutrients from all your ingredients to give you the healthiest possible drink. If you're into balanced meals and nutrition, the NutriBullet is exactly the type of machine you're looking for.
---
Vitamix 5200 Blender
The Vitamix 5200 blender is an incredibly robust machine designed to make medium to large batches of just about anything. It comes with some great features, such as variable speed control from between 1 to 10, a cool-running motor so that you can make hot soup and blend for longer periods of time, a self-cleaning function, and a 7-year warranty.
If you are looking for a strong blender that will last for decades without losing any performance or power, the Vitamix 5200 is for you. It's great for people with families, its main 64-ounce container can handle huge batches of anything, allowing you to practice many different types of recipes. And finally, there are available accessories that can turn the blender into a powerful food processor.
---
NutriBullet Rx vs Vitamix 5200 Blender: Conclusion
As you can see, each blender has its own special features. I recommend the Vitamix 5200 to anyone who wants to invest in a quality blender for them and their family. However, I recommend the NutriBullet Rx for anyone who wants to make quick smoothies for themselves. The NutriBullet is better for people with active lifestyles who just want a boost of health throughout the day by making a quick green smoothie or protein shake.
The Vitamix 5200 is fantastic for people with some spare time who are interested in frozen desserts, baking, food processing, and smoothies. The Vitamix 5200 is a professional countertop blender that is used all over the world in cafes, bars, and restaurants. The NutriBullet Rx is designed specifically for use in the home, satisfying people's need for a convenient blender with minimal cleanup and maximum power.
Which one is best for you? Well, you'll have to be the judge of that.
NutriBullet vs Vitamix: Final Thoughts
At the end of the day, your personal needs dictate which of these blenders is the best. The NutriBullet is the best at what it does while the Vitamix is the best at what it does. Yes, the Vitamix machines are far more expensive, but they're also significantly more powerful, more capable, and more dependable. If you want a blender that works for the next 10 years, you definitely want a Vitamix blender.
But if you're a minimalist. If you don't want a big blender taking up lots of room in your kitchen, and if you have no use for a food processor, the NutriBullet is definitely the way to go. You can get a super cheap model if you pick the original NutriBullet 600 or the Magic Bullet – or you can splurge for the NutriBullet Pro or NutriBullet Rx, either way picking up a quality machine that promotes convenience and healthy living.
And that's what it comes down to in the end. The NutriBullet is all about leading an active lifestyle. You blend a quick smoothie or shake and move on with your day. A Vitamix is more about processing foods, making huge batches of sauces, drinks, or frozen desserts, and experimenting with lots of exciting recipes. The Vitamix is going to be the centerpiece of your kitchen while the NutriBullet will be an accessory you use to quickly blend your drink.