Best Overall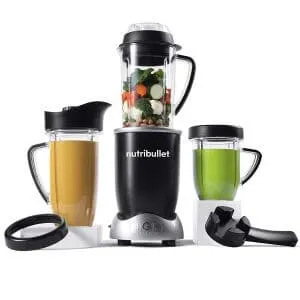 Powerful 1700W Motor
Can Heat Soup
Best Price
Powerful 900W Motor
32 oz. Capacity
---
Today we are going to put two of the best NutriBullets against each other: The NutriBullet Rx vs Pro. The NutriBullet Pro is the upgraded version of the normal model, while the NutriBullet Rx is an even more powerful version of the Pro. But does the extra power justify the NutriBullet Rx's steeper price?
To understand these blenders better, we need to take a closer look. Both models are great for use at home in the kitchen, as they are personal blenders that offer easy single-serving smoothies and shakes. Each one adds great nutritional value to your smoothies, each comes with a recipe booklet, and each one has a strong motor.
For anyone who has a busy lifestyle and only needs to make smoothies and shakes, as opposed to processing foods, any NutriBullet is a solid choice. No matter which model you buy, you are getting a small and compact blender that can help get you on the road to a healthy lifestyle.
---
NutriBullet Rx Review
The NutriBullet Rx is currently the best NutriBullet money can buy. The unit has advanced greatly from its predecessors. The Rx has a stronger motor, tougher blades, a larger capacity for drinks, and an improved heating function. This is a great personal blender.
More Power
With the NutriBullet Rx's 1,700-Watt motor, you can expect the smoothest and creamiest smoothies of your life. Whether you are blending kale and spinach or chunks of watermelon with lots of seeds, everything will be blended into a perfect paste. There are no more chunks with the NutriBullet Rx's supercharged motor.
Because the motor is stronger, you can also expect faster blending times than usual. This is excellent for those in a hurry.
Read More: NutriBullet Vs Ninja Vs Magic Bullet
More Functions
This newest installment in the NutriBullet line now has a specialized heating function that allows you to not only blend soups in one of their convenient cups but also heat it at the same time. Who said you can't make your cake and eat it too?
There is also an automatic start & stop function, which allows for simple hands-free operation of the NutriBullet Rx. You can blend up to 45 ounces of liquid in the main pitcher or 30 ounces in the smaller included cup.
---
NutriBullet Pro Review
The NutriBullet Pro is an upgraded version of the original NutriBullet. It is faster, more powerful, and offers a larger capacity for smoothies. The NutriBullet Pro also comes as a 13-piece set. This means everything is included to give you the best possible blending experience, getting you on your way to an active and healthy lifestyle.
Read More: How to Tell If Watermelon Is Bad: 5 Simple Checks
Nutritional Extraction
The blades that come with this blender are specially designed to extract maximum nutrients from the foods you are blending. This means that the seeds and skin, and indeed every atom of the fruit or vegetable, will be ground into a drinkable smoothie.
By grinding everything to perfection with the specialized blades, all the nutrients and minerals that would otherwise be trapped are released into the beverage. When you use the NutriBullet Pro, you are getting all of the nutrients. This is a huge step up from juicing.
Read More: Which blenders are similar to NutriBullet?
Speed is Important
With the NutriBullet Pro's smart design, you can create idealistic smoothies in under 60 seconds flat. The speed that you go from raw frozen fruit to a delicious cold smoothie is astounding. This is what makes the NutriBullet pro such a smart idea for people who have a busy lifestyle and can't spend all day fussing over a big complicated blending machine.
---
NutriBullet Rx vs Pro: Main Product Differences
These are basically the same machine. They both look the same, they are both really easy to clean with their detachable components, and they each blend smoothies using unique nutrition extraction techniques. Also, they use the same style of to-go containers for blending. That said, there are some differences, mainly in improvements the Rx has made over the Pro.
Bigger & Better
The NutriBullet Rx is like the Pro, only bigger and better. This version of the Bullet comes with a motor that is almost double in power. Whereas the NutriBullet Pro has a 900-Watt motor, the NutriBullet Rx has a 1,700-Watt motor. That is the difference between a station wagon and a supercharged sports car.
If you want a perfect blend, you want the NutriBullet Rx purely because of its power. Your smoothies will be, for lack of a better word, smoother. There is less chance for a malfunction, for ice or hard foods to get stuck, and there is almost a zero chance of having leftover chunks in your smoothie, even if you are making a leafy green smoothie with spinach or kale.
Read More: NutriBullet lid stuck – here's what to do
More is Good
These blenders are both made to be personal, giving you an instant serving of a healthy beverage directly into a cup that you can drink out of. These are not big blenders with huge 70-ounce pitchers. That said, the Pro gives a maximum blending capacity of 32 oz. That is perfectly acceptable for one serving.
But what if you want two servings? The NutriBullet Rx offers a capacity of 45 ounces, allowing you to make more in less time, serving everyone in your household without needing a massive blending machine.
Read More: Nutribullet Reviews – Which Model Is The Best?
NutriBullet Rx vs Pro: Final Thoughts
It is hard to draw any other conclusion than the NutriBullet Rx being better than the NutriBullet Pro. It is literally an upgraded version of the Pro, which itself is an upgraded version of the standard Bullet, the healthy lifestyle machine that took the world by storm all those years ago.
While the Pro does have a strong motor and is efficient at making smoothies, the Rx is better. The Rx has a stronger motor, a larger capacity for blending bigger drinks, and it is going to last longer because it is built tougher.
That is not to say the Pro is a bad machine. It is a good machine and one of the best personal blenders you can find today. However, for the negligible difference in price, I highly recommend going with the Rx. You get a 1,700-Watt motor, a stylish machine, quick blending, effortless cleaning, and so much more.
Read More: 7 delicious NutriBullet detox recipes