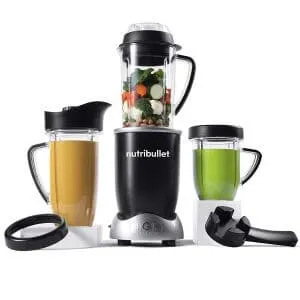 Powerful 1700W Motor
Convenient & Portable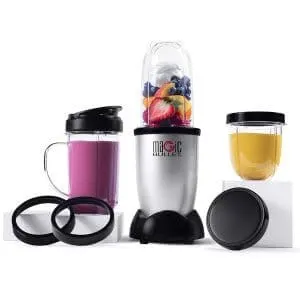 Cheap Price
#1 Selling Blender
---
If there's one brand that gives personal blenders a run for their money, it's NutriBullet. Known for its powerful blending, small sizes, and versatile functionality, NutriBullet reviews show that the brand remains a favorite for blending single-serve smoothies.
The keyword here is 'personal blending' as NutriBullet caters to preparing quick, on-the-go smoothies while keeping the footprint small. In other words, the company makes quality personal blenders on par with full-sized blenders but without the bulk of a large machine.
Personal blenders such as those offered by NutriBullet are convenience items for the zealous smoothie aficionado short on time in the morning. Some larger models also work equally well to puree soups, sauces, and make multiple rounds of frozen margaritas and basically act as your all-around kitchen workhorse.
So, to see if you would benefit from a traditional personal blender from NutriBullet or need something slightly larger from the same brand, here is a roundup of the three best NutriBullet reviews to help you make your decision.
Top Rated NutriBullet Blenders Of 2021
---
NutriBullet Rx N17-1001: Best Overall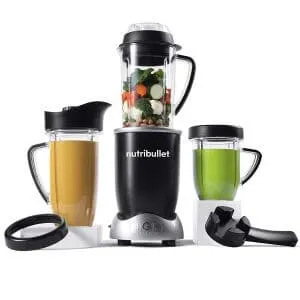 The NutriBullet RX designed to run on a 1,700-watt motor comes with three different sized containers, two separate programs for smoothie and soup making respectively, and a comprehensive nutrition and recipe book.
Processes hot and cold foods
Not many Nutribullet models come with three containers, so why does this model, you may ask. Well, no other NutriBullet personal blender works with the mechanism of processing both hot and cold foods, so that can help justify the number of containers included.
Read More: Best Personal Blender – 4 Top Rated Models
The first two of the three are designed to use for drinking; one regular 30-oz, single-walled cup and one oversized, 45-oz single-walled cup. Blending and drinking out of the same container will save clean up time.
The third is a special 1-liter blending pitcher, cleverly named the Souperblast pitcher, with a vented lid to make soups that can whizz together steaming ingredients at up to 70oC.
Great for soup lovers
While not the first blender to ramp up its power to cook the contents, the RX is way more compact than other models capable of doing the same.
With a heating function for soups and sauces, you load the "Souperblast" pitcher with your soup ingredients and screw it onto the base. Pre-programmed to run for seven minutes, the cycle starts to blend and heat the soup before turning off automatically.
The RX does not have a heating mechanism, per se. Instead, heat gets generated by the duration and speed of the rotating blades. It's important to note though, to never put hot ingredients into the container.
Manufacturers recommend starting with lukewarm or even cool ingredients and the blender will heat these up for you.
---
Magic Bullet MBR-1101 Blender: Budget Pick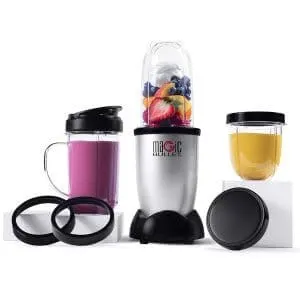 Taking simplicity at its best, the Magic Bullet blender is the one tool you would need to prepare individual, customizable recipes.
Simple design
Perhaps one of the most, if not the easiest blender to use, the Magic Bullet is a truly user-friendly machine. There are no intricate dials or buttons on its interface to complicate things.
Instead, you simply put your ingredients in the container, cover with the blade assembly, invert and pop it into the base. Push down slightly to start the motor and that's it.
The simplicity is ingenious as you can then take the same cup on-the-go without having to bother with transferring your smoothie to another container. You could also use the same cup to store in the fridge for later use.
The straightforward operation of this personal blender earns it a perfect score for its design. It is also the cheapest NutriBullet, which makes it a great buy for people shopping on a budget.
Compact size
Alongside its simple design profile, the Magic Bullet also earns points for its compact size. It has one of the smallest footprints among personal blenders, barely larger than a coffee cup when the blending jar is off the base.
This makes it ideal for anyone looking for something that doesn't take up much counter space. But don't let the compact size fool you for the Magic Bullet comes accessorized with enough parts to do a bit more than just blending.
With the most basic package, you get the power base, three cups, two lip rings, two resealable and one to-go lid, plus one recipe book. All this will let you blend, mix, chop and crush single-serving ingredients.
---
NutriBullet Pro 900 NB9-1301 Blender
Another fairly basic blender from the brand, the NutriBullet Pro 900 is a slightly bigger and more powerful version of the original NutriBullet. Both blenders operate using the same extractor blade technology but there are some differences.
A Sensible Upgrade
With the Original NutriBullet powered by 600 watts, the Pro 900 provides a prudent power upgrade to yield superior blending results. With 900 watts at work, the Pro 900 is much more efficient at handling different types of blending tasks including crushing ice and frozen ingredients without leaving any chunks.
Another step up is the larger capacity cups than the original where the max size was 24 oz. Now you get your NutriBullet with a smaller 24-oz cup for modest-sized blends and a much larger 32-oz cup for a larger blend.
The larger container lets you create more than a single serving of your favorite beverage and the smaller one still stays true to the philosophy of on-the-go drinks. There's also a flip-top lid included this time for on-the-go nutrition.
Versatile performer
The Pro 900 is an impressive blender in terms of versatility. While it stays true to its simple operation, much like the original NutriBullet, it outplays its predecessor in terms of performance, especially for the daily user.
Not only is the Pro 900 ideally suited for churning out daily smoothies and purees, but it also excels in areas of creating dips and sauces, baby food, nut butter, grinding and chopping.
The original NutriBullet could also do that, but some users feel that the wattage may not keep up with daily blending and mixing needs. The 900, on the other hand, eliminates this issue and will power out the fastest compared to its predecessor.
---
NutriBullet Reviews: A Complete Buying Guide
The NutriBullet brand has a few different models out there and the right one for you will depend on how much you're willing to spend as well as whether you're looking to process speedy, single portion smoothies or a wider range of foods.
Most models can do much more than blend drinks, offering a fair bit of versatility in the kitchen. People looking for a blender capable of mixing a variety of ingredients have the option to look at models ranging from 250-1700 watts. Plus, given that NutriBullet blenders can be pricier than the competition, you'll want to spend your money wisely.
So, here's what you need to know about buying your first NutriBullet.
Read More: NutriBullet Vs Ninja – Which is better?
Working Mechanism
NutriBullet works in a different manner than traditional blenders. Instead of having a large pitcher attached to a base with a motorized blade, NutriBullet blenders use an inverted process where the container is filled with ingredients, screwed on with a blade assembly, inverted, and placed into the motor housing.
This mechanism allows for a more compact motor unit and a smaller ingredient container. Both these factors contribute to the trademark smaller-sized NutriBullets that the brand is known for.
This is what users look in the NutriBullet name hoping to get the perfectly tailored single-serve smoothie blender that comes with easy storage.
Related Articles:
Package Options
It's good to know that when you opt for a NutriBullet, you get quite a few different packages to choose from, regardless of how basic or advanced the model is.
The Pro 900, for instance, is available in 9-piece, 13-piece, and 15-piece options. You can choose the most basic set or go with an upgrade as per your needs.
Likewise, Magic Bullet is also available as a standard 11-piece set or a larger 15-piece set. The difference lies in the number (and possibly size) of containers, and the number of blades.
For each type of NutriBullet you get, the cups and blades may be interchangeable across different models. For instance, cups and blades for the 600 and Pro 900 are interchangeable but not so for the RX since it comes with a larger diameter base.
Likewise, the lids may also be interchanged on the 600, Pro 900 and Lean models but not on the RX.
That said, NutriBullet cups and lids are top-rack dishwasher safe. But do not put blades in the dishwasher. Instead, hand wash with warm, soapy water.
Read More: Is the NutriBullet dishwasher safe?
NutriBullet Reviews: Final Thoughts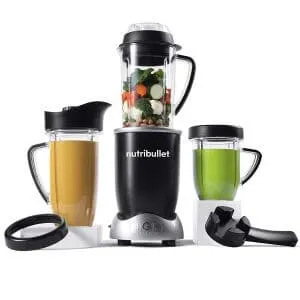 NutriBullet personal blenders rule the market for a reason. They are sturdy, dependable appliances that will deliver the goods as promised.
If power is what you're looking for, then you need to look no further than the NutriBullet RX. Its colossal 1700-watt, 2.3HP motor is a giant leap from other NutriBullets and complements its soup-making function well.
For a standalone blender on a budget, the Magic Bullet Blender is a clear winner. This budget pick serves as your basic personal blender that faithfully delivers you a daily smoothie with the least bit of fuss.
In contrast, the Pro 900 is a workhorse that pretty much blends everything thrown at it. With attributes like ease-of-use and price, the Pro 900 proves itself worthy of your money.
Related Articles: