Best Overall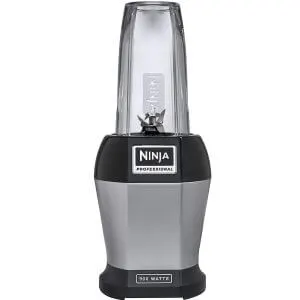 Powerful 900W Motor
Convenient & Portable
Best Price
---
If you're a NutriBullet loyalist, you'll know that this handy little gadget is all about power and performance in a small package. But with more and more brands making their way into the bullet blender market, you can also consider good alternatives that won't put a dent in your budget yet deliver the same goods.
But why would you consider an alternative to an already established brand? Perhaps there are newer models that offer more versatility or come at better price points. Maybe you want something that is even more compactly sized than the NutriBullet. Or maybe you're in the market for a highly portable unit.
All this is available when you look at the options. So, to help you find something that will cater to your needs best, let me walk you through my recommendations for the three best NutriBullet alternatives.
Top Rated Nutribullet Alternative Of 2021
---
Ninja BL456: Best Overall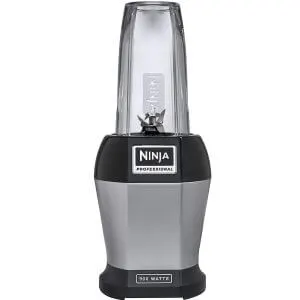 Closely contending the NutriBullet, the Ninja BL456 is a force to reckon with. Based on the same principles of user-friendliness, this Ninja model will do everything for you (and some more).
Fast and Reliable Machine
The BL456 is a sturdy blender that works by the standard Push-and-Blend mechanism of bullet blenders. There are no buttons or dials to contend with and operation requires pulsing the unit to get the results you want. The pulsing feature also lets you work with ice and frozen foods more successfully.
However, the one oversight seems to be the absence of an On/Off button which means that you have to keep holding the jar down for the entire duration of the blend. Now this may not be a big deal when blending protein shakes, but for longer blends, a hands-free option would be more welcome.
Power Profile
What is pleasantly surprising though is the amount of power this personal blender packs. Despite its compact stature, the BL456 yields an impressive 900 watts of power which is something expected of a traditional countertop blender, and is the same as the NutriBullet Pro 900.
The 900-watt motor gives the blender enough pulverizing power to break down large pieces of fruit, vegetables, nuts, and seeds. To complete this awesome package, you get two cups with your purchase, each with a sip and seal lid.
The unit is ideal for small kitchens, although by comparison, it tends to be bulkier than most bullet blenders. Still, it is the best NutriBullet alternative and is compact enough to store on the countertop without any issue or stowed away in a kitchen cabinet.
---
Bella Rocket: Budget Pick
The price for this blender is a serious steal as you not only get a personal blender but one that comes as a 12-piece set.
Great Price Point
The Bella Rocket comes with a 700-watt motor putting it in between the NutriBullet at 600 watts and the Ninja BL456 at 900 watts. That's not bad at all for a blender that costs a fraction of the other two models.
This machine is great for blending smoothies and shakes bullet style and fares decently well when handling kale, frozen berries, and ice. Although it is recommended to chop frozen foods into smaller pieces before placing them in the blender. Its capacity is also on par with the BL456 with its larger containers able to handle 24-oz blends.
With its ability to chop, grind, or blend, you can save space in your kitchen by investing in just one device and not several others.
Comprehensive Accessory Package
The total package that comes with the Bella Rocket is a big one. Along with the power base, the blending blade, and the grinding blade you also get two tall blending cups and one small grinding cup. Plus, there are 2 shaker tops, 2 resealable lids and 2 lip rings to make it quite a comprehensive collection of accessories.
The base is available in 12 fun colors to match your style and kitchen décor. So, if you need a small-sized, budget blender for making daily smoothies, the Bella Rocket offers useful features that you will like.
---
Oster MyBlend
The Oster MyBlend is the best personal blender you can find by way of simplicity and it's pretty affordable too.
On-The-Go Design
An entry-level blender, this is a simple and compact machine for making smoothies and shakes right in the sport bottle. Its bottle is designed for convenient carrying once you're done blending your drink.
Making a great shake or smoothie is as simple as loading the bottle with ingredients, twisting on the blades, and placing the container on the base. Simply press down and voila! You have your on-the-go drink ready.
This basic blender is ideal for drinks using soft ingredients as its low power motor limits what you can put in it. If you prefer having frozen drinks instead, then you should look for a more powerful NutriBullet alternative.
Instant Results
The 250-watt motor on this unit is miles away from being the strongest, but it will get your shake or smoothie ready without fuss. Also, the 20-oz capacity may be somewhat limited, but you can get MyBlend bottles available separately and keep a few on you for when you want more than one serving. The bottle is made from BPA-free material and safe to blend in and drink from. The resalable lid makes it easy to carry the bottle with you.
One excellent feature that the MyBlend offers is the inclusion of an overheat protection feature which shuts the motor off when placed under too much stress. Since the motor is already a weaker one, this feature prevents it from damaging too soon.
---
NutriBullet Alternative: A Complete Buying Guide
Bullet blenders are a quick, easy, and cost-effective way to make healthy smoothies and blends. Nutribullet's effective design and reasonable pricing have made it a great pick over the years.
However, with newer models, you may be wondering what some better alternatives are? That's why I have listed all the features and factors to consider before purchasing an alternative for NutriBullet blenders.
Given the brand's proven worth, you will want to carefully pick out your next blender. Each of these factors is something a good alternative should be able to deliver upon.
The 3 Best NutriBullet Alternatives
Nutri Ninja Pro BL456 Blender – Best Overall. Check Latest Price
Bella BLA13330 Rocket Blender – Budget Pick. Check Latest Price
Oster BLSTPB-WBL MyBlend Personal Blender – Good Alternative. Check Latest Price
How To Choose A Nutribullet Alternative
Bullet blenders are favored because of their compact size, ease-of-use, and convenience of portability. So, if you're looking to replace your NutriBullet with a different model or brand, keep the following few things in mind.
Performance
The first thing to keep in mind is how well the blender performs the task you need it to. Does it give you the kind of pulsing, grinding, chopping, etc. that you're looking for?
Some blenders can blend without any prep, while others require you to cut up ingredients before blending. Other blenders have faster performance, while some take a little longer to fully blend. Moreover, some blenders are better at smoothly blending while others leave lumps.
You should always check what kind of performance the alternatives have. Their speed, their pulsing ability, the settings on which they run, and so on.
The best way to judge performance is by looking at the final blend. How nutritious is the product you can make?
Power
Power requirements for bullet blenders can vary significantly based on what you plan on blending. If your requirements are fairly basic, then smaller models with less power such as the Oster MyBlend will do just fine. But if you wish to do more than just blend, then look for higher-powered alternatives such as the Ninja BL456 for a greater variety of functions.
Purpose
While general performance is important, different blenders have different special abilities. Your NutriBullet alternative should accordingly satisfy your main purpose.
Shortlist whether you want a smoothie blender, spice grinder substitute, something to act as a food processor, and so on. A good alternative should also be versatile. It should be able to chop up a variety of ingredients of different textures.
Durability
For regular usage purposes, you will need to consider the durability of the blender. Some alternatives may perform well but don't give you the required sturdiness.
If you need a blender for personal use, your requirements will be different from blenders used by a commercial venture. Thus you should consider exactly how frequently and heavily you will use your blender.
Read More: Best Personal Blender – 4 Top Rated Models
Convenience and Space
Some blenders are easier to use than others. If you need a to-go cup with your blender for quick and portable drinking, keep in mind the blender's accessories. Look for an alternative with sealing lid cups of different sizes.
The idea behind bullet blenders such as the NutriBullet is a simple operation and compact storage. This means that most blenders in this category are designed to have a small footprint.
Now, there are models that are way more compact than these bullet blenders, so if you're trying to save on space, then consider these options. Just take a look at the Oster MyBlend and you'll know what I mean. Or, if you go the way of higher wattage, and more functions then you can end up with a model like Ninja BL456 which though still a bullet blender, is bigger than many other similar models.
That said, there are even larger models than follow the bullet style of inversion blending but size-wise are comparable to traditional countertop blenders. So, you should carefully consider your space availability (or restriction) before getting a different blender.
Easy Maintenance
Different bullet blenders have varying clean up procedures.
While looking for alternatives, keep in mind your schedules and the time you can make for cleaning. An easy to maintain bullet blender should be dishwasher compatible. It should additionally be easy to assemble and put back together after use.
Cost-Effective
NutriBullet is a favorite amongst blender enthusiasts because it is budget-friendly.
The average bullet blender costs about $40 to $60. High-end blenders can cost you up to $100, while cheaper ones should generally be avoided for quality reasons. The more expensive bullet blenders have powerful motors and can be used as full-sized blenders too.
A more expensive alternative will be built for longevity. This means it's a good investment and will save you money in the long run.
Accessories
NutriBullet blenders are known for coming with an impressive set of accessories, so when you look for an alternative, you should also look at what's included with the package. To make the most of portability, your replacement blender should give you two to three cup options, an equal number of accompanying lids, varying lid types, and the option to purchase accessories separately should you wish to expand your appurtenances.
The Bella Rocket, in this regard, is an excellent option as it contains one of the most inclusive accessory packages available.
When looking at drinking cups, don't forget to check the size and design to see if they'll be easy to carry, put in a bag, or place in your car's cup holder. When blending cups with a larger capacity come with a handle, it becomes so much easier to carry them. The NutriBullet offers one such option with its party mug and its innovations like this that have kept this classic blender in the running for so long.
Warranty
Most bullet blenders of good quality come with a warranty. Without a warranty, the value of your bullet blender drastically decreases.
Thus you should always check the warranty for motor and blade replacement or repair.
Advantages Of Having A Quality Blender That Is Not A NutriBullet
A good alternative can be advantageous in multiple ways if you find this popular blender lacking for the following reasons.
Higher Wattage
Although the NutriBullet has a respectable motor with 600 watts, you might want something stronger for heavy-duty pureeing. For this purpose, you can look for bullet blenders that now come with 900-watt motors or higher.
These are a good way to replace a full-size blender with a convenient and compact bullet blender. Not to mention it also saves you money by using one appliance for multiple purposes.
Better Quality Containers
The blending jar of NutriBullet is BPA-free but not plastic-free. This is a downside for many environmentally conscious users. Plastic containers can also be harmful to those with more sensitive health requirements.
Plenty of alternatives in the market will give plastic-free options like glass to choose from if this is an issue.
Heat Resistance
The NutriBullet cannot blend hot foods. This means you can't make sauces, soups, jams, etc. with ease. Alternatives these days can give you heat resistance along with the effective bullet blender design.
Control Setting
The NutriBullet only comes with one control setting. This is a disadvantage for those looking for versatility in their blends. More expensive alternatives in the market can give you some intensive and diverse control settings for different needs.
What Features Does A NutriBullet Alternative Blender Need?
Any effective alternative should come with these basic features on the technical front.
Motor
The motor of your bullet blender will tell you how much power it can deliver. That is, how well it can completely blend food ingredients.
Although a higher wattage motor is more powerful, it doesn't always tell you about its strength. Some bullet blenders will have a lower wattage but function decently because they only have one setting with full power. Others have a high wattage and make use of it for different pressure settings.
For regular use like smoothie making, you don't need the heaviest motor you can find.
Speed
The main advantage of bullet blenders is their speed. The speed is what allows them to give you completely blended and chunk-free smoothies. A good alternative should be able to deliver on speed to blend even the toughest ingredients.
Read More: Best Vitamix alternative
Accessories
Depending on your purpose, you may need accessories like blending cups with sealing lids. The different sizes of the cups is also a factor to consider. Additionally, check what kind of cups are compatible with the blender and if you can purchase them separately.
Blades
Blades will determine the consistencies of the blends you get. They will also determine whether you can grind dry foods or chop soft and hard foods. Some bullet blenders have multiple blade options, but most only come with one set.
In Summary
NutriBullet blenders are innovative blenders that have been in the market for years. Although they are still a great option, newer models can cater to your needs more effectively.
With all these factors in mind, you can pick out any alternative that's perfectly optimized to your requirements!
NutriBullet Alternative: Final Thoughts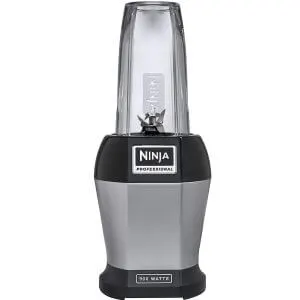 Although NutriBullet remains one of the most popular personal blender models ever, the brand now faces some serious competition from other similar blenders.
Among today's choices for suitable alternatives, the BL456 comes out as the best overall alternative. With its superior motor power, strong performance, and similar price point, this Ninja model is a popular contender among personal blenders.
Your best NutriBullet alternative on a budget is the Bella Rocket which excels in efficiency and affordability. Its versatile performance and compact design make it a useful device to have for on-the-go smoothies.
Another excellent choice for smoothie drinkers on-the-go, the Oster MyBlend is one of the easiest to operate machines and offers decent value for its price. This simple blender delivers on all fronts of speed, user-friendliness, space efficiency, and portability making it an acceptable yet way more affordable NutriBullet alternative.