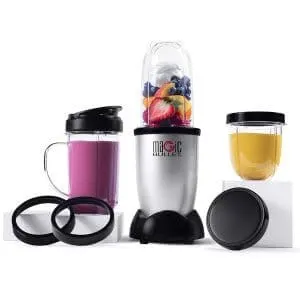 If you take personal blenders, then the Magic Bullet blender is a trendsetter in this category. Made famous by numerous infomercials, this grand daddy of mini blenders has managed to hold its own in the ever-growing market of personal blenders.
Primarily designed as a blender for preparing smoothies, Magic Bullet can do quite a bit more than just that. It's an excellent machine for handling soft ingredients and leafy greens, though it might struggle somewhat with tougher or frozen ingredients. Precutting tougher ingredients before placing them in the cup can help.
You can easily put it to the test to make smoothies, frozen drinks, crushing ice, pureeing fruits, mixing batters, chopping fresh herbs, whipping cream and even grinding coffee. Like I said before, it comes off as a stellar performer when handling softer ingredients but you could probably look at some other blenders if you tend to work with tougher ingredients more.
Magic Bullet Review: Overview
A compact yet effective blender, Magic Bullet comes with an easily operable, simple design that anyone can use conveniently. Designed for personal use and not necessarily batch making, this small blender ensures that you get your fill of delicious smoothies every time you want to have one.
Read More: NutriBullet Vs Magic Bullet Vs Ninja: Ultimate Comparison
Operation
Magic Bullet is an easy-to-use blender that comes without any of the bells and whistles associated with other blender models. Instead, the manufacturers have kept things simple by keeping this appliance free of any buttons or dials.
All you have to do to work your blender is to put the ingredients into the cup, screw the blade on, and then screw it into the base. To start blending, simply press the cup down.
If you go by the manual, you'll see that the manufacturers outline three additional operating techniques. Alongside regular blending, you can also pulse, shake, and tap your Magic Bullet.
Read More: The best bullet blenders on the market
Pulse ingredients by pushing the cup down on the base and releasing it quickly. Use this function for chopping up ingredients or getting rid of any remaining chunks in smoothies.
The "shake" technique requires simply shaking the cup while the blade assembly is on to move ingredients around and ensure that everything reaches the blade.
To "tap", lift the cup out of the base and tap against the counter to dislodge any ingredients that may be stuck on the sides of the container. Do so gently since the cup is made of plastic and may crack if handled too harshly.
---
Parts and Functions
The standard 11-piece Magic Bullet comes with one cross blade used for typical blending functions such as preparing smoothies and chopping ingredients. The 4-pronged, stainless-steel blade is also suitable for pureeing, grinding meats, and shaving ice.
If you're looking for more functions, then a slightly larger 15-piece set comes with an additional flat blade that lets you grind and chop dry ingredients. You can easily process coffee beans, dried fruit, and nuts with this option. The flat blade has two stainless-steel prongs making it useful for whipping cream or butter as well.
Also included with the purchase are 3 cups. There is a short, 12-ounce cup, a tall 18-ounce cup and a party mug also at 18 ounces which comes with a handle for easy holding.
Related Articles:
Given the relatively small cup capacities, it's not possible to make multiple servings at once, but you can make different smoothies and store them in each of the cups for later.
There are also two shaker/steamer tops that can be used to sprinkle either finely ground spices through the top with the smaller holes or to shake coarser ingredients through the top with the larger holes. You can also use the top with the larger holes to steam foods in the microwave.
Two resealable lids and one flip-top to-go lid are also included. The resealable options work well to store your smoothies in the refrigerator should you make them in advance. And you can also use them to cover your smoothie if you want to carry it with you in a backpack.
The flip-top to-go lid is great for drinking straight out of the cup.
---
Features
Magic Bullet comes powered with a 200-watt motor which is adequate for preparing purees and smoothies. But it will fall short for anything that requires more power than that.
Being a smaller motor also presents the possibility of this bullet blender overheating quickly. To avoid this just make sure to not overload it.
Read More: Magic Bullet Not Working – 7 Simple Blender Fixes
There is a 4-foot long cord with this machine that allows you to place it almost anywhere on your kitchen counter comfortably.
Safety considerations for Magic Bullet are fairly standard where manufacturers warn you to never get the base or the power cord wet. Also, make sure to never touch any moving parts and avoid running the motor for more than one minute at a time.
Another standard feature is the 1-year limited warranty that covers machine malfunctions but not user wear and tear. Should you need any parts to be replaced, you will have to cover shipping charges for those.
Read More: Best blender for college students
Clean-up
Cleaning up Magic Bullet after use is just as easy as operating the unit. Since all parts except the power base are dishwasher safe, place used parts in the dishwasher.
It is recommended, however, to give cups and blades a good rinse to remove any residue stuck on them. If you clean the blade by hand, you can also improve its longevity.
The power base should only be cleaned by wiping down with a damp cloth or paper towel.
Read More: Cuisinart CPB-300 Vs Magic Bullet: Which is better?
Magic Bullet Review: Final Thoughts
Magic Bullet offers an excellent option to people looking for a cost-effective blender with a small footprint. The very reasonable price tag and small dimensions of this unit offer good value for the money, making it instantly suitable for people with smaller kitchens, students living in dorms, or busy bees always on the go.
Anyone looking for a simple machine to assist with healthy eating practices will also benefit from Magic Bullet as will people new to blending who don't want to make a considerable investment.
A winner for making customized, individual recipes, Magic Bullet makes blending easy with its cup system for storage and carrying. Its dishwasher-safe attachments make cleaning a breeze and multiple functions let you do everything you need to do on a budget.
Related Articles: