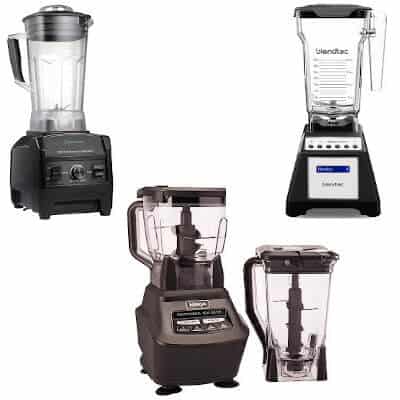 Vitamix is a great company. They make some of the best blenders you can buy. Not only for your kitchen at home, but also for the industrial kitchen at your restaurant. But what about a Vitamix alternative? While it is hard to dispute the quality of a Vitamix blender, they are simply too expensive.
Today, I have put together a list of the three top Vitamix alternatives. We have a Blendtec, a Cleanblend, and a Ninja. All three of these machines come with fabulous features, they all work incredibly well, and they are all drastically more affordable than most Vitamix machines.
These are professional blenders. You can also call them food processors, ice crushers, smoothie makers – whatever you want. Each machine gives its own unique performance to match your needs in the kitchen, crushing up ice, mixing up smoothies, you name it. If you spend a lot of time in the kitchen, you cannot afford to have an inferior blender.
Let's look at the best options on the market right now that are Vitamix alternatives.
Top Rated Vitamix Alternative Of 2020
---
Blendtec Total Classic Original Blender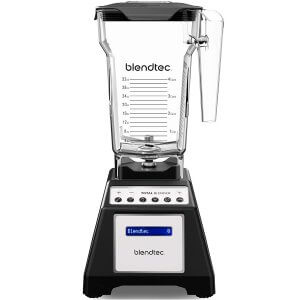 This is the big momma unit. The Blendtec Total Classic Original Blender is a powerful unit. In fact, it may even rival some of the favorite Vitamix models. It comes with a massive 75-ounce container, blades that are super tough, 10 variable speeds, 6 preprogrammed blending cycles and a very easy user interface.
Power & Toughness
Blendtec is built to provide maximum toughness in the kitchen. This unit is so incredibly powerful that it can warm a cold meal or heat up a cold drink in a matter of minutes, like a coffee that was left sitting on the counter. This is done with superior blade friction heat.
And while warming things with friction is not the main purpose of a blender, it is nice to know how strong the blades are. The blades are also stainless -steel forged, 80% thicker than other blades, and come built with specialty wings that make unbelievably smooth blends with anything from fruit to meat.
A Simple Machine
At its core, the Blendtec Total Classic Original Blender is a simple machine. It is designed to do one job and one job only: to blend, shake, jostle, and crush. It even has a pulse mode.
The 75-ounce container is enough to make beverages for at least four people. With 10 manual speed controls, you determine the consistency and thickness of what you are blending. There are also six preprogrammed cycles that allow you to save your settings. Literally every feature is designed to blend faster and better, saving you time and hassle in the kitchen.
---
Cleanblend Commercial Blender
The Cleanblend Commercial Blender is a great budget alternative to a Vitamix machine. This is a 9-in-1 unit thar can be used to replace several different countertop appliances.
The stainless-steel 8-blade system is food grade, the 64-ounce container is BPA free, it has variable speed controls, and it has a pulse feature. Not to mention, I think this is the best looking out of the three Vitamix alternatives.
Superior Performance
This blender is heavy-duty. Even at such an affordable price, the supercharged motor inside this blender is strong enough to crush ice into snow in a matter of seconds. It blends, it chops, it heats, and boy does it liquefy.
With the power of the Cleanblend Commercial Blender, you can grind coffee beans, make the ultimate iced margarita, or even turn the power way down to make a super chunky soup. With the large 64-oz container, there is enough space to handle the largest projects, like blending fruit smoothies for all your friends in one go.
Easy to Eat
It has never been easier to eat healthy than with this awesome blender. It is designed to do everything in one machine, turning into the focal point of your healthy kitchen. Every meal is going to start and end using the Cleanblend Commercial Blender.
If you have an interest in making your own healthy homemade ice cream, this blender can do it. If you need a meat grinder, a food processor, or even a milk frother, forget about buying extra appliances. Everything is easy with this high-tech machine.
---
Ninja BL770 Mega Kitchen System
The Ninja BL770 Mega Kitchen System is not just a blender, it is an entire system designed to drastically improve your time in the kitchen. Ninja really thought of everything when making the BL770.
And considering this is the most affordable option on the list, it is surprising that it comes with the most features and accessories. In fact, this is actually my favorite machine.
Mega System
This system comes with everything. The main crushing pitcher has a 72-ounce capacity, the food processor bowl has an 8-cup capacity, and the twin Nutri Ninja cups each come with a 16-ounce capacity and have special to-go lids that make them great for portable travel cups.
Each piece of the system does something special. The main pitcher is fabulous at making drinks and smoothies to feed the whole family, while the food processor bowl is the ideal solution for chopping and mixing cookie batter, pancake mix, and up to two pounds of raw dough.
The Best Results
If you want the best results at the most affordable price, you want the Nutri Ninja. Even though this is the cheapest model on the list, I feel like it offers the most versatility. It may not have the strongest motor, and it may not be industrial grade, but if you are only working from home in your kitchen do you really need all those extra features?
Besides, the Nutri Ninja is packed with features, such as the reversible slicing, the 5 manual programs, and the ability to control your speed while blending.
---
Best Vitamix Alternative: A Complete Buying Guide
Okay, we all know Vitamix offers the toughest, most expensive, and arguably most powerful machines. But the Vitamix alternatives do stack up in a lot of ways. And in some cases, the only thing the Vitamix does better is to offer a stronger and more durable motor.
For homemakers and frozen drink lovers, who cares about industrial-strength machines? You just want to make yummy drinks and process your foods. All of these Vitamix alternatives are perfect for everyday needs. Plus, they are not going to break your bank account. Let's take a look at what you can find in a Vitamix alternative blender.
The Fancy Features
All blenders blend, but some blenders blend in style. When purchasing your next machine, what kind of fancy features are you interested in? Do you want the machine to look sleek and modern in your kitchen, do you want it to have a bright LED touch screen display? or maybe you just want it to be smart with a lot of variable speeds and pre-programmable options.
It's dependant on your needs. Just keep in mind that the more advanced features you want in your blender, the more money you are going to dish out. One thing you can expect to find without breaking the bank is accessories. Any respectable blender is going to come with at least some accessories.
Blending Power
Power is good in a blender. In fact, power is one of the most important things in a blender. Power is what makes the Vitamix machines so expensive and such high quality. The last thing you want is a blender that chokes on frozen strawberries. To me, that is just embarrassing.
Some units are indeed stronger and more powerful than others, creating intense vortexes inside of their containers with specially designed blades, turning frozen strawberries into a beautiful pink mush in a matter of seconds. Always check the power of the blender before you buy it.
Mind you, if you are only making ice cream, you may not need to worry about having a powerful motor.
A Respected Name
Because we are talking about Vitamix alternatives, and because Vitamix is a respected name, the alternative blender you choose must also be a respected name. For example, Blendtec is infamous with quality and is even the preferred blender provider of Baskin Robbins. That is the type of brand assurance you want when shopping.
Do you know why nameless brands are nameless? Probably because the quality just isn't there. Stick with one of my recommendations to get a trusted name in kitchen appliances. Respected names offer warranties, customer service, and they generally build the strongest machines.
Best Vitamix Alternative: Final Thoughts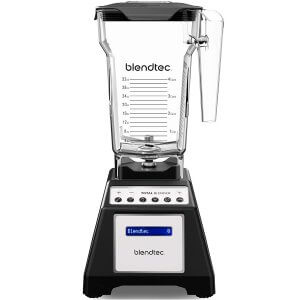 These are three of my favorite blenders. Vitamix alternatives or not, these are quality blenders. Let me breakdown my final thoughts on which one is the best.
The Blendtec is the obvious choice for power and reliability. This machine is double the price of the others, but it is also double the quality. There is a reason Blendtec blenders are used by companies like Baskin Robbins and Dunkin' Donuts. The Blendtec Total Classic Original Blender is strong and tough to last you the life of your kitchen.
With the best out of the way, now it is time for the best in the budget world. While the Cleanblend Commercial Blender is a commendable second, I love the Ninja Mega Kitchen System.
At such an affordable price, the Nutri Ninja really packs a huge punch. The motor is strong, it comes with more accessories than you probably need, the crushing pitcher is huge, the food processor bowl works wonders with dough, and it comes with lots of smart features. For roughly the price of a pair of used sneakers, you can't go wrong with Mega Kitchen System.