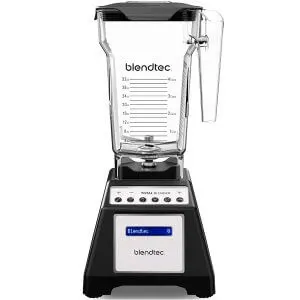 Powerful 1560W Motor
Large Capacity
---
Vitamix is a great company. They make some of the best blenders you can buy. Not only for your kitchen at home, but also for the industrial kitchen at your restaurant. But what about a Vitamix alternative? While it is hard to dispute the quality of a Vitamix blender, they are simply too expensive.
Today, I have put together a list of the three best Vitamix alternatives. We have a Blendtec, a Cleanblend, and a Ninja. All three of these machines come with fabulous features, they all work incredibly well, and they are all drastically more affordable than most Vitamix machines.
These are professional blenders. You can also call them food processors, ice crushers, smoothie makers – whatever you want. Each machine gives its own unique performance to match your needs in the kitchen, crushing up ice, mixing up smoothies, you name it. If you spend a lot of time in the kitchen, you cannot afford to have an inferior blender.
Let's look at the best options on the market right now that are Vitamix alternatives.
Top Rated Vitamix Alternative Of 2021
---
Blendtec Total Classic Original Blender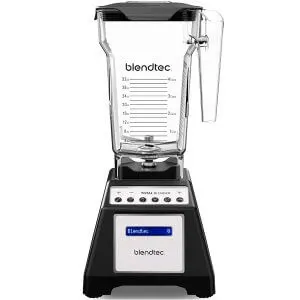 This is the big momma unit. The Blendtec Total Classic Original Blender is a powerful unit. In fact, it may even rival some of the favorite Vitamix models. It comes with a massive 75-ounce container, blades that are super tough, 10 variable speeds, 6 preprogrammed blending cycles and a very easy user interface.
Power & Toughness
Blendtec is built to provide maximum toughness in the kitchen. This unit is so incredibly powerful that it can warm a cold meal or heat up a cold drink in a matter of minutes, like a coffee that was left sitting on the counter. This is done with superior blade friction heat.
And while warming things with friction is not the main purpose of a blender, it is nice to know how strong the blades are. The blades are also stainless -steel forged, 80% thicker than other blades, and come built with specialty wings that make unbelievably smooth blends with anything from fruit to meat.
Read More: Full Blendtec Total Classic blender review
A Simple Machine
At its core, the Blendtec Total Classic Original Blender is a simple machine. It is designed to do one job and one job only: to blend, shake, jostle, and crush. It even has a pulse mode.
The 75-ounce container is enough to make beverages for at least four people. With 10 manual speed controls, you determine the consistency and thickness of what you are blending. There are also six preprogrammed cycles that allow you to save your settings. Literally every feature is designed to blend faster and better, saving you time and hassle in the kitchen.
---
Cleanblend Commercial Blender
The Cleanblend Commercial Blender is a great budget alternative to a Vitamix machine. This is a 9-in-1 unit thar can be used to replace several different countertop appliances.
The stainless-steel 8-blade system is food grade, the 64-ounce container is BPA free, it has variable speed controls, and it has a pulse feature. Not to mention, I think this is the best looking out of the three Vitamix alternatives.
Superior Performance
This blender is heavy-duty. Even at such an affordable price, the supercharged motor inside this blender is strong enough to crush ice into snow in a matter of seconds. It blends, it chops, it heats, and boy does it liquefy.
With the power of the Cleanblend Commercial Blender, you can grind coffee beans, make the ultimate iced margarita, or even turn the power way down to make a super chunky soup. With the large 64-oz container, there is enough space to handle the largest projects, like blending fruit smoothies for all your friends in one go.
Read More: Full Cleanblend blender review
Easy to Eat
It has never been easier to eat healthy than with this awesome blender. It is designed to do everything in one machine, turning into the focal point of your healthy kitchen. Every meal is going to start and end using the Cleanblend Commercial Blender.
If you have an interest in making your own healthy homemade ice cream, this blender can do it. If you need a meat grinder, a food processor, or even a milk frother, forget about buying extra appliances. Everything is easy with this high-tech machine.
---
Ninja BL770 Mega Kitchen System
The Ninja BL770 Mega Kitchen System is not just a blender, it is an entire system designed to drastically improve your time in the kitchen. Ninja really thought of everything when making the BL770.
And considering this is the most affordable option on the list, it is surprising that it comes with the most features and accessories. In fact, this is actually my favorite machine.
Mega System
This system comes with everything. The main crushing pitcher has a 72-ounce capacity, the food processor bowl has an 8-cup capacity, and the twin Nutri Ninja cups each come with a 16-ounce capacity and have special to-go lids that make them great for portable travel cups.
Each piece of the system does something special. The main pitcher is fabulous at making drinks and smoothies to feed the whole family, while the food processor bowl is the ideal solution for chopping and mixing cookie batter, pancake mix, and up to two pounds of raw dough.
Read More: Full Ninja BL770 Mega Kitchen System review
The Best Results
If you want the best results at the most affordable price, you want the Nutri Ninja. Even though this is the cheapest model on the list, I feel like it offers the most versatility. It may not have the strongest motor, and it may not be industrial grade, but if you are only working from home in your kitchen do you really need all those extra features?
Besides, the Nutri Ninja is packed with features, such as reversible slicing, 5 manual programs, and the ability to control your speed while blending.
---
Best Vitamix Alternative: A Complete Buying Guide
Okay, we all know Vitamix offers the toughest, most expensive, and arguably most powerful machines. But the Vitamix alternatives do stack up in a lot of ways. And in some cases, the only thing the Vitamix does better is to offer a stronger and more durable motor.
For homemakers and frozen drink lovers, who cares about industrial-strength machines? You just want to make yummy drinks and process your foods. All of these Vitamix alternatives are perfect for everyday needs. Plus, they are not going to break your bank account. Let's take a look at what you can find in a Vitamix alternative blender.
Things to Keep in Mind Before Buying a Blender
Hesitant to decide which variant of the blender to go for? Look for a blender that is easier to clean, convenient, compact, and has a powerful engine. The market is quite broad for blenders. Once you understand what you need in a blender, your blending requirements, and your budget, ordering the best-suited blender is just a few details away.
When I think of a powerful motor that can fit all my blending needs, the first name that pops into my head is Vitamix. But what about the alternatives? What features do they need to compete?
The Fancy Features
All blenders blend, but some blenders blend in style. When purchasing your next machine, what kind of fancy features are you interested in? Do you want the machine to look sleek and modern in your kitchen, do you want it to have a bright LED touch screen display? or maybe you just want it to be smart with a lot of variable speeds and pre-programmable options.
It's dependant on your needs. Just keep in mind that the more advanced features you want in your blender, the more money you are going to dish out. One thing you can expect to find without breaking the bank is accessories. Any respectable blender is going to come with at least some accessories.
Blending Power
Power is good in a blender. In fact, power is one of the most important things in a blender. Power is what makes the Vitamix machines so expensive and such high quality. The last thing you want is a blender that chokes on frozen strawberries. To me, that is just embarrassing.
Some units are indeed stronger and more powerful than others, creating intense vortexes inside of their containers with specially designed blades, turning frozen strawberries into a beautiful pink mush in a matter of seconds. Always check the power of the blender before you buy it.
Mind you, if you are only making ice cream, you may not need to worry about having a powerful motor.
A Respected Name
Because we are talking about Vitamix alternatives, and because Vitamix is a respected name, the alternative blender you choose must also be a respected name. For example, Blendtec is infamous with quality and is even the preferred blender provider of Baskin Robbins. That is the type of brand assurance you want when shopping.
Do you know why nameless brands are nameless? Probably because the quality just isn't there. Stick with one of my recommendations to get a trusted name in kitchen appliances. Respected names offer warranties, customer service, and they generally build the strongest machines.
Performance
Vitamix products can run at 2.2 horsepower, and it sports a 1500W motor, which is quite powerful compared to traditional 300 to 500W motor blenders. It has the best blending power. As the market is huge, alternatives work efficiently as well.
Blade
When compared to a food processor blade, Vitamix machines have blades to blend liquids, which pulverizes the ingredients for a smooth blend. Look for a product that has sharp stainless steel blades which is multi-functional to blend various types of food. It provides longevity to the blender.
Budget and Warranty
Vitamix blenders are expensive, and it's a heavy-duty product. The basic blender is around $250 dollars and up to $500 dollars for an advanced version. An alternative will cost up to $200 dollars, including accessories for an advanced model. Sometimes the warranty of these products goes up to 10 years.
Heating Function
Most blenders tend to heat up while in use, making the blender come to a halt until it cools down. Make sure that the blender has thick stainless steel jars or glass jars to regularize the temperature. Blending ingredients at cooler temperatures preserves the nutrition, color, and texture of the food.
Maintenance
Cleaning the containers and jars could be very messy if the blades are not removable or if it can't clean itself. Usually, quality blenders self-clean the blades by blending soap water for about a minute. Being able to remove the blade will open doors to experiment with different types of blades that could be bought as an accessory. Look for a blender that has a self-cleaning button as it is essential.
High-Grade Material
Good quality blades and jars are usually made of aircraft-grade stainless steel. It is made to handle complex food items like nuts, coleslaw, and smoothies, etc. The body of the grinder is usually made of Tritan (high-grade plastic) and glass.
If you have a Vitamix alternative, you can alternatively order accessories to amp up the existing machine. Here's a list of few accessories you could check out.
Tamper Lid
A tamper lid allows you to add food to the running blender without opening the lid or switching off the machine. It helps to make thick pastes and mixtures in less than half the time a traditional blender might take. The lid is always secure even while scraping down the sides of the jar.
Motor Cooler
A traditional motor gets heated up pretty easily, it gets more heated up in summers and on hot days. A motor cooler will help the blender to maintain a low temperature. Food that is processed in low temperatures maintains the nutrition of the food.
Soundproofing
Blenders get loud. It gets irritating when you have to process large quantities of food. Soundproofing your blender could reduce the noise by 30 decibels. Though adding soundproof foam to the motor is a tedious job and will require you to open the blender to find the areas that could be ventilated and fill up the spots. By doing so, the blender absorbs shock waves and vibrations to reduce the overall loudness of the motor.
Traction Pads
This will help you keep the blender in place. It absorbs vibrations and wastewater produced by the running motor. It keeps the blender dry and odor-free. It comes in vivid colors and will also help you keep your kitchen tidy.
Silicone Spatula
These spatulas are my go-to pick to take out every last drop of the food from the blender. It gently glides into the jar and rouses the blended mixture to transfer the contents into your desired container. Silicon stays with you for long. It can take extreme temperatures. It is easy to maintain and clean.
Read More: What is the best Vitamix spatula?
Advantages Of Having A Quality Blender That Is Not A Vitamix
The word quality has a way of speaking for itself. But what exactly has the quality to do with a blender which looks like a simple machine. We were progressing towards having better things that add value to our routine. Going to supermarkets or nearby stores to buy packaged food is an alternative to save time and effort. However, in comparison, this method turns out to be costly and unhealthy.
When I invested in purchasing a quality blender, it not only saved my time, money, and effort, it also turned me into a food enthusiast. I blend dough, batter, dry powder, smoothies, and soups. To cook your meal from scratch helps you eat healthy as it's fresher than any other food item out there.
A few of the advantages of owning a good Vitamix alternative are:
Nutritious Food
A good blender seals in the moisture, vitamins, and all the goodness of food. Processing food in lower temperatures can yield fresh blends. By using glass or steel jars, contamination of food is at minimal risk.
Effortless Cooking
Look for products that come in with a handy recipe book, as you'd love experimenting in the kitchen making food just in minutes.
The Restaurant at Home
I often tend to cook my meal at home and have a dessert ordered from outside. But when you own a premium blender, you can make most of the famous blends from smoothies to grinded ice to hummus, dips, and salsa.
Easy to Clean
Cleaning a grinder is tough, especially when you have to make thick blends. Look for a blender that could be detached while cleaning or if it has self-cleaning technology in it.
Less Noise
Most of the time, I skip using a grinder as I have to stand next to it while blending. The noise from the motor could be really aggravating. It causes temporary deafness. Investing in a soundproof accessory is an alternative to this otherwise loud nuisance.
Power Consumption
Voltage fluctuation, flickering, and power supply interruptions are common hindrances and can affect the ability to consume energy, resulting in high power consumption and cost.
Speed Settings
There's a way to blend things in the jar. You always need to start with low speed and have it increased gradually for an even blend. Also, check if you have a pulse speed setting for those quick mixes without making a paste out of the ingredients.
Read More: Best NutriBullet alternative
What Features Does A Vitamix Alternative Blender Need
Here a few features that are important when choosing a Vitamix alternative.
Power Setting
Having various power settings allow you to relax a while as you don't have to manually keep pushing buttons and hold the lid while preparing your dish. A power button secures the lid and controls the speed of the blender.
Capacity
Look for a blender that is less bulky than Vitamix. This saves some room in your kitchen cabinet, and it allows the blender to move around freely. Also, pick a jar that is wider at the bottom as it is easier to clean, and it helps the food items to blend in minimal time.
Food Processing
A food processor shreds and slices the vegetables evenly. It is best used to make a runny dough. Alternatively, a Vitamix blender tends to clump up vegetables and cheese. It leaves a sticky texture on the shredded vegetables for a perfect coleslaw salad.
What Type Of blender Is Suitable For a Vitamix Alternative
There are many different types of blenders, and not all types will make a good Vitamix alternative.
Hand Mixer
If you are just looking to fulfill your breakfast needs to make pancakes, beating eggs, or to make whipped cream. All you need is a hand mixer. You can adjust the speed limit of the blender to mix, blend, and whip. Look for a cone-shaped beater as it is efficient in covering a large surface area in less time.
Portable Blender
It is widely used to make smoothies, shakes, and juices. If you are a fitness enthusiast, you can carry the portable blender with you and blend a fresh drink on the go.
You can even have the drink from the portable blender without having a need to carry a bottle. It takes up to 3 hours to charge the battery, and it comes with a USB port. A powerful portable blender runs with a 1000W motor in it.
Countertop Blender
This appliance has a 500W to 1500W motor in it. It pulverizes through hard nuts, vegetables, and fruits. It is easy to operate and clean. These models are used to make batters, purees, multi-course dinners, and to chop food.
The blades in this model are thicker and stronger that can even crush ice. This blender has a feature called pulse, which has to be manually operated to grate the ingredients without making it into a paste.
If you are looking for a budget product, check if the blender is BPA-free and look for the volume jar and its blending capacity. These blenders are large enough to make a sufficient amount of soups or shakes for your entire family. The compact size of the blender fits just about in any cabinet. You will also get accessories like an emulsion cup and a measurement cup.
Commercial Blender
All you ever need is this blender. They are made of high-quality materials that are environmentally friendly, have higher capacity, comes in different sizes of jars and blades. These blenders are popularly used at both homes and restaurants. It comes with a removable filter cup to add ingredients while blending. They operate automatically and quietly.
These are self-cleaning and easy to maintain. It is commonly used at homes where you have to cook large batches of food, either to store or for a get-together. You don't feel rushed in the mornings to prepare food. The advanced versions have up to 3.8 horsepower, the motors carry up to 3000W power in it, and a whopping 64oz capacity.
These blenders maintain consistent torque and radial cooling fans so that the container stays cool even after using it for a long time. Overall, commercial blenders offer exceptional speed, power, and versatility.
Single-Serve Blender
It is also known as a personal blender. A pro version runs on 900W power, and it instantly breaks down even the toughest ingredients. It basically has two modes of operation. It pulses and twists through modes for blending and grinding to your desired consistency.
If you have a limited kitchen space, a small blender will be an ideal choice for you. They are designed to blend single serve shakes and juices. Also, you can puree small batches of batter, sauces, and dips. If you want a portable, powerful, small, and pocket-friendly blender, go with a single-serve.
Best Vitamix Alternative: Final Thoughts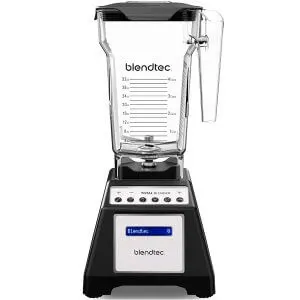 These are three of my favorite blenders. Vitamix alternatives or not, these are quality blenders. Let me breakdown my final thoughts on which one is the best.
The Blendtec is the obvious choice for power and reliability. This machine is double the price of the others, but it is also double the quality. There is a reason Blendtec blenders are used by companies like Baskin Robbins and Dunkin' Donuts. The Blendtec Total Classic Original Blender is strong and tough to last you the life of your kitchen.
With the best out of the way, now it is time for the best in the budget world. While the Cleanblend Commercial Blender is a commendable second, I love the Ninja Mega Kitchen System.
At such an affordable price, the Nutri Ninja really packs a huge punch and is a great alternative to a Vitamix blender. The motor is strong, it comes with more accessories than you probably need, the crushing pitcher is huge, the food processor bowl works wonders with dough, and it comes with lots of smart features. For roughly the price of a pair of used sneakers, you can't go wrong with Mega Kitchen System.