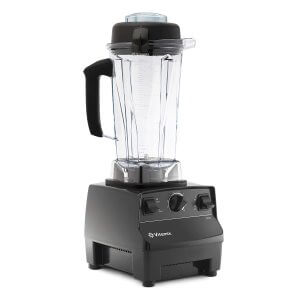 Variable Speed
Easy To Clean
Huge Color Choice
Pre-set Programs
---
Today we are fighting the KitchenAid 5-Speed Diamond Blender against the Vitamix 5200 Blender to find out which one is best. Both these blenders are fantastic, but there are some serious differences you need to consider before purchasing one or the other. However, as you will see in this Kitchenaid blender vs Vitamix 5200 comparison, you can rest assured knowing they are both extremely fantastic products.
The KitchenAid has power, style, and is incredibly affordable. The Vitamix is a typical Vitamix machine, a little more expensive but quite a bit better in terms of quality. However, a lot of this depends on what you need the blender for. Do you need an awesome smoothie blender or something more serious for food processing?
Let's take a look at each unit to better understand their unique functions, and we will do a direct comparison to see which is best for you.
KitchenAid 5-Speed Diamond Blender Review
The KitchenAid 5-Speed Diamond Blender is a fantastic budget unit that will save your life in the kitchen! This is a great blending system at a severely discounted price.
Awesome Blending
This blender knows what it's doing. Its sole job is to blend all your ingredients to make the best smoothie you have ever tasted. It's not much for food processing, but if you need to stir, mix, and liquefy organic ingredients into a delicious salsa, smoothie, or milkshake, this is the best blender for you.
It has a huge 60-oz BPA-free pitcher to mix large batches that can serve the entire family. This blender is great for entertaining friends and guests. It has a unique motor that senses the contents of the container and then blends using the optimal speed to reach the perfect consistency.
Read More: Full Kitchenaid 5-Speed Diamond Blender review
Endless Colors
This blender comes in so many colors it makes me dizzy. Blue steel, crystal blue, hot sauce, watermelon, and even espresso. It's absolutely absurd the number of colors you can purchase the KitchenAid blender in. No matter what kind of style you have going on in your kitchen, this blender can match it. It has over 20 different color schemes to choose from.
---
Vitamix 5200 Blender Review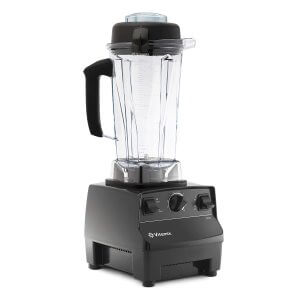 The Vitamix 5200 Blender is a classic Vitamix blender with loads of power. It comes included with variable speed controls, it has a durable 64-oz container for making medium and large batches, it can turn hot soup into cold soup, and it cleans itself.
Masterful Vitamix
Vitamix machines are master blenders. There is no company that makes a better machine than this. The 5200 comes with hardened steel blades, a metal drive system, and a cool-running motor. These three features alone translate to perfect blends, blindingly fast speeds, and a motor that lasts forever.
This is one of the only blenders that can efficiently clean itself. With a splash of soap and water, the Vitamix 5200 runs its own cleaning process that actually leaves it clean, not streaked, and not stuck with leftover food.
Read More: Full Vitamix 5200 review
A Blender for Life
If you want to invest money in a blender you will use for the rest of your life, you need a Vitamix. Yes, it's way more money than the other blenders. But just look at the verified reviews of satisfied customers. This blender lasts a very long time. It comes with a 7-year full warranty. It's also very easy to fix and to purchase replacement parts if several years down the road something does malfunction. And by several years, I mean maybe 10 years later.
---
KitchenAid Blender Vs Vitamix: Main Product Differences
These are two seriously contrasting blenders. They are both countertop blenders that you can use for making delicious smoothies, iced beverages, and frozen desserts, but they are majorly different.
Price & Quality
The biggest difference is definitely the price and quality. The Vitamix is infinitely more expensive than the KitchenAid. The Vitamix is also infinitely more robust than the KitchenAid. It's built to be stronger, to last longer, and do a better job of blending.
However, the features are different too. The KitchenAid has preset options and a pulse mode, but the Vitamix only has a 10-speed control system with a pulse mode. With the KitchenAid, you can choose to stir, mix, crush ice, pulse, or liquify.
The Vitamix 5200 does all this too, but the KitchenAid Diamond blender has the ease of just pushing a button.
Size & Motor
The Vitamix is definitely a little bigger. It comes with a larger pitcher for mixing bigger batches, but it also takes up more room on your counter. Its pitcher is only 4 ounces larger than that of the KitchenAid. But still, it is a beefier unit. This is in part due to its larger and stronger motor.
However, the KitchenAid does use its own unique smart motor that claims to sense the contents of the blender container and then maintain the best speed through the entire blend to reach an ideal consistency. The Vitamix does not have this feature.
Read More: What is the best Vitamix blender?
Colors
This is not usually something we talk about with blenders, but it seems important here. The KitchenAid has more variable colors than any other blender I have ever seen. You can purchase it in one of over 20 different unique color schemes. The Vitamix 5200 only comes available in three rather boring colors.
Read More: What is the best hot sauce blender?
KitchenAid Blender Vs Vitamix: Final Thoughts
Picking a winner here is basically impossible. To tell you the truth, these blenders are not even in the same league. The Vitamix 5200 is vastly superior to the KitchenAid Diamond Blender. It's not even a fair battle. The Vitamix is several hundred dollars more expensive, it has a better motor, it can clean itself, it will last longer, it's more durable, and so on and so on.
However, the KitchenAid Diamond Blender is still a great piece of equipment. It blends great smoothies, it comes in more colors than make any possible sense, including over 6 different variations of red. It can stir, chop, and liquefy any ingredients. Plus, it comes with a 5-year limited warranty.
Basically, the Vitamix wins in terms of sheer quality. It is a premium blender, after all. But the KitchenAid wins for the best budget blender. If you're not ready to spend hundreds of dollars on a fancy blender, the KitchenAid is definitely better for you.
Read More: Why is my Kitchenaid Blender Leaking? 3 Reasons & Fixes