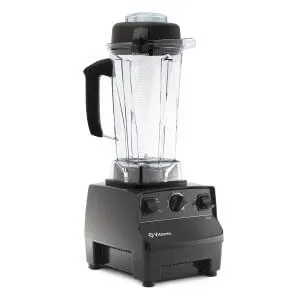 Most Popular Model
Large Capacity
Simple Operation
Compact Size
---
Vitamix blenders are in the elite tier of home appliances – the cream of the crop in every sense of the word. With the brand consistently putting out one masterpiece after another, the prospect of choosing one Vitamix model over the other can be quite challenging. To help make things easier, I made this handy Vitamix E310 vs 5200 guide for you.
So, on the one hand, we have the Vitamix 5200. Saying that this blender packs a punch would be a grave understatement. Not only does it have a motor that can make it run like a power tool, but it also comes equipped with aircraft-grade stainless steel blades. These blades can spin fast enough to heat ingredients in a matter of minutes.
On the other hand, the Vitamix E310 offers users a compact version of the powerful home appliance they know and love. Its main appeal hinges on its use of a 48 oz. container, instead of the 64oz., that has become a trademark for Vitamix.
Vitamix E310 Vs 5200: Comparison
Vitamix E310
PROS
Easily Stored
Handy Self-Cleaning Feature
Ten Speed Blade Setting
CONS
Shorter warranty period
Lower Capacity
---
Vitamix E310 Review
The Vitamix E310 symbolizes a bold move on the part of Vitamix as it breaks away from the traditional bulky design associated with the brand. While it addresses the concern of some users regarding more storage-friendly devices, the design is ultimately a double-edged sword as it also drastically reduces the blender's capacity significantly.
Complete Control Over Speed Settings
One of the best things about the E310 is that it sports a broad range of speed settings that you can fully control. Are you looking to make some cold treats? With its slower speeds, you should have no trouble churning homemade ice cream. Conversely, if you are in the mood for a steaming bowl of your favorite soup, all you need to do is turn the dial on the E310.
It is also worth noting that the E310 has maintained the pulse feature. This gives you an extra layer of control over how you want to process your food, something that comes in handy when working ingredients for nuanced recipes like hummus.
Self-Cleaning Mode
Whether you are making a salad, a smoothie, or a bowl of soup, cleaning up is always the worst part. Luckily, Vitamix added a self-cleaning mode for this unit to make things easier. Just put in some soap, water and wait for the E310 to clean up your mess.
---
Vitamix 5200 Review
The Vitamix 5200 blender is a classic blender. It is one of Vitamix's oldest designs yet it continues to enjoy constant streams of popularity and has a steady following. The term 'legacy model' certainly applies here. Needless to say, this model is characterized by durability, longevity, and raw power.
Stellar Steel Blades
As any 5200 users would tell you, these blades can cut through anything. Despite the daily punishment it endures, these blades never wear out. They are durability made in material form. They do not crack from extreme temperatures, nor do they rust or dull.
Unlimited Power
In addition to the 5200's blades, another secret to its success is the powerful 2 horsepower motor it has under the hood. This is what lets you push the blade speeds to level 10. This level of power, combined with the sharpness and precision of the steel blades, is what makes the 5200 such a robust home appliance. You can put any ingredient you want into the container and rest easy knowing that your blender will have no trouble processing it to the desired consistency.
Similar to the blades, the 5200's motor is built to be used regularly. It is sturdy enough to outlast its 7-year period.
---
Vitamix E310 Vs 5200: Main Differences
In terms of similarities, there are a couple of noteworthy ones that need to be presented here. For instance, they both have the same 2 horsepower motor. In addition to that, they also offer you an adjustable 10-speed setting along with the self-cleaning and pulse features for optimal control and convenience. However, this is where the similarities end.
Robust Vs Compact Design
The differences between these models stem primarily from their containers. While the Vitamix E310 comes with a 48oz. container, the Vitamix 5200 utilizes a 64oz. container. It all comes down to your priorities and what your plans are for your Vitamix. The former is perfect for medium-sized batches of food while the latter is perfect for preparing something for the whole family.
Naturally, the Vitamix e310 is lighter compared to the Vitamix 5200 blender. If you are looking for something lightweight and easy to move, then the E310 is perfect. However, if you plan to your blender a staple in your kitchen, then the 5200 would have no trouble fitting in.
Warranty Period
Since you will probably be using your blender a lot, the matter of warranty on these models becomes a crucial issue. In this regard, the difference between the blenders is huge. To be more specific, the E310 only has a 5-year coverage while the 5200 comes with the typical Vitamix coverage of 7 years.
Price
As expected, the 5200 is more expensive than the E310. After all, the E310 is the smaller of the two and comes with a shorter warranty period.
Vitamix E310 Vs 5200: Final Thoughts
Vitamix is known to produce powerful and reliable blenders. Both of these models certainly fit the bill. However, when choosing between these two, you also need to take a good look at your priorities and what you want to get out of them.
The Vitamix E310, for instance, is perfect for those looking for something compact and easy to store yet retains the punch that has come to characterize Vitamix blenders. If that is what you want then the 48oz container would come as a delight for you.
However, if you are looking for the full Vitamix experience, then we highly recommend going with the 5200. It's sturdy, incredibly durable, and versatile nature is what you want out of a blender of this caliber.