Powerful 900W Motor
Convenient & Portable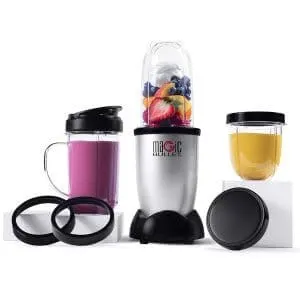 Cheap Price
#1 Selling Blender
---
Today we are talking about the best single serve blenders for smoothies. These blenders are the very best in making a personal drink for you in just a few seconds. We'll be looking at three very special personal blenders, each with its own unique features and unique way of blending.
For people who don't have a lot of time, a large blender can be an absolute hassle. If you live a healthy and active lifestyle, you probably prefer a personal blender to make you a quick smoothie while on the go. A personal smoothie maker means less cleanup, less prep time, and quicker results.
When you chose one of these great single-serve blenders, you will be saving yourself loads of time in the kitchen. It's simply more convenient to have a personal blender for making smoothies rather than a big and clunky countertop blender. And not only can you make personal smoothies, but you can also make enough for you and a friend thanks to extra-large blending cups.
And the best part is they are affordable! All three blenders on the list today come in at under $100. That's a pretty fantastic deal for a blender you'll be using for the next 10 years.
Top Rated Single-Serve Blenders For Smoothies
---
NutriBullet Pro 900 Blender – Best Overall
The NutriBullet Pro 900 Blender is arguably the best personal blender ever. It is a huge leap forward from the original NutriBullet and leagues ahead of the older Magic Bullet. Rather than come standard with 600 watts, the Pro version comes equipped with a massive motor that outputs 900 watts of power.
All that power makes this an extremely strong blender. The Pro has been optimized for premium blending. You can now crush ice, rip apart leafy greens, break down seeds, nuts, and other hard ingredients. You could also make larger smoothies thanks to the much bigger 32-oz cups.
All in all, this is a vastly improved personal blender that is more durable, more reliable, and better at blending smoothies, shakes, and even frozen desserts. It's top of the line. The most powerful, the most options, and the most convenient.
Convenient and Powerful
There are two very important aspects of any personal blender. It needs to be convenient and it needs to be powerful. The whole point in having a small blender to make personal drinks is the convenience factor. No cleanup, no mess, and no frustrating buttons and speed settings. And with the NutriBullet Pro, that's exactly what you get.
Simply fill your blending container with your favorite ingredients, throw in a bit of ice, screw on the powerful blending blades, and then twist the unit into the motor. You get instant blending, no speed settings, no messing around. After about 20 seconds, your blend is finished and your drink is ready. It doesn't get any more convenient than the NutriBullet Pro!
And talk about power. 900 watts is a significant improvement over most other personal blenders. Sure, you can get more expensive NutriBullet blenders that have extra power, but it's basically overkill at that point. There are even a lot of super expensive countertop blenders that only have around 100 additional watts.
What this means is that you have a blender with the strength of a professional countertop unit, only much smaller and designed strictly for your needs.
Read More: Full review of the NutriBullet Pro 900
The Best Nutrient Extraction
One of the major things I love about the NutriBullet Pro is its stainless-steel extractor blades. This is a revolutionary design in blade technology. In simple terms, the blades have been specially built to extract as much of the nutrition as possible from your ingredient. This means that when you add almonds, chia seeds, kale, and even spinach, the blades rip everything apart to release the healthy nutrients.
The blades are also super durable. They can break apart ice easily, they can bite into frozen ingredients, and they can last a very long time. When you activate the blender, these smartly designed blades create a cyclone that sucks all the tough ingredients down into their cutting area. This makes for quicker and more effective blends. It also gives your blends some consistency. You'll never be let down!
---
Magic Bullet Blender – Budget Pick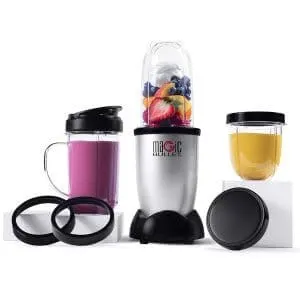 The Magic Bullet Blender Is the original personal blender. It doesn't get any more old school than this. In fact, the Magic Bullet is the amazing personal blender that started it all. Before there was ever a smoothie craze sweeping the nation, there was the Magic Bullet. Of course, that was almost a decade ago now, and to date, the Magic Bullet has sold over 40 million units.
It owes its success to its extreme simplicity. The Magic Bullet blender is tiny, it comes as a complete set so that you don't need any blending tools already in your house. You can effortlessly create your favorite smoothies, snacks, omelets, sauces, and dips – and you can do it in seconds!
For anyone looking to live an active and healthy lifestyle but doesn't know where to start, the Magic Bullet should be step one! It's the perfect motivation for anyone to start living healthy. Anyone can use it, there is nothing complicated about its design, and there is no clean up other than a bit of rinsing. For extra lazy folk, the Magic Bullet is ideal.
Effortless Creation
The Magic Bullet blender allows you to experiment with all your culinary recipes without any hassle. No, it can't mix dough or knead bread, but it can definitely mix salsas, salads, dips, smoothies, milkshakes, and all that kind of stuff. And it can do it super quickly.
If you're interested in experimenting with different styles of sauces for different get-togethers, you can do it in the Magic Bullet blender to save yourself time and hassle. The same can be said for baby food. If you are tired of buying food for your baby, simply mix some carrots and peas into the Magic Bullet and then store the baby food in the refrigerator in the quality resealable containers.
As for smoothies, you can effortlessly create any type of smoothie that your brain can come up with! Pineapple and banana, apple and orange, guava, and almond milk. The options are endless, and there's never any risk of making a huge mess because everything is blended inside the drinking cup. It's just so easy!
The blender even comes with a recipe book to give you some inspirational recipes to start your blending journey. The blender also comes as a 13-piece sent, including the recipe book, the unique blending blades, the high-impact plastic blending cups, and more!
Read More: Full review of the Magic Bullet blender
Blend & Go!
The real bonus to using the Magic Bullet blender is that it does everything super fast. Many of us live active lifestyles and don't have time to be fighting with blenders. The Magic Bullet simplifies things so that you can blend your smoothie and run out the door in just a few seconds. It works fast to save you time and reduce your stress, and this is in part thanks to its super-strong motor and its durable blades.
The blending is also quick thanks to the unique bullet shape of the actual blending cups. You see, when the blades spin, the food is cycled back directly into the cutting area with a cyclonic action. This means that the Magic Bullet preps your food and blends your smoothies in literal seconds, and it does it super quietly!
---
Oster MyBlend Personal Blender
The Oster MyBlend Personal Blender is last but certainly not least. This is an exciting personal blender that you can purchase for a very low price to make all your favorite smoothies. The big difference with this blender is that it really isn't good for anything other than making smoothies. It comes included with a unique sports bottle, which you blend your smoothie directly into – and it doesn't really work for much else.
You can definitely use the bottle for making protein shakes and juices, but if you are looking to do any kind of cooking this is not the blender for you. It's strictly used for making smoothies and is ideal for anyone who wants to take their smoothie with them on the go. This is the definition of an active life blender!
Read More: Best Blender For Protein Shakes – 7 Top Rated Models
This blender also has slightly weaker power, with only a 250-watt motor. And that makes it only ideal for blending softer organic ingredients. You can definitely blend some frozen fruits and vegetables, but you will need to add some liquid. The BPA-free sports bottle is approximately 20 ounces and does fit in most cup holders.
Solid and Stylish
If nothing else, the Oster MyBlend is definitely unique. It's super stylish and will add a splash of color to any kitchen. You can purchase the blender in bright blue or vivid red, and the 20-oz sports bottle will match.
As for the bottle, I personally think it's more ideal for smoothies than some other blending containers. For example, the Magic Bullet has great blending cups, but they are squat and not as comfortable for taking outdoors. The sports bottle that comes with the MyBlend is actually designed to be like an ordinary sports bottle. After you drink your smoothie, you can even use it as a water bottle.
Read More: Full review of the Oster MyBlend personal blender
Smoothie Performance
The MyBlend does offer some pretty great performance. It's designed to make an instant smoothie from your favorite ingredients, and it does this perfectly. Even though it only has a 250-watt motor, the machine will reach 400 watts at peak power to quickly blend banana, strawberry, blueberry, and all kinds of other fruits into the best possible texture for your smoothie.
The blender is also constructed using great components. It has a stable base that won't shake or wobble when you're blending. The blades are stainless steel to crush ice and tear apart leafy greens with ease. And when it comes to durability, the MyBlend definitely delivers. All these parts are going to operate at peak efficiency for the entire life of the blender.
To sum things up, this is one of the better blenders if all you want is a yummy smoothie to take with you to work, to the gym, or just to walk around the house drinking. It's stylish and simple, and it looks great in your kitchen!
---
Best Single Serve Blenders For Smoothies – Buying Guide
In almost every street, you will most likely find a juice shop. However, you cannot expect every juice shop to adapt and know your taste buds. Single-serve blenders are a great innovation if you don't want to rely on those juice shops to satisfy your smoothie cravings.
Single-serve blenders are increasingly becoming popular because of the convenience it offers.
Single-serve blenders are an ideal choice for an individual batch of smoothies. The best feature of these appliances is that they are compact, portable, and travel-friendly. With the help of these handy appliances, you can easily make the fresh and delicious smoothie on the go.
There are so many types of blenders available in the market. It may be daunting for you to find the right blender because every other appliance looks pretty much the same.
Therefore, we have come up with a guide to help you choose the best single serve blenders for smoothies. All your queries related to single-serve blenders will be resolved in this guide.
We hope this will help you in making a better decision.
How To Choose A Single-Serve Blender For Smoothies?
Here are the few steps that you must consider when choosing a single-serve blender for making fresh and delicious smoothies:
Choose the right type of blender
There are different types of blender models available in the market. If you are choosing a single-serve blender, you must know the features and specifications of the same. With the help of a single blender, you can quickly make smoothies of one serving.
A lot of blenders are built with more than one serving feature in mind. However, if you are looking for a travel-friendly and lightweight option that allows you to make one serving, single-serve blenders will be the ideal option for you.
Choosing the perfect model of single-serve blenders
There are various features of single-serve blenders that distinguish them from other types of blenders and juicers. First of all, they are lightweight and super easy-to-clean. You will not face any difficulty in storing and carrying them along with you.
There are various aspects that you must consider when looking for an appropriate model of these personal blenders. You must consider various aspects, such as design, material, power, blending speed, and blades.
Strong blades are one of the most crucial factors that you must consider when choosing the model. A strong blade will be able to crush different types of ingredients, such as frozen fruits and ice.
Some of the blenders are really powerful and can make a smoothie in about twenty to thirty seconds. Many other blenders have different blending options that run for different times.
You must also look at how powerful is the motor of the blender. It will assure smooth and efficient blending, which will provide you better results.
The cheaper models will burn very quickly. Therefore, you must look for a blender that is built with durable and high-quality material.
Single-serve blenders are mostly battery-operated, which makes it convenient to carry it outside the kitchen. You must consider the battery charge level and also check if the blender is USB-chargeable. If it is USB-chargeable, it will be even more convenient for you to carry it everywhere along with you.
What Are The Advantages Of Having A Quality Single-Serve Blender For Smoothies?
There are various advantages of investing in these quality handy appliances. Here are some of the main benefits:
Portable and travel-friendly
One of the most exciting features of the single-serve blenders is that they are super lightweight in nature. You will not face any struggle in carrying them along with you. There will also be no requirement for washing different dishes.
Efficient in nature
Single-serve blenders are efficient and will solve all the purposes. You will not need a separate cup for having your smoothie. You can easily convert the blender into the travel cup by removing it from the base.
It would be a great time-saver as one container, or single blender can be used for almost everything.
Faster blending
Another benefit of single-serve blenders is that they are super-fast and quick at blending. A lot of blenders are super-efficient that they will blend the smoothie in less than a minute. It will be really convenient for you, especially when you are outside and want a quick green smoothie on-the-go.
Take up less space
Single-serve blenders are small in size. They won't take a lot of space. You can easily store them at your place and can even carry them with ease in your bag.
Easy-to-clean
One of the most significant advantages of using single-serve blenders is that they are easier to clean. You won't have to worry about cleaning different parts of the blender. Most of the single-serve blenders are dishwasher safe, which makes it super easier to clean.
What Features Do Single-Serve Blenders For Smoothies Need?
You will have plenty of options to choose from. You can get a single-serve blender for as cheap as $25 and as expensive as $200 as well. Here are some of the features that you must consider when looking for single-serve blenders:
Quality of the blades used in the blender
You must look for blenders that have removable stainless-steel blades. Stainless steel is durable, and it will be perfect for crushing tougher ingredients, including ice. Choosing removable blades will make the process of cleaning much easier for you.
You will be able to remove and separate the blades from the blender and clean it thoroughly using the hands.
Power of the motor
If you want to blend dense vegetables or harsh ingredients, you will probably need a blender with a high-watt and powerful motor. However, if you blend soft foods such as yogurt and banana, a blender with less blending power will be sufficient for you.
Controls
Single-serve blenders come with different control options for better blending control. You will find different controls for pulsing, low, and high-speed blending.
You can adjust it according to the type of ingredient you are blending.
Material
Single-serve blenders have jars made of either plastic or glass. A lot of people prefer plastic jars because they are lightweight and travel-friendly. You don't have to be that careful with plastic jars, unlike you have to be with the glass jars.
The jars made of glass are also heavy and breakable. Therefore, it won't be easy to carry and use. Plastic jars can absorb the odors and will affect the taste of the smoothie. In such a case, you can consider the jars made with BPA-free plastic.
Noise levels
The higher the power of the power, the louder the level of the noise will be. Therefore, you must choose wisely. However, a lot of blenders come with an effective noise shield. Therefore, you will not have to deal with the louder and noisy blenders.
Pulse function
The pulse function in the single-serve blenders is super useful as it will allow you to control the process better. It will help you prevent the over-blending of the ingredients. You can easily start and stop the feature and control the whole blending process.
Lid type
The difference in the types of lids will also affect your choice of the single-serve blenders. A lot of blenders come with a spout. This will make it convenient for you, and you can drink your smoothie directly from the container.
Durability
The motor and the blades are two of the most crucial factors that affect the blender's durability and longevity. When choosing the single-serve blender, you must pay special attention to these two.
If the motor cannot withstand or work at different speed levels, it will not be practical to invest in it. You must look for a blender with a motor that can work effectively and efficiently at different speed settings and can withstand the pressure.
User-friendly
Many single-serve blenders come with simple dials and buttons. All you have to do is press the button or dial to use it or function the blender. However, many blenders also come with automatic and digital controls. You can choose the blender according to your convenience.
What Type Of Single-Serve Blender Is Suitable For Smoothies?
From smoothies to crushed ice, you can blend a lot of ingredients with this little machine out there. There are varying levels of power, speed settings, and jar sizes that may affect your blending process.
The type of single-serve blender you must choose depends on the type of ingredients you want to blend.
Power
Single-serve blenders offer varying levels of powers that may range from 200 to 1200 watts. The lower blending power will be convenient for blending juices and shakes. It will be suitable for blending soft foods. However, for blending high-quality foods, you would need a blender with high blending power.
The blenders with high-power, such as the NutriBullet, are suitable for crushing frozen fruits and crushed ices. The high-blending power doesn't mean that they are less portable. They are still portable. The only difference is that they are super-efficient at blending.
The only con attached to the higher-power blenders is that they will be super noisy. It can be a huge problem when you are blending at home, and other members are sleeping. It is one of the downsides of the single-serve blenders with high blending power.
There are still models that feature noise shields. But they will be pricey and expensive.
Speed
Speed is another crucial factor that may affect the process of blending and the price of the blender. Most single-serve blenders come with three adjustable settings. You can start with the slowest and switch to the highest at any point in time.
You can choose the speed according to the type of ingredient you are blending in the container. A lot of models have advanced digital features and offer options such as smoothie and soup. Therefore, you can choose either of the modes, as per your choice and liking.
You will also see blenders with additional pulse features. The feature will give you more power and control over the blending. Therefore, you must choose the blender according to your needs and preferences of these settings.
Jar Size
As the name suggests, they are ideal for single-serve purposes. However, the capacity of the blenders ranges from 13 ounces to 24 ounces.
The height of the single-serve blenders can range from 9 to 13 inches. You can choose the blender that suits your needs and tastes.
How Easy Is It To Clean?
A lot of models feature removable blades. However, many lenders will not have this option. If the blades are not removable, you will have to be extra cautious while cleaning. It will increase your cleaning time. You can avoid buying such blenders and look for the blenders with removable blades.
There are many blenders available in the market that feature BPA-free plastic cups and dishwasher-safe. It will make the process of cleaning easier and also cut down on time taken for cleaning. Therefore, you must pay extra attention to the features of the model before buying.
Will You Be Blending Other Things Apart From Smoothies?
There are versatile machines available in the market that will allow you to blend ingredients other than smoothies. With a single-serve blender, you can even blend coffee beans, nuts, puree of the soups.
Some of the single-serve blenders even have added features for extra convenience. For example, some models feature two blending cups. Your drink will be directly transferred to the second container, which will make it super convenient for you.
If you are blending other things apart from a smoothie, you will have to consider the features accordingly. Coffee blenders may need different blending power than shakes and smoothies. However, some machines will allow you to do both with a single machine.
So, you must lookout for a versatile machine and has all the added features for extra convenience. You must pay attention to the features mentioned above when buying single-serve blenders.
Summing Up
Single-serve blenders are versatile and convenient little machines. However, you have to choose the right machine to make the process easier for you.
We have mentioned several benefits and features that you must consider when looking to buy a single-serve blender. We hope you find this guide helpful. Keep these things in mind and make an informed decision.
Best Single Serve Blenders for Smoothies: Final Thoughts
It's time to pick a winner. And while there is one blender that definitely surpasses the others in terms of quality and usefulness, all three are great products and will definitely satisfy your smoothie needs.
The Magic Bullet Blender is a fantastic machine. It's super small, it stores out of the way, it makes a quick smoothie using your favorite ingredients, and it costs less than $40. It really is a great blender. Then there is the Oster MyBlend Personal Blender, which is another fabulous option. It's stylish, it gets the job done, and it comes with a unique travel cup for smoothies on the run.
But by far the best blender on the list is the NutriBullet Pro 900. This blender has everything you could ever want in a personal smoothie machine. It works using 900 watts of pure power, making it quicker and stronger than other blenders. It doesn't matter what kind of food you need to blend, the Pro can take care of any ingredients. It can shred kale, break down nuts and seeds, and blend fruits and vegetables into a perfect smoothie.
And it does it all in just a few seconds. The blender itself comes included with a pair of 32-oz cups and to-go lids. It also uses specialized extractor blades to properly break down ingredients and extract all the delicious nutrients that you need to stay healthy. If you're looking for a very durable machine that you won't need to replace, you can trust the NutriBullet!
It even comes with a 1-year limited warranty. Plus, you can choose from over 10 unique colors, customizing your NutriBullet to beautifully compliment the theme of your kitchen. It's your blender, your way!