Powerful 900W Motor
Convenient & Portable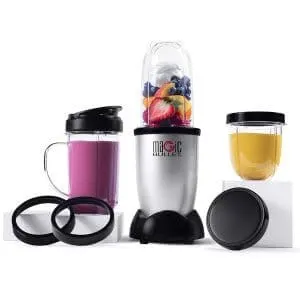 Cheap Price
#1 Selling Blender
---
The bullet blender is a helpful tool to balance a healthy lifestyle when you're always on the go. The best bullet blenders will help you make instant batches of smoothies and shakes with minimal hassle and cleanup. Most are compact, minimalist machines that can take on a variety of flavors, textures, and consistencies.
That said, the bullet blender may not be for everyone. Being compact versions of larger, countertop blenders, bullet blenders usually come with a capacity better suited to individual needs. Yes, there are some larger versions but only large enough to blend for two at the most. The fact that many bullet blenders come with an assortment of cups makes things easier if you want to prepare more than a single serving and store some for later. Even then, these are primarily single-serve machines.
So, if you're on the lookout for such a kitchen gadget, here are three excellent options to consider.
Top Rated Bullet Blenders Of 2021
---
NutriBullet Pro 900: Best Overall
The NutriBullet Pro 900 is all about performance in a compact design.
Performance
One of the biggest selling points for the NutriBullet Pro 900 is that it works at a power point expected from standard conventional blenders at 900 watts. That is enough power to let you blend frozen ingredients, nuts, ice, and other hard items easily.
This bullet blender features a not-very-quiet motor but comes with the convenience of easy cleanup after use. Since its blending container doubles as a useful to-go cup, that's one less thing to wash after use.
The motor tends to get loud because of its powerful blending mechanism but it's easy to forgive and forget if you look at how well it blasts through tough ingredients.
Compact Profile
The Pro 900 features a slim design and a metallic finish that is easy to fit in the smallest of kitchens. It features two blending cups varying between a smaller 24-oz option and a larger 32-oz cup. Both containers come with flip-top lids allowing you to seal them securely and take them along with you.
Despite its small size, the NutriBullet Pro 900 may feel somewhat heavy if you try to move it around. This is good in the sense that you have a solid machine with a heavy enough base to stabilize the unit when running. But on the flip side, the same can be a problem if you don't have a permanent spot for it on the counter.
---
Magic Bullet: Budget Pick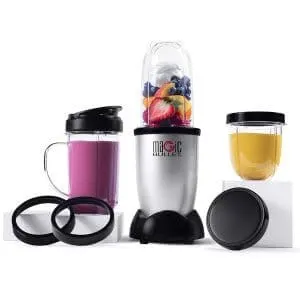 Smoothie novices and experts love the Magic Bullet alike. After all, it is the original smoothie blending machine that got the wheels rolling for this fantastic health trend.
Tiny Footprint
Magic Bullet is the perfect countertop companion for your daily blending needs. The Bullet stands just a little over a foot tall but can handle the works.
Despite its small size, it is an incredibly practical unit that combines a slick design and a lot of accessories. Even then, it uses only minimal space on your countertop and is user friendly with an unambiguous push-to-blend action.
It comes with a 250-watt motor which is on the weaker end but is capable of making smoothies, shakes, or even chopping some vegetables.
Easy-To-Use Unit
This popular bullet blender is also a crowd-pleaser because it keeps things simple. There are no multiple speeds to deal with, yet you can puree, chop, mix, liquefy, and stir ingredients decently enough, making it a go-to item for various kitchen needs. The overall design is minimalist with a compact base, a few inversion blending cups, and a great selection of accompanying lids.
You get the blender with a party mug and one tall and one short mug which works for a multitude of different uses with everything from your breakfast smoothie to a post-gym shake.
Overall, the Magic Bullet makes for a great fit for a tiny apartment where you need something reliable to tackle most blending jobs.
---
Ninja BL456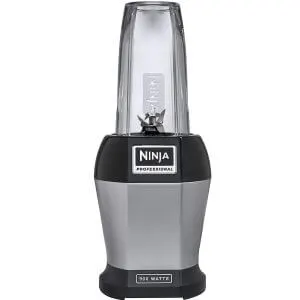 The Ninja BL456 is a fast and reliable blender that won't disappoint. It is a straightforward product that surpasses many expectations when dealing with such a small design.
User-Friendly Operation
The Ninja follows the standard push-and-blend mechanism of bullet blenders making it convenient to operate with no buttons involved. As such, anyone who values simplicity will appreciate the BL456's ease of use. Its 900-watt motor is powerful enough to crush fruit and vegetables effectively without leaving chunks behind.
The blender allows you to pulse the blade manually to crush ice and frozen foods while also demolishing seeds, skin, and stalks. Pulsing also gives you direct control over the thickness of the mixture.
The BL456 comes with a 24-oz and an 18-oz cup contoured for drinking so you can blend and drink from the same utensil. Each cup comes with its own custom-fit lid.
Multipurpose Machine
Even though this is a single-speed blender, it can handle various food processing tasks and higher density content better than many other models in the market. This is due to the blender's 4 powerful, stainless-steel blades, its high-quality Tritan Nutri Ninja cups, and of course, the 900-watt motor.
All pieces fit well together and yield a solid grip despite not having handles.
The one downside that users have experienced is the absence of an On/Off button. Without one, the only way to keep the machine running is to hold the blending cup down which can cause your hand to tire out.
---
Best Bullet Blender: A Complete Buying Guide
Bullet blenders have gained immense popularity given the ease they bring to blending, chopping, pureeing, and liquifying fruits and veggies into healthy drinks. Their small sizes also make them easy to store and most are way more affordable than traditional countertop blenders.
However, a smaller size doesn't mean smaller performance and so here is what you should look for when searching for the best bullet blender.
Quality Matters
Even if all you want to use your bullet blender for is smoothies and protein shakes, you still need a quality product. For basic needs, you can go with a lower price point blender but for more, you'll need an upgrade.
Since you rely on your blender for a variety of culinary creations, a powerful motor, good blades, sturdy jar, and a warranty becomes effectively relevant. A higher-quality of blender parts will also give you greater flexibility for working with different types of foods and trickier ingredients.
I am not going to talk about the importance of a powerful motor or durable parts for those are a given with any purchase. But I will take a detailed look below at what else you need to consider when you buy a bullet blender.
Related Articles:
Cups and Accessories
Bullet blending promises instant results which means that your drink should be ready as soon as the blending part is over. The motor and blade components of the blender will see to that but after that comes handling your drink.
The cups and accessories included with your purchases will be instrumental in how you consume, carry or store your drink. For the most part, all bullet blenders come with cups that double as drinking utensils as well. So, this one's a no-brainer where you simply drink in the cup that you blended in.
But for the sake of storing or carrying your drink, you'll need more than just one cup. Most bullet blenders also give you that with at least a minimum of two blending cups. However, the best ones go beyond and include a sensible assortment of lids, cup holders, and other accessories to make the whole experience easier.
When looking at accessories, see if you are simply getting plain covers for the cups to carry along or if there are special features like sip and seal. Also, it is helpful to have a handled option especially if the blending jar has a slightly larger capacity.
Another often overlooked feature is how wide or narrow the blending cups are. If they are too narrow, it will be a hassle placing ingredients in and washing once the blending is done.
Generally, cups sizes should be able to fit in your backpack, gym back, or a large purse and more specifically, in your car's cup holder.
Best Bullet Blender: Final Thoughts
Hands down, the Pro 900 made by NutriBullet is one of the most popular bullet blenders on the market right now. It gets ranked as the best overall bullet blender given its powerful motor, cyclonic action, and patented stainless-steel blades. It blends everything you challenge it to and proves itself to be the workhorse it is touted to be. And all in a reasonably small size!
Magic Bullet is a compact, unassuming, and super easy to operate blender on a budget. Anyone looking for a simple and efficient device to blend their favorite ingredients will find the Magic Bullet an ideal choice.
Another powerful contender, the Ninja BL456 also offers exceptional power with its 900-watt motor. It works as a high-performance kitchen tool in kitchens that are short on space and time.