Powerful 900W Motor
Convenient & Portable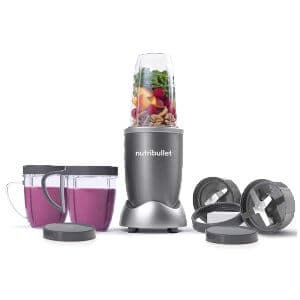 Powerful 600W Motor
Convenient & Portable
---
It's time to get blending! Everyone knows by now what a NutriBullet is. If you're shopping for a new and affordable personal blender, you may be wondering which is better, the NutriBullet 600 vs 900. They are both awesome blenders that come packed with features, a lot of wattage, and a whole bunch of accessories.
But which one is the best for your kitchen? Which one comes in the coolest color, which one has the toughest blades, and which one has the most power? Well, I am here to find out. It's time to break down the NutriBullet 600 and the NutriBullet 900 and see which offers the most value.
Keep in mind that any machine from NutriBullet is a win. I'm talking about powerful steel blades with nutritional extraction technology, BPA-free plastic in all their cups, and extremely durable motors that you can rely on. There is a good reason NutriBullet is the most famous name in blending.
NutriBullet 600 Vs 900: Comparison
NutriBullet 600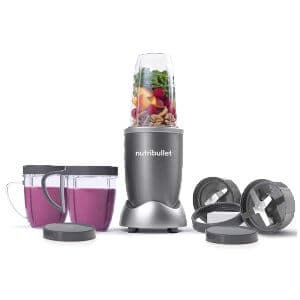 PROS
One of the Fastest Personal Blenders
Stainless-Steel Extractor Blades + Cyclonic Action
Extremely Easy to Clean
CONS
Older & Outdated
No Variable Speed or Pulse Control
---
NutriBullet 600 High-Speed Blender Review
The NutriBullet 600 High-Speed Blender is without a doubt one of the most powerful personalized blenders ever created. If you want a smoothie filled to the brim with nutrients, you want a NutriBullet. This particular model is one of the cheapest NutriBullets on the market, making it even more desirable.
So Easy to Use
One of the best things about the NutriBullet is how easy it is to use. You literally put your ingredients into a BPA-free plastic container, you twist the container onto the blade unit, and then you attach that to the bullet and start blending. The whole process takes less than a minute.
Then, with the high-powered 600-Watt motor, you blend all your ingredients, whether they are frozen bananas or raw blueberries with ice, into a delicious beverage to take with you on the go or enjoy at home.
Blend It All
With such a simplistic system, it may surprise you that the NutriBullet's blending power is among the best. You can blend hard nuts, seeds, and big chunks of ice just like you would with any full-sized blender.
The bullet also works with leafy greens, blending spinach and kale until it forms a yummy green liquid. If you want to start eating healthy and adding more greens into your diet, I highly suggest the NutriBullet 600.
---
NutriBullet Pro 900 High-Speed Blender Review
The NutriBullet Pro 900 High-Speed Blender is one of the newest advancements in home blending technology and nutrition extraction. The 900 comes with a sharp increase in power and speed, extra accessories, and a whole new level of personalization.
A Flavor Just for You
Something about the NutriBullet 900 feels very personal as if they designed the machine specifically for use on my kitchen counter. And that is one of the things I truly enjoy about the NutriBullet experience. It feels more intimate than using a big clunky glass blender.
Not only that, but the NutriBullet 900 is more flavorful than ever, giving you over 10 color options to choose from. This is great for anyone who wants to add a little personal flavor to their blender, with colors ranging from sky blue to clover green.
Read More: Nutribullet Reviews – Which Model Is The Best?
Great Blending, Easy Cleaning
Arguably the best thing about the NutriBullet 900 is the fact that it cleans so easily. All you need is to twist off the blades, splash around a bit of soap and water, then go ahead and wash everything in the dishwasher. The actual base of the NutriBullet never gets dirty. All the components are removable to be cleaned.
---
NutriBullet 600 VS 900: Main Product Differences
It is easy to spot the differences between the NutriBullet 600 and the NutriBullet 900. The difference is that the 900 is literally the Pro model, whereas the NutriBullet 600 is older and outdated. The 600 still works like a dream to bring you nutritious smoothies, but it is an older model.
An Update in Power
The most noticeable difference between the 900 and the 600 is a huge increase in the motor output. The wattage has been improved by a third to drastically increase how powerful the blades are and how quickly you can make your dream smoothies.
This increase in power (approx. 300 Watts) comes without any ugly alterations to the main unit of the bullet. Everything still works great, it's just that the motor has been supercharged to work better for you. The NutriBullet Pro 900 is stronger, faster, and yet still extremely simplistic.
Even More Accessories
The NutriBullet 900 comes with a ton of useful stuff. You get an amazing recipe booklet to offer lots of starting ideas on your journey to a healthy lifestyle. You get a huge motor base in one of over 10 colors. You get the extractor blades that work to extract nutrients from your food.
And finally, you get a pair of 32-ounce main cups with matching to-go lids and lip rings. Everything is improved to make your life easier. These cups are BPA free, long-lasting, and they can attach to most other NutriBullet models. This is great because each time you update, you get more and more cups.
NutriBullet 600 VS 900: Final Thoughts
If you read this entire article, I think you know who the winner is. This is like choosing between a cellphone and a smartphone. They both kind of do the same thing, but one of them is very obviously better than the other. The same can be said here. The NutriBullet Pro 900 is clearly a more improved version of the NutriBullet 600 (not pro).
However, there is not a huge difference. Both blenders make quick and creamy smoothies to help you live a healthy lifestyle. Both units are small and easy to store under the counter, they are both easy to clean, and they are both high-performance blenders.
The 900 is just stronger by approximately 300 Watts. At the end of the day, considering the fairly minimal difference in price between the two, it really does make sense to spend a little extra and get the stronger machine. Why not? You deserve it!
Related Articles: