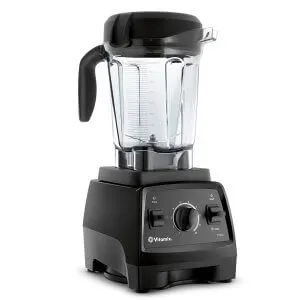 Powerful 1700W Motor
Quiet Operation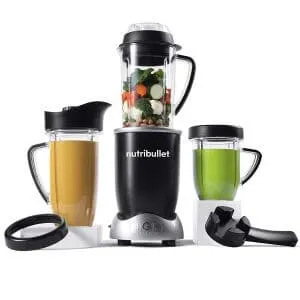 Powerful 1700W Motor
Convenient & Portable
---
Perfectly crushed ice is crucial for frozen drinks and not quite achievable without the right blender. If you're serious about finding the best blender for ice, then you've come to the right place where I have shortlisted the top contestants in this category.
If you've already done some research on your own, you'll know that crushing ice is the ultimate torture test for any blender. Not only does it require immense motor power, but also well-thought-out sturdy blades, and a very durable blending jar. However, not every blender out there will deliver on every front.
If anything, standard blenders tend to fall short when it comes to crushing ice. Common issues include overheating the unit, subpar blades, or even unstable blending jars.
So, to cut to the chase, here's a look at three extremely well-made blenders that will make preparing home-made frozen treats a cinch.
Top Rated Blenders For Ice Of 2021
---
Vitamix 7500: Best Overall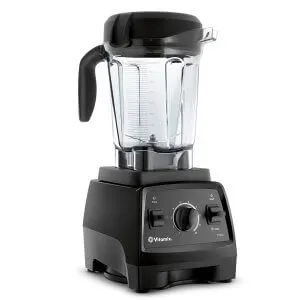 If you're ready to crush some serious ice, then take a real good look at Vitamix 7500. This blender has all the features of a high-end model with an all-metal drive and a Next Gen motor that keeps things running stronger, cooler, and quieter.
Versatile Blending Performance
The Vitamix 7500 aces versatility as it can handle all sorts of ingredients including ice with little difficulty. The blender has been designed to deal with both wet and dry ingredients, large or small chunks of food, as well as hard and soft ingredients with equal proficiency.
But the Vitamix 7500 isn't just limited to all this. The blender can also do both hot and cold ingredients. Spinning at a maximum of 37,000 RPM means that you can actually blend and heat soup in a matter of minutes.
The unit uses a 10-speed variable dial that lets you control the speed to get the texture you want.
Durable Construction
As it goes, you can't crush ice successfully without durability being part of the package. Here, the 7500 passes once again with flying colors with its laser-cut, stainless-steel blade, and 64-oz BPA free plastic jar.
The blunt, stainless-steel blades not only cruise through ice but also handle nuts and seeds equally well. The blades are built into the container, which is made with long-lasting, durable copolyester material able to handle the workload. Plus, the all-metal drive socket keeps the motor running smoothly without wearing down as plastic parts would.
---
NutriBullet Rx: Budget Pick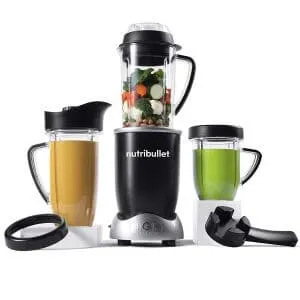 The NutriBullet Rx has you covered for all your blending needs on a budget. It blends at a zippy 1700 watts which is plenty of power to crush up ice and frozen fruit.
Performance on A Budget
Competing with the best of the best but at a fraction of the price, the NutriBullet Rx has a powerful 1700-watt motor capable of taking on any ingredient. It can give you smooth smoothies, creamy purees, and immaculate frozen treats without taxing the blender.
The NutriBullet Rx makes it easy for you by working with a smart system where once you place your container on the base, the unit detects the contents and automates the blend cycle for one minute. This allows you to literally walk away, letting the Rx do its thing on its own.
Read More: Best Blender for Smoothies with Frozen Fruit – 3 Top Models
Handles Hot Ingredients Too
This seems almost too good to be true for a budget pick blender, but the NutriBullet Rx does just that. It blends soup with the help of its SouperBlast feature that is set to a 7-minute cycle.
To make hot soup, you get a large, 1-liter pitcher with a double-vented lid to let the heat and pressure out. The pitcher is ergonomically designed with a spout to make pouring soup out easier.
The Rx's sturdy stainless-steel blades do the heavy lifting whether you're making soup or crushing ice to bits. It's hard to find a deal as good as the NutriBullet Rx which brings you everything from power and versatility to precision in one affordable package.
---
Blendtec Total Classic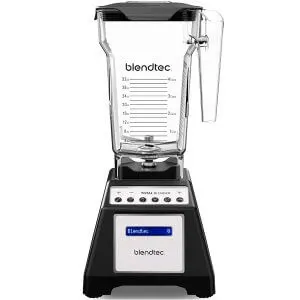 The Blendtec Total Classic has so much going for it as high-performance blenders go that it becomes hard to overlook this classic model.
Versatility at Its Best
Tackling everything from smoothies to protein shakes, fresh juices to hot soups, and crushing ice enviably, the Blendtec Total Classic can do it all. Designed for easy use, this blender comes with 10 speeds, 6 pre-programmed cycles, and a Pulse function to blend and prepare different consistencies and textures.
Read More: Best Blender For Protein Shakes – 7 Top Rated Models
The Ice Crush feature, in particular, makes easy work of turning rock hard ice cubes into fluffy snow. Its ice-crushing prowess comes from its uniquely blunt-edged single blades that are strong enough to pulverize anything. Engineered from cold-forged stainless-steel, and spinning at 29,000 RPM, the blades can work at 10 times the strength of other competing blades.
Build Quality and Design
Blendtec Total Classic excels on every level with its durable construction and practical design. It features a powerful 1560-watt, 3 HP motor placed in a sturdy base unit. The unit feels heavy and stays put when in use.
The 15-inch WildSide+ Jar that sits on the base is equally relentless staying anchored in place even with the blender working on high speed. The patented square design of the blending jar takes its performance to another level with contents forced down to the center of the blade for a more thorough blending experience.
---
Jamba Professional 2.4HP Blender
The Jamba Professional Blender is a sturdy appliance that you must have if you are into fresh juices and delicious milkshakes. Equipped with its Infinite speed dial, 4 program settings, and pulse controls, you will be making professional-grade drinks with crushed ice in no time.
It is an incredibly powerful and versatile blender. Its 2.4 peak HP motor delivers superior performance – propelling its blades to speeds well-over 210 mph. It also offers user-friendly settings that let the device do all the work for you. These features, coupled with its modest price tag, give the Jamba Appliances 2.4 hp Blender a distinct advantage to its competitors.
Jamba Professional Blender Review: Design
4 peak HP motor – Max Speed 210 mph
Infinite speed dial, 4 program settings, and pulse control
4 Program Settings: soup, smoothie, ice crush, whole juice
Integrated Emulsion Cup
64 oz. BPA-free Jar
The Jamba Appliances 2.4 hp Blender sports a sleek look with its shades of black and grey. However, upon opening the packaging, the first thing I noticed about this device was how subtle and intuitive its product design is. Standing at 8.7×17.3×7.6 inches and weighing a mere 10.74 lbs, it is more compact and easier to store compared to similar blenders of its type.
Read More: Kitchenaid Diamond blender review
The layout of the controls also makes everything incredibly easy to use. The On/Off switch is on its side while the front gives you the control for pulse and blending. The analog dial in the center controls the device's speed while the four buttons below it let you toggle with the blender's pre-programmed settings. The buttons let you choose between soup, smoothie, ice crush, and whole juice mode
The blender's 64 oz. BPA-free jar is also worth mentioning here. Not only is it extremely durable, but it is also made from temperature-resistant and shatter-proof materials. It can even withstand temperatures up to 248 F. Needless to say, accidentally breaking it should be the least of your worries.
Functionality
If you are like most people, then you are probably looking to make smoothies and juices with your blender. It should go without saying that the Jamba 2.4 hp Blender works wonders when preparing these drinks. It crushes ice with ease, so it should have no trouble processing tough ingredients like carrots, broccoli, and spinach. Moreover, it can even separate the mush from the liquids.
However, you would be doing yourself a great disservice if you only use this blender for smoothies and juices. After all, the best thing about this heavy-duty blender is the degree of control and high levels of functionality it offers. Because of its sheer power and the fact that it lets you toggle between different speeds and settings, the Jamba Appliances 2.4 hp Blender can be your tool of choice for several different tasks. Listed below are just some of the things you can do with this device.
Food Preparation – This Jamba blender will undoubtedly play a crucial role in your kitchen once you have familiarized yourself with its different settings and speeds. For instance, this blender can prepare all the ingredients of your salad – from chopping the vegetables to mixing in the ingredients for the dressing. It can even grate the cheese for you. With the right setting, you would have no trouble preparing the food you need.
Pureeing – Maybe you are in the mood for some sumptuous mashed potatoes? Or maybe you want to prepare some nice homemade hummus? This blender lets you do that minus the effort. On that note, you can even make baby food with this blender.
Grinding – If you like smoothies and shakes, then chances are you like making your own iced coffee as well. Freshly ground coffee not only packs the most flavor, but it also has higher caffeine levels. Luckily, this blender should have no trouble grinding coffee beans for you. With enough practice, you can even adjust your grind to your desired coarseness.
Processing Hot Liquids – The fact that there is a soup setting should tell you that you can use this device precisely for that purpose. Interestingly, it makes use of blade friction to heat the liquid in a matter of minutes.
Power and Performance
With its blades reaching a maximum speed of more than 210 mph, it should come as no surprise that this blender is more than capable of performing heavy-duty tasks with relative ease. The secret lies under the hood. Its 2.4 hp peak motor can only be described in one word: powerful.
Read More: Waring Professional blender review
It certainly packs punch. However, a blender is only as good as its blade. Luckily, the Jamba Appliances 2.4 hp Blender doesn't disappoint in this area either. Its stainless steel blades are built-in and require no assembly. It also makes use of the 4-prong design typical to heavy-duty blenders.
In addition to this, I'd also like to note here that my research has uncovered that it also sports a motor protection system. This means that this blender can automatically stop itself if its motor gets overloaded. This is certainly a welcome surprise as this feature will undoubtedly enhance the device's longevity.
---
Best Blender for Ice: A Complete Buying Guide
When you go looking for the best blender for ice, you're basically looking for the perfect combination of power, versatility, durability, and longevity. If your intended blender falls short in any one of these capacities, you'll have a machine that may well have the features and design, but if it lacks the performance, those bells and whistles won't matter much.
And so, it becomes important to look at some specifics before making an investment.
Power
Power is a priority when it comes to crushing ice. You simply cannot have a lower-powered machine hoping to give you high-torque results.
Ideally, for a blender to be good at crushing ice, you should look at models with a power capacity of 1200 watts and beyond. Since working through ice can generate a fair bit of friction, the blender needs to have adequate horsepower to move it around and pulverize it efficiently.
When looking at the power of a machine, consider all aspects of watts, horsepower, and revolutions per minute or RPM. RPM is an accurate indicator of how fast the blade will spin around in one minute. High-performance blenders will typically yield around 20,000- 35,000 RPM and some more.
Related Articles:
Blades
In a high-performing blender, the blades will do most of the work when breaking down ice. Here, different brands call for different types of blades to be more effective than others. For instance, certain models will advocate 4-6 pronged blades to be the best at crushing ice, while others prefer to use 2-pronged blades instead.
Tapered blades with 4 or 6 prongs are typically sharpened to a stealthy point whereas Blendtec chooses to use thick and blunt 2-pronged blades for all their ice crushing jobs. Interestingly, both types can yield impressive results so it may come down to a matter of personal preference.
The common denominator, however, remains that blades should only be made from commercial-grade stainless steel.
Blending Pitcher
The third consideration when choosing the best blender for ice is to look at its blending container. This includes the shape, size, and material used for construction.
Some blenders use the classic blender design with a cylindrical container that has a smaller base than the top. A newer trend has introduced a more square-looking container where the base and top share almost parallel parameters.
Once again, both designs have shown to be effective in blending ice, supported by the blender's motor capacity and RPM.
As for materials, there's always the option of choosing plastic over glass or vice versa, although many brands opt for high-quality plastic since glass isn't completely shatterproof.
Best Blender for Ice: Final Thoughts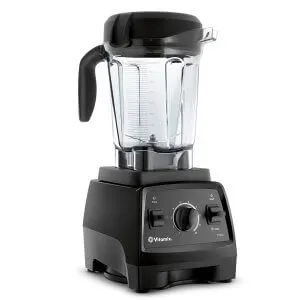 Just bear in mind that when you buy a blender with ice-crushing potential, you've basically bought yourself a machine that can do literally anything. As such, you should be ready to pay the price as well.
The Vitamix 7500 is everything it promises in terms of power, performance, and price. It's a true workhorse suited for kitchens with heavy-duty blending jobs like crushing ice. It yields superior blending performance on all levels including blending power, self-cleaning properties, and durability to earn it the best overall blender for ice title.
If you're looking to save money, then consider the NutriBullet Rx which offers a great value for its price. It gives you a lot of features of high-end blenders without asking for their price point.
And, it's hard to fault the Blendtec Total Classic given its undeniable power and impressive features. This blender looks every bit as good as it performs and is recommended as one of the best ice crushing machines out there.
Related Articles: