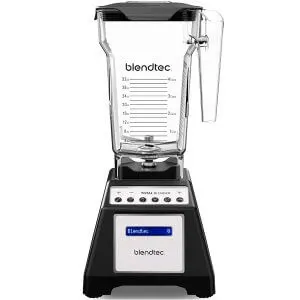 This article discusses the Blendtec Total Blender. Keep reading, and you will know if it is right for you or not.
Having a blender in your home or office is almost a necessity. Especially during this time where we are being urged to take lots of fruits and vegetables. In the market, there are thousands of blenders, and getting the right one for you can be hard.
The truth is, not every blender out there is what the manufacturer claims it is, and if you are not careful with what you purchase, you might end up regretting it. That's why we always advocate doing some research about a blender before buying it.
The good news is you don't have to trouble yourself researching Blendtec blenders because I have done it for you. I have done the research and reviewed Blendtec blenders, and I can proudly say that this company makes some of the best blenders in the world. Today, I will review the Blendtec Total Blender.
---
Blendtec Total Blender Review: Overview
The Blendtec Total blender is a powerful blender designed to grind almost anything. This blender has been in the market for the last 16 years, and I can guarantee you that it is still worth purchasing in 2021.
Initially, the blender was designed for commercial use, but with several modifications, the blender has become more and more-friendly for home use. A few years ago, the official Blendtec website stopped offering the original blender and only offers refurbished Blendtec total blenders. However, the original Blendtec total blender is still available on retailers such as Amazon and eBay.
Blendtec Total Blender: Functionality
The Blendtec Total blender is a very versatile machine, and you can use it for:
Smoothies: This blender makes outstanding vegetables, fruit, and green smoothies. You can use it to blend even the most fibrous ingredients such as celery, pineapple, carrot, and kale to a uniform consistency.
Frozen Desserts: You can count on this mixer to turn frozen fruit or ice into ice cream within the shortest time. It has some preset cycles that make it easy for you to make whatever you need. Use your blender to make margaritas, mojito, and daiquiris, among others.
Soup/hot ingredients: You can use it to make hot soup and other hot ingredients. Add cold uncooked food in it, and within six minutes or so, you will have hot soup.
Juice: Of course, you can use your blender to make whole juice. It even has a preset setting that makes your work easier and still maintains the nutrients of the fruit or vegetable. The mixer will not separate the much-required fiber from the juice, and the consistency of the output will still be so smooth.
Dough/batter: The blender easily mixes batter for pancakes, waffles, and cookies. You can even use it for kneading thick pizza and dough.
Nut butter
Nut milk
Grinding/milling: Use your blender to make quality flour from barley, wheat, beans, and chickpeas.
Baby food and pureeing: With the help of the blender's speed, you can easily use it for puree from freshly cooked foods.
Food preps/Chopping: You can use the pulse function to perfectly chop cooked and raw vegetables for salads, dressings, or salsa.
---
Control Panel and Speed Settings
The Blendtec Total blender comes equipped with touchpad controls and LCD info display that shows information such as remaining blending time, speed in use, and blending error in case of any. The touchpad comes with nine press buttons, pulse mode, and ten incremental manual speeds.
The lowest speed on the blender is one while the highest is ten. One is too slow, while ten is fast enough to heat liquids to boiling temperature with the blender's friction. Each speed stops automatically after fifty seconds.
Related Articles:
Using and Cleaning
The Blendtec Total Classic blender is very easy to use. Even an amateur can be sure to use it. You just need to load the jar with food, set on the base of the mixer and run one of the speeds or programs. How hard is that?
It is worth noting that the Blendtec blender does not use a tamper, so it is crucial to load your ingredients in the right order so as to achieve the best results. Start with the liquids, then soft items such as apple, and finish with hard items such as frozen ingredients.
Blendtec blades are non-removable, and this one is no different. Fortunately, the blender comes with a self-cleaning feature, and I think it is the most appropriate way to clean your blender after use. Add a few drops of dishwashing detergent into the blender, press the self-cleaning button, and that's it.
Don't forget to rinse it with clean water and dry it, though. Sometimes you may have to brush to get stubborn blending that may be left after blending things like nuts and other things.
---
Features
Three peak horsepower 1560 watt motor
Stainless steel blade
Six pre-programmed cycles for smoothies, batters, whole juice, ice crush, whole juice, and hot soups
Ten speeds
Pulse function
Vented Gripper lid
Auto shutoff
8-year warranty
Comes with a user guide and a 214-page recipe book
30-day money-back guarantee
Touchpad controls
Illuminated LCD timer that shows you the remaining blending time
Read More: Blentec Total Classic Vs Blendtec 575
Certified Refurbished
As stated, the official Blendtec website sells refurbished Total Classic blenders. The blender is also available in a number of retailers. The refurbished model comes with a WildSide + container, unlike the original total classic blender that comes with a FourSide container. Also, the refurbished machine comes with a three-year warranty instead of eight.
---
Blendtec Total Blender Review: Final Thoughts
The Blendtec Total Classic blender is an obvious choice for many people looking for a versatile and durable mixer. The machine is quite powerful, and it can crush quite anything thrown in its way. With a 3-peak horsepower 1560 watt motor, it is one of the most powerful blenders out there.
The blender was originally designed for commercial purposes but can now be used in homes. It makes perfect smoothies, and you can use it for other functions such as chopping, kneading, and grinding. Compared to most Blendtec blenders, this one is quite affordable.
The only problem is it can be quite noisy, but a blending cycle is about 90 seconds, so that is quite tolerable. You cannot find the mixer on the official website since they discontinued its production, but you can find it in some retailers. If you find one, buy it, and you won't regret it.
Related Articles: