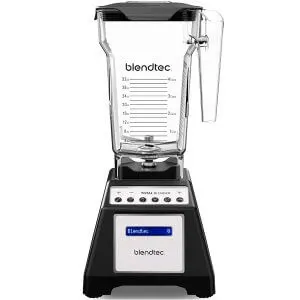 Powerful 1560W Motor
Large Capacity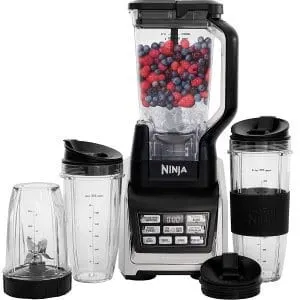 Powerful 1200W Motor
Large Capacity
---
Today we are looking at the best blender for smoothies with frozen fruit. Frozen fruit and frozen vegetables are a staple of any delicious smoothie. And if you're looking for a great blender to make your favorite fruit smoothies, this is the list for you. I have picked three of my favorite countertop blenders that are great for making personal smoothies as well as huge batches.
These blenders are all super powerful, they do far more than just make smoothies, and they range in price. There is something here for everyone, even if you're on a tight budget. While personal smoothie makers can be great for people who live an active lifestyle and don't want the hassle of a big blender, sometimes a big blender is the way to go.
These blenders will allow you to make more, they will last for upwards of a decade if you treat them with respect, and when you get tired of making smoothies, you can use these blenders for milkshakes, ice cream, frozen desserts, soups, and much more.
Another bonus when you choose a countertop blender for making your fruit smoothies is that you get lots of different settings. These blenders come complete with speed controls, pre-programmed blending cycles, and the best in blade technology. Plus, they can even clean themselves by using just soap and water.
Top Rated Blenders For Smoothies With Frozen Fruit
---
Blendtec Total Classic Original Blender – Best Overall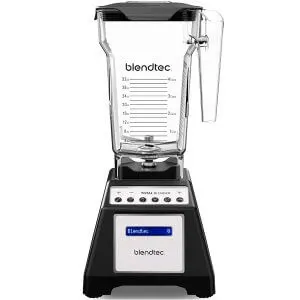 The Blendtec Total Classic Original Blender is everything you've been looking for. It's super affordable, it's backed by an extremely impressive warranty, it has useful blending cycles, it allows you to take full control over your manual blending, and it has extremely thick stainless-steel blades.
The Blendtec Total Classic is the type of blender you will have sitting in your kitchen for the next 20 years. It's built extremely well with premium components, it has an enormous four-sided jar with a 75 oz volume, and you can use the jar for blending either wet or dry materials. This makes the Total Classic a great blender for smoothies, food processing, and general recipes like salsa, soup, salad, and frozen treats.
Easy Blending & Quick Cycles
Everyone appreciates a blender that's easy to use. With a single push of a button, you can set the Total Classic to making one of your favorite beverages. And you do it totally hands-free. Just push the button and let the blender do its work. It comes with six fully programmed blending cycles integrated into the machine to be more convenient for you.
But that's not all. This blender also has a pulse feature and, just like a Vitamix, it has a 10-speed manual control. This means you can tweak the final result of your smoothie or other recipes by determining how fast the blades spin inside the machine. You are in total control all the time. You don't even need to turn the machine off to change the speed, you can do it in the middle of the blending cycle.
To make things even easier for you, this blender can turn raw ingredients into hot soup. Simply add your cold broth, your desired vegetables, and any other ingredients into the main jar and then run the blender for about 6 minutes. The friction is so intense inside the blender that it will gradually warm your soup until it's the perfect temperature to serve.
And if you're stressed about something happening to the blender, you don't actually have to worry for the next eight years! That's how long the warranty lasts when you buy the product new. As a family-owned American company, you can trust Blendtec to be there for you. Also, the blender is completely engineered and assembled in the United States of America.
Read More: Full review of the Blendtec Total Classic
An Unstoppable Machine
This is an unstoppable blender. And let me tell you why. Unlike other blenders that can jam or clog if there are too many frozen ingredients, like big chunks of frozen strawberry or rock-hard banana left in the freezer for weeks, the Total Classic won't! It cuts through the hardest frozen ingredients like they were chunks of butter.
This is because of the blender's super thick stainless blades. They are equipped with unique wings that create an amazing vortex of liquid, sucking all your frozen ingredients directly into the blades so they can be properly broken down. The result is an ultra-smooth blended beverage of your choice. It's great for milkshakes, smoothies, and even for juices.
---
Nutri Ninja BL642 Personal Countertop Blender – Budget Pick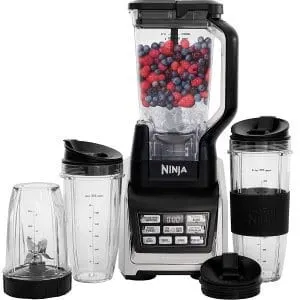 The Nutri Ninja BL642 Personal Countertop Blender is a full kitchen experience. It comes included with some of the best jars and drinking cups out of any blender system. It's also way cheaper than most other blenders. The Ninja BL642 is outrageously cheap, meaning it's perfect for those on a budget who still need a great blender for mixing fruit smoothies.
The Ninja BL642 actually comes with specialized ice-crushing blades. These blades are pros at breaking apart frozen ingredients. As you can imagine, frozen fruit and frozen veggies are perfect for using with this blender. It also comes included with an enormous 72-ounce main jar and three additional cups so that you can make a single serving rather than a full batch.
It should be no surprise that this is one of the most popular blending systems right now. It works, it comes with everything you need from a personal blender and from a countertop blender, and its motor functions with 1200 watts of pure ice-crushing power. There really is no alternative to this blender anywhere in the same price range.
Functionality with Versatility
This is definitely the most versatile blender on today's list. This is because it comes included with an XL 72-oz main container and three separate drinking cups. You can go from making hot soup to a personal smoothie by simply switching out the main container. The blades are definitely strong enough to blend frozen fruit, frozen veg, and ice cubes.
The blades are also perfect for juicing, for mixing up frozen desserts, for pureeing hummus, baby food, pate, or even mashed potatoes. You can mix soup, prep food, and make a massive batch of nut milk to get you through the week. Everything is super quick to clean, and you can easily switch containers for a rapid shift between heavy food prep and a quick smoothie or shake.
You also have great functionality thanks to the speed settings and programs. The control panel includes nine buttons. There are three buttons to change speeds, there is a pulse function, and there are two preset cycles for the large pitcher and two preset cycles for the single-serving drinking cups.
When using the presets, they will blend a smoothie for you and then automatically stop once the cycle has terminated. And of course, you can always stop the program at mid-cycle and switch to manual speed control.
Read More: Full review of the Ninja BL642 blender
Three Blades
With the Ninja BL642, you get three sets of blades. When using the large jar, you get total crushing blades that are equipped with 6 extremely sharp blades stacked around a plastic shaft. This is awesome for processing food and breaking down ingredients into smoothies.
You also get the pro extractor blade assembly, which you use for the single-serving cups. This blade assembly is designed specifically for mixing a 30-oz smoothie in under sixty seconds. And finally, the dough blade is designed for use with mixing and kneading dough. It comes equipped with a plastic dough hook for professional mixing.
---
Vitamix 5200 Professional Grade Blender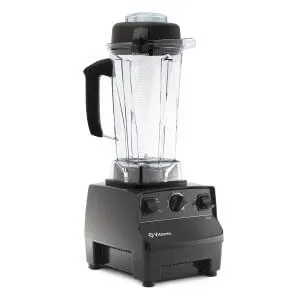 The Vitamix 5200 Professional Grade Blender is one of their most popular models. It comes with a modest price tag, it has all the famous Vitamix features like variable speed controls, easy usage, self-cleaning mode, a cool-running motor, and superior durability, and it's a super versatile blender.
Yes, The Vitamix 5200 will make quick work of all your frozen fruits and frozen vegetables. It can also easily blend seeds, nuts, and probably rocks if you are really desperate to blend some rocks. It rips leafy greens apart, extracting their nutrients and delivering you delicious green smoothies. And if you want fruit smoothies made from frozen ingredients without a single leftover leaf or chewy seed, this is the ideal unit for you.
More than Smoothies
The Vitamix 5200 makes way more than just smoothies. It can obviously blend a perfect fruit smoothie using fresh or frozen ingredients, but it can do a lot more than that. The friction is so intense inside the container that you can heat soup. The variable speeds allow you to make all kinds of different recipes. Because you can control the blending speed, it's easier to make mushy baby food, thin juices, thick milkshakes, silky smoothies, and hearty salsas.
It's also easier to make nut butter and nut milk – and the cleanup is a breeze! Even when you're mixing sticky recipes or something dirty like coffee beans, the self-cleaning mode of the Vitamix 5200 will immediately scrub the container completely clean. The only thing you ever need to do is rinse with water to get the soapy residue out afterward.
The Vitamix 5200 is one of the best machines for smoothies, healthy snacks, full meals, and food preparation. You can use this blender to help with all your baking needs, and you can use the lower speed settings with the available food processing bowl to chop onions and other vegetables for a salad.
Read More: Full review of the Vitamix 5200 blender
A Better Design
What makes the Vitamix such a quality machine is that it's designed better than other blenders. Take the design of the container as an example. Every single angle of Vitamix's patented container is meant to fold your ingredients back onto each other and deeper into the blades, allowing for a faster and smoother blend. It's what is known as the Vitamix vortex.
But there's so much more than that. The 10-speed manual control is a staple of the Vitamix blender. This is what allows you to create all kinds of different recipes by tweaking the speed of the blend. Then you have the high-performance motor with its extreme power to keep your Vitamix blender running at optimum levels for years and years to come.
And one of the last great aspects of the Vitamix blender is its stainless-steel blades. The blades are cut using lasers and designed to give the best result no matter what the materials are. This means they can rip through frozen fruits, they can crack open nuts and seeds, and they can do all of it while still being resistant to dulling and bending. These are some of the toughest blades in the industry.
---
Best Blender For Smoothies With Frozen Fruit – Buying Guide
Smoothies are a great way to start your day; it boosts your energy and is quite a wholesome drink. But the secret to making a delicious smoothie lies in the blender. Whether you're a home chef, fitness enthusiast, or a parent, your kitchen demands to be equipped with a blender. I love popping up some frozen fruits in the blender and make a great smoothie to kickstart the day.
But not all kinds of blenders will give you that smooth thick consistency you like. So if you are looking for a blender that would serve you the perfect smoothie, you need a checklist. When you visit a store or an e-commerce site, you will feel confused with the array of blenders available. Here, I have listed down for you all the ticks and cross for buying the perfect blender. So, let's get you the perfect blender for making smoothies with frozen fruits!
Read More: Best smoothie blenders
How To Choose A Blender For Preparing Smoothies With Frozen Fruit
Buying a blender for a smoothie can be a challenging task if you don't know what features you are looking for. It is not a decision that can be instantly made. Therefore, going through a list of features and exploring all the options is the best way.
Another key factor in purchasing a blender is the budget. We all know that a good blender can cost you a chunk.
Exploring & Researching The Options
You won't be able to buy a satisfactory product until you have a look at a wide range of options. Visit an appliance store, and they would offer you a demo, or you can simply surf e-commerce websites.
Get to know the products and the functions in detail and then make a choice. During the research, you might also come across various stores which might be offering discounts or lower prices.
Read More: How Long Does Frozen Fruit Last? Simple Freezer Storage Tips
Advantages Of Using A Good Quality Blender For Smoothies With Frozen Fruit
The list of advantages can be quite long because a good quality blender always proves itself to be worthy. I will list for you a few advantages so that you can decide how suitable the blender is.
Compact Size
If you have surfed e-commerce and visited the stores, you'll know what I'm talking about. There are various sizes of blenders available. If you have a small kitchen more like a pantry, you can buy the sleek blenders, and they fit perfectly.
But if you have a large family and your kitchen can accommodate a big blender, that is available easily too. These various sizing adds to the worthiness and gives you just the right blender for your kitchen.
Read More: Can you freeze smoothies?
Portable
Blenders are no longer heavy weighted appliances. They are available in lightweight as well. Smaller sized blender with jars and leak-proof lids make the appliance portable. If you love traveling and don't want to miss your smoothie, blenders are the way to go.
Multi-Functional
Manufacturers are constantly upgrading blenders to be multi-functional to suit the needs of the buyers. Features like dual blades, various modes, various jar sizes adds utility to the blender.
You can make a multitude of blended beverages like juices and shakes. Though the search is for blenders that can make the best healthy smoothie, these added benefits can't possibly hurt.
Affordable
If you are looking for low-cost blenders, there's good news for you. Plenty of viable options are available for you to choose from. While purchasing an appliance, the budget becomes a barrier for many of us.
It is one of the factors which filter our buying options. That is why researching while buying a blender is very important. You can compare many products and see what fits the budget.
It is not imperative that a high-priced product will be the best. If you come across any blender which is cost-effective yet consists of all the features, you may buy it.
Read More: Best Blender for Frozen Drinks – 3 Powerful Models
What Features Does A Blender For Smoothies With Frozen Fruit Need?
The reason that multiple designs of the same product exist is that we all have different needs and requirements from the appliance. Features of a blender go through constant technological and design upgradations. Therefore I've listed for you the essential features your blender needs to have.
Control Panel
The control panel is one upgrade in the design and technology that we all want to avail of. Even lost cost blenders consist of control panels but might have lesser options available than high-grade blenders.
Control panels make the job of operating the blender easier for us. If your budget allows, go for a blender that has a high-technology panel. But a blender that is a low cost and has a simple control panel will work well too.
Design & Build
I don't only purchase things that provide me with utility but also when it appeals to the eye. Some of us would love that black color, big & matte look as it synchronizes with our kitchen. But as nice as the black color is, shiny stainless steel would look lovely in your kitchen too.
Stainless Sockets & Blades
The first thing you should check in a blender if the blades and sockets are built up of stainless steel. The quality of both these directly affects the performance and longevity of the blender.
Also, a stainless steel socket would ensure that it does not collect any unwanted rust. If they are made of any materials like plastic, it might happen that you will require a new blender soon.
Read More: Can You Juice Frozen Fruit? Simple Tips & Tricks
What Type Of Blender Is Best For Making Smoothies With Frozen Fruits
After looking into the features, the next factor you should consider is what type of blender is best suited for a smoothie. There is more than just one type of blender. I've covered the types of blenders available in the market and what will give you a delicious smoothie.
Counter-Top Blenders
These blenders are the conventional ones. These blenders offer multiple speeds and straightforward features. If you are looking for a low-cost blender, this might be the right type. They offer enough speed to bring your smoothie to the right consistency.
Immersion Blenders
Their sleek design may attract you, but it's best if you keep away from buying immersion blenders. Immersion blenders will not give you the best results if you are working with frozen fruits. They might be difficult to handle while whipping up a smoothie.
Personal Blenders
As the name suggests, these blenders exist just to make single-serve smoothies or protein drinks. A good alternative to countertop blenders, they work just so smoothly. So if you have a very small space or want a cost-effective option, grab these.
Read More: Best Personal Blender – 4 Top Rated Models
High-Performance Blenders
These blenders offer a wide range of functions. Apart from processing a fine smoothie, you can blend other hard and soft ingredients too. They might be slightly bigger than the rest but deliver satisfactory results.
These blenders, such as the ones made by Vitamix, tend to cost more than counter-tops. It is more useful for a commercial purpose or making large batches of smoothies.
Consider These Factors When Buying A Blender For Preparing Smoothies With Frozen Fruit
There are certain features of a blender you need to consider if you are getting it to prepare a smoothie. A high-grade blender must have an extraordinary built and best technology to give you the kind of smoothie you want.
Power
The blenders which are available now are much more fast and quick than the past blenders. Manufactures indicate the blender's power mostly in watts or sometimes horsepower. Watts can range anywhere from 300 to 1500.
High wattage blenders tend to cost more than low wattage blender for obvious reasons. So it's likely that a more expensive blender equals to a better one. A suitable blender for a smoothie would consist of a wattage anywhere near 800-1000.
Blade
A blender for a smoothie should be equipped with sharp and large blades. Nowadays, the blenders come with two varieties of the blade to make it more multipurpose. Look for effective extraction blades that can cut through frozen fruits effortlessly.
Jars
Various sizes of jar will help you if you want to make a smoothie in smaller or larger quantities. If you want to prepare a serving for one, get a blender with a jar with a capacity 25oz. If your requirements call for large quantities, be sure to buy no less than 45oz.
Several accessories that come along with the blenders are a different kind of lids. These lids allow you to switch the blending jar to a sipper. So not only can you pop the smoothie in the jar, but you can consume the smoothie in it too.
Speed
Purchasing a blender with a series of speeds will offer you convenience. By speed, not only do I mean it needs to be fast but also have various settings and options for it. This will allow your smoothie to reach the desired consistency. An ideal smoothie blender should consist of minimum 5-speed modes, if not more.
Trouble-Free Cleaning
The thought of cleaning the blender after preparing the smoothie makes me not make the smoothie at all. It is difficult to get thought the blades, with the risk of a cut and cleaning it thoroughly. But you don't need to worry about it anymore. With a proper understanding of the cleaning process, you can have a trouble-free time making smoothies.
Avoid buying blenders with a battle jar. It is because these jars trap most of the food ingredients underneath its blades, especially if it's frozen fruits. Buy blenders which have straight sides and broadened bases, they clean up easily.
During purchase, please ensure that its dishwasher safe, it makes the work a whole lot easier than just doing it manually. You can also use a bottle washing brush to get the remaining ingredients out.
Washing the jars immediately after use is prescribed as it can prevent the jars from staining. Some of the blenders come with an automated cleaning system. These blenders make operating more effortless.
What Else Can Be Prepared Apart From Smoothies?
I get it that it is all about making the perfect smoothies. But that versatile blender can do much more than that. Make maximum use of these blenders. Some smoothie blenders also come with a blade that is suitable for grinding.
Thus if you are fond of freshly grounded spices, these blenders would serve the purpose. Smoothie blenders can cut through hard veggies in a blink of an eye. You would often see in cafes that they use the blenders to prepare milkshakes, juices, frappes, etc.
Their fast speed and coarsely blending technique make it feasible to use for the preparation of soups, salad dressings, sauces, and dips. You can start your morning by preparing a fresh pancake batter in the blender. Another thing these blenders might make for you are nuts and seeds butter. If you like your butter smooth, this will work wonders.
After listing so many uses of blenders, I'm sure you've already grabbed a cookbook. You must buy a good quality blender, which will not only last long but fulfill all these needs.
To Sum Up
I've listed a handy guide that you can keep in mind while buying a blender that gives the best smoothie. Be sure of what you need and what kind of blender you require to make a smoothie with frozen fruits. Thought this is a guide, but trust yourself and make the buying decision since you know yours needs the best.
Set a budget before you set out to explore the options available. Don't let the assortments of blenders perplex you. Keeping a tab on any kind of offers and price deduction will get you blenders at a great deal. Customer ratings on e-commerce websites will also help you to make a wise investment.
Measure the pros and cons of each product and compare their features. I'm sure that you will get your hands on the perfect blender soon and whip up some delicious smoothies.
Best Blender for Smoothies with Frozen Fruit: Final Thoughts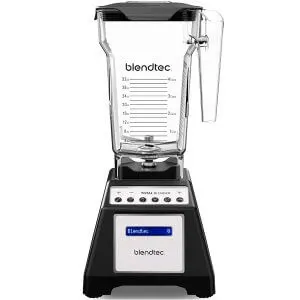 Each of the blenders we talked about today is great in its own way. If you want a super expensive professional blender that you can use for making fruit smoothies, almond milk, nut butter, and hot soup, I have to recommend the Vitamix 5200. It's a great blender and it comes included with all the best Vitamix features, like manual speed settings and a cool-running motor.
But if you're not into spending so much cash, you might want to think about the Nutri Ninja B642 Personal Countertop Blender. It's super affordable, it can blend smoothies just as well as the Vitamix, and it comes included with all kinds of unique accessories so that you can make personal shakes and large orders for a small party or for your family.
But if you want the very best, both in terms of performance and in terms of price, the Blendtec Total Classic is definitely my favorite option. This is a classic blender that comes in three different colors, either white, black, or red. It uses special blending techniques with its four-side jar to make you consistently delicious smoothies. It also has extremely thick blades and very useful blending cycles. The 75-oz jar allows you to make enough smoothies to serve an entire basketball team!
Anyone who wants the very best to make their fruit smoothies should consider the Blendtec Total Classic. It cleans itself, it gives you complete control of your blending speeds, and it has an astonishing 8-year warranty. This is an investment in the future of your kitchen, and along the way, it will make you the best smoothies you have ever tasted.