A common staple that you'll see in diners, cafes, restaurants, and even food trucks is a bar blender. These commercial-grade blenders serve as the best bar blenders as they are designed with more power, have a sturdier construction, and can handle larger workloads without overheating or damaging their motors.
As such, these models are expected to carry a higher price tag with them. Now, usually, a higher-priced blender doesn't always mean a better blender, but it does typically mean a longer-lasting one. And that is something you need in a top-notch bar blender.
Being the heavy-duty models that bar blenders are, these machines do not have a small footprint. They are typically large and weighty units that don't require any moving around and will occupy a permanent spot on the countertop.
And because bar blenders will be a substantial investment, you want to make sure that you get the right one for your business. So, here are my top three recommendations for blenders in this category.
Top Rated Bar Blenders Of 2020
---
Vitamix 5200 C-Series Blender: Best Overall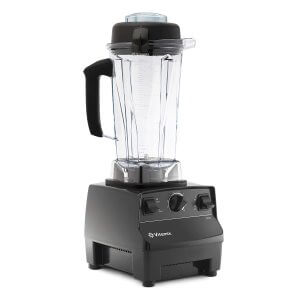 The Vitamix 5200 may have a hefty price tag, but it's easy to see why. This seriously professional-looking blender with its multi-function capacity is all that you'll need from a commercial-grade blender.
Simple-To-Use
Despite its commercial-grade quality, the Vitamix 5200 is simplicity personified. It comes with a basic control panel featuring an On/Off switch, a High/Variable switch, and a dial that gives you access to 10 incremental speeds. The RPM on this unit ranges between 500-37000 that covers everything from giving you full control over slower blends to high speeds that handle tougher tasks.
Concealing an immense 1,380 watts and 2HP of power within its base, this blender includes a 64-oz standard jar that is heat-resistant, BPA-free, and lightweight for easy handling yet tough to break. The heat-resistant features also make the container ideal for processing hot soup. You also get a tamper with the purchase that allows you to blend without hitting the blades.
Versatile Functions
The higher speeds on the Vitamix 5200 are used well for frozen drinks and hot soups alike, but it is the lower speeds that lend this machine a lot of its versatility. For instance, the lower variable speeds are great for everyday chopping and mixing needs. You can also equally well grind seeds, wheat, corn, and sugar to get your very own seed meal, fresh flour, cornmeal, and even powdered sugar.
The unit weighs a little over 10.5 pounds making it suitable for heavy-duty jobs as its size and weight keep it from moving around when in use.
---
Ninja BL642 Blender Duo With Auto-iQ: Budget Pick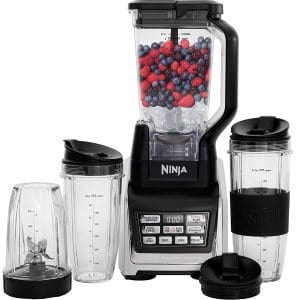 Working as well as the more expensive models in the market, the Ninja BL642 is an impressively versatile machine that just about does everything that more expensive blenders do.
Commercial-Grade Power and Performance
This is a mega-machine with a commercial-grade 1500-watt motor able to crush ice, blitz frozen fruit, and prepare creamy cold drinks to perfection. Alongside its power, the BBL642 also comes with smart features that will select the best time, speed, and setting to tailor the blend to your needs.
The blender's different operation modes offer timed pulses and intermittent pauses to take the guesswork out of blending. To keep things in check, there is a digital timer that displays the duration left in a cycle. But if you'd rather, you can also use the blender's 3 manual speeds to blend at your own pace and preference.
Blending Jars and Blades
With this purchase, you get a mega blending jug measuring 72 oz and 3 personal pitcher cups. And just like the two types of containers for large and individual blending, you also get two blade types.
The first is the Total Crushing blade to be used with the XL 72-oz pitcher. Designed like a column with 3 pairs of protruding blades, this blade helps pulverize everything you put in the blending container. The personal pitcher cups are to be used with the Extractor blades where the blending action gets concentrated to the smaller volumes of the cups for a smoother consistency.
Overall, for its price, the BL642 is both powerful and robust which makes it a great value for the money.
---
Blendtec Total Classic Blender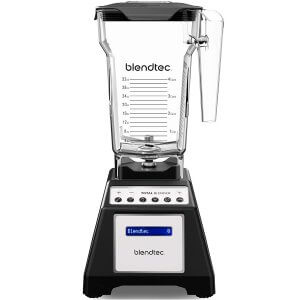 The Blendtec Total Classic remains a well-loved blender with an impressively powerful motor and immense ease of use.
Ideal for Home and Professional Use
Easily usable in professional settings, this blender has the power to blend through everything from raw veggies to nuts and ice. It can even make hot soup from scratch in a matter of minutes to your favorite smoothie in 30 seconds. The countdown timer is an excellent feature to let you know how much time remains for your blend.
All this and much more is possible with the 1560-watt, 3HP motor that powers this piece. Ideal for making smoothies, even the green kind, the Total Classic yields drinks without grit or lumps. With its two-pronged stainless-steel blade spinning at 29000 RPM, frozen fruit and ice are not a problem for this blender.
Settings and Programs
You can choose from a range of settings and speeds including Batter, Ice Crush Smoothie, Whole Juice, and Hot Soup to get what you want. Or, go with its 10 manual speeds and Pulse button for some dedicated hands-on blending.
Simply push the Up or Down speed button to get the speed you want. Each speed works on a 50-second timer but pressing any other button will stop the cycle.
Just as using this unit is a cinch, so is its cleanup. Simply add in some water and liquid soap to the pitcher and pulse for a few seconds. Rinse with water and your pitcher is ready for its next use.
---
Best Bar Blender: A Complete Buying Guide
Your bar blender is likely to see a lot more use as compared to a home blender, so it becomes important to look at certain aspects of its blending performance. Common considerations you need to take into account include the type of blending you'll be doing, the durability of the blender as well as its ability to handle 50+ uses without overheating or motor seize-up.
Power
The power of your blender should complement the needs of your business. If you're into preparing smoothies and shakes alone then you'll need something that can work with frozen ingredients and ice better, than say, preparing thicker mixes or hot soups.
Typically, blenders that have up to 2HP are suitable for working with light foods while those above 2 HP are better suited to work through medium to thick food prep. But if you have to prepare heavy foods and frozen beverages all day long, then look for the top of the line 3HP and above blenders.
Durability
Power is a good thing to have but it doesn't necessarily make it better for your needs. Power needs to be paired with the right parts so that your machine can do its job right. The best bar blenders will feature durable parts such as all-metal drives, sturdy stainless-steel blades, and strong, impact-resistant blending containers.
Related Articles:
Capacity
Another consideration is capacity based on what your business demands. If your business requirements need you to prepare small servings at a time, then a blender with a powerful motor but a smaller blending jar between 32-48 oz will work well. However, if you need to prepare larger batches at one time then your choice of blending capacity can go up to between 80-90 oz.
Settings and Functions
Once again, this will depend on the type of business you run. Depending on what you need, you can opt for simple blenders with toggle switches that are easy to use but have limited functions. Or, you may look into models that have a wider array of dials, knobs, preset programs, and touchpads for more blending functions to choose from. In a commercial setting, blenders with automated settings are highly preferred as they let the blender do its job while you tend to other tasks.
Cleanup
Easy cleanup is a must for blenders that work long and hard all day. Look for a model that disassembles and reassembles easily for a thorough cleaning as per safety standards. Many models, like the Blendtec, come with a self-clean feature that ensures quick clean up so you can have your blender up and running again in no time.
Best Bar Blender: Final Thoughts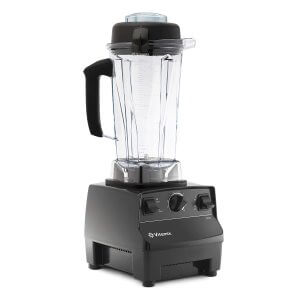 There's no denying that the Vitamix 5200 is a hefty investment but with all that it offers, it ranks as the best bar blender. It can easily help you whip up the smoothest of smoothies, perfectly blended ice-cold drinks, and even hot soup if that is something that your business demands.
The Ninja BL642 offers handy convenience as you'd need in a professional setting with its preprogrammed settings and hands-free blending options. The blender does all the work for you at a conveniently affordable price and offers the versatility of high-end blenders.
The Blendtec Total Classic is an excellent high-performance blender that stands out because of its extremely powerful motor that would be ideal for businesses. Equipped with both manual and pre-programmed options, the Total Classic offers a bit of everything to make life in the bar a bit easier.