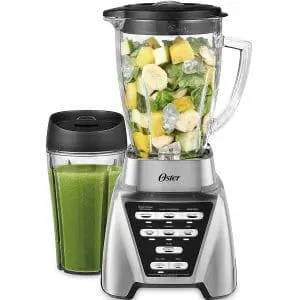 Powerful 1200W Motor
Durable Design
---
Glass blenders are old school. You probably remember seeing the giant 700-pound glass blender in your grandmother's house as a child. Guess what, they are still around. But now they are new and improved. The best glass blenders have been outfitted with enhanced blade technology, better and more durable glass containers, and lots of advanced programmabilities.
Glass blenders are great because they come with heavy motors, an incredibly strong glass pitcher, enough settings to see you through ordinary blending projects, and they are super affordable. In fact, their biggest draw is their shocking affordability. Most units run under $50.
For those who do not need a super expensive blender that works hands-free, sings you to sleep with a lullaby, and miraculously cleans itself, a glass blender is a perfect option for you. Glass blenders are also cool to have sitting on the counter. They feel a little bit nostalgic, reminiscent of an older time.
Top Rated Glass Blenders Of 2021
---
Oster Pro 1200 Plus Blend-N-Go Blender – Best Overall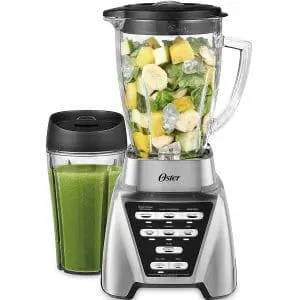 Consider the Oster Pro 1200 Plus Blender the ultimate ice crushing machine. This baby comes with seven speeds, a super-wide base that gives improved blending capabilities, and dual directional blade technology. All of these stunning features make this one of the best blenders made from glass ever.
Improved Power
Whereas older glass blenders were big and clunky and not that powerful, the Oster Pro Blender is made like a tank. This powerful machine comes with 1200 Watts of damage. It is going to chew through solid ice and frozen food like butter, creating the best shakes and smoothies for you to enjoy.
Even stuff like kale and spinach will be blended into a completely smooth substance, no leafy chunks. Add almond milk, pineapple juice, or any other liquid and the machine works even better, liquefying hard frozen carrots in mere seconds. Many satisfied customers claim that this super affordable glass blender works better than some more expensive, high-end models.
New Technology
You can enjoy all of the best smart technology with the Oster Pro 1200 Plus Blender. It has a ton of preprogrammed settings, including built-in options for milkshakes, salsas, and smoothies. Not only that, but you get 7 speeds: low, medium, high, and pulse.
The large glass jar has been improved to be extra durable and safe to wash in the dishwasher. This unit also comes included with a special glass smoothie cup, which you can attach straight to the base to blend your drink inside of.
---
Black & Decker BL2010BG Countertop Blender – Best Budget
Black & Decker makes everything. Tools, kitchen appliances, household equipment – they have their hands in a little piece of every pie. Now they have the Black & Decker BL2010BG Countertop Blender to add to your kitchen.
Solid & Reliable
The brand name says it all: solid and reliable. When you buy this countertop blender, you are not getting a piece of equipment with a lot of frills or gimmicks attached. This is designed to blend and nothing more. The blades are super strong, the base is sturdy with a tough motor, and the glass jar is nearly unbreakable.
You might say this blender is a kitchen classic. If you want a heavy-duty blender without all kinds of dramatic technology integrated into the hardware – and if you want a reliable machine that is easy to clean and will work every time – this is the unit for you. Trust in its solid and dependable design.
It Simply Works
This Black & Decker countertop blender works like a dream. It has 10 variable speeds that allow you to dictate the texture of whatever you're blending, whether it be an ice cream float on a hot afternoon or a power drink before the gym.
The blade is stainless steel and multi-level, blending more efficiently than ever before. With 550 Watts at peak power output, you can bet this machine is going to chew ice into dust, which is exactly what you want it to do. It may not be the best glass blender, but it sure gets the job done for a great price.
---
Hamilton Beach Wave Crusher Multi-Function Blender
The Hamilton Beach Wave Crusher Blender was titled the "wave crusher" for good reason. This glass blender is a serious ice crushing machine. Not only ice, but it also crushes frozen fruit and veggies with almost psychotic efficiency.
With a motor that reaches 700 Watts at peak, you can rest assured this wildly affordable glass blender is going to satisfy your thirst for a long time to come.
The Original Blender
Older models of the glass blender did not work that well. They had weak blades and a bad blending system that left big chunks of food leftover in your drinks.
With the new Wave Crusher Blender from Hamilton Beach, you can expect a specialized wave action system to force the contents of the container to swirl around the blades, therefore smoothing your beverage into perfect drinking texture.
My favorite aspect of this blender – and this may not be important to you – is the way it looks, just like an original glass blender. It is small, discreet, and minimalistic. This thing would look great in my kitchen.
The Power of Glass
The 40-ounce glass jar that comes with this blender is heat resistant and tested to withstand the most extreme temperature changes imaginable. This means you can not only make frozen drinks but hot drinks as well. I'm thinking about a giant pitcher of Irish coffee. Anyone with me?
The blade and collar can be removed for easy cleaning. Plus, the lid on the glass jar has a special spout that is easy to pour from. No more spilling when you pour your drink.
---
Best Glass Blender: A Complete Buying Guide
There is a lot to look for in a glass blender. You want a solid, heat-resistant jar that won't crack or break when blending different kinds of foods and liquids, like hot soup. You also want a very powerful motor that can effectively break apart ice for cold drinks.
A glass blender as a kitchen essential may sound precarious because, after all, it is glass. The various cooking ingredients that get blended daily vary from density to individual strength.
You cannot expect a glass jar to hold its own against the beating of hard nuts or coconut chunks. However, you will be glad to know that the best glass blender in the market embodies the definition of convenience.
In fact, the main purpose of an original glass blender is to make smoothies and other drinks. If you want to start processing food, you may want a blender with a few more features. However, we can take a quick look at the features you can expect to find when shopping for the best blender made from glass.
The plethora of glass blenders at your disposal may seem intimidating to peruse through. It becomes challenging to select the most suitable glass blender according to your needs.
To help you make an informed decision, I have taken up the gauntlet of creating a buying guide for the best glass blender.
I will be tackling the numerous features and benefits, as well as the practicality of investing in a glass blender. Let's begin!
How to Choose a Blender with a Glass Jar?
Except for the fact that they are glass, glass blenders provide the same facilities as any other blender. However, there are unique factors to consider when it comes to glass blenders.
Since glass is vulnerable to high speeds, how much motor power is suitable in a glass blender? What specific functions do you require from your glass blender? Are you comfortable with the weight factor of a glass blender?
Investing in a glass blender is as nuanced as investing in any other kitchen appliance. Depending on your choice of foods that you need a glass blender for, the specific blender model gets availed.
Perhaps you have a recent change in lifestyle and are planning to mix things up with some healthy concoctions. Or you are looking for a compact machine that will ergonomically incorporate on your countertop.
Even glass blenders have specific functionalities that suit the ingredients getting churned in them. For example, vegetables that get stuck under the blades of the blender and on the sides of the jar.
If you are purchasing a glass blender for your elderly parents or relatives, they could use a blender that weighs less. Or maybe a smaller and powerful version of a glass blender might be ideal.
Maybe you don't require the use of your blender daily and prefer storing it in your pantry. You would then choose a glass blender that is ideally lightweight and durable, even when not used regularly.
As someone who has recently taken up cooking, you like experimenting with ingredients. Since different foods require different degrees of blending, you might want a glass blender with varying blending speeds.
The notion that something expensive is always guaranteed to have quality does not hold anymore. Alternately, cheaper models are equally unreliable. You will have to carefully consider the blender features and then decide how much you are willing to spend.
Many glass blenders offer extra cups or jars that can double up as carry-cups directly. Just blend, remove the cup, put on the lid, and you have a nutritious blend on the go.
As you can see, there are umpteen reasons that you have to contemplate before choosing the right glass blender. The best way to choose one is to stay aware of the various features of a glass blender.
It's All About the Smoothies
If you are looking for a new glass blender, I bet you want to make smoothies. Either smoothies or milkshakes, or maybe iced coffees or yummy margaritas. Whatever the case, the primary function of your new glass blender is to make yummy drinks. For that, you need power.
When talking blenders, power comes in the form of Watts. The higher the Watts, the more destructive power you get from the blades, which means a better texture of your drinks. If the power is too low, you can expect to find chunks in your beverages. You do not want that. Or worse, the blades jam and can't break down the ice.
You want enough power to shred kale and spinach and even lettuce (not that many of us are making lettuce smoothies) into a soft and easily drinkable substance. Same with crushing ice. You need enough power to shred ice and frozen fruit at the same time. When shopping, always compare the wattage of the units.
What Features Does a Blender with a Glass Jar Need?
As mentioned earlier, glass jars are vulnerable to continuous function at high-speeds. In addition to being durable and lightweight, and convenient to use, glass blenders must satisfy your expectations placed in them.
Let's have a look at some of the vital features the best glass blender incorporates and furnishes.
Power
The wattage of power your blender requires depends on what you blend in it. A key point to remember is that manufacturers tend to incorporate lower power in glass blenders since they can break.
However, glass blenders must have enough power to chop and churn through various soft and hard ingredients, consistently. A 1000+ watt rated glass blender is ideal in handling the battering of nuts, raw vegetables, frozen ingredients, and more. If smoothies are all you want to make in your blender, choose a 500+ watt glass blender.
Speed
With a glass blender, you can expect to see a lot of units that offer variable speeds and preprogrammed settings. You may or may not care about these settings, especially if you already know how to make your favorite smoothies. Still, preprogrammed settings are great. I know how long to cook my popcorn, but I still prefer to push the easy "popcorn" button on my microwave.
Concerning the speed aspect, you expect consistency, no matter the level of blending. Regarding the ease of use, glass blenders have preset speed programs like the pulse feature that requires a press of a button.
If the preset programs are not available, choose a glass blender that provides three to ten levels of speeds. Starting slow and then increasing the speed allows the concoction to emulsify consistently. Any lower than three varying speeds limits the consistent control while any more than ten are generally unnecessary.
Jar Size
Blending jars are of different capacities to suit the blending needs of every individual. If you have a limited use for your glass blender or like to blend smoothies from time to time, invest in a single-serve blender.
The capacity of your blender also depends on the available storage space. For large family needs, choose a glass blender with a ten to thirteen cup capacity.
Blade Quality
These standard glass blenders do not come with the array of fancy features that some of the newer blenders come with, but that is not a problem. These glass blenders come with some of the toughest blades in the business, which work to professionally break down all kinds of foods and organic material into a creamy paste.
Choose a blender whose blending blades are durable and removable. The best quality blades for glass blenders are usually stainless steel that guarantees durability and longevity. The fact that they do not absorb odors contributes to a bacteria-free blender.
Removable blades ensure complete cleaning and replacement if ever the need arises. You won't have to switch out the entire blender merely to make up for the broken blender blades. Further, stainless steel blades get sharpened to give consistent pureeing and blending with every use.
Power Cord
The most unappealing aspect of my blender is probably the power cord running along the periphery of the countertop. It also hangs from the switchboard in an unsightly manner that adds to my irritation.
Finding the right size power cord in a glass blender might be one of your considerations too. You would like to avoid extensions if the power cord is too short and having a lengthy one is also a no-no. Some blenders come with a nifty feature of retractable power cords that rest in the base of the machine. You might want to look out for such glass blenders if that is what you desire.
Dishwasher Safe
The majority of glass blenders available on the market are dishwasher safe. It is a general concern that regular dishwashing may lead to deterioration of the blades faster than usual. However, the fact that the blades themselves are removable is an indicator of the ease of cleaning your glass blender.
Noise of Operations
The whirring noise of a blender is generally not a deterrent to many and not considered as significant. It is the case with me too. However, you may have small kids or pets who get easily irritated by the noise of the machine and object to its use.
You can always plan your timings of blender use or merely invest in one that works whisper-quiet for convenience.
Warranty
Glass blenders from reputed manufacturers have a reliable Warranty that guarantees support. Since a blender consists of many moving parts that create heat, mechanical malfunctions can arise.
With the inclusion of a warranty, you have peace of mind regarding quality and service when purchasing the blender.
Related Articles:
What Determines the Quality of the Best Glass Blender?
To expect one glass blender to incorporate all the top-notch features is asking for too much. In any case, there are a few fundamental characteristics that define the quality of the best blender made from glass.
Robust Base
Glass blenders with a sturdy base will imbibe the vibrations when the machine is in operation. You won't have to watch your blender skitter from side to side due to the vibrations anymore. Metal bases provide a much-needed weight and stability for easy assembly and use.
Efficiently Powered Motor
Effective blending calls for a minimum of 350+ watts to ensure consistent concoctions and purees. Blenders for smoothies only require a mere 500 watts to secure sufficient and satisfactory results. However, frozen ingredients, ice, and other similar elements of cooking need more than 500 watts to produce the required results.
Variable Speed Settings
Some foods do not require consistent blending, like meat. At times, all you want is a little mincing with regulated whirrs of the machine. In such cases, having variable speed control comes in handy.
Alternatively, creating smooth pastes and purees requires a gradual change from slow to faster speeds. An ideal speed setting in your blender would be at least 6- or 7-speed levels.
Durable Blades
Glass blenders with removable and durable blades are the most coveted models in the market. The blender blades get made of stainless steel, which eliminates the chances of rusting or deterioration.
Interlocking metal blades are easy to remove in the sense that you do not get your hands cut while removing them. Further, they furnish ease of cleaning when you blend thick pastes and purees in the blender.
High-Quality Glass
It is common knowledge that glass blenders are prone to breakage. However, manufacturers are tackling the issue by providing the most durable glass blenders possible.
Additionally, lowering the motor power helps aid the longevity of the blender jar. Glass jars are comparatively better than their plastic counterparts in various aspects.
Read More: What is the best mason jar blender?
How Simple are Glass Blenders to Clean?
The interior of the glass jars consists of removable blades that make for effortless cleaning from the inside. The glass jar itself is dishwasher safe, so there are no worries of grime collection under the blender jar.
As for the blender, most of them come with a control panel fitted with push-buttons. Cleaning their crevices may get a bit tricky. You can also opt for touchpad controls where you can easily wipe down the surface of the blender with a damp cloth.
If you want to go the traditional way and not use the dishwasher as much, there is a way to do just that. Put in some lemon juice, some white vinegar, and a dash of baking soda into the blender jar. Turn the blender on for 30 seconds, rinse with hot water, and dry with a clean cloth.
What are the Advantages of Having a Quality Glass Blender?
Even though there are minimal glass blenders as compared to the plastic and steel counterparts, customers still vie for its purchase. Besides being an essential kitchen appliance and fulfilling your blending needs, a few more impactful advantages are as follows.
A quality glass blender will not shatter as it gets built to endure the low motor speeds of the machine.
They are relatively easy to use and clean. Whether you have made a sticky and buttery mess or a juicy concoction, the blender is easy to clean thoroughly.
The quality of the blades enables the performance-oriented blending of even the hardest and softest ingredients with consistency.
The control panel is user friendly with multiple speed options and inclusions like the pulse feature.
Glass jars exude a cleaner vibe due to their transparency.
Even though glass jars are prone to breakage, they can last for years if they get handled carefully.
Quality glass jars are scratch-resistant. No matter the toughness of the nuts and seeds or raw vegetables, the interior of the blender jar remains scratch-free. In this manner, you will not have to worry about needless bacteria residing in the little crevices and crannies.
Another good thing about glass jars is that they neither absorb nor imbibe food odors.
Further, they do not get discolored and lose their reflective clarity.
Unlike the plastic blenders that contain the chemical BPA linked to cancer, glass jars are fortunately BPA (bisphenol A) free.
Can a Blender with a Glass Jar Blend Hot Soup?
It is a common query that people tend to stay away from, but blending hot soup in a blender is debatable. However, there are particular brands of glass jars that allow you to make hot soups creamier in the blender.
The glass is heat-resistant to allow the blending of hot ingredients. Glass blenders can even make peanut butter and grind coffee.
Summing up
Glass blenders are certainly expensive when compared to other varieties of blenders. As you may concur, after having read the guide, the high price tag is worth every penny.
I suggest looking for a blender with tough blades and high power. Also, look for a pulse feature. The pulse feature will allow you to better control what the blades are doing and what your finished product will look like.
No matter how many high-end features a glass blender may have, all you need is consistency and efficiency of performance. Bear in mind the general buying tips I have mentioned above, and you will have an easier time picking out the best glass blender.
Best Glass Blender: Final Thoughts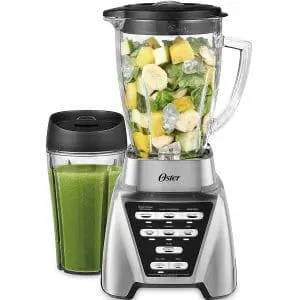 Coming to a decision about the best glass blender is no easy task. I love the Hamilton Beach Wave Crusher Blender with its 14 functions and heat-resistant glass jar. That said, I like the Oster Pro 1200 Blender more.
The Oster Pro 1200 comes with smart technology, customizable speeds, and a lot of basic features that make it more convenient to use. The glass jar is small at only 24 ounces, but it does come with a glass smoothie cup for beverages to go.
Both of these glass blenders have a lot of power, but the Oster Pro has almost double the Hamilton beach. I have no choice but to label the Oster Pro 1200 Blender the best glass blending unit for your home kitchen.
The Black & Decker blender is a fabulous budget unit, but it really is inferior compared to the other models. If you do not want to spend a lot of money but you still need a glass blender on occasion, then, by all means, buy the Black & Decker. But if you want the best glass blender, the Oster Pro is the way to go.