Protein shakes continue to be all the rage among health fanatics. They are synonymous with boosting metabolism, reducing appetite, and gaining muscle and you can achieve this and much more by using the best blender for protein shakes to create healthy concoctions that you can enjoy at home or take along with you.
That said, your protein shake will only do you good if you blend it right. This implies having chunk-free beverages that taste good, yield positive results, and are easy to make. Since many will involve using protein powder of some sort, you need to ensure that everything gets blended well with no residue left behind.
So, when looking for the best blenders for protein shakes, you should look for something that's easy to use, has the right power to pulverize ingredients, and in most cases, should come with easy-to-carry cups. Here are my top recommendations to consider.
Top Rated Blenders for Protein Shakes Of 2020
---
NutriBullet Pro 900: Best Overall
Probably the biggest name in the smoothie-making game, NutriBullet raises the bar with every model it launches with its potential to liquefy ingredients like no other. And the Pro 900 testifies to that.
Ideal for Busy Lifestyles
As opposed to more complicated blenders that come with lots of buttons and dials, the Pro 900 has none but still does all the work expected of a larger model. All you do is place your ingredients in the blending container, put it on the base inverted, and push down to prepare an instant protein shake.
Featuring a 900-watt motor that yields the torque not quite found in other personal blenders in the market, the Pro 900 is a delight when it comes to blending fruit, slicing through seeds, and crushing ice.
To enhance the power of the motor, the NutriBullet comes with a patented stainless-steel blade design. The blades work as extractor blades with a cyclonic action that wrings maximum nutrients from your ingredients to give you a nutrient-dense beverage.
Your On-The-Go Companion
The NutriBullet Pro 900 has a simple design that doesn't hold back its performance. If anything, it is extremely user-friendly, compact, and powerful taking up little space on your countertop and can even be used at work.
Because the NutriBullet Pro 900 is a personal blender, it comes with all the standard to-go solutions and some more. You get 2 colossal cups and an assortment of flip-top lids, comfort lip rings, and handled lip rings to make this unit as portable as possible.
---
Oster MyBlend: Budget Pick
The Oster MyBlend is an ultra-affordable option for people who love to make protein shakes.
Fit for Active Lifestyles
A budget blender doesn't necessarily equate a subpar blender and the Oster my blend proves that. It comes with a 250-watt motor which isn't the most powerful out there but is all the power you need to make a simple protein shake. The smaller motor is also relatively quiet, so a nice fit for homes where morning shakes can happen without waking everyone up.
The blender comes with the convenience of one-touch blending at a single speed which may not be as versatile as multiple speed blenders, but it is very simple to use. There is a lid with a carry hook for convenient traveling and the 20-oz container has all the on-the-go portability you need. Users feel that the container is sized just right for a daily protein shake.
Small Footprint
Its one-press operation makes the MyBlend very easy to use and minimalist design comes without the hassle of bothersome cleanup later. The blender's 4-blade base and 20-oz container are both dishwasher safe.
In terms of size, this unit has a small footprint making it easy to fit in tight spaces anywhere. For safety measures, the blender shuts off the motor if overheated and then restores it to use once it has cooled down completely. This typically takes around fifteen minutes.
Given its minimal specs, the MyBlend will come with some performance limitations. However, for smoothies and shakes, it will get you through with no problem. Plus, you get this model at a bargain price.
---
Ninja BL480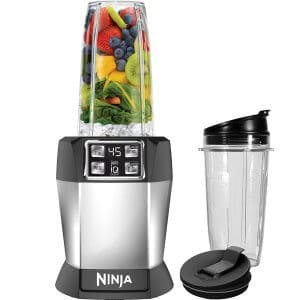 There's lots to love about the Ninja BL480 if daily protein shakes are a part of your health regimen. With an upscale, professional appearance, this blender is a standout unit in terms of power, performance, and durability.
Professional and Powerful
The Ninja BL480 uses a powerful 1000-watt motor of raw blending power. Some might even consider it overkill for a simple protein shake, but there's no arguing that it does an astounding job of creating an impressively smooth concoction from different ingredients.
Plus, its patented Ninja technology makes short work of just about anything you want to blend. This gives you the freedom to go way beyond making protein shakes and lets you chop, blend, and puree effortlessly in mere seconds. The Auto IQ feature including a pair of preset programs is great for people who like to blend and walk away making the BL480 a suitable blender for novices and busy households.
Manual Pulse Function
If you are particular about the texture of your protein shake, a pulse feature can be an absolute game-changer. With the BL480, you get the option to manually pulse your drink to either have a protein shake that is chunky or one that is silky smooth. The powerful pulse blending action paired with the durable stainless-steel blade lets you meet all your blending needs head-on, and the results are nothing short of impressive.
Compared to other personal blenders recommended for protein shakes, the BL480 is bigger and heavier, but its size does make it feel sturdy. The addition of rubber pads at its base keep it grounded as you blend with the machine.
---
Best Blender for Protein Shakes: A Complete Buying Guide
If all you want to do is blend up a protein shake or a smoothie with your blender, then you can easily go the path of least resistance and get a smaller, more basic model with no bells and whistles attached. But if you want to do more, then look for something that gives higher power, capacity, and convenience. But even for the most elementary models, keep the following in mind:
Portable Unit
If you only take your protein shakes at home, then portability may not be such an issue. But if you're one to take your drink along with you then portability of the blender definitely factors in.
Compact blenders, especially those styled like a sports bottle are ideal for carrying along as you head out for a jog or to the gym. Others that may not be practical to take along should still come with plenty of options for to-go cups and lids so that your protein shake can accompany you wherever you go.
Power
Even low powered models will yield enough torque if all you plan on doing is preparing protein shakes. But when you add ice into that equation, things change quite a bit. Ice demands a steady supply of power, so look for models with 700 or more watts.
Blenders with weaker motor power than that will struggle with ice, although you may facilitate the process by breaking cubes into smaller pieces and then placing them in the blending jar.
Related Articles:
Blending Speed
To have more control over the texture and consistency of your blend, it's important to look at models that offer a variety of blending speeds. Having a choice between variable speeds can surely make the blending process easier and give you exactly what you want.
On the other hand, one-speed blenders will also give you decent protein shakes, but you may have to compromise somewhat on the texture and consistency aspects of the drink.
Blade
A lower-quality blade can easily cancel out a higher power output as it will struggle to blend ingredients smoothly. Stainless-steel blades are more resistant to dulling with the potential to hold the edges well.
On a side note, the blade connection to the unit is also important. Some blades are mounted so that it becomes hard to get to ingredients that settle at the base of the blending container. Getting something that doesn't present this issue will blend better and be much simpler to clean.
Best Blender for Protein Shakes: Final Thoughts
The Pro 900 made by NutriBullet is ranked the best blender for protein shakes given its uniform blending performance, ease of use, and excellent price point. Plus, it easily doubles up as a clever to-go cup which makes taking your protein shake along a cinch.
The Oster MyBlend yields personal blending at a budget-friendly price letting you blend your protein shake straight into the sports bottle and go. Designed for convenience and portability, this is the ideal one-serve to-go blender.
The BL480 is a super powerful blender that you can blend into, put on a travel lid, and head out the door. This is an excellent choice for people who want a heavy-duty protein shake blender equipped to handle the thickest powder and heaviest additional ingredients.