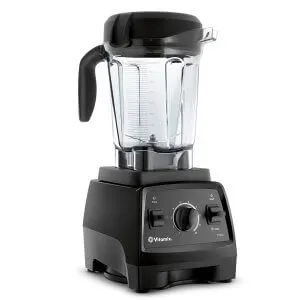 If you're in the market for a blender, then the Vitamix 7500 Blender may be a good option to consider. Vitamix is one of the oldest blender producing companies in America. This company was founded in 1937, and by 1949, the company had peaked, and its blenders were top-rated across the country. Today, Vitamix blenders have thousands of loyalists who believe that they are worth every dollar. With variable models and a brand name of decades, these blenders come in different sizes and colors.
You may find a couple of blenders that are low cost compared to the Vitamix blender. The question is, is this really worth it? Let's delve deeper and compare the features.
---
Vitamix 7500 Review: Overview
Most people think that the bigger the container, the better the blender. Even some manufacturers believe that. In some cases, this is correct, but not always. Some blenders in the market are ridiculously big to be practical. Such big mixers are making it hard for some homeowners to store them, as they cannot fit in cabinets and cupboards.
Keeping this in mind, Vitamix has come with a blender that will be easy to fit in your cabinet or cupboard. The Vitamix 7500 blender is shorter than the ones that came before it, standing at seventeen and a half inches tall. However, they have made the mixer a bit wider, so it can still hold 2000 milliliters.
The container is made of a copolyester material that is very durable and scratch-resistant. This material is a bit better than glass, in my opinion. In my research, I found out that glass is not very safe when it comes to processing high loads.
---
Blades
The blades in this blender are built into the container, and they are made of stainless steel. You can use the wet blade to make smoothies, nut butter, or ice creams. You can also use it to chop foods. The blades in this blender ensure that all the nutrients in the fruits or vegetables you are blending are preserved, including fiber.
If you want to use your blender for milling, I strongly recommend you purchase a 32-ounce jar separately for the best results. The 32-ounce jar uses a dry blade, and it will definitely grind and knead better for you. It doesn't mean that this Vitamix machine can't knead, though.
Related Articles:
The blender has a self-cleaning mode meaning maintenance of this blender is effortless. You just need to place a cup of warm soapy water in the container then seal it before turning the blender on for about 45 seconds. After that, rinse your blender with clean water, and you are good to go.
Vitamix 7500: Speed Settings and Programs
The Vitamix 7500 Blender has ten variable speeds, and you can find the adjustment knob on the base of your blender. There is also an off/on switch, as well as the pulse switch at the bottom of the blender.
It is worth noting that everything on this blender has to be done manually, and there is no pre-set program feature in it. I think this is a good thing as you have full control of the consistency of your products.
With the lower speeds, you can use the blender to add textures to soup, prepare dips, and chop ingredients. This means that if you keep your speeds low, you can be sure of thicker concoctions.
On the other hand, the higher speeds ensure that anything you put in the blender is thoroughly blended. With these speeds, you can be guaranteed of super smooth smoothies. This blender gives you the freedom to enjoy a concoction the way you love it.
---
Vitamix 7500: Power
This blender uses a 2.2 horsepower and a 12 amp motor that turns the stainless blades so powerfully to chop and crush even the toughest vegetables, nuts, and seeds. The blades rotate at a speed of 37, 000 rpm. Vitamix 7500 Blender works at 1500 watts.
The Vitamix 7500 blender is fitted with a cooling system, which ensures that it continues to chop content in it for a longer time. There is a thermal protection feature that turns off the power in case of overload. Your blender will shut off shall it need any rest.
Another thing that will make you love this blender, even more, is the nice touch with the improved noise reduction. The Vitamix 7500 Blender runs at 70 decibels, and it less noisy compared to the other models. However, some people still find it noisy, so you should keep that in mind.
Vitamix 7500: Pros
A Vitamix 7500 Blender can turn your cold ingredients hot.
The Vitamix 7500 is a powerful machine that can chop or crush even the toughest chunks of nuts, seeds, and vegetables.
You can use your blender with both dry and wet blades.
A wide range of blending styles
A Vitamix 7500 Blender has a pulse control and ten variable speeds.
The self-cleaning feature makes it easy for you to clean quickly
Vitamix 7500: Cons
A bit pricy for some people
Some people still find it noisy
You need to purchase smaller containers and a dry blade should you need to use them.
Vitamix 7500 Review: Final Thoughts
Now, let's wrap up this Vitamix 7500 Blender review, and as you can see, it is worth it for anyone looking for high performance and durable blender. This blender is powerful enough to crush and chop all sorts of vegetables within the shortest time. With this blender, you can even turn cold ingredients hot.
Another thing you will love about this blender is the self-cleaning feature. It is versatile, and you can use it for making things like smoothies, baby food, mix batters, dough, and soup, among others. Just with a drop of liquid dish wash, and some warm water, you have a clean blender.
Vitamix 7500 Blender blends well with your kitchen and will serve you for a long time. With its hardened steel blades, you can use it to blend even boiled veggies. So, what are you waiting for? Go ahead and grab this blender. After all, you deserve the best, why not choose the best brand with the best features available?
Related Articles: