If you're a stickler for frozen drinks and everything iced, you can't afford to take a chance with an ordinary blender. You need the best blender for frozen drinks that will blend everything to perfection without leaving any chunks of ice floating in your chilled beverage.
These blenders will start off with a powerful motor and those that fail to meet the mark will usually end up burnt out. Or, they will come with special cooling features or auto shut functions to prevent overheating which can easily become an issue, especially when dealing with tough ingredients like frozen fruit and ice.
So, if you want to make impressionable frozen treats like a pro then avoid blenders that fail to deliver on power, performance, and reliability. Instead, look at others that boast a motor capable of driving its blade mechanism with the right force to crush through frozen ingredients. And here are my top recommendations.
Top Rated Blenders For Frozen Drinks
---
Vitamix 5200 C-Series Blender: Best Overall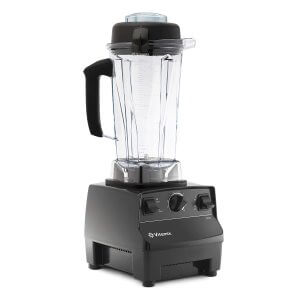 A blending beast by every standard, the Vitamix 5200 is the pinnacle of blending perfection.
Power-Driven Performance
The Vitamix 5200 covers all the basics of blending smoothies, making purees, and pulverizing veggies and then goes beyond into the domain of crushing ice, mixing dough, and grinding nuts into butter. Its small wonder then, that with a 2HP motor, the 5200 can make almost anything. It can even go as far as making soup just by the mere super-fast spin of its blades.
The blades on this unit rotate at 37,000 RPM giving them enough friction to generate a lot of heat. But with such power and speed comes the need for durability and the Vitamix 5200 delivers here as well.
Backed by a 7-year warranty, you can expect the Vitamix to last for at least that long and with proper upkeep, even longer.
Design and Features
The Vitamix 5200 is a broad-based model that accommodates its powerful 2 HP motor nicely. It comes with a tall pitcher as opposed to a low-profile one with a generous 64-oz capacity. The design uses a fan type blade that works to pull ingredients down from top to bottom in a continuous loop resulting in smoother blends with no chunks. The blades are constructed from aircraft-grade stainless steel which will last you for life.
Even though there are no pre-programmed functions, the blender's 10 variable speeds give you a fair bit of customization to control the texture of your blend.
---
Ninja BL642 Blender Duo With Auto iQ: Budget Pick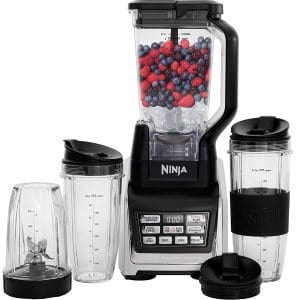 For a decent price tag, the Ninja BL642 is an absolute delight for people who want quality frozen drinks without blowing the bank.
Makes the Best Iced Drinks on A Budget
The Ninja BL642 allows you to combine a nice assortment of frozen fruits and vegetables with ice in its extra-large 72-oz container. The large capacity of the blending jar allows creating a range of drinks for a crowd easily.
This best blender for frozen drinks comes with 5 timed preset programs, 3 manual settings and works better than many other blenders for frozen drinks. The Frozen Drinks/Smoothies preset is ideal for creating snowy treats in no time with no room for error. The Pulse feature is an added bonus to have more control over the blending process.
The 1500-watt motor with the Total Crushing blades and pulverizing technology give you a smooth texture with no lingering ice chunks.
Double-Duty Blender
The Ninja BL642 is a big machine that doubles as a countertop blender as well as a bullet-style version. The massive 64-oz pitcher is what you would use for blending frozen drinks for a larger crowd but for smaller, individual tasks you can choose from an assortment of 18, 24, and 32-oz cups.
Despite its large capacity, the big pitcher has a low profile making it easy to store under kitchen cabinets. Plus, its Auto-IQ technology includes an automatic load sensing capability giving you the convenience of hands-free operation.
---
Blendtec Total Blender Classic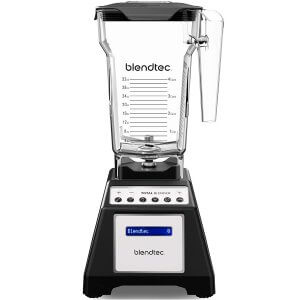 The Blendtec Total Classic is a top-of-the-line blender that may be quite an investment, but the tradeoff is getting incredibly smooth blends with no chunks of ice in your frozen drinks.
Hefty, All-Round Performance
The Blendtec Total Classic runs on a 3HP motor which can crank out 1560 watts making it very suitable for working with ice and other frozen ingredients.
This blender works wonders for frozen drinks with its six pre-programmed cycles and 10 variable speeds. The Smoothies and Ice crush presets, in particular, give you the perfect touch for creating any kind of frozen drink. And with its multiple speeds, you get a nice leeway to customize the texture of your blend.
To make sure that the blender doesn't wimp out after just a few months, this model features an all-metal drive. The base is sturdily designed to keep the blender from vibrating or tipping over during blending.
Innovative Blade Design
A Blendtec blender review cannot be complete without mentioning its innovative blade design. The Total Classic also features the trademark thick, blunt blade known so well for crushing ice. The immense power of the blade gives ice cubes such a thrashing that it transforms them into soft, fluffy snow and that is exactly what you need for the perfect frozen drink.
When you put the blade inside Blendtec's patented WildSide+ Jar with its square design, your frozen ingredients will get the beating of a lifetime and you get praiseworthy frozen drinks every time.
But the action doesn't stop here. The blades are equally effective for churning out ice cream, hot soups, kneading dough, and whisking up some batter. You pretty much get a jack of all trades with this purchase.
---
Best Blender for Frozen Drinks: A Complete Buying Guide
In your search for the best blender for frozen drinks, you need to choose wisely to avoid the mayhem of a lumpy or grainy drink. Here's a checklist of features that you should look for.
Power and Speed
As ice and frozen ingredients are involved, look for a machine with a fair bit of torque. Anything above 1000 watts is worth considering and machines that go up to 1500 watts and beyond will have no trouble working with frozen ingredients.
Speed-wise, look for multiple speeds to get the right consistency with preference given to higher speeds.
Blade Design
Another important consideration is the blade system that goes hand in hand with power. Your blender may have a lot of power but that wouldn't do much if its blade system remains inefficient.
You can go with either sharp, pointed blades such as those featured in Ninja blenders or take your pick from thick, blunt blades such as those used in Blendtec blenders. Both will do the job well when paired with a strong enough motor and durable construction materials.
So, while different designs can work equally well, the decision stands unanimous that the blade material should always be stainless steel. Stainless steel's strength and durability make it the ideal contender to handle impact and slice through the most solid ingredients.
Related Articles:
Capacity
Think of the audience you'll be making the frozen drinks for. Is it just for yourself and a friend or do you always serve frozen delights at your party?
Large capacity blenders are better for hosting but come with a wider footprint. Smaller versions take up less space but aren't ideal if you have to spend your time in the kitchen making one drink at a time.
Think realistically about how you plan on using your blender and choose a capacity that works with your situation and kitchen size best.
Blend Functions
Making frozen drinks for one or a party of two with a basic blender with no presets works just fine. It's really not that time consuming to manually choose a blend setting when you cater to one or two people. Besides, if you happen to be particular about the thickness of your drink, manual settings are a great option.
But playing host is a different story. Here, pre-programmed settings can be a blessing as the blender does the work for you while you get to enjoy the party. The drinks keep coming with the press of a button and everyone gets a refill without having to wait too long.
Best Blender for Frozen Drinks: Final Thoughts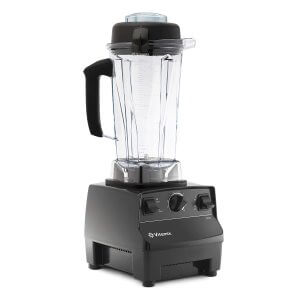 Rated as the best overall blender to give you perfect sorbets, slushes, and Coladas, the Vitamix 5200 upholds the brand's tradition of excellence. Offering enough power and durable construction, it stands apart from the competition with its consistent performance. Pricey as it may be, its performance quality cannot be denied and if you have the money to spend on a machine that delivers on every score, then this is the top recommendation.
But if you can't spare the cash for a Vitamix, then the Ninja BL642 is a durable machine that will give you fast and smooth blends at a very reasonable price. It is a reliable blender that will get the job done and is a welcome option for people looking for power and versatility in a low-cost package.
The Blendtec Total Classic is as user-friendly as they come and it's built to last. All pre-programmed settings give the promised result and the unit's cost feels justified given its performance and durability.
Related Articles: