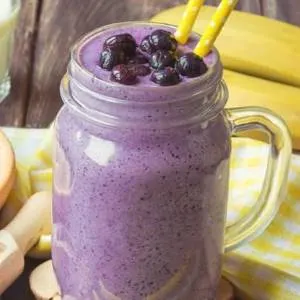 Nowadays, eating vegan food several times a week or even all the time is no longer strange. People are more accepting of this lifestyle choice, and more restaurants offer a wide choice of vegetarian and vegan dishes. Smoothies are also very easy to add to a vegan diet.
Smoothies are almost exclusively made from fruit, vegetables, nuts, and seeds. So there are thousands of smoothie recipes that you can try if you are vegan.
Since a vegan does not consume milk, yogurt, or other dairy products, this is the only thing that you have to watch when looking for vegan smoothie recipes. Thankfully, there is a huge number of dairy substitutes you can use to make your smoothie vegan.
In this article, I'll give you some examples of vegan smoothie recipes that you can try!
Read More: What is the best blender for making vegan food?
1. Mango Smoothie with Avocado
Mango is a delicious tropical fruit, which many people can enjoy intensely. It's a perfect fruit to add to your smoothie in the summer (or whenever you want).
Also avocado mingles with the trend of "superfoods" that you need to eat and can also be found in drinks like this smoothie. Of course, the recipe is completely vegan and very healthy!
Ingredients
¼ of a mango
¼ of a ripe avocado
½ cup mango juice
¼ cup unsweetened almond milk
1 teaspoon lemon juice
Preparation method
Cut the mango and avocado into small cubes, this is easier for the blender to process. Then simply throw all the ingredients together and you can serve the smoothie when it is fully blended!
Read More: Delicious Mangonada recipe
---
2. Spinach Vegan Smoothie Recipe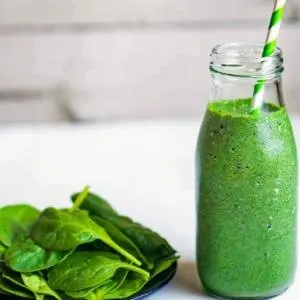 Fruit is much more popular than vegetables in smoothies, so a vegetable smoothie might not be the first thing on your mind. While this smoothie may not sound very tasty, it is!
The fruit added to this smoothie makes it a surprising combination and a lot tastier than people would expect. So don't immediately say no to this green vegan smoothie and try it out first!
Ingredients
50 grams of spinach
1 whole pear
¼ zucchini
½ banana
100ml water
100 ml unsweetened almond milk
Preparation method
Put the spinach in the blender and cut the pear, zucchini, and banana into smaller pieces so that they can easily be blended.
Add the three products to the spinach and turn on your blender. Slowly add the water and unsweetened almond milk and you're done!
Read More: Vegan vs. vegetarian, what's the difference?
---
3. Cantaloupe (melon) Banana Smoothie
Melon is also very popular among smoothie lovers. Although people often immediately think of watermelon, you can also use Cantaloupe melon in your smoothie.
In this smoothie, we add banana, which gives it a wonderfully soft, sweet, and summery taste!
Ingredients
200 grams cantaloupe
1 banana
200 ml orange juice
Juice of ½ lime
Preparation method
Cut the Cantaloupe melon and the banana into pieces. Squeeze the orange juice and lime juice and put them in the blender along with the melon and banana pieces. Turn on the blender until the mixture is smooth.
Of course, if you don't like lime juice, you can just leave it out or add something else instead. The choice is entirely yours!
Read More: How much juice is in one orange?
---
4. Orange Smoothie
Orange of course fits perfectly with the summer and that is why we have also put this smoothie on the list. The smoothie is also deliciously sweet, healthy, and of course vegan!
Ingredients
8 large strawberries
1 mango
2 oranges
250 ml coconut water
Preparation method
Remove the top of the strawberries and cut them into smaller pieces. Also, cut the mango and oranges into smaller pieces.
If you don't like pulp, it's a good idea to make orange juice from the oranges. This way you just have a smooth smoothie, without a lot of pulp. If this is not a problem, you can simply remove the peel and cut the orange into pieces, and then add it to the blender container.
Combine the mango, lemon juice and orange (or orange juice), and puree. Then add the strawberries and coconut water and turn the blender back on. After this, you have a healthy, vegan, orange smoothie and you can start enjoying it!
Read More: Substitute for Orange Juice: 11 Best Alternatives
---
5. Watermelon Cucumber Smoothie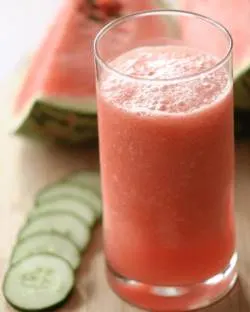 This smoothie contains a 'salad vegetable' and that is the cucumber. Although cucumber does not have a sweet taste, this salad vegetable is perfect to add to a smoothie.
Cucumbers contain a lot of water and the taste of the cucumber will not be too overpowering, especially if you remove the skin from the cucumber first.
By adding basil or mint, you can give this delicious vegan smoothie recipe another twist!
Ingredients
Small watermelon
½ cucumber
350ml water
Fresh mint or basil (to taste)
Preparation method
This preparation method is extremely easy. You cut the melon into smaller pieces and add the pieces to the blender along with the water and blend it.
Then you cut the half cucumber into smaller pieces and add it to the mixture that is already in the blender, add the herbs, and blend again.
Read More: How long does watermelon last?
---
6. Passion Fruit Carrot Papaya Smoothie
Although this smoothie contains unexpected ingredients, it is very tasty. Papaya is not a fruit you see often and some may not like the taste, but it is definitely worth a try.
If you can't find passion fruit or papaya, you can also just use juice from a carton. It is, of course, best if you use fresh products!
Ingredients
1 papaya
4 passion fruit
2 tablespoons wheat germ
Ice cubes
400 ml carrot juice
Preparation method
First cut the papaya in half and scrape out the seeds inside. Then peel the papaya and cut the fruit into smaller pieces. Finally, cut the passion fruit in half and press the pulp through a sieve (then the seeds remain behind and you get a smooth mixture).
Then add the juice you got from the passion fruit and the wheat germ to the papaya and carrot and mix everything well in a blender. After this, your smoothie is ready and you can fill the glasses, which you have now filled with ice cubes, with the smoothie!
Read More: Vegan pantry staples
---
7. Pear, Banana, Kale, and Spinach Smoothie
This vegan smoothie also has an unexpected combination, but because of the delicious fruit you don't taste the vegetables so much, but you still get the benefits.
Vegetables also make you feel full quickly, so it is useful to add them to a smoothie. After this smoothie, you certainly don't have to snack anymore! It is healthy and of course completely vegan!
Ingredients
A handful of kale
A handful of spinach (raw)
A frozen banana
½ pear
350 ml almond milk (or orange juice/soy milk)
Preparation method
It is best to cut the banana into small pieces before putting it in the freezer so that you can easily put the small pieces in the blender later. Finely chop the kale and spinach.
Add the banana together with the kale, spinach, and almond milk in the blender and blend the whole mixture into a smooth mixture.
If you find the mixture too thick after this, you can add extra almond milk. After this, your delicious, vegan smoothie is ready to drink!
---
8. Beetroot, Celery, Apple, Banana smoothie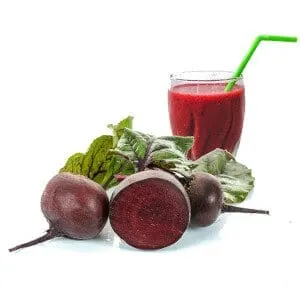 In addition to the above ingredients, there is also date, cinnamon, and oatmeal in the smoothie. You could call it a real winter smoothie, but of course, you decide when you consume this delicious drink.
Ingredients
½ apple
1 beetroot
1 banana
1 stalk celery
1 date
1 teaspoon cinnamon
2 tablespoons oatmeal
200 ml almond milk (unsweetened)
Preparation method
Cut the apple, celery, banana, and beetroot into smaller pieces so that they are easier to puree in the blender. Place all these ingredients in the blender and puree until smooth.
Then add the almond milk and oatmeal to the mixture and mix again. Finally, add the cinnamon and mix one last time. After this, you can drink this vegan smoothie!
---
9. Strawberry Banana Smoothie
This is of course the well-known classic. Strawberry and banana go well together. You are guaranteed to enjoy this delicious vegan smoothie!
Ingredients
Strawberry (handful)
1 banana
100 ml orange juice
Preparation method
You only need three ingredients to make this smoothie. Make sure the fruit you use is frozen. Cut the banana and strawberry into small pieces and freeze them or buy already frozen fruit in the store.
First, put the banana and strawberry in the blender and mix until smooth. Then add freshly squeezed or supermarket-bought orange juice to the mixture (not too much).
Mix all the ingredients one last time and then this delicious strawberry/banana smoothie is ready to be served!
Read More: Can You Freeze Smoothies: 2 Simple & Quick Methods
---
10. Forest Fruit Smoothie
This smoothie full of delicious forest fruits is fresh, sweet, vegan, and also very healthy. Forest fruits include raspberries, strawberries, and currants. This mix is ​​also called red fruit.
Ingredients
250 grams of forest fruits
2 oranges
1 banana
500 ml unsweetened almond milk
Preparation method
Because the forest fruits are already small by themselves, no fruit needs to be cut with this smoothie. Prepare the fruit by cleaning and freezing or buy mixed berries in the supermarket that are already frozen. Only the banana needs to be pre-cut (if not from the supermarket and already cut/frozen).
Add all the fruit to the blender and blend until smooth. In between, squeeze the oranges and add this juice to the mixture as well. Finally, add the almond milk and blend again until smooth.
After this, the smoothies are ready to be served! Of course, you can always choose to add a topping such as mint to the smoothie. This is entirely up to you; make it a party!
Read More: Essential vegan kitchen tools
---
11. Apple Cucumber Smoothie
The apple/cucumber smoothie is a delicious light smoothie; it won't make you terribly full, but it sure is delicious! You only need two ingredients for this, because both are already full of water.
Adding a liquid to this smoothie is therefore absolutely not necessary. It is a deliciously healthy and above all refreshing smoothie. You can make the smoothie quickly and easily because you need so few ingredients.
Ingredients
Preparation method
Peel the apple and cut it into small pieces so that the blender can process it more easily. Also, cut off 10 centimeters from the cucumber; you can leave the skin on or remove it. If you leave the skin on, the smoothie is healthier (more fiber).
Because the cucumber is already well cold, the apple does not necessarily have to be. As mentioned before, no liquid needs to be added to this smoothie because both apple and cucumber already contain a fair amount of water. Otherwise, the mixture could become too watery.
Now put the apple and cucumber in the blender and blend until smooth. That's all you need to do to prepare this simple and quick vegan smoothie. Enjoy!
---
12. Banana Peach Smoothie
This smoothie is perfect for a delicious snack or to start the day. Both banana and peach are sweet and the smoothie has a delicious taste. This smoothie is healthy and of course vegan!
Ingredients
250 ml coconut water
2 bananas
2 peaches
1 lime
Preparation method
Peel and cut the banana and peach (after removing the pit) into small pieces. Start by putting the coconut water in the blender. Then add the banana and peach. Squeeze the lime over the whole lot and blend one last time. After that, you can start serving the smoothies!
Read More: Colon cleanse smoothie recipes
---