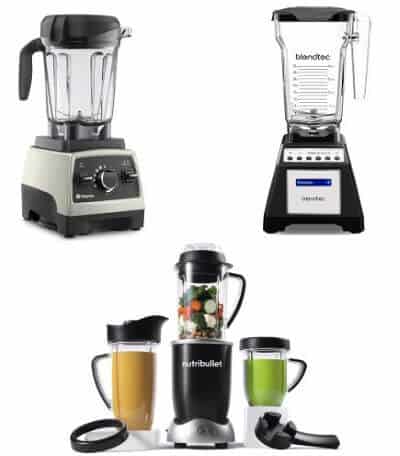 There are lots of options to shop around for when you are looking for the best blender for smoothies.
However, not all blenders are created equal with some offering a slew of impressive features and others staying fairly basic.
The trick here is to know which of these features you actually need for your blending needs and which you can really do without.
If all you're going to use your blender for is making a smoothie a day and nothing else, then even the most elementary blender will suffice. But if you have more ambitious plans of using your machine for a host of other meal prep tasks, then there are more advanced models you can consider.
To help you make an informed decision about which blender can serve you well, I have rounded up three different models for your smoothie making needs.
Top Rated Blenders For Smoothie Making
---
Vitamix Professional Series 750: Best Overall
The Vitamix 750 blender comes from the brand's Professional Series with an impressive profile of versatility, durability, smart features, and user-friendliness. This is a lot to put in one package but the Vitamix delivers.
Power Performance
The Vitamix 750 competes with the best of the best by offering a 1650-watt, 2.2 HP motor that spins the blades at 37,000 RPM. That is enough power to work successfully with tough ingredients like ice and frozen fruit and transform them into an impressively chunk-free smoothie.
There are ten variable speeds and five pre-programmed settings to work with. Together, these add to the overall user experience where you can acquaint yourself with a broader range of textures and consistencies that many other blenders fail to emulate.
Once you've got your start-of-the-day smoothie on you, simply use the self-cleaning feature to tidy up and you're good to go.
Container and Blades
With the motor covered for superior performance, next come the container and blades. Here, the Vitamix 750 shines once again as it comes with a large, 64-oz BPA free copolyester container that is shatter-proof.
The container has a soft-grip handle that is ergonomically designed while the vented lid has a removable twist-off center plug to let you add ingredients while the machine is running.
The pitcher has a low-profile making storage a cinch and there is a wide base that makes scraping out ingredients very convenient. And as with all Vitamix blenders, you get a tamper with your purchase.
The sturdy stainless-steel blades add to the performance of this already powerful blender, so what's not to love about this amazing machine?
---
NutriBullet RX N17-1001 Blender: Budget Pick
If you want the most reasonable performer for making excellent smoothies, but are on a budget, then look no further than the NutriBullet RX. This smart bullet blender packs in so much power that it puts many of its higher-end counterparts to shame.
Motor and Functions
Even more powerful than the Vitamix 750, the RX takes the lead in power output by encompassing a 1700-watt, 2.3 HP motor. This is a model where power meets speed and gives you a machine capable of spinning between 25,000 and 37,000 RPMs.
When you pair the machine's strength and speed with its smart technology, there remains very little that the NutriBullet RX can't do. Smart technology lets the machine do all the work where its sensors detect the container's contents and automate the blend cycle for one minute.
Another smart feature is the blender's ability to whip up hot soup in seven minutes making it an exclusive feature in this price range and class of blenders.
Value for the Money
The NutriBullet RX gives users two smaller cups designed for drinking and one large 1-liter pitcher for larger blends. These are fairly standard accompaniments as far as blenders go, but the RX's larger pitcher is also used for making soup.
Aptly named the SouperBlast, the pitcher comes with a vented lid for letting out heat and steam created during the process.
There are four blades on this unit that do all the heavy work with more than satisfactory results. Overall, this is a model that offers excellent value for your money.
---
Blendtec Total Classic Original Blender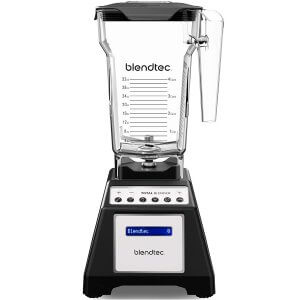 The brand's first launch, The Blendtec Total Classic remains a consumer favorite to this day. This is a robust blender that refuses to cave in to the many other newer and more advanced models in the market and stands its own for a number of reasons.
Built to Last
This feature is obvious given that despite being an older model by Blendtec, The Total Classic is perhaps one of the brand's highest-grossing blenders.
What qualifies this as one of the best blenders for smoothie making is its durable construction and high-powered motor to blend ingredients to perfection. Equipped with a 1560-watt motor, you get a heavy-duty machine that isn't afraid to perform.
You also get an impressive 10 speeds and 6 pre-programmed cycles to do all your bidding. Add there is a Pulse feature included to add perfection to your salsas and dips.
Performance-Based Blender
The Total Classic remains hard-to-beat with its uniquely blunt-edged single blades. This type of blade construction gives the blender the right equipment to work its way through all kinds of use without the accompanying wear and tear.
This means not only pulverizing soft ingredients to a pulp easily but also demolishing tough, fibrous smoothie ingredients along the way.
The blender is also an ideal fit where users need to prepare larger batches of smoothies at the same time. Its 90-oz WildSide + Jar is more than adequate to accommodate large quantities of ingredients and the patented design draws ingredients down to the base for extreme pulverization.
---
Best Blender for Smoothies: A Complete Buying Guide
The secret behind great smoothies is a great blender. With the right machine it becomes possible to concoct these healthy beverages in no time and with minimal effort. So, where do you start looking for the best blender for smoothies? Here are a few helpful starting points:
Functions
The main functions to look for in a blender ideal for smoothies include the machines' ability to crush ice effectively, cut through frozen ingredients, and pulverize them into a smooth liquid. Most of this potential will come from the blender's power output with the higher being the better. But other settings can also help.
For instance, speeds add versatility to a blender's performance. Ideally, look for a model with at least 3 speed settings or one Smoothie preset to make the job easier.
Pitcher Size
This is relevant based on the smoothie serving you hope to make. Smaller, single-serve smoothies can be prepared with the smaller and very compact bullet blenders. For larger batches, you can use a countertop version instead.
For the most part, countertop blenders can also come with single-serve containers which really helps. Use larger pitchers if more people want their smoothie all at the same time or opt for a single-serve container to make a quick on-the-go drink for yourself.
Finding a blender that has both large and small containers makes taking your smoothie along with you so much easier. And multiple containers will let you store your smoothie for later as well.
Related Articles:
Pitcher Material
This could essentially be a matter of preference more than anything else. You have a choice to select from glass or plastic.
Glass, for one, presents better aesthetics. The type used in blender containers is mostly tempered and shatter-proof under blending circumstances, but in no way implies that it won't crack or break when mishandled.
Another point in favor of glass jars is that these will retain their clarity and won't scratch either. These don't absorb any smell from foods and remain fairly stain resistant as well.
On the flip side, glass is much heavier than plastic and more prone to breaking.
Plastic containers are favored given their longevity though their aesthetics will get marred with prolonged use. Copolyester, BPA-free containers are the most common type for blending needs and have a tendency to get scratched where frozen or hard ingredients and ice are crushed frequently.
The trade-off between the two, of course, is cost with glass pitchers costing more than their plastic counterparts.
Cleanup
Many smoothie blenders come with a self-clean feature which is a huge plus point in terms of convenience. But if not, then a model that lets you disassemble its blades and attachments will ensure thorough cleaning of the unit.
Most blenders also come with dishwasher-safe parts which can facilitate the cleanup process as well.
Best Blender for Smoothies: Final Thoughts
Smoothies are a convenient way to add some serious nutrition to your diet. And the right way to do so is to use a blender powerful enough to pulverize everything to a smooth, creamy consistency.
So, when it comes to blending smoothies, you can't go wrong with the Vitamix 750. This overall best-rated model justifies the brand's name and reputation by offering impeccable blending results. Along with making perfect smoothies it will do so much more as well and will be a great addition to any kitchen.
A fierce contender to the Vitamix 750, but without the price tag, the NutriBullet RX remains a constant favorite with users who want the performance but not the price point of the Vitamix.
And finally, the Total Classic from Blendtec is a user-friendly blender with a simplified interface that will keep you on top of your smoothie-making game.
Related Articles: