To follow an entirely plant-based diet, you will need help from a good, sturdy blender. Why? Because there is a lot of food prep involved in plant-based recipes. But the best blender for vegans can't just be any regular blender since you're not dealing with just any ingredients.
If anything, there are tough stalks, stems, and lots of fiber to deal with. There are also plenty of nuts and seeds to contend with. And if you're into raw veganism, then that takes the blending challenge to a whole new level.
Performance-wise, your blender will need to be versatile. (Think soft smoothies on one end of the spectrum and nut butter on the other.) And if soup is on the menu often, then something that can handle hot and cold ingredients simultaneously.
So, to navigate this pathway of which blender will suit vegans the best, here are my top three recommendations.
Top Rated Blender for Vegans Of 2020
---
Vitamix 7500: Best Overall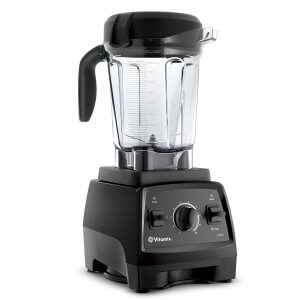 It's hard to go wrong with the Vitamix 7500 which offers the best blending quality for creating versatile vegan recipes.
Offers Premium Versatility
Looking for the best blender for a raw vegan where you have to deal with lots of fibrous foods?  Take a close look at the Vitamix 7500. Or, maybe you're thinking of blitzing nuts into a cream? Once again, refer to the Vitamix 7500. Perhaps you need a blender to whip you up some hearty vegetable soup for dinner? The Vitamix 7500 has got you covered for that too.
There's virtually nothing that this blender can't take on. It can do all this and many other tough blending jobs that most conventional blenders have a hard time with. This model works with a 1500-watt motor and comes with a dial to let you choose the type of blending you need doing. Plus, there is a handy Pulse feature to give you more control over your blending jobs.
Although it doesn't come with any touch displays, preset options, or other high-tech features, the Vitamix 7500 doesn't shy away from rigorous blending.
Power and Speed That's Hard to Beat
The dial knob on the Vitamix 7500 gives you access to 10 variable speeds. In other words, you can easily go from 1400 RPMs to 37000 RPMs, depending on what you're trying to create with the machine.
Its 4-pronged blade is ideal for processing smoothies, ice cream, soup, and nut butter. Plus, it can also deal with kneading dough, milling, and grinding, although a dry blade available separately will do this better and with less effort.
---
Ninja BL642: Budget Pick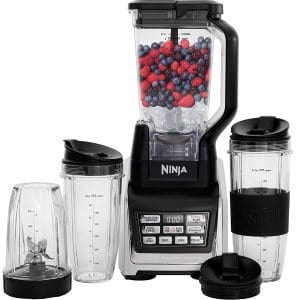 At a fair price point, the Ninja BL642 is one of the best blenders for vegans that offers plenty of power and performance.
Affordable Convenience
One of the best things about the Ninja BL642 is that it doesn't have the same price tag as other high-performance blenders but still manages to take on the same challenging tasks.
At 2 HP and 1200 watts, this blender has a mighty motor. The well-known Pro Extractor blades let the BL642 handle frozen and fibrous ingredients like a true champ. And when you add in the massive 72-oz blending pitcher, you've got yourself a blending powerhouse that can handle the most generous amounts for multiple servings. But the fun doesn't stop there.
You also get a variety of cup sizes with this purchase to store your blends for later use or take them along with their "sip and seal" lids.
Multifaceted Smart Blending
The BL642 easily qualifies as a versatile machine given its Auto IQ technology. The blender features 5 preset programs and 3 manual settings to concoct all your healthy vegan recipes. The one-touch system lets you automate what you need to be done by combining a series of pulses, blends, and pauses to give you the desired results.
Plus, the blender's smart features also recognize the container size and count down the time left for your selected preset program. And when you weigh in the fact that this large machine doubles up as a bullet blender and a countertop version, you get one of the best deals available at this price point. All in all, the BL642 gets the job done nicely at a great price.
---
Blendtec Total Classic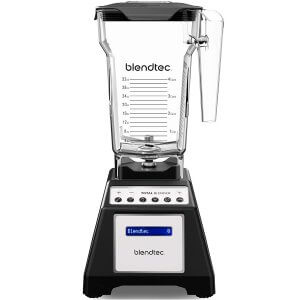 In true Blendtec tradition, the Blendtec Total Classic is a blender made for more than just blending.
The Convenience of Walkaway Blending
The Blendtec Total Classic is a top-of-the-line blender with pre-programmed settings that allow you to set it up and walk away. There are 6 pre-programmed settings and 10 incremental speeds to choose from. And it completes the package with a handy Pulse feature.
The 3 HP motor and 1560 watts are more than adequate to work with any vegan recipe and the toughest of ingredients. To add to the blender's durability and performance, manufacturers have used an all-metal drive paired with a heavy base to keep the unit put while in operation.
Blade and Container
The Total Classic comes with a thick, dull blade that spins at 29,000 RPM and pulverizes everything with effortless ease. This means complete demolition of tough, fibrous ingredients with no lumpy remains in your blend. The trademark blade does an awesome job of liquifying fruits, hard and soft vegetables, as well as greens to give you the complete blending experience.
The 90-oz WildSide+ Jar complements the sturdy blade to make the perfect dynamic duo capable of handling all sorts of blending tasks. The blending jar with its square shape comes with an extra-wide base to maximize blending performance and create a faster, smoother blend.
Overall, the dynamics of this blender have got everything going for it in the right direction. Not only is it the perfect tool for whipping up green smoothies, but will also help you make healthy, plant-based meals day in and day out without compromise.
---
Best Blender for Vegans: A Complete Buying Guide
With the amount of slicing, dicing, chopping, pureeing, liquifying, and emulsifying involved in vegan recipes, it's hard to imagine a vegan kitchen function without a blender. However, you can't just look at any blender to do all this since processing veggies, nuts, and seeds requires a lot more than what regular blenders can handle. So, here's what you should look for when searching for the best blender for vegans.
Power
Just look at all the prep involved in vegan recipes and you'll understand why power is so important in a blender. For the vegan kitchen, you need the right power profile to work with hard vegetables and handle tough tasks such as creating raw nut butter.
Your power preferences may also be dictated by what you plan on blending daily. For instance, if smoothies are your go-to requirement, then a smaller model with moderate motor power may be adequate. But for more heavy-duty vegan blending, you'll need something really powerful. Ideally, look at performers that can offer 1000 watts and above for smooth and high-quality blending.
Durability
Other than raw motor power, a blender for vegan recipes also needs to be enduring since raw or thick recipes can really test a blender's durability. This includes motor parts such as an all-metal drive which is always superior to one with plastic parts. The container and blades should also be high quality and long-lasting to meet the demands of vegan blending.
Related Articles:
Speeds and Settings
You may not need a lot of speed options for casual blending, but when you deal with the variety of vegan foods that need blending, the more the speeds, the better the blending. The same goes for settings. Many blenders have programable buttons that yield a one-touch operation to create your favorite smoothie, puree, or soup.
Tamper
A tamper is a useful feature to have when you're dealing with ingredients that tend to get stuck to the blades or the base of the container. Also, when you prepare dense mixes like nut butter, vegan ice cream, or thick soup a tamper becomes a given prerequisite.
Self-Cleaning Feature
When you use your blender daily, you should get one with a self-clean feature. Many models come with a self-clean function where you simply add warm water and soap before running the unit for 30-60 seconds. Some have dishwasher safe parts while some others have jars that disassemble for easier cleaning.
Best Blender for Vegans: Final Thoughts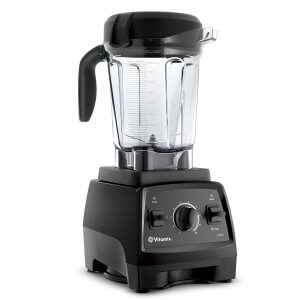 Vegan blenders need to work with all kinds of fruits, veggies, nuts, and seeds and some blenders do it more effortlessly than others.
Among today's choices, the Vitamix 7500 is a machine that's hard to beat. Tailored to veganism, it ranks as the best overall blender for vegans since it can handle frozen fruits and fibrous vegetables with just as much ease as it can prepare soups. This makes it an indispensable addition to any vegan chef's kitchen.
The BL642 offers immense crushing power like the Vitamix but at a fraction of the cost. This budget-friendly option packs performance, versatility, and ease of use that earns it a well-deserved spot on this list.
With the Blendtec Total Classic, you can expect to get the high performance the brand is so well known for. It gives you all the right modes for creating different recipes and takes the guesswork right out of vegan blending.