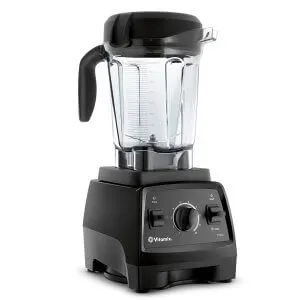 Powerful 1500W Motor
Easy To Clean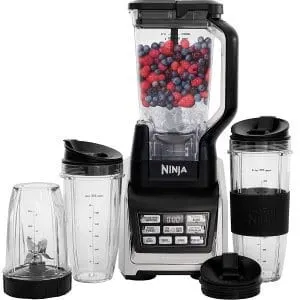 Intelligent Blending Programs
Extra Large Capacity
---
To follow an entirely plant-based diet, you will need help from a good, sturdy blender. Why? Because there is a lot of food prep involved in plant-based recipes. But the best blender for vegans can't just be any regular blender since you're not dealing with just any ingredients.
If anything, there are tough stalks, stems, and lots of fiber to deal with. There are also plenty of nuts and seeds to contend with. And if you're into raw veganism, then that takes the blending challenge to a whole new level.
Performance-wise, your blender will need to be versatile. (Think soft smoothies on one end of the spectrum and nut butter on the other.) And if soup is on the menu often, then something that can handle hot and cold ingredients simultaneously.
So, to navigate this pathway of which blender will suit vegans the best, here are my top three recommendations.
Top Rated Blenders for Vegans Of 2021
---
Vitamix 7500: Best Overall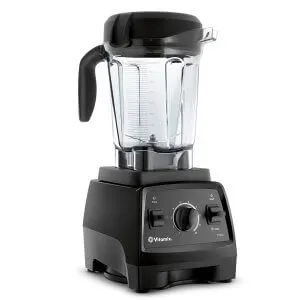 It's hard to go wrong with the Vitamix 7500 which offers the best blending quality for creating versatile vegan recipes.
Offers Premium Versatility
Looking for the best blender for a raw vegan where you have to deal with lots of fibrous foods? Take a close look at the Vitamix 7500. Or, maybe you're thinking of blitzing nuts into a cream? Once again, refer to the Vitamix 7500. Perhaps you need a blender to whip you up some hearty vegetable soup for dinner? The Vitamix 7500 has got you covered for that too.
There's virtually nothing that this blender can't take on. It can do all this and many other tough blending jobs that most conventional blenders have a hard time with. This model works with a 1500-watt motor and comes with a dial to let you choose the type of blending you need doing. Plus, there is a handy Pulse feature to give you more control over your blending jobs.
Although it doesn't come with any touch displays, preset options, or other high-tech features, the Vitamix 7500 doesn't shy away from rigorous blending.
Read More: Full Vitamix 7500 blender review
Power and Speed That's Hard to Beat
The dial knob on the Vitamix 7500 gives you access to 10 variable speeds. In other words, you can easily go from 1400 RPMs to 37000 RPMs, depending on what you're trying to create with the machine.
Its 4-pronged blade is ideal for processing smoothies, ice cream, soup, and nut butter. Plus, it can also deal with kneading dough, milling, and grinding, although a dry blade available separately will do this better and with less effort.
The Vitamix 7500 is without a doubt the best blender for vegans, and by adding it to your kitchen arsenal you'll be ensuring delicious vegan food for many years to come.
---
Ninja BL642: Budget Pick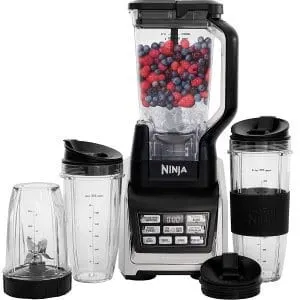 At a fair price point, the Ninja BL642 is one of the best blenders for vegans that offers plenty of power and performance.
Affordable Convenience
One of the best things about the Ninja BL642 is that it doesn't have the same price tag as other high-performance blenders but still manages to take on the same challenging tasks.
At 2 HP and 1200 watts, this blender has a mighty motor. The well-known Pro Extractor blades let the BL642 handle frozen and fibrous ingredients like a true champ. And when you add in the massive 72-oz blending pitcher, you've got yourself a blending powerhouse that can handle the most generous amounts for multiple servings. But the fun doesn't stop there.
You also get a variety of cup sizes with this purchase to store your blends for later use or take them along with their "sip and seal" lids.
Read More: Full Ninja BL642 review
Multifaceted Smart Blending
The BL642 easily qualifies as a versatile machine given its Auto IQ technology. The blender features 5 preset programs and 3 manual settings to concoct all your healthy vegan recipes. The one-touch system lets you automate what you need to be done by combining a series of pulses, blends, and pauses to give you the desired results.
Plus, the blender's smart features also recognize the container size and count down the time left for your selected preset program. And when you weigh in the fact that this large machine doubles up as a bullet blender and a countertop version, you get one of the best deals available at this price point. All in all, the BL642 gets the job done nicely at a great price.
---
Blendtec Total Classic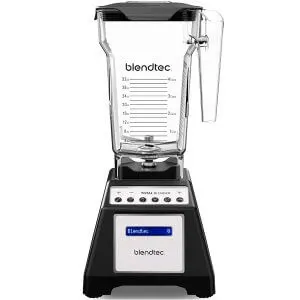 In true Blendtec tradition, the Blendtec Total Classic is a blender made for more than just blending.
The Convenience of Walkaway Blending
The Blendtec Total Classic is a top-of-the-line blender with pre-programmed settings that allow you to set it up and walk away. There are 6 pre-programmed settings and 10 incremental speeds to choose from. And it completes the package with a handy Pulse feature.
The 3 HP motor and 1560 watts are more than adequate to work with any vegan recipe and the toughest of ingredients. To add to the blender's durability and performance, manufacturers have used an all-metal drive paired with a heavy base to keep the unit put while in operation.
Read More: Full Blendtec Total Blender review
Blade and Container
The Total Classic comes with a thick, dull blade that spins at 29,000 RPM and pulverizes everything with effortless ease. This means complete demolition of tough, fibrous ingredients with no lumpy remains in your blend. The trademark blade does an awesome job of liquifying fruits, hard and soft vegetables, as well as greens to give you the complete blending experience.
The 90-oz WildSide+ Jar complements the sturdy blade to make the perfect dynamic duo capable of handling all sorts of blending tasks. The blending jar with its square shape comes with an extra-wide base to maximize blending performance and create a faster, smoother blend.
Overall, the dynamics of this blender have got everything going for it in the right direction. Not only is it the perfect tool for whipping up green smoothies, but will also help you make healthy, plant-based meals day in and day out without compromise. This makes it one of the best blenders for vegan foods.
---
Best Blender for Vegans: A Complete Buying Guide
With the amount of slicing, dicing, chopping, pureeing, liquifying, and emulsifying involved in vegan recipes, it's hard to imagine a vegan kitchen function without a blender. However, you can't just look at any blender to do all this since processing veggies, nuts, and seeds require a lot more than what regular blenders can handle.
Just like the next person, I was a non-vegetarian who loved to devour flavorous meats and did not think twice before diving into the tempting dairy products. But over the years, with veganism gaining momentum, I have been highly motivated to turn vegan. Given the extensive health benefits of going vegan and for the love of animals and Mother Nature, turning vegan has been a fantastic decision.
If you are a vegan like me, then you would know that there is a large variety of vegan food that requires the use of a blender. However, not just any ordinary blender will do. Maximum recipes of vegan meals require a power-packed and sturdy blender that can quickly blend the toughest of the veggies smoothly and efficiently.
But given the multiplicity of choices of blenders in the market, choosing the one which is suited to your requirements can seem like a daunting task.
Lucky for you, I have done the task of going through the essential requirements of what the best blender for vegans should entail, and all the vital factors you should be mindful of before swiping your card for your new blender. So, here's what you should look for when searching for the best blender for vegans.
The 3 Best Blenders for Vegans
What is Veganism?
Veganism is the practice of not using any animal products. Dietary vegans refrain from eating any food that comes from animals, such as meat, dairy, eggs, and fish. Ethical vegans do not eat animals, and they also extend this philosophy to other parts of their life. An ethical vegan opposes the use of animals for any purpose.
The American Academy of Nutrition and Dietetics regards a well-planned vegan diet appropriate for all stages of life, including infancy and pregnancy. The word vegan first appeared in 1944, when Donald Watson co-founded the Vegan Society in the UK.
Related Articles:
How to Choose a Blender for Making Vegan Food?
Vegan food cannot be thought of without wholesome veggies, fiber, and nutrient-packed nuts. Hence, you need to make sure that the blender you pick for your home can blend different vegan products with quickness and ease. I have listed some factors that will help you choose the right blender for your vegan meals amongst a sea of potential choices.
Research
Before making any purchase and especially for appliances like blenders, you should always take a moment to carry out small research about the options available. By doing so, not only will you learn about the available brands, their specifications, but also the qualities which differentiate each blender from numerous others.
A lot of times, there are different variants of the same product which come with unique features and functions. Doing prior research can help you find the top options for your blender needs, which sit well with your likes and requirements.
Pay attention to Customer Reviews
If you are planning to buy a blender for your vegan meals online, make sure you make complete use of the online customer reviews and ratings. Customer reviews not only provide honest insight into the product but also play a fundamental role in making a smart choice.
Reviews and Ratings can help you know about the hits and misses of the product. They are also a good source to know whether the product gives any issues after a couple of usages or not.
Be open to choices
It is common for people to have a soft spot for a certain brand or product, such as Ninja or Vitamix, which may or may not be based on experience. However, you should never let emotions be the guiding factor for purchasing a product.
The more alternatives and options you explore, the more likely you are to score a great product, with amazing features, as well as compelling deals.
Prepare a list of Pros and Cons
With so many options in front of you, it can get a little chaotic to figure out which product is better than the other. To help you sort your work out and make a good decision based on all important factors, it is advisable to make a list of pros and cons.
Doing so will help you analyze and select which products make the cut and discard those that do not.
Read More: Best Blender For Protein Shakes – 7 Top Rated Models
What are the Advantages of Having a Quality Blender for Vegan Food?
Almost every vegan meal requires the use of a robust and modern blender that is successful in blending and chopping through a variety of vegan ingredients. From blending delicious vegan smoothies to crushing tough nuts and seeds, only the best blender for vegans can be up for this challenge. The following are some of the advantages that you will have if you invest in a quality blender for your vegan meals.
Value for Money
Everyone has a different budget when it comes to buying a blender that serves all the functions that they want in a good blender. The good news is that you don't need to burn a hole in your wallet to find a blender that does all the job for you.
One of the best advantages of investing in a quality blender is that it can be used for years without compromising on quality, and it does not even have to be expensive. With your research, you can also choose a blender from a brand that caters to your budget and delivers excellent services all year round. Ninja blenders are a great middle-ground when it comes to price and performance. Vitamix is the most expensive, but they are also the most feature-rich and durable.
Portability
With the advancement in technology, companies have started to come up with blenders that are super portable and highly efficient in their performance. You no longer have to settle with a bulky blender, which is extremely difficult to use and a nightmare to clean after every use.
Invest in a lightweight, and decently sized blender, which although might look small but is mighty in its performance. If you are super busy and always on the run, you can even buy a sleek and portable blender that can fit inside your bag.
Modern Features
Another added advantage of having a quality blender is the wide array of modern features and functions that they come with. Most blenders now come with a modern panel of controls, which can be used by the customer to switch from one function to another.
You can effortlessly control your blender using the control panel, which is highly equipped with modern features and functions. The more the features, the better the choice for you.
Warranty
These days most companies and brands are coming up with a good warranty period for their blenders, which is also an important factor that needs to be considered while making a purchase. Vitamix blenders come with at least 5 years warranty.
While some brands offer a decent warranty of six months to a year, there are some brands that also give their customers an impressive two to five warranty for all their products. Make sure that you spend your money wisely on a product which not only performs well but also comes in with a good warranty.
Related Articles:
What Features Does a Blender for Vegan Food Need?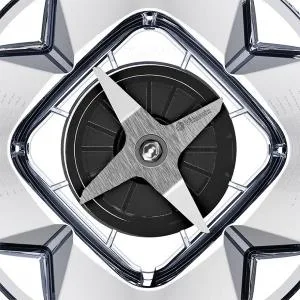 Vegans have to take care of a lot of factors before purchasing their blender because they need to look for one with various features. Vegan food encompasses a lot of healthy soups, luscious smoothies, shakes, and delicious nut milk and butter. Hence, before deciding on the best blender for vegans, you need to look for the following features which are important for a vegan food blender.
Powerful Blades
Since vegan meals use a lot of tough roots and vegetables, a blender needs to be able to chop, slice, and blend through these veggies with ease. To facilitate this work, a good blender will always be equipped with sturdy stainless-steel blades.
These blades usually have three to four-prongs, which are highly effective in blending through the toughest of nuts and vegetables without any hassle. Blades that are made of plastic may not be able to perform this task as effectively as the stainless-steel ones. Ninja and Vitamix perform better here, so always look out for the blades.
Power
Just look at all the prep involved in vegan recipes and you'll understand why power is so important in a blender. For the vegan kitchen, you need the right power profile to work with hard vegetables and handle tough tasks such as creating raw nut butter.
Your power preferences may also be dictated by what you plan on blending daily. For instance, if smoothies are your go-to requirement, then a smaller model with moderate motor power may be adequate. But for more heavy-duty vegan blending, you'll need something really powerful. Ideally, look at performers that can offer 1000 watts and above for smooth and high-quality blending.
Durable Components
While searching for a blender, it is important to make sure that you invest in a blender which is made of high-quality and durable components. Try to go for blenders which are made of steel, or those which are BPA free.
Some blenders are made from a type of plastic that has a glass-like appearance. This type of plastic is known as Tritan Copolyester, which is also known for being a BPA free plastic. They can also be used in place of steel and deliver the same results as a steel blender.
Speeds and Settings
You may not need a lot of speed options for casual blending, but when you deal with the variety of vegan foods that need blending, the more the speeds, the better the blending. The same goes for settings. Many blenders have programable buttons that yield a one-touch operation to create your favorite smoothie, puree, or soup.
Tamper
A tamper is a useful feature to have when you're dealing with ingredients that tend to get stuck to the blades or the base of the container. Also, when you prepare dense mixes like nut butter, vegan ice cream, or thick soup a tamper becomes a given prerequisite.
Self-Cleaning Feature
When you use your blender daily, you should get one with a self-clean feature. Many models come with a self-clean function where you simply add warm water and soap before running the unit for 30-60 seconds. Some have dishwasher safe parts while some others have jars that disassemble for easier cleaning.
Elaborate Control Panel
A good blender will come with an elaborate control panel, which makes using it easy and smooth. You should look for a blender that has a user-friendly control panel that has options to switch to different functions comfortably.
You should be able to navigate through its controls and functions without having to turn to the user manual for help. Every quality blender comes with a control panel, which also lets you use the blender with varied speed functions.
Attractive Design
Opt for a blender that is as appealing and modern in its looks as it is in its performance. A blender made of good-looking components adds to the beauty of your kitchen. With different types of designs in the market, you can buy blenders with gloss, matte, or shiny finish.
You can choose from a variety of colors and sizes which fit best with your requirements and liking. Your blenders don't have to be boring, for you can have an extremely alluring blender, which is also powerful and versatile in its usage.
What Type of Blender is Suitable for Making Vegan Food?
You cannot use just any ordinary blender for bringing delicious and healthy vegan recipes to life. You need a special blender made of high-quality components and power which can come in handy in crushing and blending different vegan ingredients. Given is a list of factors that you should look for when deciding on the best blender for vegans.
Power
When choosing a blender for multiple usages like blending, chopping, making purees, etc., you should keep in mind its power. The power of a blender is indicative of its motor performance, which is calculated in watts.
You should go for a blender whose power falls in the band of 500 to 1000 watts. These blenders will be able to successfully perform all the functions without getting stuck.
Speed
A high-quality blender will always come with a multiple speed setting. It is a good idea to opt for blenders that come with at least three to five-speed settings as it gives you a choice to shift through various speeds that are needed according to different usages.
Jar Size
Having a jar that is too big or too small is not ideal. Therefore, go for blenders that are either moderate-sized or those that come with varied jars. Generally, blenders that have a capacity of 20 oz to 55 oz are considered good for a small family.
Durability
Other than raw motor power, a blender for vegan recipes also needs to be enduring since raw or thick recipes can really test a blender's durability. This includes motor parts such as an all-metal drive which is always superior to one with plastic parts. The container and blades should also be high quality and long-lasting to meet the demands of vegan blending.
Easy to Clean
Always opt for easy to clean blenders as a blender, which is difficult to clean is more prone to spoilage. With so many vegetables and nuts that get blended, a lot of those food particles may stay stuck around and below the blades.
Therefore, go for blenders that have a self-cleaning option if possible. Some blenders also come with removable blades, which makes the cleaning process even easier for you. However, if all this is not possible, most blenders can be easily cleaned with brushes using lukewarm water and a mild detergent.
What Kind of Vegan Food can you Make Using a Blender?
Who says that your blender is only useful for blending and chopping through vegetables? Your blender is a versatile machine that can be used to prepare a wide array of lip-smacking and healthy meals without any hassle. When you finally give in and buy the best blender for vegans, you will quickly realize that you can make any food you want.
Most blenders are equipped to take on multiple roles and come with a variety of different inbuilt functions. The mighty blades of a blender can prepare an excellent frozen fruit smoothie, and also help in preparing a comforting vegetable soup.
For days when you feel like giving in to your sweet cravings, you can easily blend all the ingredients of a cake in your blender and have a perfectly blended and smooth cake mix that will be ready to pop into the oven. You can even prepare scrumptious nut butter and creams that can be devoured with a lot of meals.
If you are a gym lover who loves to drink wholesome and nutrient-rich protein smoothies post intense workout sessions, then you can quickly use your blender to prepare protein smoothies with nuts and frozen fruits.
Read More: Best Blender for Smoothies with Frozen Fruit – 3 Top Models
Even for those of you who love to wake up to a perfectly brewed coffee with a touch of vegan milk, your blender can be used to make rich nuts and oat milk with ease and great efficiency. Hence, it is important to choose a highly versatile blender that can come in handy for all your different needs.
Final Takeaway
Every investment that you make in your life matters. So, it is important to research options before you make a purchase. With the help of the above buying guide, you can easily find the best blender for all your vegan meals.
You should compare, analyze, and shortlist only those blenders which not only look good but perform great too.
Best Blender for Vegans: Final Thoughts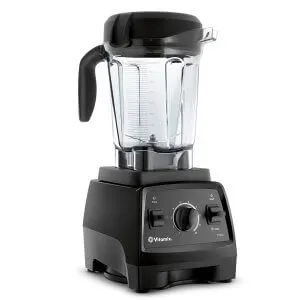 Vegan blenders need to work with all kinds of fruits, veggies, nuts, and seeds and some blenders do it more effortlessly than others.
Among today's choices, the Vitamix 7500 is a machine that's hard to beat. Tailored to veganism, it ranks as the best blender for vegans since it can handle frozen fruits and fibrous vegetables with just as much ease as it can prepare soups. This makes it an indispensable addition to any vegan chef's kitchen.
The BL642 offers immense crushing power like the Vitamix but at a fraction of the cost. This budget-friendly option packs performance, versatility, and ease of use that earns it a well-deserved spot on this list.
With the Blendtec Total Classic, you can expect to get the high performance the brand is so well known for. It gives you all the right modes for creating different recipes and takes the guesswork right out of vegan blending.