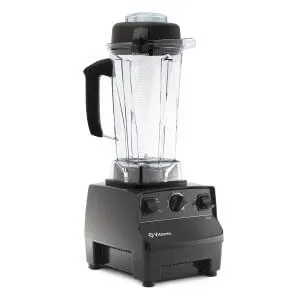 Most Popular Model
Great for Frozen Fruit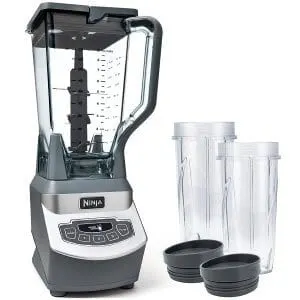 Powerful 1100W Motor
Large Capacity
---
Preparing an acai bowl is not a hard thing to do so long as you have the right tools for the job. What I'm referring to here is the best blender for acai bowls that can devour its way through any kind of ingredient. Why so?
Simply because it requires handling frozen acai berries, frozen fruit, and some liquid. In other words, dealing with a lot of frozen ingredients.
And what other appliance can help you pulverize your way through frozen ingredients than a powerful acai bowl blender with a strong motor and equally strong parts.
These blenders need to rise to the occasion as their subpar versions have a really hard time working with ice and frozen ingredients. And those with not enough power just can't keep up to the task.
Of course, these stand-out blenders can do so much more than make the perfect acai bowl, but since that is the main consideration here, I will highlight only those features which are relevant to the task on hand.
Top Rated Blenders For Acai Bowls
---
Vitamix 5200 C-Series Blender: Best Overall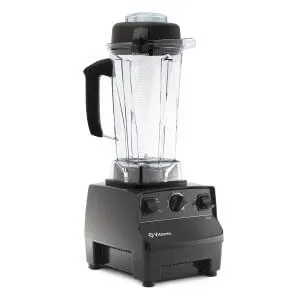 The Vitamix 5200 is an excellent choice as this blender is a commercial-grade model with a lot of heavy-duty specs.
Motor Power
The Vitamix 5200 is a robust blender with a 2 HP motor capable of spinning at an astounding 37,000 RPMs. That's an impressive speed that can quickly generate enough heat to cause overheating issues.
But keeping that possibility in mind, the manufacturers at Vitamix came up with the ideal solution. The unit is equipped with an inbuilt cooling system that will shut the blender off should the engine get overheated.
The hardened, stainless-steel wet blades on this unit are also designed to match its power. Users are very happy with the way these blades work their way around frozen desserts which makes the 5200 a perfect match for your acai bowl blending needs.
Read More: Full Vitamix 5200 blender review
Container
To blend your ingredients to perfection, the Vitamix 5200 comes with a sizeable 64-oz container large enough to accommodate family-sized portions.
The container has a fitted, spill-proof lid to keep contents intact. The construction material is BPA-free, impact-resistant copolyester.
Since the acai mixture can be a thick one to contend with, you may wonder about the effort involved in cleaning the container. But here, once again, the 5200 comes up with the perfect solution.
The blender comes with a self-clean feature meaning all you do is put in a bit of dish soap and warm water and let it run on for 60 seconds. If you're looking for the best acai bowl blender, then you really can't go wrong with the Vitamix 5200.
---
Ninja BL660 Professional Blender: Budget Pick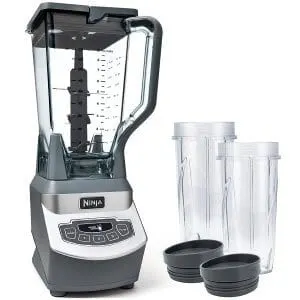 Optimized for the best performance at a very economical price, the Ninja BL660 is a bargain not to pass by. This is a power-packed appliance that can be used to blend every tough ingredient and not just acai bowls.
Ninja Container Specifications
Featuring a large 72-oz container makes this Ninja model a keeper for large batch preparation. You also get two 16-oz cups with to-go lids that you can take along for personalized smoothies and shakes.
This works as a great concept of countertop and personal blender in one where the BL660 can handle a variety of tasks.
The larger container is marked clearly with different gradations to accurately measure your ingredients. However, you do have to be careful when setting up the larger container as the blade construction is very sharp and the unit requires a secure locking mechanism before it will operate.
The single-serving containers are easier to work with since they're designed like most personal blenders.
Read More: Full Ninja BL660 blender review
Ninja Processing Performance
The Ninja BL660 comes with an 1100-watt motor which is enough power for most home blending tasks. Paired with a six-blade system you can't go wrong when dealing with tough, hard ingredients.
There are three speeds and a Pulse button to work with the large container while the single-serve assembly only works with the pulse speed button.
The blades are unique as they come stacked along a pylon. This gives the blender extra power to crush through the hardest of ingredients.
---
Blendtec Total Blender Classic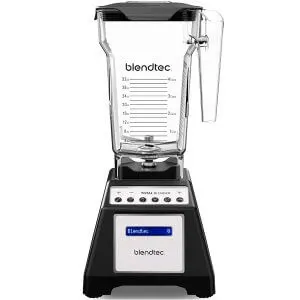 The Blendtec Total Classic is a hard-working blender able to turn fruit into purees, ice into snow, and veggies into salsa quite effortlessly. And of course, frozen acai berries into a delectable acai bowl.
Speed and Setting Options
One of the highlights of this blender is its pre-programed settings for user convenience. You have one-touch choices from ice crush, smoothies, soups, and even whole juice.
For more control, you can choose from the blender's manual settings and a Pulse function that allows you to concoct a variety of recipes and find the perfect texture for each one.
Read More: Full Blendtec Total Blender review
Motor and Blades
The Total Classic works with a 3HP, 1560-watt motor powerful enough to crush and blend tough ingredients and yield the smoothest results.
The Total Classic has 4-inch blades that come with vertical wingtips and precise angles to completely pulverize the ingredients for your acai bowl. The blades come blunted at the end instead of sharp which serves a dual purpose.
First, blunt blades allow you to safely load the ingredients into the jug. And then, blunt blades are designed to better pulverize tough ingredients without the need for tampering.
---
Best Blender for Acai Bowls: A Complete Buying Guide
When I think about healthy ways to jumpstart my day, Acai bowls are a default. The delicacy is not simply a treat to look at but also packed with fiber, vitamins, and antioxidants.
Are you someone who appreciates Acai bowls too? If yes, then you must be aware of all the necessities for the perfect Acai bowl. Acai, frozen fruit, liquid, toppings, and of course, a powerful blender.
While the first four of these are entirely up to you, I'm here to help with the last one- the blender for your Acai bowl. You must have a suitable blender to meet all your Acai bowl needs and create a mouth-watering, nutritious dish!
The best blender for acai bowls, or Açaí na tigela to give it the proper name, requires specific features that may not be found in standard blenders. Since the main ingredient of an acai bowl is frozen acai berries, you will need to think about the kind of power you need to get the job done.
Basically, it should be able to turn ice into slush with minimal effort. Here are the features that will fit the bill for a good acai bowl blender, so try not to compromise on any of these.
What is Açaí na tigela (Acai Bowl)?
Açaí na tigela is a Brazilian specialty from the Pará and Amazonas regions. The name is Portuguese and when translated into English it is acai in the bowl. It is a dish made from the frozen berries of the acai palm tree. Acai bowls are usually served in a bowl, although they can be served in a glass.
Acai bowls are commonly topped with granola, banana, and other fruits and syrup. Acai bowls gained popularity in the United States in the 2010s due to their colorful appearance and multiple health benefits.
Read More: 13 healthiest berries on the planet
The 3 Best Blenders For Acai Bowl
Vitamix 5200 Blender – Best Overall. Check Latest Price
Ninja Professional BL660 Blender – Budget Pick. Check Latest Price
Blendtec TB-621-20 Total Classic Original Blender – Good Alternative. Check Latest Price
How to Choose a Blender for Acai Bowls
The blender you use to make your Acai bowls must offer certain features that you may not necessarily find in standard blenders. This is so that you can get just the right texture, blend, and quantity.
It is quite common for people to think that smoothie bowls and Acai bowls are the same. This is not the case, though. Smoothie bowls are thin while Acai bowls are thick and creamy. Both of them have different blender requirements.
There are certain parameters that you can judge a blender to determine whether it is suitable for Acai bowls or not. I have listed the major ones below. Check out the points to consider when choosing an acai bowl blender. I will explain these in more detail as you read further.
Power of the motor
Speed
Size of the Jar
Presence of tamper
The firmness of the base
Timer
Quality of the blades
There are almost too many blenders out there, and it may be a little daunting to choose from them. However, if you consider the above points when comparing to find the best blender for acai bowls, your job will become easier.
What are the Advantages of Having a Quality Blender to Make Acai Bowls?
You can indeed create an acai bowl using just about any blender. Nevertheless, using a sub-par acai bowl blender will most likely not provide the results you desire.
Acai bowls are easy to make and taste refreshing, but this might not be the case if you don't have a good quality blender. The way your Acai bowl turns out is highly dependent on your blender and its performance.
A quality blender will make sure that you can break down fruits and vegetables properly, especially frozen ones. It will also be useful for other purposes in the kitchen, such as making nut butter, smoothies, purées, and more.
A reliable blender will also be durable, which means you can enjoy your Acai bowls for longer!
Related Articles:
What Features does a Blender Need to Make Acai Bowls?
Acai bowls are popular all over the world for their nutritional value, enjoyable preparation, and good taste. Homemade ones are healthier than store-bought Acai bowls, but you need a suitable blender to make them.
A blender needs to have enough power, speed, and adequate capacity to make Acai bowls. You will need a blender with sufficient power to crush the ingredients into a paste.
The speed at which the blade rotates should also be high because the best Acai bowls do not have chunky leftover fiber or pulp components.
Additionally, the jar size matters too because you should be able to produce enough of the nutrient-packed dish.
Allow me to go a little deeper into the features a blender needs to make Acai bowls.
Power
The major ingredients in an Acai bowl are fruits and vegetables. You can also add nuts and similar items. These need to be blended to form a thick, creamy purée. To get the perfect texture, you need to look for a blender that comes with the right amount of power. If the motor power isn't up to par, you'll likely end up with a lumpy puree which is not the texture required in this case.
Often, you will need to use frozen fruit so that the chilled nature of the bowl can be produced. A blender needs to have enough power to crush your fruits, vegetables, and nuts. Motors with higher power output are ideal candidates for an acai bowl blender and that is something you can't afford to compromise on.
It should also be able to blend ice. A blender with 600 watts to 1500 watts of power should be enough.
Speed
The speed of a blender is measured in rotations per minute or RPM. The faster the blades spin, the better they will blend. Make sure you pick a blender with good RPM. The RPM also influences the blender's power. For instance, a 2-peak horsepower motor will be able to spin the blades at 37,000 RPM.
Jar Size
Another specific for this kind of blending is the capacity factor. Ideally, you should look for a machine with a larger capacity. Here, you want something that can easily prepare a big batch, or multiple portions if there's more than one person to feed.
The blenders I have recommended today all have a generous capacity between 64 and 72 oz which is what you should be looking for.
If you intend to prepare an Acai bowl only for one serving or yourself, then a blender with a smaller jar will be enough. If you have more family members at home, then you should go for a blender with a bigger jar so that you can blend the required amount in one go.
You can find blenders with jars with a capacity of as little as 0.25 L or as much as 2 L. The ideal type of blender to buy would be a model that offers different sizes of jars.
Related Articles:
Presence of Tamper
A tamper is a great tool to have, and in this case, a necessary one. A blender tamper is a handy tool that you can use to push down ingredients to the upper proximity of the level of the blades. It maintains a safe distance but allows an accelerated blending process and finer results.
It's not rocket science, but a tamper will compact the ingredients down to a smaller area. This helps in blending more evenly and with less air getting in, you will have a thicker and smoother blend. Acai bowls need to be thoroughly blended, and tamping the components is the best way to do so.
At the same time, a tamper will also eliminate the need to stop the blender to scrape the sides and push the ingredients down. Instead, the blender can continue doing its work without you having to interrupt it in between cycles.
Not all blenders come with tampers, so you should keep an eye out for models that offer this helpful tool.
Blade Quality and Construction
Since the blades will be doing all the hard work, their quality and construction are of extreme importance. The best blades are those using hardened stainless-steel as these can hold their edge the longest.
These blades are also more damage-resistant than other types. Another consideration is to see the way the blade attaches to the unit's base. A poor attachment may result in the power not getting transferred to the blade properly which can reduce the performance of the machine.
After all, you will be dealing with frozen, rock-hard chunks of acai berries so the blades need to be up to the task.
Additional Features
The features that I have discussed above form the cornerstones of the best acai bowl blender. However, when buying a blender, you must take various other features into account too.
You should check out the controls and system of the blender as well. Blenders that are automatic and easy to operate are always better choices.
Here are some more characteristics which constitute a good quality blender for Acai bowls:
Timer
Tight lid
The base should be firm
Stainless steel blades
Thermal protection
Heating/cooling abilities
Controlled noise
Warranty
Apart from these, you should be assured of the blender's safety and security. The fun process of making an Acai bowl should not become unpleasant for you!
How Easy is the Blender to Clean?
How easy it is to clean a blender is a factor that many people overlook when searching for the best blender for Acai bowls. A machine that gets dirty and remains messy is entirely unsavory.
Hygiene is an important aspect when working with food. If you are an enthusiastic consumer of Acai bowls, then you will be using your blender quite a lot. This is why you should look for a blender that is easy to clean and handle.
The best option will be to choose a blender that offers self-cleaning. This usually entails pouring water into the jar, adding some detergent, and blending it up before rinsing. Dishwasher-safe blenders are also advantageous.
The wonderful organic and fibrous ingredients that are used to make Acai bowls can get stuck at the bottom of the jar or near the blades. If this is not cleaned properly, it can cause bacterial pr fungal growth.
What Kinds of Food Will you be Making in the Blender?
Acai bowls are not the only dish you can prepare using a blender. The possibilities are endless when it comes to creating delicacies using blenders. You can make purees, pastes, kinds of butter, and batters. You can also make syrups, smoothies, and sauces.
When buying a blender for your Acai bowl, you should also take into account the other kinds of foods that you will be making. For instance, if you enjoy having soups, then you could buy one which offers to heat.
Tips for Blending Acai Bowls
The way you prepare an Acai bowl depends entirely upon your preferences, food allergies, tastes, and such factors. Acai is a superfruit, and Acai bowls are loaded with high levels of dietary fiber, antioxidants, and essential amino acids.
The toppings you choose also influence the protein and nutritional value of the meal, so it is an entirely customizable dish!
While an Acai bowl is up to you to customize, here are some tips for blending Acai bowls:
Use frozen Acai packs with no added ingredients or odd soy fillers for the best nutrition
Frozen Acai fruit or puree is better than powdered forms
2-3 Acai packs should be enough for one serving
For other fruits, use frozen ones such as frozen bananas or strawberries
Liquids such as milk can be used, but if you are vegan or lactose intolerant, then coconut or almond milk is great
Do not add ice cubes if you are looking for a creamy blend, but add them for an icy one
Use a tamper while blending (Vitamix, Ninja, and Blendtec all come with this)
Increase the speed of the blender gradually, for better results
Push down the sides and center of the ingredients using the tamper for a smooth blend
Add a little more liquid if the blend continues being textured
Read More: What is an Acai Berry? Origins, Taste, and Health Benefits
Summing it up
Acai bowls are a healthy snack if consumed in regulated quantities. They are easy to make and contain all the necessary nutrients for a healthy and enjoyable meal.
While the food ingredients matter a lot, the major factor which defines your Acai bowl is the blender you use. The success and flavor of an Acai bowl rely upon the way the blend turns out. It should be nice and creamy.
I have compiled this buyer's guide so that you know what to look for when buying an acai bowl blender. I am certain that it will help!
Best Blender for Acai Bowls: Final Thoughts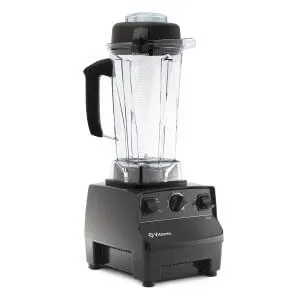 If you're on the lookout for a reliable, high-end blender, there's hardly anything better than the Vitamix 5200. This gets rated as the best blender for acai bowls with its sturdy blades, variable speeds, and a sizeable container. It may be a bit of an investment for some, but when you see all that it can do, the product justifies the price.
The Ninja BL660 offers power and performance at a very reasonable price tag. You get a two-in-one blender with this one that is efficient but not costly. Plus, its generous 72-oz container is an absolute steal as it beats many other blenders in this price category.
The Blendtec Total Classic blender is a versatile unit with smart features to make blending at home easy. It makes for a great choice if you're looking for a multi-tasking machine made to last.
Related Articles: