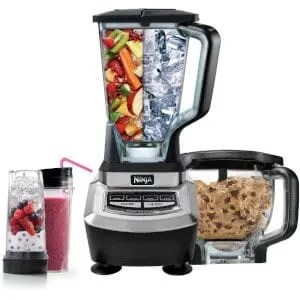 You can use a Ninja blender for basically anything. These are some of the highest quality blending machines out there available for purchase right now. But even though these machines are extremely versatile, many people still wonder about food processing, asking questions like, 'can a Ninja blender be used as a food processor?'
Well, today I am going to answer that question for you. We will talk about some of the different ways in which a Ninja blender can be used, how to use it as a food processor, and if you should use it as a food processor.
Just keep in mind that you can use your Ninja blender for making basically anything. Although some people have a different idea of what exactly food processing is, the truth is not that complicated. Food processing really just means anything not liquid.
For example, making nut butter from peanuts, almonds, or cashews is considered food processing. Making a pesto sauce is considered food processing. Curry paste, almond cookie dough, pancake batter, applesauce – it's all food processing!
And yes, your Ninja blender can complete all these tasks. However, you do need the appropriate blender for the job. Check out Today's Cave for a list of the best blenders in the market these days.
Read More: What is the best blender food processor?
Which Ninja Blenders Can Process Foods?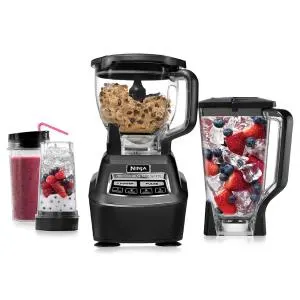 There are three main Ninja blenders that can be used as food processors. First, we have the Ninja BL770 Mega Kitchen System, then we have the Ninja Duo Auto iQ, and 3rd is the Ninja MasterPrep QB1004. I won't be reviewing all these blenders today, you can click the links above for the reviews, but these are the three main ones that can be used as a food processor.
Each blender can be paired with a unique Ninja food processing bowl. This turns your ordinary Ninja blender into a powerful food processor. The bowls are different from the containers as they are designed for holding and mixing foods.
When using the Ninja food processing bowl, you can even do some more basic tasks like chopping vegetables and grinding dry oats. And do keep in mind that some other Ninja blenders can also be used with a Ninja food processor bowl.
Almost any Ninja blender can be used for light food processing. For example, an ordinary Ninja blender can certainly be used to grind dry grains, coffee beans, and to make nut butter and sauces. But when it comes to serious food processing like making batters, flours, and doughs, you definitely want one of the more versatile blenders.
Read More: Ninja blender not working? Try these solutions
Should You Use Your Ninja Blender as a Food Processor?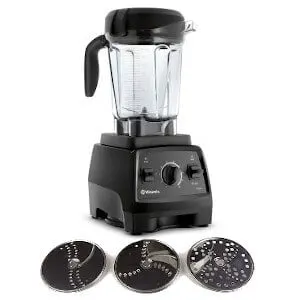 You should absolutely use your Ninja blender as a food processor. This is especially true if you have the unique grinding blades and the Ninja food processing bowl. But even if you have a normal Ninja blender, there is no reason you can't use it to process food.
You just need to be careful what kind of food processing you're doing. As an example, you can use your standard Ninja blender for chopping vegetables, like celery and onion for a soup. You can also use it to pulverize tomato to be used as a sauce or a juice.
However, a standard Ninja blender is not a replacement for a food processor. If you are thinking about mixing or kneading dough using your normal blender, I highly suggest you don't. The thing is that most blenders require liquid for the blending to be done properly.
Read More: Can food processors be recycled?
You see, blending with liquid creates a vortex that pulls ingredients down into the blades where they can be blended. But when you use a proper food processor, it doesn't require any liquid. A proper food processor has specialized blades that can mix dough and batter much better than a standard blender can.
And in the same way, I would never recommend using a food processor for making smoothies or shakes. The machines are simply too different.
To bring it back and answer the original question of should you use your Ninja blender as a food processor – it all depends on the type of food. Use your general discretion and don't go too crazy on obvious mixtures that don't look like they belong in a blender. Keep it to grinding seeds, nuts, dried fruits, vegetables, and other simple ingredients.
The Ninja Kitchen System
If you're looking to blend and process food using the same machine, you want the Ninja Kitchen System. Why waste time, money, and effort trying to process foods using your standard Ninja blender when you can simply have everything in one unit?
The Kitchen System is a blender and food processor combo that boasts 11 automatic programs, a touchscreen display, incredible crushing power, two different jars for blending and processing foods, a maximum capacity of 72 ounces, and smart vessel recognition.
Read More: Ninja blender soup recipes
All the parts of this system are safe for the dishwasher and BPA-free. And it sure comes with a lot of parts. This is a full kitchen system at an extremely affordable price that gives you accessories for both blending and food processing that will make your experience in the kitchen better than it has been in years.
If you are the type of person who enjoys making meatballs, carrot hummus, green smoothies, peanut butter cookies, and so much more, this is the ultimate experimentation system. You can literally make any kind of food thanks to all the complex moving parts.
Read More: Can you make smoothies in a food processor?
Can a Ninja Blender be Used as a Food Processor: Final Thoughts
Yes, you can use your Ninja blender as a food processor. You just need to make sure you understand the limitations of your standard blender. Soft fruits and vegetables can be processed, and so can sauces, salads, soups, and other things – but doughs and other types of baking ingredients are not advisable to be processed in your blender.
However, there is a way that you can blend and process foods using the same machine. I highly recommend anyone who's got a bit of extra cash to go out and purchase the Ninja Kitchen System. It works wonders for a wide variety of kitchen applications. In fact, this will replace your food processor and your blender, and half a dozen other appliances.
Read More: How to use a Ninja blender