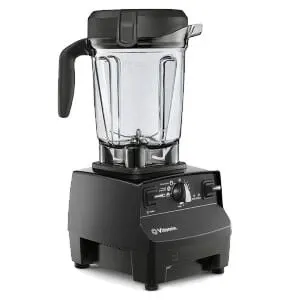 Stronger Motor
Newer Model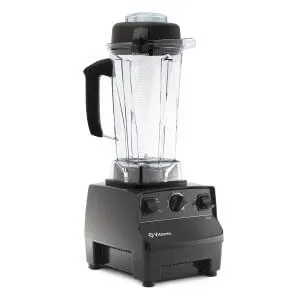 Cheaper Price
Durable Design
When it comes to choosing between two great Vitamix blenders, there are slight differences in their performance and features since they are traditionally made with great quality.
Even so by reading this Vitamix 6500 VS 5200 review, you will be able to recognize the advantages and disadvantages of both products and decide which one fits you the best.
By being top models in their class, the Vitamix 6500 and the 5200 come from different production lines as the Vitamix 5200 is an older model.
While it may surprise you at first, the Vitamix 5200 has proved so good that it is still used in many restaurants and households up to this day.
It is no such a wonder considering that both these blenders are made of high-quality materials, offer full Vitamix capacity and a variety of options that will help you prepare the food of your dreams.
---
Vitamix 5200 Review
The Vitamix 5200 was a top model of the time of its release and it has stayed one of the best-quality models up to today.
Features that still make it Desirable
Even though it is an older model, some features still make this model one of the best-buys considering how much you get for the value of your money.
The Vitamix 5200 does not have premium features like preset programs and pulse options, but the functions you have at your disposal by getting this blender are very effective too.
The manual control panel is very easy to use since it consists of three manual switches for high/variable settings, a speed option determiner, and a start/stop button.
The speed controls vary from very slow up to very fast blending speed since there is a choice of 10 different speed settings.
Also, by choosing the high option with a high/variable switch you get additional speed choice that can in some cases act as a pulse option for gaining better texture.
Read More: Kitchenaid vs Vitamix blender comparison
Aspects That Make It Durable And Reliable
Besides the speed features, this blender has a 2.0 HP motor with thermal protection and cooling system to prevent it from overheating.
In case of potential overheat danger, the motor will automatically shut down.
It also has a BPA free plastic container and a variety of container and package choices making this blender very convenient for household use.
---
Vitamix 6500 Review
As a part of a Vitamix next-generation lineup, the Vitamix 6500 is a modern and versatile blender that suits the needs of the whole family.
Functionality Features Of The 6500
The Vitamix 6500 is a very convenient and applicable blender for household use.
It features a large 64-ounce container that is enough to fit ingredients for the whole family.
The base is low-profile and the container is made shorter but wider than in comparison to previous models, therefore allowing you to easily find a storage space for this high-capacity blender.
It is very easy to use, following the included instruction manual.
The control panel is manual and features 10 variable speed choice as well as the 3 preset blending functions for easier navigation and use.
Functions are for a smoothie, hot soup, and frozen dessert options to make your life much easier when preparing these kinds of dishes.
Power And Efficiency Features
The Vitamix 6500 is equipped with a powerful 2.2 HP motor that can process all kinds of food types in less than a minute.
This motor is included in some of the best Vitamix blenders so it is no wonder that 6500 has so much processing power.
It is combined with laser-sharp stainless steel blades to ensure that you get the best possible results.
---
Vitamix 6500 Vs 5200: Main Differences
While both blenders offer similar using convenience, there are few aspects In the work of these blending machines that are quite different.
Functionality Differences
When it comes to functionality, both blenders offer very easy controls and high blending power but the Vitamix 6500 has a stronger motor than the Vitamix 5200.
This may result in faster and better processing of harder ingredients.
The 6500 also has the pulse option which the 5200 doesn't.
Having 3 preset controls makes 6500 more versatile than the 5200, but the 5200 also has a few tricks up its sleeve.
Thermal protection and cooling systems are the advantages of the 5200 since, in the time of its release, these options were more sophisticated than the safety options on the modern Vitamix 6500.
Read More: What is the best Vitamix alternative?
Durability And Other Differences
Both blenders are indeed very reliable, but the 6500 is made of higher quality materials since the newer technology used in its making is better than the one used in the 5200.
Metal couplings and components make this blender very convenient so you should never really have to use the warranty but the 5200 is quite long-lasting as well, making it a very tough competitor.
Vitamix 6500 vs 5200: Final Thoughts
Although both blenders are extremely powerful and offer very large capacity, the Vitamix 6500 is a slightly better competitor.
Having a stronger motor with bigger and improved blades, as well as the preset programs are what make this blender an overall better choice to buy.
Either way, the Vitamix 5200 is not to be taken as a bad blender in any way since for the time it spent on the market, huge numbers of this model have been sold and many are still in use.
It is just for its modern features that the 6500 is a better blender.
After all, both blenders are Vitamix high class, so it is no wonder if you are having a hard time to decide which one suits you the best.
Hopefully, after reading this review, that decision will be a little easier for you to make.