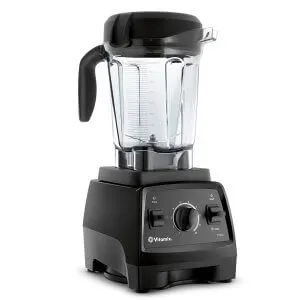 Powerful 2.2HP Motor
Quiet Operation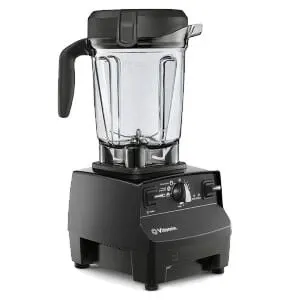 Powerful 2.2HP Motor
Pre-set Controls
Choosing between the Vitamix 6500 and the Vitamix 7500 can be a tough decision. They are both made by an acclaimed brand that almost never drops the ball when it comes to quality. Vitamix delivers time and time again some of the most durable blenders used by both amateurs and professionals alike.
Let's be honest here – There really is no bad choice when it comes to these two blenders. Whatever you decide, you will be walking away with an incredibly efficient appliance that will serve up a silky morning smoothie, a refreshingly cool afternoon beverage, or a delicious bowl of creamy soup for your evening meal.
How do you know which one is the better option for you? Read on for a detailed comparison of the Vitamix 6500 vs 7500. The ultimate deciding factor I think will be whether you are seeking a blender with easy controls or a more complicated design that gives you free rein to create magic in the kitchen.
Vitamix 6500 Vs 7500: Comparison
Vitamix 6500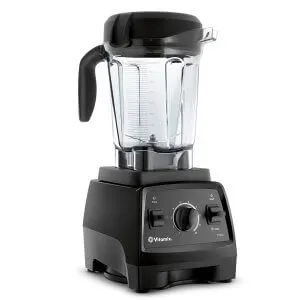 PROS
More affordable
Comes with 3 preset options
Variable speed settings
CONS
Shortcomings with the motor housing
Larger base
---
Vitamix 6500: Review
The Vitamix 6500 packs quite a punch. It has all the defining features of an incredible blender — versatile, powerful, and durable. If you want the creamiest smoothie, tastiest soup, or the most delicious frozen dessert, the 6500 will prepare your favorite food exactly how you want it in no time. It's no ordinary blender.
Made with a 2.2 horsepower motor and 4-inch stainless steel blades the 6500 is extremely high performing designed to pulverize anything into the perfect consistency and texture. It comes with a tamper to tackle those tough ingredients by pushing and moving them around to ensure they get processed properly.
You also have several color options. In fact, there are four of them – black, white, red, and platinum.
Pre-set Controls For Easy Blending
This Vitamix appliance comes with 3 preset options that make life a little bit easier. With the simple push of a button, you can blend a smoothie, make hot soup, or churn out a frozen dessert. It also has a ten-speed variable speed dial and a pulse function that's easy to use.
Easy To Store Container
Equipped with a 64 oz container that can serve up to half a gallon of your favorite smoothie, the jar is low profile and ideal for any kitchen cabinet. You will not have any storage issues with this one.
---
Vitamix 7500: Review
The Vitamix 7500 is a formidable blender, which can serve up some of the tastiest meals. You name it, it can make it, with the touch of a button.
Like the 6500, it comes with an easy-to-store 64 oz container, 2.2 horsepower motor, and stainless-steel blades to power through the toughest of ingredients. Without question, this blender is a solid choice for all your blending, grinding, chopping, pureeing, and mixing needs.
Other similarities include the 10-speed dial function, pulse option, and the tamper plunger.
There's also a variety of colors to choose from including red, black, and white.
Quieter Than Other Models
One of the most delightful things about the 7500 is the noise level. Yes, we know blenders are typically noisy appliances but thanks to a built-in noise and vibration dampening base, this one will be gentler on your eardrums. In fact, it's reported to be at least 40% quieter than other Vitamix blenders.
Easy To Clean, But Not Dishwasher Safe
Cleaning up is perhaps the most hated job in the kitchen. I don't know about you, but I hate it. Here comes the good news though with this blender: it's very easy to clean. Simply add soap and water to the container and run the blender for about 30 seconds. The container is not dishwasher safe, so opt for the self-cleaning option or do it manually.
---
Vitamix 6500 Vs 7500: Main differences
While the Vitamix 6500 and 7500 are similar, by now you would have noticed a few differences:
Pre-set Blending Options
The biggest differentiating factor for these two blenders is the controls. While the Vitamix 6500 has preset blending options, the Vitamix 7500 has none. Pre-programmed settings are convenient and better suited for amateur cooks who may end up over-blending ingredients if there is no guide. This Vitamix blender is also ideal if you are busy and don't want to spend a lot of time figuring out the best speed and mode for the best results. Presets make the 6500 more-user friendly as with the touch of a button you can make a smoothie, hot soup, or a frozen dessert.
On the other hand, a more experienced cook would prefer the 7500 because it gives the freedom to choose blending textures and consistencies using the 10 speed dial options. If you have time to experiment and want to create new and exciting dishes, the 7500 is for you.
Motor Housing
As mentioned before, the 7500 is quieter than a lot of models including the 6500 because of the noise dampening feature. If you are concerned about the noise level when using a blender, grab the 7500.
Affordability
When it comes to price, the 6500 costs a little less than the 7500. While they're both on the higher price spectrum, you will save a few dollars taking the pre-programmed blender.
Vitamix 6500 Vs 7500: Final Thoughts
The Vitamix 6500 and 7500 are quite similar blenders, which makes them both great options, but I am going with the former. It costs less and is easier to use with the preset dials. Both are highly versatile and powerful so with the 6500 you're still getting a blender that will do its job perfectly, but for a little less money.
If you are an amateur cook who wants to whip up a quick meal with the press of a button, you can't go wrong with the Vitamix 6500. For a more experienced person who doesn't mind figuring out the controls to get the best outcome, then the Vitamix 7500 is designed with you in mind.
Have you made a decision yet? I hope this review helped you. Take comfort in the fact that whatever your decision, you are getting a high-quality blender from an established brand. Whatever your needs are – blending, chopping, grinding, pureeing – Vitamix will not disappoint.
Read More: How To Clean Vitamix Blenders: The Ultimate Guide