Powerful 1725W Motor
LCD Display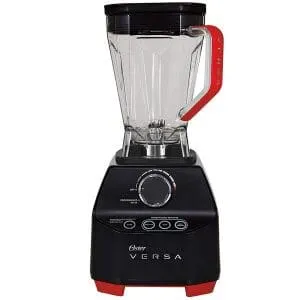 Powerful 1400W Motor
Convenient & Portable
---
The pace at which modern life is traveling, you need to adapt to multitasking. The home appliances should also be up to that level so that you can perform chores with ease in a short period. Blenders have been one of the essential kitchen appliances in the last decade or so. Be it the healthy smoothies or the delicious desserts; blenders can be of great use.
There are varieties of models of blender in the market with a varied price range. Now, based on your needs and budget, you can choose the blender. The obvious comparison arises between Oster Versa vs Blendtec. Oster has been a reputed brand amongst blender manufacturers, and Blendtec has also carved a niche for itself with stunning features and design. On completion of reading this comparison of the Oster Versa 1400 vs Blendtec 575, you would be able to decide on which one to buy.
Oster Versa Vs Blendtec: Comparison
Oster Versa 1400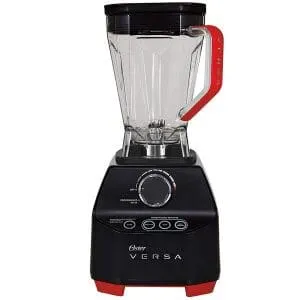 PROS
The 1400-watt motor produces seamless torque for better blending
Comes with 3 programmed settings and variable speed dial for instant speed adjustment
Comes with a 64-Ounce BPA-free Tritan jar
CONS
No locking mechanism for the base or pitcher
The results of blending ice are mediocre in comparison to other blenders in the market
Blendtec 575
PROS
Comes with 80% thicker stainless-steel broad blade with wings for smoother blends
The 90-ounce BPA-free blending jar is ideal for blending in large batches
It comes with a self-cleaning feature and helps for hustle free cleaning
CONS
The blending sound is ominously loud
It liquifies the ice quickly, and frozen margaritas lose their slush
---
Oster Versa 1400 Review
Oster is an established manufacturing brand of blenders. Initially an American brand, Oster has been manufacturing blenders to meet household needs. If you are looking for smoother blends with seamless performance, you can go with Oster Versa 1400.
Basic Features
To start with, you could be amazed by the sleek design and under 12lbs standing weight. The Oster Versa 1400 is small enough to fit easily in your cabinet, and the lightweight blender is easily portable and convenient to use.
The control panel comes with three programmed settings for preparing smoothies, spreads, and soups and has a variable speed dial to enable you to adjust the speed instantly.
Read More: Oster Dual Action blender review
Why Choose Oster Versa 1200?
Well, the primary reason for choosing Oster Versa 1400 might be its brand name. Almost a century old, Oster has been delivering and wishes in American households with state-of-art design and seamless performing kitchen appliances and blenders. The Oster Versa 1400 comes with a stainless steel blade with over 250 mph that blends the ingredients thoroughly. The powerful 1400-watt motor only adds to seamless blending.
---
Blendtec 575 Review
The Blendtec 575 is an extension of the company's growing product line. This high-end commercial-grade blender can fit perfectly in your kitchen or serve the purpose if you intend to use for commercial purpose too. With a perfect combination of look, style, and function, Blendtec 575 is technologically advanced, versatile, easy-to-operate, dishwasher safe, and comes with an extended warranty.
Basic Features
The control panel has dedicated one-touch buttons, four pre-programmed cycles, five manual speed controls that provide you with the pulse facility too. Such speed controls provide you with complete control to adjust the blending speed at the time you use the blender. The LCD also displays the estimated time remaining for completion of blending.
The 80% thicker stainless-steel broad blades ensure there are no more cuts and pokes, and you can achieve smoother blends.
Read More: Blentec Total Classic Vs 575
Why Choose Blendtec 575?
The feature that makes Blendtec 575 unique is its auto cleaning technology. You need to add a few drops of liquid soap in the blending jar and can clean automatically within minutes.
The eight-year extended warranty is the maximum among blenders in this price range, and you can blend in large batches with the extra-large 90-ounce volume blending jar.
---
Oster Versa Vs Blendtec: Main Differences
Both the blenders are a competitor of each other in terms of their design and features. The Oster Versa 1400 has been a reputed name in the blender industry, while Blendtec has been extending the manufacturer's goodwill with stunning features.
#1: The Blending Blade
The Oster Versa 1400 has stainless steel blending blades that have 250 mph and blend the ingredients thoroughly.
The Blendtec 575 comes with 80% thicker stainless-steel blades that are dull. These blades are not sharp and minimize chances of pokes or cut, but are ten times stronger than other blender blades and provide better blending.
#2: Large Batch Blending
The Oster Versa 1400 is a has normal-sized blending jar and is ideal for blending whole fruits and vegetables.
The Blendtec 575 comes with BPA free blending jar, which is of 90-ounce capacity and is perfect for blending in large batches for the size of 4-6 people in one go.
#3: The Control Panel
The Oster Versa 1400 has three programmed settings for blending smoothies, spreads, and soup along with a variable speed regulator that helps you to adjust the speed instantly.
On the contrary, the Blendtec 575 has dedicated one-touch buttons with four pre-programmed cycles and five manual control that gives you the freedom to pulse and control the blending speed as per your need.
Read More: A comparison between the Blendtec Total Classic and the NutriBullet Rx
#4: The Design and Price
You can get the Oster Versa 1400 for less than $200, and it is available in black color. Although the sleek design can fit in your cabinet, this model lacks versatility.
The Blendtec 575 is available in six different colors. You can get this powerful yet sleek and trendy blender for under $300.
Oster Versa Vs Blendtec: Final Thoughts
Once you have gone through the complete article, the comparison Oster Versa 1400 vs. Blendtec 575 clearly displays Blendtec 575 is better than the Oster Versa 1400 in terms of its features, functionality, and looks.
Apart from the relatively higher price of the Blendtec 575, this blender is a forerunner in terms of features and blending functionality. Be the 80% broader yet extremely powerful stainless-steel blades or the dedicated pre-programmed blending cycles and manual speed control, Blendtec 575 is the clear forerunner. You also have the auto cleaning facility, which unavailable in Oster Versa 1400.
Related Articles: