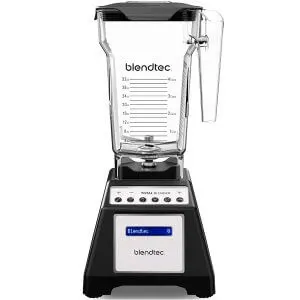 Powerful 1560W Motor
Large Capacity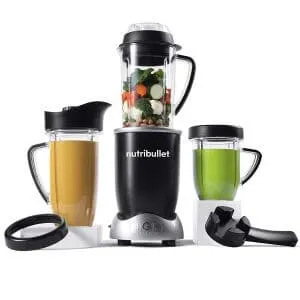 Powerful 1700W Motor
Convenient & Portable
---
There are lots of blender brands out there, but only a few matters. A lot of people tend to ask themselves, which is the best brand between Blendtec vs. NutriBullet. Today, I will be trying to answer this question by comparing two of their best-selling products, NutriBullet RX and Blendtec Total Classic Blender.
Both blenders are quite impressive and have received a lot of love from the users across the world. Most people praise how powerful these blenders are plus how easy they are to use. Also, most people are impressed that these blenders are very durable.
Both of them are generally great, but obviously, one of them outshines the other. However, the right one for you may depend on your needs and the amount you are willing to use.
Blendtec Vs NutriBullet Rx: Comparison
Blender Total Classic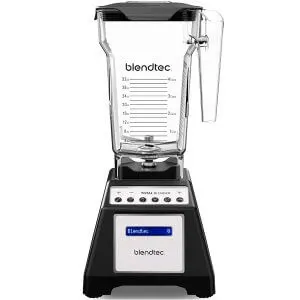 PROS
A Powerful motor of 1560 watts
Easy to clean and use
Versatile
CONS
Loud
Discontinued, although still available in online stores.
---
NutriBullet Rx: Overview
There is a lot of exciting features that come with the NutriBullet RX N17-1001 blender and hence the mad love it has received. The NutriBullet RX is quite versatile, and you can use it to perform a number of kitchen functions.
NutriBullet Rx: Features
One thing that most people love about it is you can even use the blender to make hot soup. However, this doesn't mean that you can use the NutriBullet Rx with hot ingredients. Don't make a mistake.
The 1700 watt motor it comes with has received a lot of love. With it, you can be sure of the smoothest smoothies. Its blade design is also quite impressive. Its pitcher size is about one liter, which is enough for single people and small families.
The Hand-free SMART Technology
This technology is another thing with this blender that has received a lot of love, and you will probably love it too. It is also considerably affordable, which is a plus.
The blender ensures that your ingredients retain their nutrients, and it is also quite easy to clean. The only complaints are it does not come with a Pulse feature, and it is quite loud.
Blendtec Total Classic: Overview
The Blendtec total classic blender has also received a lot of love from its users.
Blendtec Total Classic Functionality and Versatility
The machine is quite versatile. You can use the blender to make some wonderful smoothies, hot soup, frozen desserts, nut butter, whole juice, nut milk, grinding, milling, baby food, pureeing, chopping, and knead the dough.
Read More: Blendtec 675 review
Control Panel and Speed Settings
The Blendtec Total Classic is quite easy to use, and this is thanks to its easy to understand control panel and speed settings. The blender displays information such as speed in use, remaining blending time, and blending error if in case you encounter any.
Its touchpad comes with a Pulse mode, nine press buttons, and ten incremental speeds. The lowest speed is the best for making smoothies, but it can take some time, so you might want to use a medium speed for the same when you are in a hurry. The blender is easy to clean as it comes with a self-cleaning feature.
It is also quite powerful, and most people are contented with its power. It is a blender that you will love it if you go for it.
Blendtec Vs NutriBullet Rx: Main Differences
Even though they have lots of similarities, they also have some differences. They include:
Power
Both blenders are quite powerful, but the NutriBullet Rx blender is a bit more powerful than the Blendtec Total Classic Blender. The NutriBullet RX comes with a 1500 watt motor while the Blendtec Total Classic comes with a 1560 watt motor.
A powerful blender means enhanced performance, especially when it comes to crushing ice and making smoothies. However, their difference in wattage is not so big to cause a big difference between their results.
Read More: Blendtec 725 review
Durability
Both blenders will serve you well but not for the same time. In my research, I found that most people had great things to say about the durability of the Blendtec Total Classic Blender. The manufacturers are so convinced with their product that they provide a manufacturer's warranty for eight years.
However, the same cannot be said for the NutriBullet Rx blender. I found several complaints of people complaining that they used the blender, and after two years or so of performing exceptionally, the quality of its work started dropping. Some also complain about its design.
Related Articles:
Price
There is a considerable difference in the costs of these two blenders. The NutriBullet RX blender is quite affordable, and this is one thing that has made lots of people love it. For a blender that costs under $200, its performance is quite impressive.
Blendtec Total Classic is not as cheap as the NutriBullet Rx but is worth it. Most users of the same are convinced that it is worth every dollar as it makes their lives so much easier, plus it is quite durable. However, I noticed several complaints that it is not worth the huge price, and there are better blenders for such an amount.
Blendtec vs. NutriBullet Rx: Final Thoughts
Generally, both blenders are quite exceptional. They have many similarities, and most people love them, but they also have their differences. One major difference between them is the price. The NutriBullet is quite affordable, and it is quite powerful, even more, powerful than the Blendtec total classic.
However, the best product overall is the Blendtec Total Classic. The blender is quite easy to use thanks to its preset programs, and it is still powerful enough despite having a smaller motor.
The blender is also durable, and it comes with an eight years warranty, which is a sure sign that the manufacturer is confident of their product. It is also versatile, and I am convinced that it will help you solve all most, if not all, your kitchen problems.