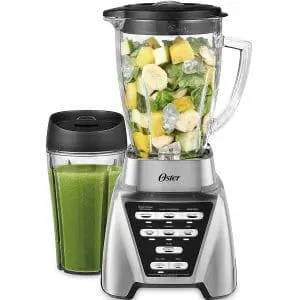 Powerful 1200W Motor
Durable Design
Cheap Price
Quiet Operation
Once you get a hold of the Hamilton Beach blender, with its amazing quiet operation, you'll never want another blender. Owning the Oster Pro 1200 blender that has a diverse range of functions is so efficient that it's sure to completely satisfy you.
If you want a blender that's excellent at grinding coffee beans and making smoothies and margaritas, Hamilton Beach blender just might be for you. If you are looking for a versatile and durable blender that offers superb control of the blending, look no further. The Oster Pro 1200 blender is exactly what you're looking for.
When you look at the Oster vs Hamilton Beach blender, the question isn't which one is better. The focus should rather be on which one suits you. I'm here to make that job easier for you, read on if your aim is to discover an answer to that question.
---
Oster Pro 1200 Review
This is an affordable blender that's highly sought. The Oster Pro 1200 blender is relatively new on the market.
It can powerfully blend smoothies, frozen ingredients, soups, nut butter, nut milk, dough, salsas, etc. It can puree, grind, chop, you name it.
Cleaning
You should dismantle and clean the blender after every use. If this sounds like too much hassle, simply rinsing it with water or blending it with soapy water will do the trick.
It has a removable blade, so assembling and disassembling requires an effort. A thorough cleaning should be conducted once a month.
Blades
When dealing with this blender, the removable blade assembly is at your disposal. The blade is sharp and large. It provides you with immaculate consistency for smoothies etc.
The blades are durable and sturdy and made of stainless steel that ensures the longevity of keeping them brand-new.
The Base Unit and Motor Power
This blender comes with a very powerful 1200 watt motor at the peak, and a blade speed of 19,000 rpm. The processing power decreases to 900 watts.
The blender is good looking and easy to clean, even though the base housing is made of brushed plastic.
The base of this blender is not entirely stable as it can move on the counter.
---
Hamilton Beach Blender Review
The Hamilton Beach blender is rather versatile, and once your breeze through the provided manual you will get a hang of all the functions.
There are four different buttons for four types of food and beverages: puree smoothie, mix milkshake, crush ice, and chop salsa.
It has Sabre blades that are designed to easily crush ice. There are 14 different speeds and options. It is dishwasher safe and has 40 oz. glass jar with spout, lid, and blades.
Blade detaches from the base. It comes with a back cord storage area and a three-year warranty.
The Features and Design
This blender has a height of 14.5 inches, an 8.5-inch depth, and a 7-inch width. It has a 48-ounce glass pitcher and black and brushed silver finish.
The overall design is very simple, but it's sturdily built and it looks much nicer than its $40 price tag would suggest. Not to mention, it's ridiculously easy to operate.
The jar has a sizable handle to make lifting and pouring as manageable as possible.
Noise
It is one of the most silent tabletop blenders in the market. That is not so surprising considering that all Hamilton Beach blenders tend to be silent.
When it comes to space, this blender doesn't require much space. It can fit nearly anywhere.
---
Oster Vs Hamilton Beach Blender: Main Differences
When it comes to Oster vs Hamilton Beach Blender, there is a fine line in the quality. Both of them are decent blenders that will provide you with some delicious smoothies etc.
The Hamilton Beach blender is a powerful blender, but at the same time, it is noiseless. The Oster Pro 1200 makes quite a lot of noise, although it pulverizes thoroughly whatever you may throw in it.
But they do have some different features and provide you with different things. Let's take a look.
The Price
One of the main differences between Oster Pro 1200 and Hamilton Beach blender is the price.
The price of the Oster Pro 1200 blender is usually around sixty to seventy dollars, depending on where you're getting it.
And you can find the Hamilton beach blender with the price as cheap as forty or fifty dollars. This is a perfect fit for people who do not want to spend a lot of cash on the blenders.
But take into consideration that if you want only the top-notch products, maybe you'd benefit more of looking elsewhere.
The Warranties
Another thing that these two blenders do not have in common is the warranty that comes with them.
Hamilton Beach is equipped with an outstanding three-year warranty, which is a pretty good deal. On the other hand, the warranty for Oster Pro 1200 blender only covers a year.
Read More: Oster Vs Black and Decker blender
Oster vs Hamilton Beach Blender: Final Thoughts
All in all, the Oster Pro 1200 blender may be the best choice. When it comes to durability and how well-built a blender is, Oster Pro 1200 blender is the winner.
It can pulverize ice and such without breaking a sweat. It is a best-constructed machine with an all-metal blade assembly.
It's very versatile, has multi-functions, and is consistent throughout.
Even though the Hamilton Beach blender struggles to power through some ingredients, it still does so with as little noise as possible.
Oster Pro 1200 blender is a slightly better choice than the Hamilton Beach blender, but both efficiently serve its purpose and provide you with scrumptious foods and tasty beverages.