Larger Capacity
Better Container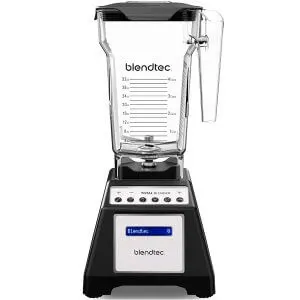 1-Touch Controls
Variable Speeds
Today we are pitting two of the best midgrade premium blenders against each other, the Blendtec 575 vs Total Blender. These are two blenders that are very similar in price, so that isn't something we have to worry about, and very similar in features.
However, there are some serious differences that make each blender unique, such as the design of their jars, their pre-programmed cycles, their speeds, and what they look like. One is slimmer than the other, and one has a larger capacity than the other. We will need to dig deep to see which one is best for you, the Blendtec 575 or the Blendtec Total blender.
Keep in mind that you can never go wrong with a Blendtec blender. These are the cream of the crop when it comes to kitchen appliances. They may be midgrade, but they are still premium and much better quality than what you find on most shelves in most home electronics stores.
---
Blendtec 575 Classic Blender Review
The Blendtec 575 Classic Blender is an impressive piece of kitchen technology. This baby comes with a very powerful motor, dull blades that are excellent at crushing ice, pre-programmed blending cycles, and five variable speeds. This blender is built to blend!
Smart Design
The design of this blender is super smart. Take the jar, for example, it has a 90-ounce capacity and five walls rather than four. This extra wall works to interrupt the vortex cycle for a better blend. Rather than the ingredients swirling and not hitting the blades, the fifth wall interrupts the cycle and better churns the ingredients.
Another great design aspect is the blender itself, which is narrow enough to fit anywhere and still sturdy enough to never fall over. Another thing I love is that Blendtec sells this exact blender in purple, white, grey, and even something called Caribbean Blue. And of course, the classic black.
Read More: What is the best Blendtec blender?
Big Capacity, Big Versatility
90 ounces is enough to blend something great for the whole family, be it cocktails or some of grandma's hot vegetable soup.
Because of the huge size, this blender can help speed up your cooking by quickly mixing all kinds of different batters, like cookie batter or cake batter. It also works with pizza dough.
---
Blendtec Total Classic Original Blender Review
As the name suggests, the Blendtec Total Classic Original Blender is a classic original blender, and boy does it deliver! This blender is super easy to use with its one-touch buttons, its 10 manual control speeds, and its 6 preprogrammed cycles. You get thick blades, a strong motor, and a blender that makes you delicious drinks effortlessly.
So Much Speed!
Variable speeds are critical in any quality blender. The Total Classic gives you more speed choices than you will probably ever need. There are pre-programmed blending cycles for drinks, smoothies, frozen treats, hot soups, and more.
Plus, you can manually control the speed of the blend with ten different options, and you can do it anytime even while the blender is active.
Tougher Blades
The blades that come with the Total Classic Original Blender are 80% thicker than most normal blending blades. In fact, they are stainless steel-forged and have wings that give ultra-smooth textures to all your smoothies.
Unlike many conventional blades, these ones are dull. You will never cut or poke yourself while fussing with the blender. Because of this, they will also never go dull. The blades are already dull! They will last the lifetime of the blender.
---
Blendtec 575 vs Total Blender: Main Product Differences
I said at the beginning of the article that both blenders are basically the same price. Because of this, we need to focus on each blender's unique features. While they are very similar, they are also built differently. Let's take a look.
More Options, More Speed
It comes down to technology. The Blendtec 575 does have variable speeds and pre-programmed cycles, but the Total Blender has more. More control over your blending speed means more options for what you can blend. From thick and syrupy sauces to thin green smoothies, with full control over the speed, you determine the outcome.
The Total Blender also has one-touch buttons, making it much easier to navigate the control panel of the blender. The 575 is a little more basic. It may be important to note that each blender comes with a quality warranty from Blendtec.
Container Technology
The biggest difference is in the containers that come included with each blender. The 575 Blender comes with an extra-large, 90-ounce, WildSide jar, and the Total Blender comes with a 75-ounce, four-sided jar. So, what's the difference?
The four-sided jar is the basic container you get when buying a blender. It works, it's effective, and it holds all of your ingredients.
However, the Blendtec WildSide jar has five sides. There is a small fifth wall that interrupts the blending process to better maneuver the liquid downwards into the blades. The overall result is a better blended smoothie.
Blendtec 575 vs Total Blender: Final Thoughts
To put it lightly, the Blendtec 575 Classic Blender is the better of the two. It has a larger capacity, a more effective jar for blending smoothies and other drinks, intense professional power in the motor, a nice selection of controllable speeds, and pre-programmed blending cycles, and it comes in a bunch of cool colors.
I know the Blendtec Total Blender has more speed options, but it lacks other options. Both blenders have easy one-touch controls, and both blenders honestly work miracles in the kitchen, but if one were sold out, I would not hesitate to buy the other.
However, the WildSide jar is an incredible invention that makes crafting smoothies better since the textures are improved, smoother, and silkier. And quite frankly, I like having the option of a purple or blue blender in my kitchen. The added size of the container is also nice for hosting parties and small get-togethers.