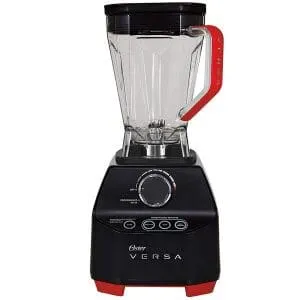 Today I had an amazing opportunity to do the Oster Versa 1400 review, as one of the possible best–buy blenders on the market.
This blender is certainly made to provide you great blending solutions for your money and for a regular household it should be just enough to complete all blending and mixing tasks.
The versatility of Oster Versa 1400 enables it to successfully blend tougher ingredients, make awesome smoothies and juices for very short running time and allow you to make dips, sauces, and many other dishes.
On top of that, it is a powerful blender with lots of interesting features and programs, so every blending enthusiast should check it out.
In this review, I will do my best to bring all the great aspects of Oster Versa 1400 closer to potential buyers and to show you why it is such a great kitchen blender choice.
---
Oster Versa 1400 Review: Overview
Today's blender market offers various choices for various prices.
From highly – professional machines to compact smaller blenders, it is important to find one that could bring most of the blending benefits for you and your family.
Oster Versa 1400 fulfills the purpose of providing you with most of the blending options available today, so let's go over some main characteristics before we get to the more detailed review by categories.
By merely looking at the blender you will instantly see that it is high – quality made.
The materials used are not premium ones, as expected from a blender of its category, but are very close to those used in premium high – class blenders.
Even so, the base unit looks very sharp, stylish and is very durable and easy for use.
The low – profile base is an improvement considering that previous models were bulkier, and you can see that the blender is carefully designed so you can rest assured that it will serve you great.
Read More: How To Find Oster Blender Model Number: 4 Simple Tips
The Oster Versa 1400 is real proof that nowadays you can get a great blender that will perform without any malfunctions for an affordable price. That is why it is great for household use.
Blade assembly for this model is integrated into the base, so there is no need for you to bother attaching it over and over again with each use.
The power it has is sufficient for any type of ingredients you decide to process with it, the preset commands will make your life so much easier while cleaning is a piece of cake.
---
Base Unit and Controls of Oster Versa 1400
When it comes to the base of this blender, you can see that it is much different than on the previous models.
Being made of premium – quality plastic, the base is very durable and reliable in use.
It has rubber extensions on the bottom to prevent the machine from sliding and moving while processing your food.
As mentioned, there is no need to attach the blade assembly manually so this makes your efforts much less when using and cleaning.
The control panel on Oster Versa 1400 is manual and offers a variety of different blending options that are one press of a button away.
Related Articles:
The physical central switch is used to manually set the blending speed and has 8 different variable speed settings.
From very low up to the high-speed setting, this feature is very helpful when blending a variety of different density ingredients.
You can also use the high-speed setting to clean the blender with just some water and soap.
Besides the speed controls, the control panel also offers the pulse option which is a great addition for preserving the smooth texture of the mix.
This feature is used by simply holding the pulse button as long as you want the machine to pulse and then letting it go when you wish for the pulse to stop.
---
Pre-programmed Settings
The Oster Versa also has 3 convenient pre-set programs for easier blending of several mixture categories.
These controls are also located on the control panel of the blender and are very easy to use.
The soup setting can be used for hot mixtures and soups since the blade friction is enough to create heat and it is programmed to last for 5 minutes and 20 seconds once turned on.
Dip/spread and smoothie controls are also timed and are perfect for making refreshments and sauces.
A proof of this blender's power is a fact that it only takes about 30 seconds for smoothie production once that option is selected.
Moreover, all these programs are timed and feature speed changes that vary from starting with slow speed and switching towards higher speeds as the program continues.
---
Motor Power of Oster Versa 1400
Another advantage of this Oster blender is its high motor power with 1.9 peak horsepower which is enough to blend any ingredient you put in it.
This version of the motor has proved quite effective in blending and is great for quick making of juices and smoothies.
A very convenient fact about this motor is that it has safety measures and a cooling system, meaning it will automatically shut down in case of motor overheating.
Not all nonpremium blenders have this feature so one more reason to search for the Oster Versa 1400.
Either way, you should prevent the overheating and overuse of this blender since, after the programmed shutdown, you won't be able to turn it on again for at least 30 minutes.
---
Other Usable Features of Versa 1400
Among the mentioned features, there are several more convenient things worth mentioning regarding this great blender.
It comes with instruction manual and recipe books that will help you prepare dishes of your dreams.
It also comes with a tamper which you should use carefully since it is not recommended to push down ingredients with it for longer than 30 seconds.
Read More: Oster Versa Vs Vitamix E310 comparison
The container is also low profile type but you can choose to get a regular one if you like it better.
Both are the same size of 64 – oz to give enough capacity to the blender for the needs of the whole family.
It is important to mention that although the base unit is made of mostly plastic materials, the motor – to – blade couplings are all metal and will never let you down in having perfectly successful blending.
Being made of highly durable materials, this Oster blender will certainly be your favorite kitchen appliance for years and if that is not enough for you, it comes with a 7 – year warranty so you can rest assured.
---
Oster Versa 1400 Review: Final Thoughts
As we feel the need for healthier nutrition, the versatile and reliable kitchen blender is all you need to prepare amazing and good – for – health juices and dishes.
The Oster Versa 1400 makes a very good choice when it comes to regular kitchen blenders and will give you amazing options for your money.
It is true that it lacks professional features but that is to be expected – this blender is made to be a versatile and reliable kitchen blender for family purposes and it does its job superbly.
From nut milk to hot soups and juices, this blending machine will give you the possibility to prepare all kinds of healthy dishes.
Oster Versa 1400 should be in everyone's consideration when buying kitchen blenders as it will never disappoint its user.
Related Articles: