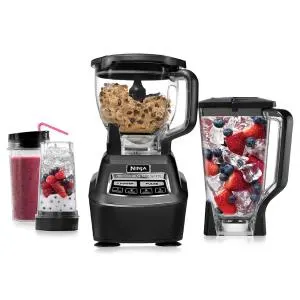 Ninja blenders have made a reputation for themselves being reliable and efficient blenders. Many people find they provide excellent results no matter what you're making and stick to this brand once they've invested in it.
So, to help you get started on loving your Ninja, here are some handy Ninja blender juice recipes, that you can put to test on your own. Plus, these recipes will become favorites for healthy and refreshing drinks whenever you feel like it.
Read on to discover some healthy and delicious juice recipes you can make in your Ninja blender, plus an overview of the advantages and disadvantages of using a Ninja blender.
Read More: Top Ninja blender models
Ninja Blender Juice Recipes: Overview
But before getting into the recipes, here's a quick rundown of Ninja blenders, their benefits, their shortcomings, and why they're worth the investment.
Advantages of Ninja Blenders
Ninja products range from blenders to ovens, specializing in the home appliance niche. Ninja blenders are robust, durable machines that stand the test of daily handling. You can do almost anything you want in them with the model variations they provide and accessories you can purchase. Though they are primarily made of plastic, they prove durable enough for dishwashing and rigorous, hard work.
The accessories you can find for Ninja blender have you covered for crushing, juicing, grinding, and more with these hardy machines. They can replace numerous appliances as one reliable and convenient piece.
Some of these blenders even come with a personal jar, so you can take your blends on the go when on a tight schedule. Ninja blenders work at a professional level and give consistent results when making smoothies and shakes, along with crushing ice.
Read More: 6 Ninja blender smoothie recipes
Disadvantages of Ninja Blenders
Fortunately, the list isn't long. While premium models may cover these features, they will also have a higher price tag to go with them.
Most, not all, Ninja blenders cannot hot blend, which means hot soup purees are not an option. It's unfortunate for many people who turn to soup as a go-to meal during colder seasons. Some do come with this feature, but they're closer to professional-grade and therefore have a complementing price to go with it.
There is no vacuum pump. And while this is a premium feature on many blenders, it's disheartening not to see it on a Ninja blender.
Are Ninja Blenders Worth the Investment?
Looking at the pros and cons side-by-side, it's an easy choice; yes, they are. Ninja blenders provide customers with practical performance and a long-lasting lifespan of consistently amazing results. They are versatile and can act as more than one appliance at once.
A Ninja blender, if you casually use your blender on a daily basis, is a perfect choice.
Now, to get you started with using your Ninja blender to its maximum potential, here are some juice recipes to try out in your free time.
Read More: Why won't my Ninja blender turn on?
Ninja Blender Juice Recipes
Orange Juice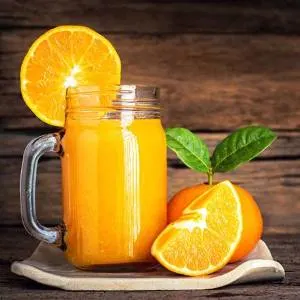 Step 1: You want to start off by cleaning the oranges and peeling off their skin. Try to peel off the white pith as well, since this can bitter the taste of your orange juice. Finally, take out the seeds from the oranges. All you should be left with is the juicy orange pouches.
Step 2: Place your oranges in the fridge or freezer for an hour, depending on how cold you want the juice to be. This is an optional step, in case you're a fan of colder juices. If not, then skip to step three.
Step 3: Now it's time to blend the oranges. Add a little bit of water with the orange slices so it comes out as juice, and not pulp. Make sure not to add too much, however, since this will dilute the orange taste.
Step 4: Once properly blended, you can strain the orange juice to remove any pulp or piths remaining and enjoy a refreshing and cool glass of orange juice.
Read More: How Much Juice Is In One Orange? Let's Find Out
Benefits of Orange Juice
Orange juice is high in vitamin C, which is your body's most natural immunity booster. Orange juice helps optimize levels of HDL (good) cholesterol and minimize LDL (bad) cholesterol. It can even improve the health and condition of your skin by encouraging the production of collagen and various hormones within your body.
Read More: Ninja blender soup recipes
Carrot Juice
Step 1: The first step here is to wash, skin, and soak the carrots. First, wash them to get rid of any gunk stuck on the carrot skin. Then make sure you take off all their skin and leave them to soak for around 30 minutes.
Step 2: When it comes to carrot juice, it's a little strong on its own. For this reason, many recipes will tell you to add additional fruits and flavors to the juice for it to taste good and still hold its original benefits. You can add oranges, honey, ginger, these are all options you can add to carrot juice.
Read More: Can You Juice Carrot Tops: 3 Great Benefits
Step 3: Now it's time to blend the whole mixture. Make sure you cut the carrots down to smaller chunks so they fit the blender and aren't too big for the blades to chop up. With some water added to your ingredients, blend all of it until there are no solid chunks left.
Step 4: Finally, strain your juice so there's no solid pulp or particles in your juice, and enjoy!
Read More: How to Peel Ginger: Also Grate, Chop, And Store It
Benefits of Carrot Juice
Carrots are known for their benefits for eye health, but this happens more when you're eating them raw. When it comes to blending and drinking carrots, you're looking at an immunity booster juice that'll keep colds and flu at bay no matter the season. It can also help reduce your overall levels of stress.
Cucumber Juice
Step 1: Wash and prepare your ingredients; cucumber, green apple, and lemon or lime. These ingredients will add flavor and tang to your drink. It's not only more beneficial this way, it's also tastier! Cut, peel, and wash everything you're going to use beforehand.
Step 2: Place everything into the blender and let it rip! Just like the carrots, make sure the pieces are small enough to be chopped up by the blender blades. Once everything is in the blender, add only a little bit of water so the taste isn't dissolved.
Step 3: Strain your juice before you drink to take out solid particles left behind. Pour it into a serving glass and enjoy!
Benefits of Cucumber Juice
Cucumber juice is a very light solution to hot days when you're thirsty and water just isn't giving you the satisfaction you need. Cucumbers are high in nutritional value, with vitamins C and K, magnesium, potassium, and manganese present in its structure. It's also one of those foods you can rely on for additional hydration when you're running low.
Ninja Blender Juice Recipes: Final Thoughts
There are so many more juices you can blend for daily enjoyment and benefits. Hopefully, you found these Ninja blender juice recipes useful in kick-starting your healthy adventure into the juicing world.