Powerful 400W Motor
20 Min Run-Time
15 Min Run-Time
Convenient & Portable
---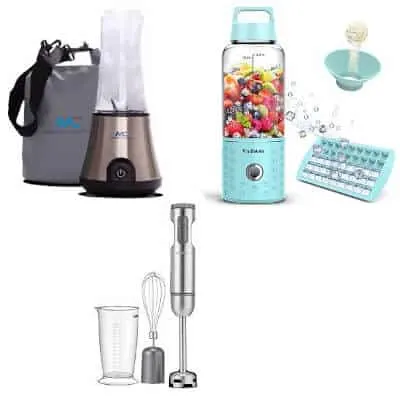 Thinking of taking you blender along when you travel? Then think battery-operated blenders. The best battery-operated blenders are portable models available in a variety of compact designs and can include everything from immersion blenders and bottle-style blenders to models that mimic personal blenders, only they run on battery power.
In most cases, portable, battery-operated blenders aren't typically your super powerful, do-it-all blenders. However, where you have realistic expectations, they will get the job done. Just don't expect these little guys to blend hot liquids, large chunks of ice, or larger fruits.
Plus, they will save you the hassle of hauling out your big, bulky blender every time you want to make a smoothie or shake. So, if you're looking for a compact gadget that you can use outside of your home as well, then take a look at these three battery-operated machines that are easy to take with you on-the-go.
Top Rated Battery Operated Blenders Of 2021
---
Cuisinart CSB-400CD SmartStick: Best Overall
Cuisinart is a household name with a reputation for top-notch kitchen appliances and their CSB-400CD SmartStick immersion blender is no exception.
One-of-A-Kind Machine
When you think of immersion blenders, a battery-operated, cordless one doesn't really come to mind. In this way, the CSB-400CD SmartStick is a standout product that excels in maneuverability and convenience given its lack of a cord.
Powered by a 400-watt motor, the blender shaft uses 3-inch commercial blades letting you work with crisp vegetables, thick mixes, and glutinous doughs with fair ease. There are five speed settings which is something you won't see very often in battery-operated models. The speeds give you the freedom to customize your blending requirements with everything from soft purees to hardened ice cubes.
The blender runs for 20 mins per recharge and will take about 2 and a half hours to charge when fully used up. It is compact enough to work with most pots and cups of your choice and all without the hassle of an interfering cord.
A No-Fuss Model
The blender comes with a substantial 32-oz measuring plastic cup and a chef's whisk. Standing tall at 10 inches, the CSB 400CD SmartStick can reach into deep pots without being bulky. Its slim design is a space-saver for small kitchens and can easily be slipped into a drawer when not in use.
There is an easy-to-read light display that lets you know when you need to recharge the blender. Not only is this blender suitable for traveling with, but you can do so much with it when at home as well. Overall, a fuss-free model that does the job well.
---
PopBabies Personal Blender: Budget Pick
A blender, that's as full of personality as its name, the PopBabies Personal Blender is a handy little gadget that is best used for making smoothies and shakes but will also do some effective lightweight blending such as make hummus, pesto, dressings, and marinades.
Convenient On-The-Go Device
Featuring a streamlined design, this is a neat little device that includes everything you need while on-the-go. The blender has a rechargeable base that sits on top of a cup-blender combo. The base uses two batteries that are charged with a USB cable.
The unit is able to charge fully within one hour and one full charge is good for 7-10 uses. And should the power start running low during operation, you can still use the unit as it charges.
The detachable cup is very convenient to take along and will fit nicely in most car cup holders.
Comes with Handy Accessories
The PopBabies personal blender comes with a blending container-sized at 17-oz, but since you can only fill it up a little more than 2/3rds of the way, you get a 14-oz blending capacity. The unit works with four stainless-steel blades to do its bidding.
Also included is an ice cube tray with cubes sized just right for easy blending without taxing the machine. Plus, you also get a funnel which is a smart way to load ingredients into the blending cup without creating spills or messes.
---
BlenderX Cordless Blender
Boasting an impressive battery life, the BlenderX cordless blender is a formidable contender in the battery-operated blender niche.
Powerful Performance
While no battery-operated blender can really compete with a main-powered unit, the BlenderX cordless makes a fair fist of producing smoothies and purees without having to be tied to a power socket.
Powered by a 260-watt motor which is notable for a battery-operated unit, the BlenderX comes with four blades that seem to be fairly adept at crushing ice. Of course, it will help if you break the cubes into smaller pieces first.
With traveling in mind, this blender is easy to use outside the home as it comes with a water-resistant bag for travel. The blending jar doubles as a drinking cup and comes with an easy on-the-go travel lid.
Double Duty Blender
The BlenderX easily works as both a portable machine as well as a countertop personal blender given its 260-watt motor. In fact, this wattage matches and even slightly ups that of popular personal blenders such as the Magic Bullet which boasts a 250-watt motor. The edge that the BlenderX has is its battery operability making it way more mobile than other personal blenders. It takes the blender between 2 to 3 hours to charge from empty to full after which it can yield 20-30 blends on a single charge.
However, when you compare it to other battery-operated models, it has a much larger footprint and is bulkier than most standard USB blenders. But the power you get from it makes up for that.
---
Best Battery Operated Blenders: A Complete Buying Guide
Portability aside, battery-operated blenders should also meet certain criteria to ensure that they do the job right. Here is what you should look for when considering a portable model.
Operation
The operation is standard as with any battery-operated device. Your blender will draw power from built-in batteries rather than need to be plugged into a conventional power source.
For most models, batteries will charge via a standard USB port such as a car accessory, desktop computer, laptop, or even a power bank. In other words, you can charge it pretty much anywhere. Some larger models, like the BlenderX, come with their own charger that needs to be plugged into a power socket.
Size and Weight
You want something that is highly portable so look at the size and weight of the device. Most battery-operated blenders will easily qualify as compact and lightweight appliances that pack up nicely and fit into luggage. This means you can use these as the ideal travel companion on your camping trips, day outings, and weekend getaways.
But that's not all. They'll pack just as conveniently to the gym or fitness center for a post-workout smoothie. Or, become your lunch prep device at the office for whipping up a fresh smoothie right there and then. Smaller profiles will also fit easily into picnic cooler bags, backpacks or suitcases.
Related Articles:
Ease of Use
Battery-operated blenders will not come with complicated settings, buttons, or programs. Instead, they are designed for straightforward use to simply turn on and blend. If you go for a bottle-style blender, then you pretty much drink from the same cup you blend in. And if you have an immersion model, then you can still drink from the container that you blend in. There is no hassle of attaching or exchanging cups, blades, containers, and other parts.
Low Wattage
Given the low wattage of battery-operated blenders, you will need to select your ingredients carefully. This means ensuring that foods are cut into small chunks no bigger than half an inch before blending. While softer fruits like bananas, strawberries, and oranges would not present a problem, others like apples and carrots will need pre-chopping unless you don't mind lots of lumps in your drinks.
Battery Life
When using a battery-operated unit, it makes sense to consider its battery life performance first. That's why rechargeable units are way more popular than anything that uses alkaline batteries.
That said, the battery life of your unit will be determined by how you care for your appliance. Neglecting to charge it properly or allowing the battery to remain uncharged for long periods will deplete battery life. So, proper upkeep is important.
What's also important is to follow the manufacturer's instructions and note how long to charge the machine prior to first-time use. Likewise, also refer to the instructions to see how long to charge the blender every time the battery starts to run low.
Read More: Is An Immersion Blender Dishwasher Safe: 3 Top Tips
Best Battery-Operated Blender: Final Thoughts
Conveniently compact, the CSB-400CD SmartStick made by Cuisinart is a serious workhorse despite its small stature. It packs a lot of power among battery-operated blenders earning it the best overall blender in this category.
If you're looking for a battery-operated blender on a budget, then the PopBabies Personal Blender is an excellent choice. Small and lightweight, this blender makes for the perfect travel companion and all you need is a USB port to charge it. It really doesn't get any easier than this.
For people looking for a personal blender that doubles as a portable device, the BlenderX personal blender meets all the requirements. This is a sturdy machine that will serve you well in the kitchen and outside, giving you the power of a standard personal blender.