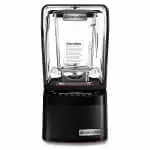 Powerful 1800W Motor
Advanced Technology
Powerful 1500W Motor
Variable Speeds
---
Blenders are among the noisiest kitchen appliances so looking for one that does its job quietly can be difficult. The best quiet blenders will not compromise on their motor power, although that will definitely make them noisier, so how do you find the perfect balance?
You do this simply by looking for blenders that are designed with this point in mind. It's true, there are quiet blenders, many of which you may find in professional settings where motor noise is considered highly intrusive. But since these are also considered professional models, they will not always come cheap.
There are also some machines that don't fall in the professional range and look like regular home-use blenders which will be less costly but quiet at the same time. So, to navigate this nexus of quiet vs noisy blenders, let me introduce you to three impressively quiet machines that will do your blending at a much lower decibel level.
Top Rated Quiet Blender Of 2021
---
Blendtec 800: Best Overall
If you want a showstopper in your kitchen, then the Blendtec Pro 800 will do the trick. This blender is a beast in and of itself with its colossal 1800-watt motor, 6 pre-programmed cycles, and 11-speed slider. Yet, it ranks as quiet. How so?
Quiet Performance
The quiet performance of this blender is the direct result of its smart design elements. The blending container is enclosed by a 360-degree sealed sound shield which stops the noise from spreading elsewhere.
As an added bonus, the Pro 800 also encompasses an advanced sound dampening airflow technology to further mitigate the motor sound. So, despite its immense power and multiple programs and speeds, the Pro 800 comes off as an extremely quiet blender.
A Solid Long-Term Investment
This sturdy blender comes from Blendtec's Professional Series which means that it is a machine that's built to last.
The 800's powerful motor is more than what you'd need for all types of blending tasks. Pair that with its laser-cut, stainless-steel, wingtip blade and you get nothing short of blending perfection. The blender can simply cruise through frozen fruits and ice cubes, whip up flawless smoothies and shakes, and also give you piping hot soups. In fact, there's not much that this blender can't do.
Belonging to the Professional Series, this a blender on the larger side. Its voluminous 90-oz jar is more than adequate to handle large servings. The container is the patented WildSide+ Jar from the brand known for creating a vortex and puling ingredients down for thorough processing.
---
Hamilton Beach Professional Quiet Shield Blender: Budget Pick
Featuring a powerful 1500-watt motor, the Hamilton Beach Professional Quiet Shield Blender brings out the big guns but without any of the noise.
Keeps It Quiet
A machine that runs on a 1500-watt motor is expected to make a lot of noise, but this Hamilton Beach Quiet Shield model comes with a removable sound shield that takes care of this issue.
The blender's Quiet Shield encases the blending jar to dampen the clamor and lets the machine do its part without creating a disturbance. There are 10 different speeds to choose from with the help of a variable speed dial with RPM ranging between 3,000-18,000 from lowest to the highest speed. You also get access to 4 preset programs and a Pulse feature to maximize your blending and mixing options.
Container Specifications
The container on this unit is medium-sized at 32-oz, but some may find it too small. Constructed from high quality, shatter-proof, BPA-free copolyester, the jar is well equipped to handle most blending jobs. There are easy-to-read measurements on the sides and the pitcher comes with a vented lid and removable cap for processing hot foods, adding in ingredients during blending, and using it with a tamper.
One noticeable downside, however, is that there is no handle on the jar. This makes handling the jar difficult when there's a blended mixture inside. Even more so, if the ingredients are hot.
The manufacturers did put a handle on the Quiet Shield but not one on the blending jar. Otherwise, this is a great budget pick that does its job quietly.
---
KitchenAid KSB1575ER 5-Speed Diamond Blender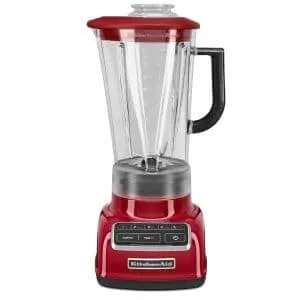 The KitchenAid KSB1575ER 5-Speed Diamond Blender makes it on the list of the best quiet blenders in style. The thing is, this model isn't marketed or advertised as a quiet blender, but customer testimonials review it to be so. And what better way to validate a blender's performance than through what customers have to say.
A Modern Machine with Retro Aesthetics
The KitchenAid 5-Speed Diamond blender boasts a very vintage design. Even though it takes you back in time when you first look at it, there is nothing vintage about this machine.
If anything, this is a modern-day machine that employs a technology called Intelli-Speed that detects the blender's contents and suggests a suitable speed for blending. These smart features are often found in high-end machines that boast a far bigger price tag than the Diamond does.
But the one area where the Diamond falls behind is with its 670-watt motor, which, though not insufficient by any means, does lag behind other blenders in this category.
Performance Features
The Diamond features a simple control panel that consists of eight push buttons. The top five buttons feature basic blending functions of Stir, Chop, Mix, Puree, and Liquify. The three buttons on the bottom left let users Crush Ice and Pulse with Pulse giving the option to use 5 different speeds.
The button on the far right of the panel turns the blender On and Off. The simple interface complements the blender's overall simple yet elegant design and would make a nice addition to any countertop.
---
Best Quiet Blenders: A Complete Buying Guide
On the road to buying the best quiet blender, there are a few things you need to consider before making a purchase. Even though many brands claim to make quiet blenders, do they equip them with the right soundproofing mechanisms? Here's how to tell.
Design
The first thing that will tell you if a blender will perform quietly or not is its design. If the manufacturer has included some kind of noise dampening mechanism such as an outer shield, then you can be sure that the brand has taken some kind of action to back their noiseless-blending claims.
While the shield is obviously visible, some other blender brands may go a step further and incorporate special airflows to nullify the noise, use specific materials, or pair their technology up with rubber pads at the unit's base to minimize vibration and noise.
Since many of these features are not easy to detect by simply looking at a blender, it's important to read the specifications when you're looking for a quiet performing machine. Where stores allow it, try running the blender to gauge its noise levels.
Power Output
It's true that lower-powered machines make less noise, but you don't want a machine that detains their power just to keep its performance quiet.
Check the power/ wattage of the blender to see if it will conform to your blending needs first. Then look for additional features that will keep its performance quiet.
Related Articles:
Blades and Jar
Since these machines power up at an immense speed, you'll want something that doesn't damage its parts while doing so. That's why look at the blade and jar construction for your chosen model.
If your machine is making so much noise that it needs dampening, that means it's using up a lot of power when doing so. You also need blades that can keep up with this power and do the job right. Ideally, the blade should be made using stainless-steel, for this is the toughest kind.
Likewise, the jar on your blender should also be made from durable material so as not to get damaged from powerful blending. Most models will use BPA-free material and impact-resistant jars which is very important when it comes to dealing with higher speeds.
Preset Options
It's always nice to get a bunch of preset options where you don't have to stand and monitor your blends. Hands-free blending gives you the flexibility to move around the kitchen and get other things done in the meantime.
With a quiet blender in motion, this is an even more welcome option as you can now move within the kitchen without being exposed to the ruckus of powerful blending.
Best Quiet Blenders: Final Thoughts
The quiet performance of the Blendtec Pro 800 is truly impressive. This machine has an exceptional noise enclosure system to keep the racket at bay. It keeps its performance intact with its multiple speeds, preset programs, a pulse feature, and a giant of an 1800-watt motor. All these specs make it the best overall quiet blender and a hard contender to beat.
The Hamilton Beach Professional Quiet Shield Blender offers a similar design as the Blendtec but at a considerably lower price point. The noise is reduced significantly with its removable shield, yet its performance is retained with its 1500-watt motor.
And finally, the 5-Speed Diamond from KitchenAid gives you a no-nonsense blender that performs exceptionally quieter than the average blender.
Related Articles: