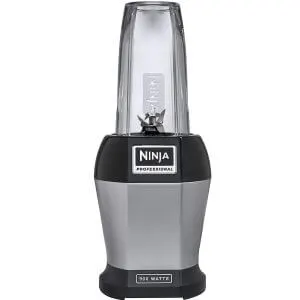 Powerful 900W Motor
Convenient & Portable
Cheap Price
Convenient & Portable
---
Common belief may dictate that bigger and pricy blenders are invariably better and more efficient, but that isn't always the case. Granted that premium models do come with a host of impressive features, but if your blending needs are simple then even the best blender under $50 will make you happy.
But choosing a budget-friendly blender doesn't mean that you compromise on all frontiers of performance. In fact, if you look closely and carefully enough, some really affordable options outdo their overly expensive counterparts.
And if you're new to blending or only blend for one, then it makes sense to invest in an inexpensive blender first. If you get the most out of your experience, you can then upgrade to a more expensive and powerful model.
So, here are five cost-effective blenders to consider that deliver the goods and will easily fit into your financial budget.
5 Top-Rated Blenders Under $50
---
Nutri Ninja Pro BL456: Best Overall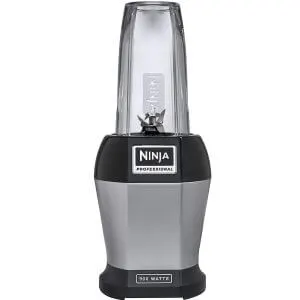 The Ninja BL456 is a top-notch blender with a luxurious look. With its mighty 900-watt motor, it will let you blend, puree, and crush with its simple push-and-blend mechanism.
Premium Performance
The BL456 lets you transform all sorts of ingredients into delicious smoothies. Its 900-watt motor is powerful enough to crush ice into snow to take your smoothie drinking experience to a new level. The power wattage can also blend through frozen ingredients with little to no difficulty.
The immense motor power is paired with an auto shut system that turns the machine off when overloaded to prevent motor damage. It is suitable for every day busy kitchens where it won't wear out too easily and for smaller ones where storage space is an issue.
A Steal at This Price
With the Ninja BL456, you get the quality of a professional blender, the size of a personal blender, and a price tag that makes it an absolute steal.
The BL456 comes with an 18-oz and a 24-oz cup for on-the-go access and two sip and seal lids for the ideal travel experience. All parts are BPA-free and dishwasher safe. On the flip side, none of the cups come with a handle which would've been a welcome addition.
You can make beverages up to 24 oz with this nifty blender, pulverizing your way through whole fruits and vegetables with its powerful nutrient and vitamin extraction. Its stainless-steel, precision-cut 4-piece blade packs a powerful punch giving it the performance level of higher-end blenders. These powerful features, along with the cheap price, make the Ninja BL456 the best blender under $50.
---
Oster MyBlend Personal Blender: Budget Pick
The Oster MyBlend Personal Blender is a lesson in style. For under $40, this is a pretty impressive blender. It has a very strong motor, an attractive base that comes included with an industrial design. The blender features a very useful travel sport bottle so that you can take all your drinks with you, and it is extremely powerful.
Powerful Blender
It is really important that you always have enough power in your blender to mix up your ingredients properly. This is not a problem with the MyBlend. Even with its outrageously low price, it can cut through ice with enough liquid inside the cup, and it won't even leak! It can also slice leafy greens and frozen veggies into a very nice paste.
If you are looking for a great blender to use on a daily basis to make all of your smoothies and other beverages, the MyBlend can definitely handle it.
Live Healthily
This is one of the better blenders for people trying to live a healthy lifestyle. If you are new to the health game and don't want to spend more than a few dollars on a blender for trying out some different ingredients, maybe for a cleanse or for a new healthy drink diet, this blender is ideal.
It's easy to clean, you can use it at any time, and it stores easily out of the way when you don't need it. But the best part is that if you don't want to use the blender anymore, it's not a big deal. You didn't waste any money. And besides, you can always use the blender for grinding coffee beans or making iced coffee drinks!
---
Magic Bullet: Most Popular Choice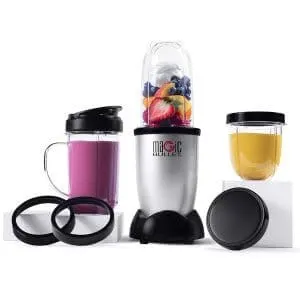 If you want to make quick-serve smoothies for one person, then the Magic Bullet is a great choice. Boasting a tiny footprint, this bullet blender is ideal for cramped kitchens or the office. Plus, it's fast and easy.
This blending system is just as popular now as the first day it was released, all these years later and you still get excellent value for a very small amount of money. The Magic Bullet blends, chops, and grinds any ingredient you throw at it. It comes with all the best accessories and it is extremely easy to use.
The Classic
The Magic Bullet really is the classic portable and personal blender. This thing does it all. It grinds, it mixes, and it whips. The best part is you don't need to do any work, other than choosing your ingredients and putting them in the cup.
This blender is super easy to master, it doesn't take longer than 2 minutes to clean, and the 250-watt motor gives you lots of strength for breaking apart ice, blending frozen ingredients, and shredding leafy greens.
Easy to Use
Magic Bullet works with a push and activate feature making it very simple to use. Without the hassle of using dials, knobs, or buttons, this inversion blender works by locking the jar in place and letting the blender do its magic.
Magic Bullet comes in three different variations with 11, 15, and 17-piece sets. There is a nice assortment of accessories included that gives you the choice between blending smoothies for one and smoothies for a few. The blender runs on two different modes of operation from one-touch pulse to press and twist to lock the blending jar in place for a longer blend. So even with one speed, you get to choose a blending mode that will suit your recipe best.
Read More: Which NutriBullet is the cheapest?
Conveniently Portable
One obvious reason why users prefer Magic Bullet over other blenders is that its lightweight. This means it's easy to take along and makes an excellent travel partner.
Designed to fit anywhere in your kitchen, you can also feel good knowing that the Magic Bullet is safe using only BPA-free containers. The accompanying cups and mugs are made of clear plastic while the lip rings, vented lids, sealed lids, and to-go lids give you plenty of choice to either drink right away from the cup, take it with you, or store it in the fridge for later use.
---
PopBabies Personal Blender: Best Cordless
The PopBabies Personal Blender is one of the most unique blenders ever developed. This powerful little machine is designed for maximum portability. You charge it quickly, add water and your ingredients, shake and blend! That's all there is to it. The blender is fully portable and great for making small portions of shakes and smoothies.
Safe & Versatile
The blender is 100% safe. The cups are made from a very safe, food-grade material. This makes them great for making baby food, mixing your protein drink, or for making a quick smoothie. All the parts are also safe for the dishwasher, making cleanup even easier.
One of the greatest parts of this tiny blender is its versatility. It can be used anywhere to make anything, and it even comes included with a unique ice tray so you can add tiny pieces of ice into your portable blender. They really have thought about everything during the design process.
Full Travel Blender
This blender is definitely the best one for traveling. It is so small that it fits conveniently in the side pocket of your hiking bag. It looks stylish, it does not take long to charge, and you can even charge it using the USB adapter from your laptop or from a portable charger.
Because you can make all kinds of unique drinks with this blender, all in very small but enjoyable portions, this is the best blender for travel enthusiasts. It is super lightweight, you can take it with you to the gym, have it sitting nicely in a cupholder in your car, or anywhere else.
---
Hamilton Beach Wave Crusher: Best Glass Jar
If you have your heart set on a glass container, then the Hamilton Beach Wave Crusher is an excellent machine to consider.
Wide Range of Functions
The Hamilton Beach Wave Crusher is a robust machine with its 700-watt motor. It features 14 different blending functions that give you a lot of choices. Higher settings include Grind/Icy Drink, Smoothie/Grate, and Puree/Whip while lower settings work with Stir, Milkshake, and Chop/Salsa. Plus, its Hi/Low-speed Pulse function will certainly add to the versatility of how you blend. The buttons are arranged from small to large indicating the increase in speed.
The "Wave Action" blending system of the Wave Crusher creates a vortex to pull ingredients down and ensure thorough blending. This blending mechanism eliminates the need to turn the blender off and on repeatedly to catch all pieces of the ingredients inside.
Quiet Blending Performance
User reviews of the Wave Crusher will tell you that it's popularly hailed as one of the most silent tabletop blenders around. This translates into a quiet blender with a pocket-friendly price tag. What's not to love about that?
The blender comes with a substantial 40-oz glass pitcher that fits nicely on top of the base. The heat-resistant, thermal shock tested container is elegant and sturdy at the same time. The container capacity is adequate for small and large batch blending and the jar is marked clearly for greater precision. The easy pour spout on the container's lid eliminates the risk of unwanted drips.
---
Best Blender Under $50: A Complete Buying Guide
When shopping for the best blender under $50, you will come across a lot of models that are either personal blenders or others that just don't live up to the task of doing what heavy-duty benders are known for doing.
But that doesn't mean there is nothing to choose from. With a little research and the right tips, you can find some great steals that will blend, chop, and mix for you, all under $50.
Affordability can be one of the pinching factors when it comes to buying a blender. In the race of top-notch and pricey blenders, there are few affordable blenders for budget buyers. There are several options for blenders under $50 which will give you the desirable results. This guide will walk you through buying an economical yet wonderful blender for your kitchen.
How To Choose A Blender Under $50
An affordable and useful blender doesn't just appear out of thin air. You need to do your homework before you hit the stores for buying a blender under $50. Since you are looking for a budgeted option, your options have already narrowed down. To get your hands on the perfect blender you must explore all the variety available in stores and e-commerce.
Exploring options will help you to draw a comparison between products and therefore you will make a better choice. You must check out numerous options since it will help you to understand the distinctive features of each blender. To understand the functioning of the product in and out, refer to the reviews which are available on shopping portals.
The 5 Best Blenders Under $50
What Are The Advantages Of Having A Quality Blender Under $50
A quality blender must have up-to-date features and innovative technology. Before buying the best blender under 50 you must have a look at the advantages of having a high-quality blender.
Read More: Best Ninja Blenders – 3 Top Rated Models
Makes Cooking Easier
A blender is a mandatory update for your kitchen as it makes many cooking tasks easier. Most $50 blenders do a great job of juicing and whipping, they squeeze and blend all the items smoothly. If you're not willing to spend an entire day in the kitchen mixing and squeezing, you should buy a blender.
Multi-Purpose
The great thing about blenders is that they are designed to do a multitude of things. They can prepare milkshakes, smoothies, and juices. If you are looking to make fine purees and sauces, the blenders can do that as well. The functions and structure of the blenders allow them to cut through even the hardest of items effectively.
Keeping Up Your Nutrition Intake
Many buyers are not aware of the health benefits that come along with the blender. Using a blender for juicing instead of a juicer offers additional health benefits. The juicer extracts the juice from the fruit and leaves behind the pulp, which is the main source of nutrition. Whereas the blender ensures that the fiber is not separated from the juice and you get a nutritional intake.
Time-Saving
Having this device in your kitchen saves time. By just pressing a button you can easily prepare your milkshakes, protein drinks, and smoothies. Using a blender helps you to avoid all the complicated steps that you would otherwise have to do. It makes a minimum mess and prepares all the recipes quickly.
Small And Portable
Many blenders that come in the range of $50 are designed to be small and hence portable. When you are traveling these blenders can snuggle into compact spaces easily. Moreover, the average kitchen has limited space therefore many homemakers look for handy appliances that can settle without any trouble. A few immersion blenders come with a detachable shaft which makes them easy to store.
What Features Does A Blender Under $50 Have
If you are thinking that a $50 priced blender will have limited features, think again. The affordable blenders come with a range of features that are satisfying and useful. If you are not aware of the features your blender should have you can read them below. The best blenders under $50 will have several, if not all of these features.
Solid Design
Your affordable blender should always come with a solid design. By solid design, I am talking about strong blades and a strong motor. Your blender should still come with at least a 250-watt motor and some strong, durable steel blades.
These are critical for blending your ingredients. There is no point in buying a blender if it can't break down ice and mix leafy greens into a drinkable solution. Any blender you buy, whether it is $10 or $1000 should come with some durable blades and a tough motor.
Also, the cups that come with the blender need to be durable. Always make sure the travel cups that come with your small, personal blender are dishwasher safe, are constructed from a solid material, and come with practical drinking lids.
Power
The power of the blender represents the performance of its motor. Generally, affordable blenders are not equipped with high power. Blenders with average power will be able to fulfill your requirements and do the job.
Blenders in this price range are not going to have very powerful motors. But you can expect to get something up to a respectable 700-watts or so. This power output is sufficient for basic blending tasks such as making smoothies and shakes, chopping some fruit and vegetables, or pureeing ingredients.
While choosing a blender, look for power efficiency of at least 300 watts. Many blenders come with higher power and are priced under $50 but for that, you need to search deeper. A speed of 300-500 watts will cut through hard fruits and veggies easily.
Many will struggle to handle hard ice cubes and may need the addition of extra liquid when dealing with frozen ingredients. So, think carefully about what you hope to do with your blender before shopping. If you're going for green smoothies, you may need to pay a little extra to get something with more torque. But if you want to whip up a morning smoothie with fresh or frozen fruit, then the recommended models will do just fine.
Read More: Best Blender for Smoothies with Frozen Fruit – 3 Top Models
Speed
A budgeted blender will have limited speeding options. Most of the blenders will have a single button to operate the blenders and hence they have only a single-speed. You do not have great control over the speed, but ensure that it is enough to give your liquids a smooth consistency.
You might even be able to find a blender under $50 which has more than one speeding option. A few manufacturers instead of providing speeding options have different buttons for items like smoothie and juice.
Jar Size
Blenders that come with various jar sizes are surely easier to use. With a blender priced $50, you have to adjust with jar sizes. These blenders may have a single jar with a capacity of 500-600ml. Luckily there are some brands and manufacturers who give more than one jar size with these affordable blenders.
A few jars have a capacity of almost 48oz which is sufficient to serve more than two people. If you are looking to serve only a single person, a capacity of up to 20oz will be sufficient. Pick a blender that has jar size that can match your requirements. Often, the best blenders under $50 will be personal-sized blenders, but others may have different sized cups.
Read More: Best Personal Blender – 4 Top Rated Models
Blender Size
Your lifestyle and your kitchen size will both help determine the size of the blender you should buy. So, if you're a foodie, feed a family, or entertain often, then look at a countertop blender with a standard blending jar. But, if you're a party of one, then a personal blender will serve you better.
Space considerations should also look at the height of the blender to see if it will fit under your kitchen cabinets.
Material
You can't expect to get an all-metal drive here, but at least look for high-quality plastic components. Blades should only be stainless steel so that what the model may lack in power, its blade construction can make up in performance.
There is also the option to choose from glass or plastic containers. Among these, glass will be heavier, more stable, and odor resistant. Yet, these are more prone to shattering if mishandled. Also, keep in mind that bullet-style blenders don't usually come with glass containers.
Plastic containers, on the other hand, are lighter weight and less expensive of the two. These are popular and readily available with budget-friendly models but scratch more easily.
Once again, take into account how you'll be using your blender to decide which type of container will work better for you.
Related Articles:
Other Things To Consider While Buying A Blender Under $50
Now that you know the advantages and features of a blender, there are a few things to look out for.
Warranty
Warranties are useful when it comes to home appliances. Blenders are used every day in a kitchen and therefore, are prone to easy damages. In such cases, it is best to have a blender that comes with a warranty. Blenders that come with warranty will assure you over the performance and build of the product. Refrain from buying blenders that do not come with a warranty as they are not enduring.
Brand
Good brands offer a range of products that start at affordable prices and can go up to high and premium prices. The brand of the blender plays a huge role in buying the best blender under $50. Buyers should not go for an unknown brand that is not backed by reviews or bad reviews.
Choose brands who have a record of producing high-quality and good performing appliances. Besides offering quality, a good brand will provide a warranty period and excellent post-sales service. A blender from a good brand will prove itself to be more unyielding than a substandard brand.
Type Of Blender
There are typically four types of blender available in the market. Since we are considering a budget, the high-performance blenders are out of the league. You can still choose from personal blenders, immersion blenders, and the countertop blenders. Personal blenders are designed for single servings.
If you are looking for a larger capacity you can select the immersion or countertop ones. The drawback of immersion blenders is that they are unable to cut through harder items and can be untidy to work with. This can limit the usability of the product. Countertops make a great budgeted choice and they have satisfactory performance
How Easy Is It To Clean
Blenders are not one of those appliances that are complicated to clean. Those thick batters, remains from fruits and veggies may seem disconcerting initially. Although, once you understand the cleaning mechanism properly, you will be able to keep them spotless.
While you are choosing the blender makes sure that all the jars, lids, and accessories are dishwasher safe. Alternatively, you can even wash them with high-grade liquids that clean effectively without harming the material of your jar.
The jars and the lids can be cleaned thoroughly through a soft brush and lukewarm water to clean them thoroughly. Remember the longevity of your blender depends upon how well it is maintained. You should look for blenders that have simple structures and hence are easy to clean. Although they may not come with a self-cleaning feature, even blenders under $50 should be relatively easy to clean.
What Kinds Of Food Will You Be Making
As mentioned earlier blenders can be used to prepare an array of recipes and delectable beverages. You should underline the purpose of buying the blender. It is better to know what will be prepared in it so that you can buy a suitable blender.
If you want to prepare smoothies and milkshakes almost all blenders will work fine. Blenders that can whip up smoothies can also be used to make sauces, batters, dips, and juices. If you need the blender to ground fresh spices and make nut butter, probably you will be needing a more high-grade blender.
Final Words
Blenders are highly functional pieces of any kitchen and are a great investment. Being on a budget doesn't mean that you have to be stuck with a below-par appliance. After reading this guide you will find it easier to understand the essential features of a budgeted blender.
A good blender will also increase the beauty of your kitchen and at the same time, it will produce appetizing meals. Trust yourself and do some exploring, and you will be able to make an outstanding choice. We hope that this guide will lead you to the best blenders under $50.
Best Blender Under $50: Final Thoughts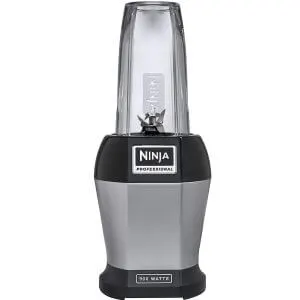 The BL456 made by Ninja takes the top spot in the best blender under $50 selection with its strong 900-watt motor. This power is hard to beat in this price range category. This blender is great for making smoothies and shakes on the go, compact enough for easy storage, and its low price point makes it hard to resist.
The PopBabies Personal Blender is an extremely unique system that recharges using a USB to make small servings of smoothies, which is great for travelers. The Oster MyBlend is another great budget option, very stylish with lots of great features.
Magic Bullet is how all blenders should be- affordable and easy to use. Not only is it great for smoothies and basic blending, it's but its simple design holds a lot of appeal. This means the Bullet has a lot going for itself given its excellent price point.
The Hamilton Beach Wave Crusher crushes pricey competitors with its 14 speeds and a two-speed Pulse feature. Its 700-watt motor certainly places it on par with other superior blenders in this category and the price is absolutely delicious.