Powerful 900W Motor
Convenient & Portable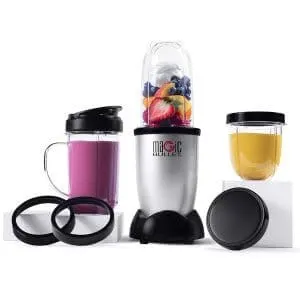 Cheap Price
#1 Selling Blender
---
If you prize portability in a blender, then a personal blender will make a better fit for you instead of a full-sized machine sitting on your countertop. The best personal blenders have compact sizes and specialty containers for on-the-go types, offering unlimited freedom to make a blend of their choice and be on their way.
Plus, the beauty of a personal blender lies in its containers where you not only mix in your ingredients but also drink from the same cup. Most personal blenders work bullet-style where you invert the blending cup during the actual blending. However, some larger models may work with an interchangeable setup where you get one regular, non-inverting pitcher for larger blends and a smaller one for individual servings.
But for today's best personal blender review, I will not consider these larger models as they compromise the portability factor. Instead, I will review three, outstanding and very portable appliances that are single-serve units and let you drink from the same cup too.
Top Rated Personal Blender Of 2021
---
NutriBullet Pro 900: Best Overall
The NutriBullet Pro 900 High-Speed Blender is undoubtedly one of the best personal blenders in the world. It is a great combination of power, performance, and price. This is a blender that packs a punch of power for its compact size. Ideal for kitchens that don't have a ton of space, but need a lot of blending done, the Pro 900 is the perfect companion.
This unit comes in over 9 different colors, it cost less than $100, it has thousands of raving reviews, and it is proven to be effective. If you want a great personal blender for your office or kitchen, something lightweight and portable that comes included with special to-go cups and lids, this is the best blender for you.
Powerful and Easy to Use
The NutriBullet Pro 900 is extremely powerful. It offers 900 watts of crushing power to break down ice, seeds, and frozen fruit and veg. The blades are also strong enough to cut apart kale and spinach into drinkable liquid – no more leafy chunks!
With no buttons or switches involved, the NutriBullet Pro 900 becomes a breeze to use. Its 900-watt motor delivers the right amount of power to work through both hard and soft ingredients. And you can even Pulse by pressing the blending cup down in short intervals.
In the absence of any variable speeds or preset functions, the Pro 900 still remains a versatile performer and does so by varying the duration of the blend. This means that different types of functions such as grinding, chopping, or blending will all need a different blending time.
Compact Design
Power is not the only thing you get. Yes, the NutriBullet has nutrient extracting blades, but it is also super portable. This is the ideal unit to take work, leave in the office lunchroom, and take home with you at the end of the day. It weighs almost nothing, and it fits easily in your hand.
In terms of size, the unit will fit under standard kitchen cabinets with no worries and will leave plenty of room to spare. In terms of weight, however, it may feel somewhat bulky and more difficult to move around when compared to other smaller, bullet blenders. That said, the Pro 900 will dwarf other similar blenders in durability as it comes with rubber grips on the bottom to keep things sturdy when in use.
You get a few extras with the Pro 900 in the form of cups and lids to take along without having to transfer your drink to another container. The wide mouth of the cups makes it easier to wash them as well after use.
Nothing to Clean
This is one of the easiest units to clean. Imagine taking a massive blender to work and having to tear apart the kitchen just to clean it. The NutriBullet Pro 900 only requires a small rinse to keep clean. Even if your office does not have a kitchen, you can easily rinse the blade and cup for about 10 seconds in the sink to clean the entire blender. You never need to clean the base!
---
Magic Bullet: Budget Pick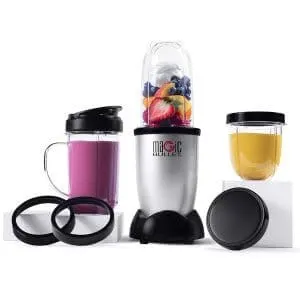 The Magic Bullet Blender is a quirky little machine with an unexpected amount of power. While definitely not strong enough to tackle any serious food processing, the Magic Bullet can still turn everyday fruits and vegetables into a delicious drink, especially if you add enough liquid base.
The hunt for a basic blender on a budget ends with the Magic Bullet. Fast, simple, and very transportable, this is a classic designed with busy individuals in mind.
Ease of Use
Unlike many other blender bullets that need to be held down while blending, Magic Bullet turns on and remains running without being held down. Put the Magic Bullet in "Lock" mode by turning the cup clockwise as you hold it down on the base. This gives you the convenience of hands-free blending. To unlock, turn the cup counter-clockwise and release.
For a chunkier blend, pulse the cup instead, by pressing and releasing alternately.
Anything that you need the Magic Bullet to do, can be done without the use of any buttons, dials, or extra controls which makes it super-convenient to use.
Full Set
What is really nice about the Magic Bullet is that it comes as a full 13-piece blender set. It includes the blender itself, additional cups in case you want to make a variety of different drinks in different sizes, a recipe book, and much more. If you are thinking about picking up a blender for the office, the Magic Bullet comes with everything.
The Magic Bullet is also very inexpensive. This thing costs less than $50. At such a low price, you really can't go wrong trying the machine. If it doesn't work, just leave it at the office and let other people play with it.
Performance Parameters
The Magic Bullet does its best work with protein shakes, smoothies, and other non-frozen beverages. With its 250-watt motor, you get enough power to quickly blend soft fruits and work decently through leafy greens. You can experiment with frozen ingredients but may find the blender struggles. 250 watts just isn't powerful enough to deal with tougher ingredients.
Read More: Best Blender For Protein Shakes – 7 Top Rated Models
The Magic Bullet comes with a decent assortment of cups and containers that allow you to not only blend in them but also travel with and store for later use. The accompanying lids are also good for sealing, storing, and traveling.
But perhaps the biggest appeal for the Magic Bullet lies in its tiny footprints. When paired with one of the most affordable price tags ever, it becomes hard to beat the Magic Bullet.
Just for You
The Magic Bullet blender is designed specifically for single servings. This makes it tailored to your exact needs as a personal blender. You can even bring your ingredients to work inside the Magic Bullet's high-impact plastic cups, then blend at lunch!
Smoothies are not the only thing you can make either. With 250 watts of power, you can easily create different types of snacks, smoothies, and sauces. The Magic Bullet is strong enough to chop leaves and ice into a frothy spinach shake, or even to make nut butter at home from raw peanuts.
---
Cuisinart CPB-300 Blender
The Cuisinart CPB-300 Blender is a budget blender that comes in two colors, either stainless or white. It has a powerful 350-watt motor, an electronic touchpad, and unique LED indicator lights. You also get standby mode, automatic stop, and pulse controls!
More Technology
This blender is really going all out on technology. Rather than using the screw-to-blend method, this blender has buttons and settings. It comes with a slim electronic touchpad on the front where you can choose how you want to blend. You can blend on low, on high, or you can use the pulse mode. This makes it great for people who would like to control the speed of their blend.
Additionally, you get standby mode, automatic stopping features, and indicator lights so that you always know what's happening. The blender also comes included with some unique to-go cups for taking your smoothies with you.
Slim & Personal
This is definitely a personal blender. It is designed to be thin and stylish and to fit anywhere on your counter. It requires only one hand to operate, and all of the blending jars are BPA free. It has slip-proof feet to prevent movement, and it even has cord storage so your countertop is not cluttered with snaking electrical cords.
The blender is easy to use, easy to clean, and the 350-watt motor can blend simple ingredients into delicious beverages. Additionally, this blender uses two blade assemblies, which are totally interchangeable for different tasks, allowing you to blend with efficiency.
---
Oster MyBlend
The Oster MyBlend Personal Blender is the most stylish of all the personal blenders. It has lots of power for blending, it looks great anywhere, including the office or on your desk, and it comes with all the accessories you need to start living a healthy lifestyle at work.
The fact that this blender so closely resembles the shape of a Gatorade bottle may be a clever move by the manufacturer to increase its appeal to fitness fiends. But who knows, I'm only guessing!
Convenient Design
The Oster MyBlend blending jar is ideally designed for drinking or carrying your smoothie along. If anything, the jar is designed to resemble a sports bottle and not so much a traditional blending jar.
In true personal blender style, there are no fancy knobs or buttons. All it takes to use this blender is a one-touch option and you'll have your blend ready in a matter of minutes. Simply fill in your ingredients, press down on the blender, and lock it into place by twisting it clockwise.
Powered by a 250-watt motor, this blender keeps its use and design at the most basic level. This implies that there will be some performance limitations with this blender, but for making iced coffees, and smoothies with soft ingredients, the MyBlend will get you through.
There's also an overheat protection feature that won't let the blender restart until it cools down completely.
Stylish Blending
This blender is definitely stylish. It looks slim and sleek wherever you put it. In fact, the MyBlend is designed specifically for travel, to be portable, and to be set up anywhere so that you can blend on the go. If you are thinking about taking the blender from your home to work and back again, this is made just for that purpose.
It even comes with a 20oz personal sports bottle so that you can make a large smoothie or shake and savor it while on the move. You can even make a smoothie at home, drink it on the way to work from the stylish sports bottle, then blend yet another drink when you arrive at work!
Portability
Oster MyBlend features a 20-oz sports bottle with a secure travel lid making it very easy to carry along. The plastic bottle uses BPA-free material for safe blending and drinking. It's also dishwasher safe and there are plenty of colors to choose from. If you need more than one, the bottles are also available separately for purchase.
The bottle is also small enough to fit into the cup holders of most cars.
Powerful Enough
This blender has the exact same power as the Magic Bullet, using a 250-watt motor to blend all your drinks perfectly. It has just the right amount of juice to effectively blend, chop, and crush all your ingredients into a smooth and silky drink that you can enjoy at home, at the office, or on the go. If you want an affordable blender to keep stored beside the toaster at work, the MyBlend is the way to go.
---
Best Personal Blender: A Complete Buying Guide
Personal blenders are excellent appliances given their small size, ease of use, and portability factor. These time-saving machines may seem like a no-brainer, but you do need to keep a few things in mind when you go out to purchase one.
There is a lot that goes into a small personal blender, especially one that you need for cutting through ice. One of the most important things is always the blade system, as the blades must be powerful enough to break down all the hardest ingredients, like nuts, ice, and seeds.
Let's take a look at the main features your personal blender should have.
Number and Size of Cups Included
When you shop for a personal blender, you need to think about the blending cups. For instance, think about how many accompanying cups you want, their shape and size, and the lid design. Also look for bonus features such as ergonomic handles, measurement markings, non-slip sleeves, and so on.
Remember that most blending cups on a personal blender turn upside down during the actual blending. This means that you should pour in liquid ingredients first, so the solids don't stick to the side of the jar.
Also, look at how wide the blending cups actually are. A wider opening lets you put your ingredients into the blending jar without any problem. Narrower openings will naturally be a hassle to work with and if too wide, they'll impact the usability and portability of the drinking cup.
Smart Blade System
The most important aspect of any blender is its blade system. Without proper blades, you will never be able to crush ice efficiently. When purchasing a new blender, always make sure it has strong blades and a strong motor so that you can break through ice, frozen ingredients, and hard nuts with ease.
You can generally find a quality personal blender with specialized extraction blades that are ideal for blending whole foods into smoothies and shakes while extracting all the nutrients from your ingredients. These powerful blades will bust apart ice like nothing!
The power of the motor also helps. If your motor is too weak, you will find your blender stalling with too much ice because it doesn't have the power to keep the blades spinning. Try to get a motor with at least 900 watts. While most personal blenders have a motor with roughly 250 watts, and it does work to make shakes, you will have a much harder time dealing with ice.
Read More: Which blenders are best for ice?
Insulated Containers
This is an excellent feature to have especially if you want to keep soups warm and smoothies cool on-the-go. That said, these varieties will likely cost more and be found with more expensive personal blenders.
Power
Based on what you'll be using your personal blender for, you have to consider its power capacity. Some weaker/inexpensive machines may not be able to work through ice or handle chunks of frozen ingredients well.
If all you need is to blend soft ingredients, even something with less power will suffice. But if your morning smoothies can't be made without frozen ingredients, you'll need to look for a higher power.
Some personal blenders with higher wattage will help you cruise your way through ice easily and will be more useful if you like to whip up cocktails or frozen smoothies.
Related Articles:
Perfect for the Office
Every office should have a blender. Or rather, every office should allow their employees to bring a blender to work. This is an excellent way for you to stay healthy while being stuck in your cubicle. It is also a great way to make your own lunch at work if you bring the right ingredients.
You can use a small personal blender to keep at the office, or you can get a portable unit to bring back and forth from home. It is totally up to you. But there are some things you want to keep in mind when purchasing the best blender for the office.
Low Noise
The last thing you want is a noisy blender making all your coworkers angry at you. This is obviously not ideal, and you will probably lose your blender privileges pretty quickly. Because of this, you definitely want to find a small blender that does not make a lot of noise. Most personal-sized blenders are pretty quiet, but some are definitely less noisy than others.
Another thing to consider is how quickly your blender can make a smoothie. Even if you are not making a lot of noise, you still don't want to make the noise for a long time. This will definitely bother people. The best solution is to find an extremely powerful little blender that can make your drink quickly.
Read More: Best blender for college students
Affordable
If you are bringing your blender back and forth from home, or if you are leaving it in the office where other people might decide to use it, it is extremely important that you don't waste your money. Who knows what could happen between transport, when Greg from accounting gets ahold of it, or whenever you aren't looking.
Definitely don't waste your money on a really expensive blender if you are bringing it to work. Anything under $100 is reasonable and replaceable, and I definitely don't recommend spending any more money than that.
Included Accessories
Let's talk cups. You obviously want a strong blender that is portable, small, lightweight, and easy to use out of the office. However, one of the more important things is getting the appropriate cups. You definitely want to purchase a small blender that comes included with quality to-go cups so that you don't make a mess.
Don't even think about bringing a blender to the office that has a giant container. This is the last thing people want to see in their lunchroom. You must purchase a blender that works using only attachable to-go cups. This makes it easy to fill your cup with ingredients, screw on the blades, blend quickly for about 30 seconds, then take your drink straight back to your desk.
Professional Parts
Asides from the blades and the motor, you need other professional parts as well. Your blender, especially your personal blender, should be compact, lightweight, and efficient. It should have a sturdy motor base, reliable to-go cups, and a simplistic way of blending. You also don't want a blender with too many pieces, since it can become a hassle during transportation.
Cleaning is another important aspect of your personal blender. Even if you are only using it for ice, it should still be easy to clean. Most personal blenders don't actually come with a blending container but use to-go cups that screw onto the motor base. This allows for simple cleaning of the blades, usually just with a quick rinse, and you never have to worry about the base of the machine getting dirty.
You may also be interested in picking up a personal blender that reflects your style. The bonus of purchasing your blender online is that you get to choose its color. And while many blenders come only with their standard black or gray color, which is extremely boring, some blenders offer a customized appearance for your particular style.
For example, the NutriBullet Pro comes in over 10 different colors to suit your individuality!
Read More: Nutribullet Reviews – Which Model Is The Best?
Best Personal Blender: Final Thoughts
Personal blenders are ideal appliances for small jobs, but typically don't come with very powerful motors. They may also require you to use extra liquid or cut up fruit smaller. However, the NutriBullet Pro 900 defies all this, breaks the mold, and comes out on top as the best overall personal blender.
The reason for this is that NutriBullet Pro 900 enjoys a big edge over the competition given its high-powered motor. More power also lends it the ability to perform more versatile bending functions while still keeping the unit small and compact. It can easily that break down whole fruits and vegetables into pure pulp, crush up ice, and blends excellent smoothies and shakes.
But, if you don't want to throw down serious money for a blender, then the Magic Bullet is a perfect choice. It gives you a good bang for your money with a solid performance, ease of use, and a very reasonable price point.
For people who want single-serve smoothies, the Oster MyBlend is an excellent recommendation. It works reliably with very little fuss and its sports bottle is very convenient to carry.
Related Articles: